November 15, 2011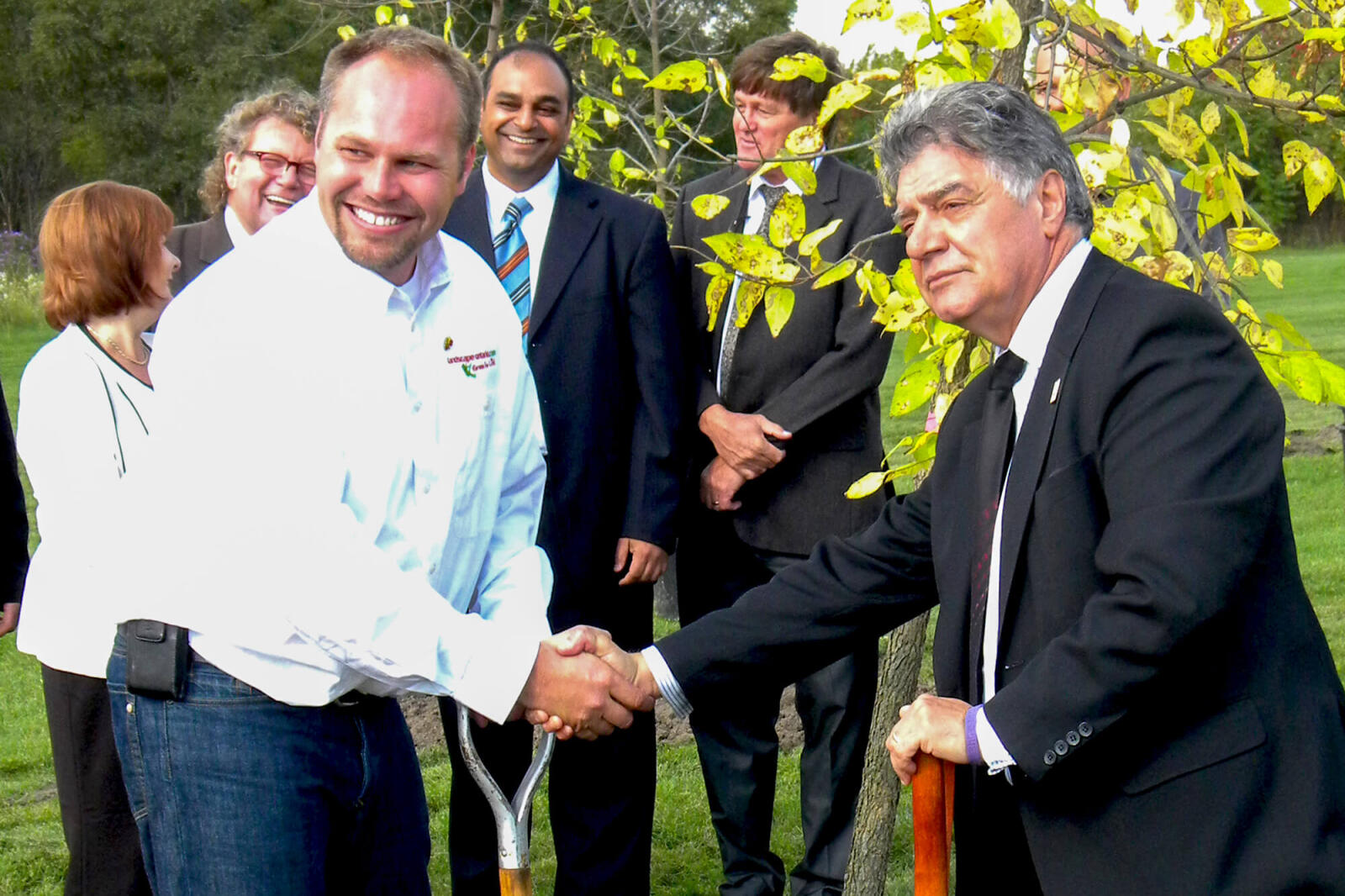 City and London Chapter join to create living memorial to Canada's war veterans
By Carla Bailey
London Chapter coordinator
A highway in London, Ontario has become a living memorial to Canada's war veterans.
Veterans Memorial Parkway runs for 10 kilometres, beginning just north of the 401 up to the airport. Along the way, large granite rocks are engraved with words to honour veterans, such as courage and sacrifice.
Now, thanks to members of Landscape Ontario's London Chapter, 8,000 trees will provide a living honour guard along the parkway.
On Sept. 30, a unique and historic agreement was signed between the City of London and Landscape Ontario Horticultural Trades Association by Joe Fontana, mayor of London, and Grant Harrison CLT, London Chapter president Attended by prominent Londoners, representing businesses, government, press and the private sector, the cafeteria at 3M Canada on Tartan Drive was filled with people who want this coalition to succeed and prosper.
"It is unique. This is the first time that the city has given up control of a project. More and more, governments must be prepared and willing to work in collaboration with partnerships," said Fontana. "Partnership agreements have some risks, but we need to get over that and make it happen, as opposed to getting caught in the weeds." The mayor continued his positive comments on the project, stating, "While recognizing our veterans with this living tribute, we expand the tree canopy coverage, engage and involve the community, and at the same time bring social, health and environmental benefits to our community." He concluded his talk by stating, "Imagine inspiring a community daily to remember not the battles won, but the power of people who knew that they needed to do to and did so without complaint. This growing monument honours hope and legacy as well as the many sacrifices made." While the speeches were taking place inside, the hardworking teams from Clintar Landscape Management — London, Eden Gardenworks, Escapes Outdoor Living Designs, Haven Landscapes, Kimmick Landscaping and Rural Roots Landscape were hard at work outside drilling the holes and moving the trees into place. Many comments were heard about how amazing it was to see volunteers not only donate their equipment, but their time and labour as well.
"This is a huge project. It represents for us, as a horticulture association, an opportunity for members and associates to show our pride and involvement in the community," said Harrison.
Site preparation took about seven hours, which allowed for a very smooth planting event on Sat., Oct. 1, when over 100 volunteers from a number of community groups joined with members of Landscape Ontario's London Chapter to plant and stake 200 trees in just three hours. All enjoyed a thank-you barbecue after the last tree was installed.
For more reading, see
London highway project is example of LO values
.