August 15, 2014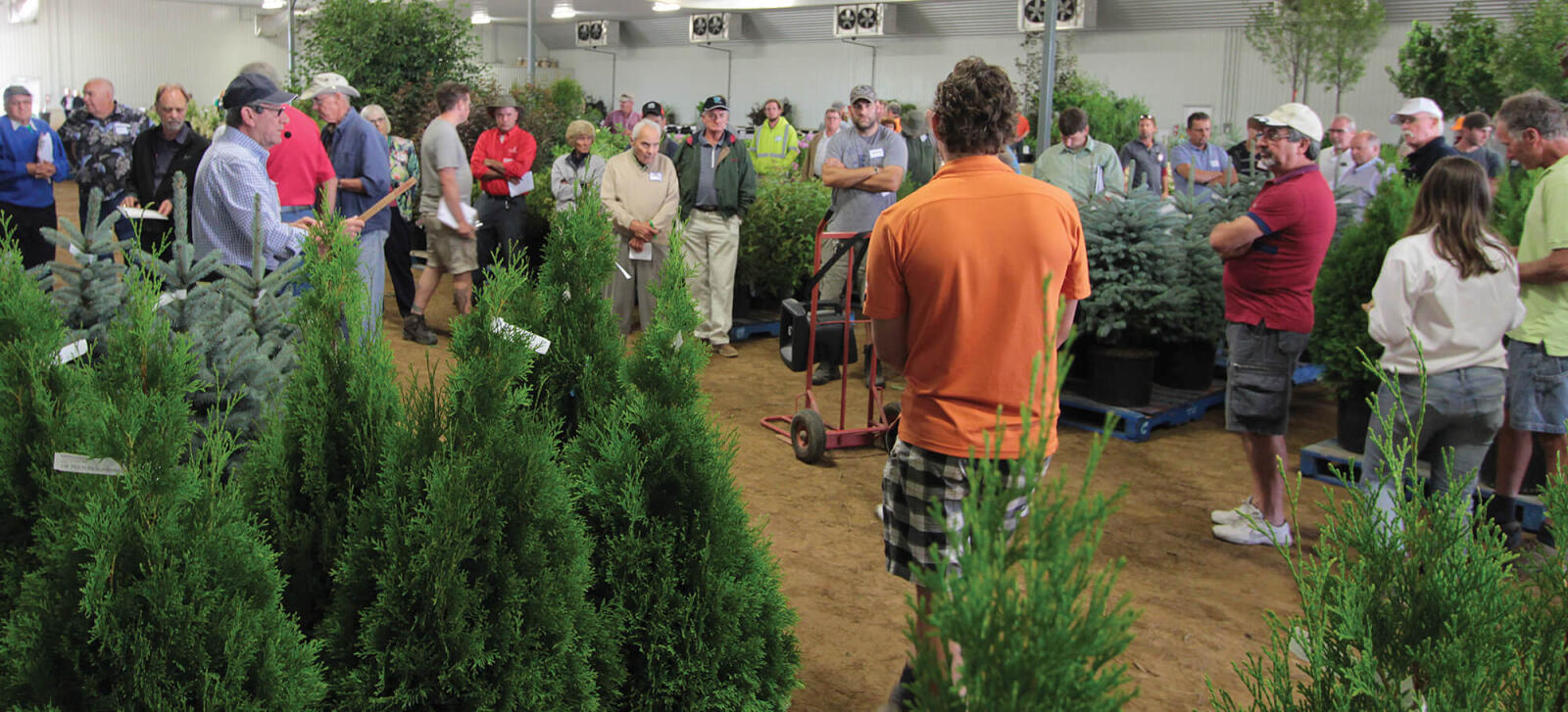 Canadian grower of the year hosts annual auction
The 2014 edition of Landscape Ontario's Industry Auction was hosted by Canadian Grower of the Year winner Winkelmolen Nursery in Lynden.
The nursery is also celebrating its 35th anniversary this year.
Tours of the 600-acre facility were conducted before the event. Most of the industry members in attendance took the opportunity to view the beautiful nursery.
The annual auction raises money for horticultural research and scholarships. Lots were donated by generous growers and suppliers.
The Growers' Awards of Excellence entries were judged in the morning and the winners announced at the end of the auction. An Awards of Excellence certificate went to each of the 11 winning lots, which were then auctioned. The winners will be recognized at Expo's garden centre event held at the Toronto Congress Centre on Oct. 23.
Special appreciation goes to the dedicated members of the Grower Awards of Excellence judging panel, who offered their time and expertise: Jen Llewellyn, OMAF (chair); Michael Pascoe CLT, Fanshawe College; Rita Weerdenburg, CNLA; Glen Lumis, University of Guelph; Sean Fox, Arboretum, University of Guelph; Perry Grobe, Grobe's Nursery; Len Mancini, Holland Park; and Jim Lounsbery, Mohawk College. See the complete list of winners below.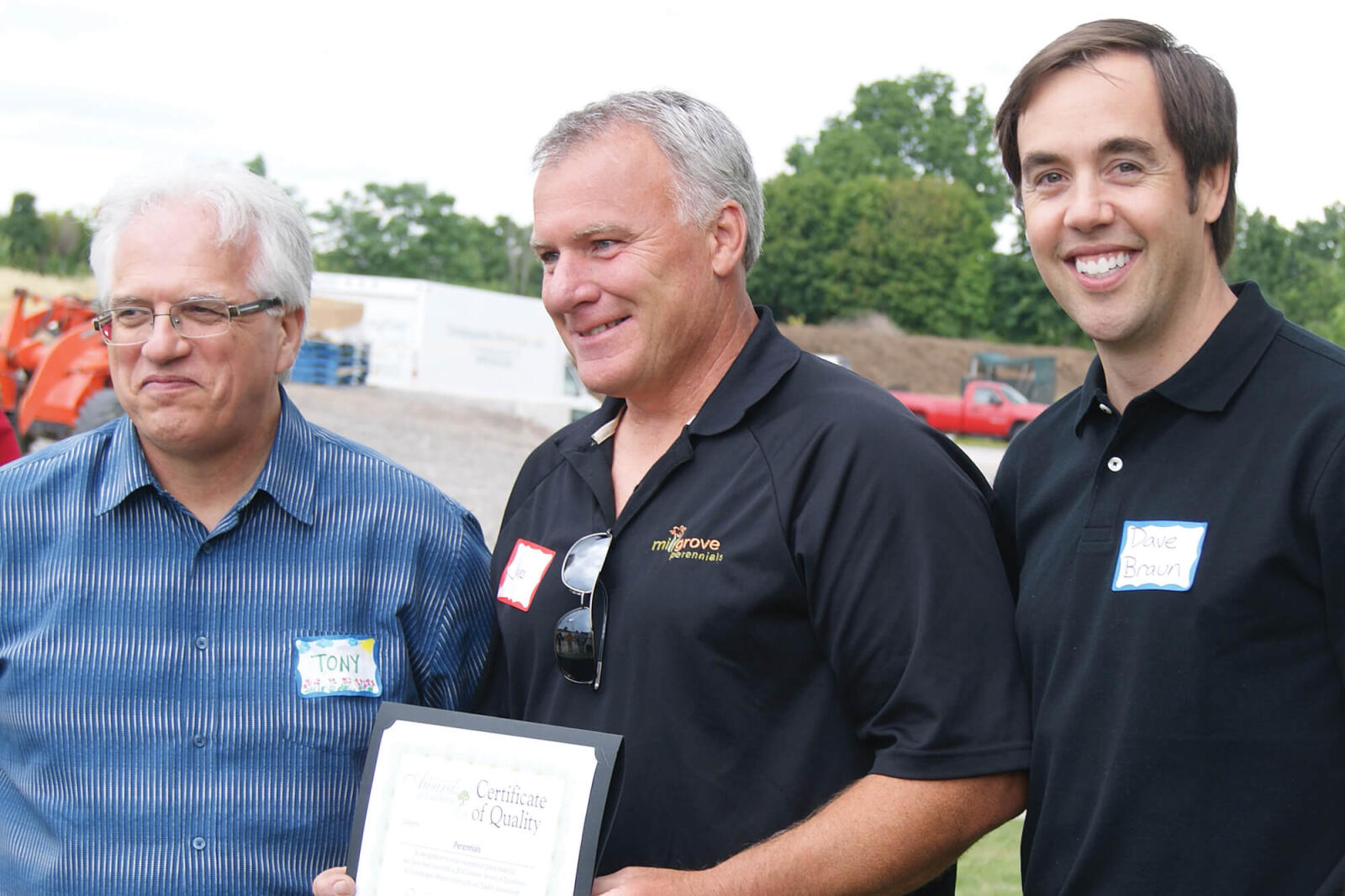 The judges' Choice Award for the best overall entry went to Millgrove Perennials. In photo, LO executive director Tony DiGiovanni and LO president Dave Braun present James Feenstra (centre) of Millgrove Perennials with his Award.
---
On hand to welcome visitors to the event was Landscape Ontario president Dave Braun, who represented LO and Growers Sector Group. He thanked the Winkelmolen family for hosting the event and providing lunch.
"I would like to thank our generous host and lunch sponsor, Winkelmolen Nursery for providing this excellent facility to hold our auction," said Braun. "We appreciate all of the effort from their outstanding staff, and would like to take a moment to present them with a certificate of appreciation," said Braun. Accepting the certificate were second generation family members, Nick and Jeff Winkelmolen.
Industry volunteers who worked to run the auction included John Moons, Brandon Lovegrove, Gerwin Bouman, John Mantel, Dave Braun, Jen Llewellyn, Glen Lumis, Fred Somerville and Dave Tillaart.
Organizers offered a special thank you to John Moons, Connon Nurseries NVK Holdings, for his continued commitment with operations at the auction. "The event would not be the same without him," said LO conference and event manager Kristen McIntyre. She also offered a thank you to, "our outstanding auctioneer, Jim McCartney. He always adds sense of humour and fun to the event."
A special bidders' prize this year was an iPhone 5, donated by Plant Products. It was won by David Onofree of Erin Mills Gardening and Landscaping in Mississauga.
Generous donors to the 2014 auction include, Acti-Sol, Braun Nursery, Canadale Nurseries, Connon AVK, Connon CBV, Connon NVK, Direct Solutions, Dutchmaster Nurseries, Grindstone Creek Nursery, Gro-Bark, Hillen Nursery, JC Bakker & Sons, JM Peeters Nurseries, Kobes Nurseries, Langendoen Nurseries, Millgrove Perennials, Mori Essex Nurseries, Paul Boers Ltd., Plant Products, Sheridan Nurseries, St. Williams Nursery and Ecology Centre, Timm Enterprises, Tunpetti Corp, Willowbrook Nurseries and Winkelmolen Nursery.
Next year's Industry Auction will take place at Canadale Nurseries in St. Thomas.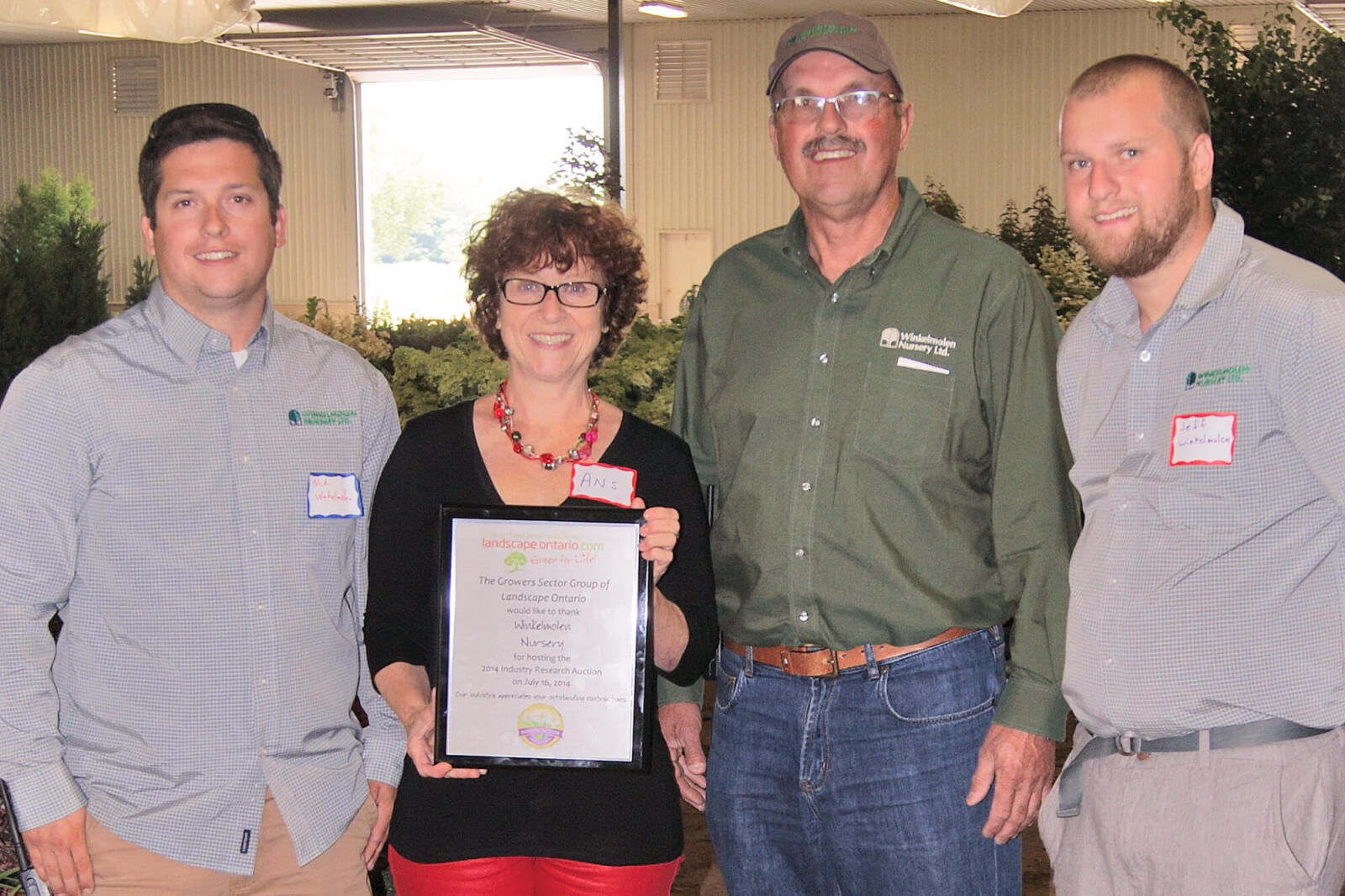 Family members who operate Winkelmolen Nursery display the certificate of appreciation presented by the LO Growers Group for hosting the auction.They are from left, Nick, Ans, Jan and Jeff.
---
2014 GROWERS' AWARD WINNERS
CATEGORY
PLANTS
COMPANY
JUDGES' COMMENTS
Category 1
Evergreens -
Field Grown,
Upright and Spreading
Picea pungens
'Neon Blue'
Mori Nurseries
Good uniformity; outstanding uniformity; stunning colour, luscious looking new growth, and generous rootball.
Category 2
Evergreens - Container Grown,
Upright and Spreading

Microbiota decussata Std.
and Juniperus chinensis
'Darb's Frosted Std.'

Canadale Nurseries
Good colour on juniper; unusual to see Micro as Std.; impact of each individual specimen is tremendous! Incredibly lush and full. Microbiota are grafted nice and low to improve the aesthetics in the landscape.
Category 3
Broadleaf Evergreens
Assorted evergreens
Willowbrook Nurseries
Nice colour, with rich contrasting variation in foliage, intense colour and impeccable quality makes this lot an easy category winner!
Category 4
Deciduous Shrubs
Assorted shrubs
Connon Nurseries NVK
Artistic arrangement — full, well grown plants, quality plants that are well rooted and will excel in the landscape.
Category 5
Deciduous Ornamental Trees,
300 Cm Or Less
Pyrus calleryana
'Chanticleer'

Willowbrook Nurseries
Trees had excellent uniformity, cleanliness and sales appeal. Beauty trees!
Category 6
Deciduous Ornamental Trees,
Top Grafted/Worked
Salix repens Std.
Connon Nurseries NVK
These uniquely formed trees offer great sale qualities for a non-flowering tree. Great colour and texture.
Category 7
Caliper Trees
Quercus x warei
'Long' Regal Prince® oak
Braun Nursery
Great uniformity and incredible quality that makes a wonderful first impression. Very clean and healthy foliage; a wonderful choice of specimen trees for a grand looking front entrance.
Category 8
Vines and Groundcovers
Assorted vines
and groundcovers
Mori Nurseries
Nice use of colour and texture, diversity of height gives lovely balance to this group of vines and groundcovers.
Category 9
Perennials and Judges' Choice
Assorted perennials
Millgrove Perennials
Presentation was superb, layered look of texture is very effective; plant quality is just incredible.
Category 10
Unusual and Rare Plants
Yucca desmetiana
'Blue Boy'
Willowbrook Nurseries
Interesting colour, very unique plant, splendid colour. Wonderful conversation piece in a patio planter.
Category 11
Design on a Skid
Assorted plant material
Willowbrook Nurseries
Strong use of texture and height transitions, unique use of landscape accessories; you can't possibly take it all in with one look.