April 15, 2014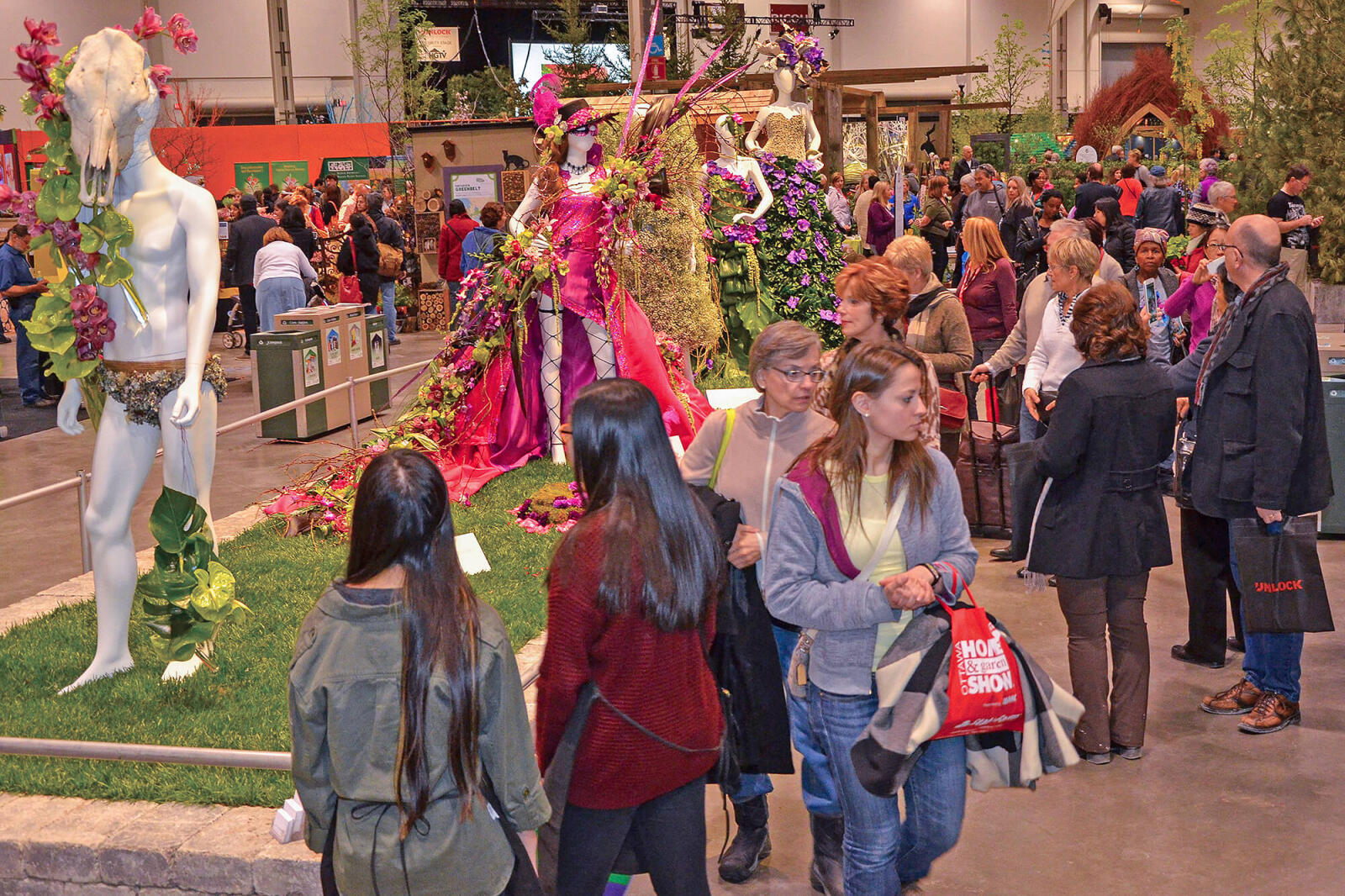 Canada Blooms provides welcome break from long, cold winter
All media reports of Canada Blooms emphasized that Canada's largest flower festival was a very welcome break in a long, cold winter.
The annual event, from Mar. 14 to 23, continued its co-location with the National Home Show in the Direct Energy Centre. This year featured 24 feature gardens.
LO executive director Tony DiGiovanni said, "The hard work, creativity, passion, ingenuity, craftsmanship and skill that went into creating Canada Blooms reflect the highest standard of professionalism, contribution and competency. It makes an entire industry look good."
Toronto mayor Rob Ford arrived at the opening ceremonies to present a certificate from the city to commemorate the opening of Canada Blooms to co-chairs Arvils Lukss of Landscape Ontario and Mary Lou Tigert of the Garden Club of Toronto.
Something new at Industry Night this year was an auction to raise money for the Toronto Botanical Garden. Three major items were up for bid. The results were: Blooms Celebrity Lunch in the Heart of Toronto, Ron Holbrook, $1,400; Stratford Festival and Langdon Hall Escapade, Phil Charal, $1,600; and Quebec Getaway, Sheila Murray-Belisle, $2,400. HUB Sinclair-Cockburn provided generous support of the Industry Night event.
The public thought Blooms was great this year. On Canada Blooms Facebook page, one visitor wrote, "Canada Blooms is a very positive experience." Another visitor wrote, "Every booth looks great." And, someone who has really had it with winter, wrote, "After this long, cold winter...Canada Blooms was a touch of heaven! This was my first time, and it was awesome."
One blogger wrote, "The annual flower fest is shaking off the cobwebs this year with its theme, Wild. Don't expect to see all those oh-so-sophisticated gardens laid out for dainty tea parties. The folks behind Blooms (the Landscape Ontario trade association and the Garden Club of Toronto) have set their minds on bringing nature home."
The City of Goderich created an amazing garden this year to celebrate its renewal after the horrendous tornado in 2011. The town has recovered, and was at Canada Blooms with a garden to represent the countryside and shore of Ontario's west coast. Goderich deputy mayor John Grace said, "This is a collaboration. This is all about marketing Huron County as an attraction." Grace said the entire project has a budget of about $100,000.
A popular attraction at this year's show was the collaborative effort of students from the Niagara Parks School of Horticulture, Halton Catholic District School Board and District School Board of Niagara to create the Backyard Habitat Garden for the Canadian Wildlife Federation. The next generation of industry members educated the public on how to garden with wildlife in a responsible and sustainable manner.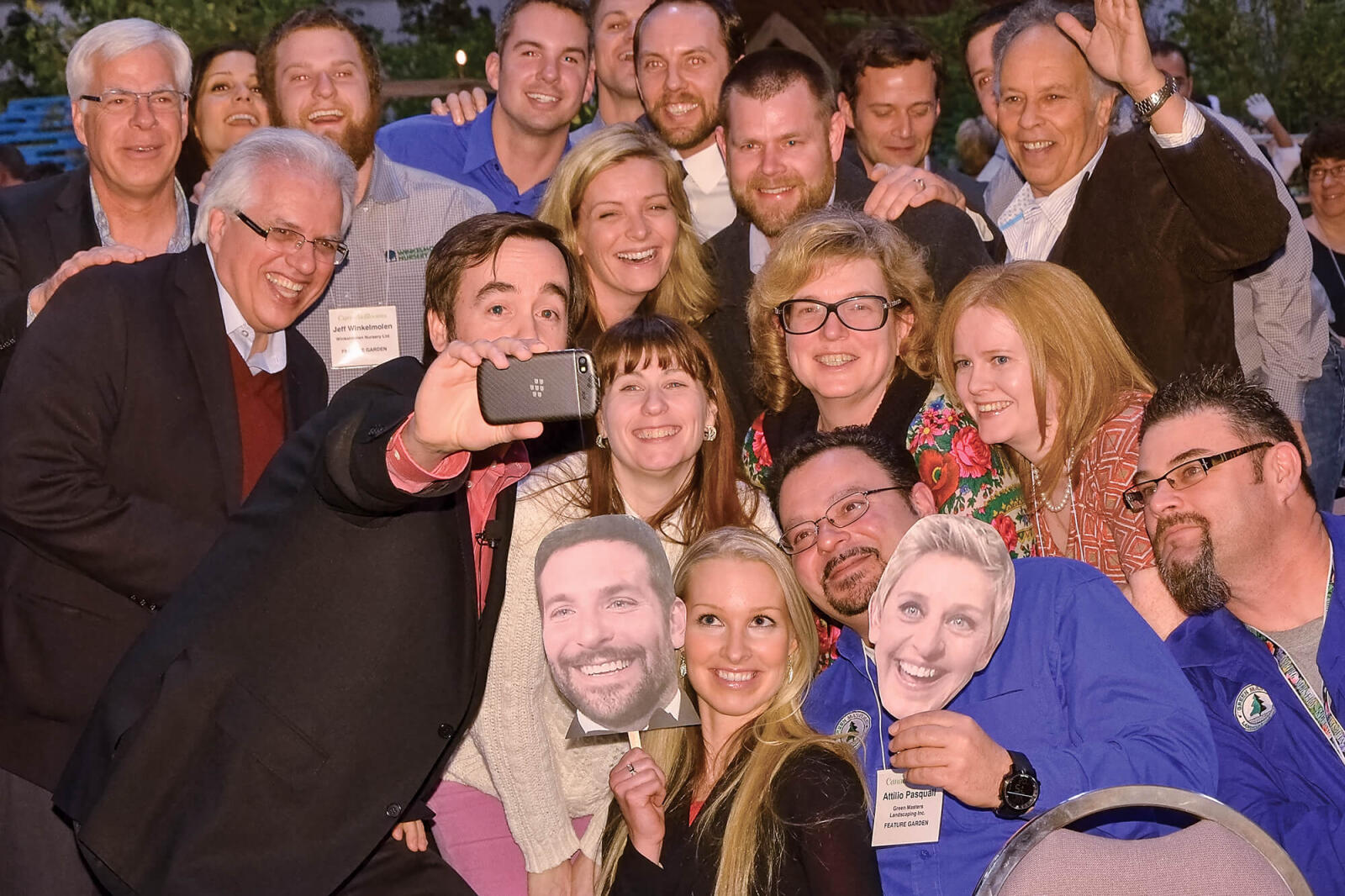 Taking a cue from this year's Oscars, Landscape Ontario members gathered for a selfie on Industry Night at Canada Blooms.
---
Flowers and plants that were on display at Canada Blooms were donated to residents of long-term care homes in Toronto.
See page 6
for a complete list of award winners.
Next year, 'Lets Play' is the theme for Canada Blooms from Mar. 13 to 22, 2015.