August 15, 2012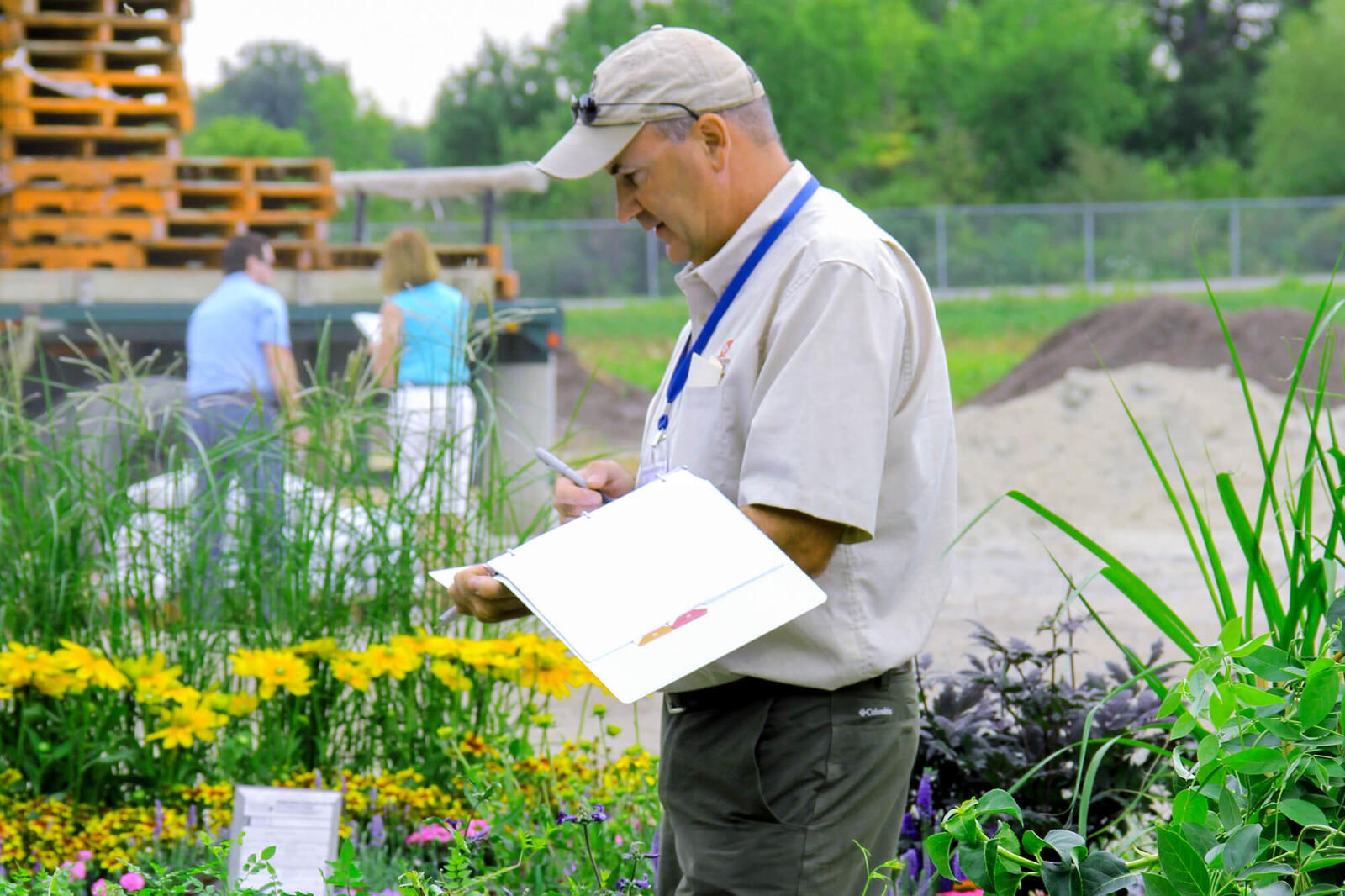 Auction displays the pride of growers
Over 200 growers, buyers, donors and many others came together on July 19 to help raise money for horticultural research and scholarships.
This year saw over $25,000 in funds, which is one of the highest amounts raised by past auctions.
It was all part of the annual Industry Auction hosted by the LO Growers Group, and held this year at M. Putzer Hornby Nursery, near Milton.
The Growers' Awards of Excellence entries were judged in the morning and the winners announced at the end of the auction. An Awards of Excellence certificate went to each of the 12 winning lots, which were then auctioned. The winners will again be recognized during the Retail Garden Centre program breakfast event held at the Toronto Congress Centre on Oct. 17, in conjunction with Expo.
Special appreciation goes to the dedicated members of the awards judging panel, who offered their time and expertise: Jen Llewellyn of OMAFRA, Glen Lumis of the University of Guelph, Len Mancini of Holland Park Garden Gallery, Michael Pascoe of Fanshawe College, Rita Weerdenburg of CNLA, and Jim Lounsbery of Vineland Nurseries. See the complete list of winners below.
Also during the morning, full bus-loads toured the farms at Putzer's. Kam's Growers Supply provided the bus.
For the past number of years, John Moons has managed the auction on behalf of the Growers Group. This year he was helped by a hardworking group that included: Gerwin Bouman, Stam Nurseries; Dave Braun, Braun Nurseries; Jeff Gregg, V. Kraus Nurseries; Jennifer Llewellyn, Glen Lumis; John Mantel, Connon/AVK Holdings; Bill Putzer, M. Putzer Hornby Nursery; Christine Stein, Agrium Advanced Technologies; Dave Tillaart, Dutchmaster Nurseries and Henry Westerhof, KAM's Growers Supply.
Jeanine West from Phytoserve was on-hand to discuss the Canadian Nursery Certification Institute's Clean Plants program.
The barbecue pork and chicken were a big hit with all the guests. Hosts Bill and John Putzer received much appreciation, along with a presentation from the growers group thanking the nursery for hosting the event.
Along with some great prices on high-end plant material, those taking part in the bidding process also had a chance to win an iPad, donated by Plant Products. The winner was David Onofre of Erin Mills.
2012 auction donors
Products for the auction were generously donated by the following companies: Agrium Advanced Technologies, Canadale Nurseries, Connon Nurseries/NVK Holdings, Downham Nurseries, Dutchmaster Nurseries, G&L Group, Gro-Bark Ontario, Hillen Nursery, JC Bakker & Sons, Kam's Growers Supply, Langendoen Nurseries, Living Carpet, Mori Nurseries, Plant Products, Ridgeview Garden Centre, Sheridan Nurseries, Somerville Nurseries, Sylvite Agri-Services, Timm Enterprises, Tradewinds International Sales, UPI Energy, V Kraus Nurseries, Vanhof & Blokker, Willowbrook Nurseries and Winkelmolen Nursery.
Next year's auction location has already been determined. As part of Sheridan Nurseries centennial celebration, it will host the annual auction at its Georgetown location on Aug. 14, 2013.
2012 GROWERS AWARD WINNERS
Category
Plants
Company
Judges' comments
Category 1
Evergreens - Field Grown Upright and Spreading
Juniperus scopulorum 'Moffettii'
Mori Nurseries
Great colour, good uniformity.
Category 2
Evergreens - Container Grown Upright and Spreading
Assorted Evergreens
Sheridan Nurseries
Judges impressed with plant health, very clean.
Category 3
Broadleaf Evergreens
Assorted Broadleaf Evergreens
Willowbrook Nurseries
Nice colour, good impact, great interest, wonderful assemblage of colour.
Category 4
Deciduous Shrubs
Assorted Deciduous Shrubs
Mori Nurseries
Nice presentation, good colour combination
Category 5
Deciduous Ornamental Trees 300 Cm or Less
Pyrus calleryana 'Chanticleer'
Willowbrook Nurseries
Healthy specimens.
Category 6
Deciduous Ornamental Trees Top Grafted/Worked
Syringa meyeri palibaniana
Canadale Nurseries
Good uniformity, nice form.
Category 7
Caliper Trees
Quercus macrocarpa
Sheridan Nurseries
Good size, mature, nice form.
Category 8
Vines and Groundcovers
Assorted vines and groundcovers
Willowbrook Nurseries
Great quality, nice composition.
Category 9
Perennials
Assorted Perennials

Connon Nurseries/
NVK Holdings

Artistic composition, great quality, well rooted.
Category 10
Unusual and Rare Plants
Metasequoia std
Connon Nurseries/
NVK Holdings
Very uniform, nice full head.
Category 11
Design on a Skid
Display of Assorted Material
Willowbrook Nurseries
Great presentation; looks like a landscape, thoughtfully designed. Good colour diversity. Great retail package
Judges choice
Assorted Broadleaf Evergreens
Willowbrook Nurseries
Gorgeous, lustrous foliage colour and texture. Well presented. Outstanding quality,– well done!