October 15, 2015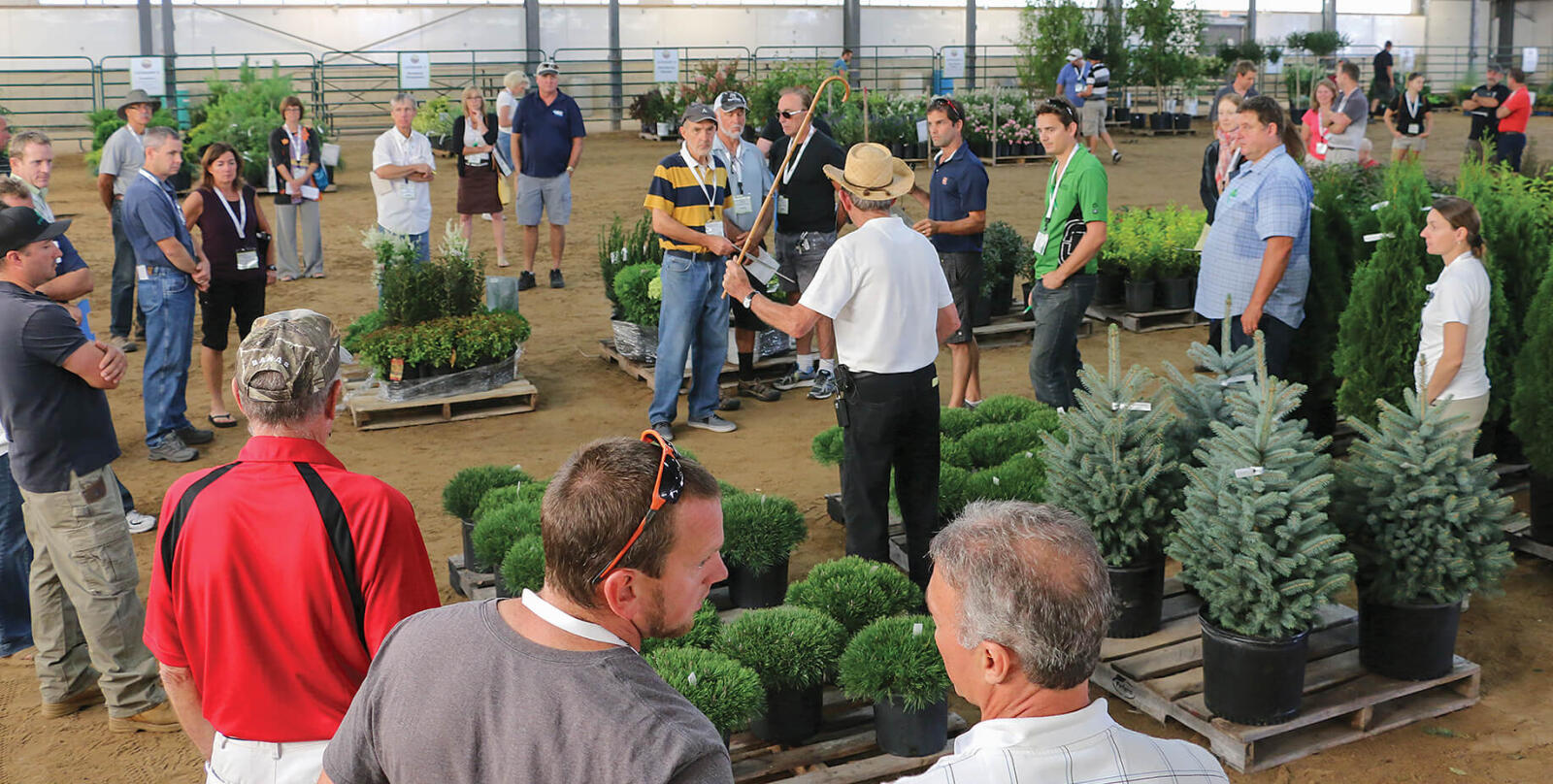 Auction continues success at Thrive
The 2015 edition of Landscape Ontario's Industry Auction became part of Thrive this year. For the past 36 years, the Growers' Sector Group has hosted the annual event.
The auction raises money for horticultural research and scholarships. Items up for auction are donated by growers and suppliers.
The Growers' Awards of Excellence entries were judged in the morning and the winners announced at the end of the auction. An Awards of Excellence certificate went to each of the 12 winning lots, which were then auctioned. The winners are listed at end of this article.
Special appreciation goes to the dedicated members of the Grower Awards of Excellence judging panel, who offered their time and expertise: Jen Llewellyn, OMAF; Sean Fox, Arboretum, University of Guelph; Perry Grobe, Grobe's Nursery; Len Mancini, Holland Park; and Jim Lounsbery, Mohawk College.
On hand to welcome visitors to the event was Landscape Ontario president Dave Braun. He thanked all those who helped to make the Auction such a great success.
First time attendee to the auction, Lindsay Drake Nightingale of Yorkshire Garden Services in Concord, said, "I was so impressed with the high quality plant material and astounded at low prices that were winning bids." She went on to say she would have purchased more plants, but she brought her half-ton and had no more space to carry anything more than the couple of skids she purchased. "I will definitely be encouraging our members to attend next year's auction, not just for quality and price, but the money goes to such a good cause."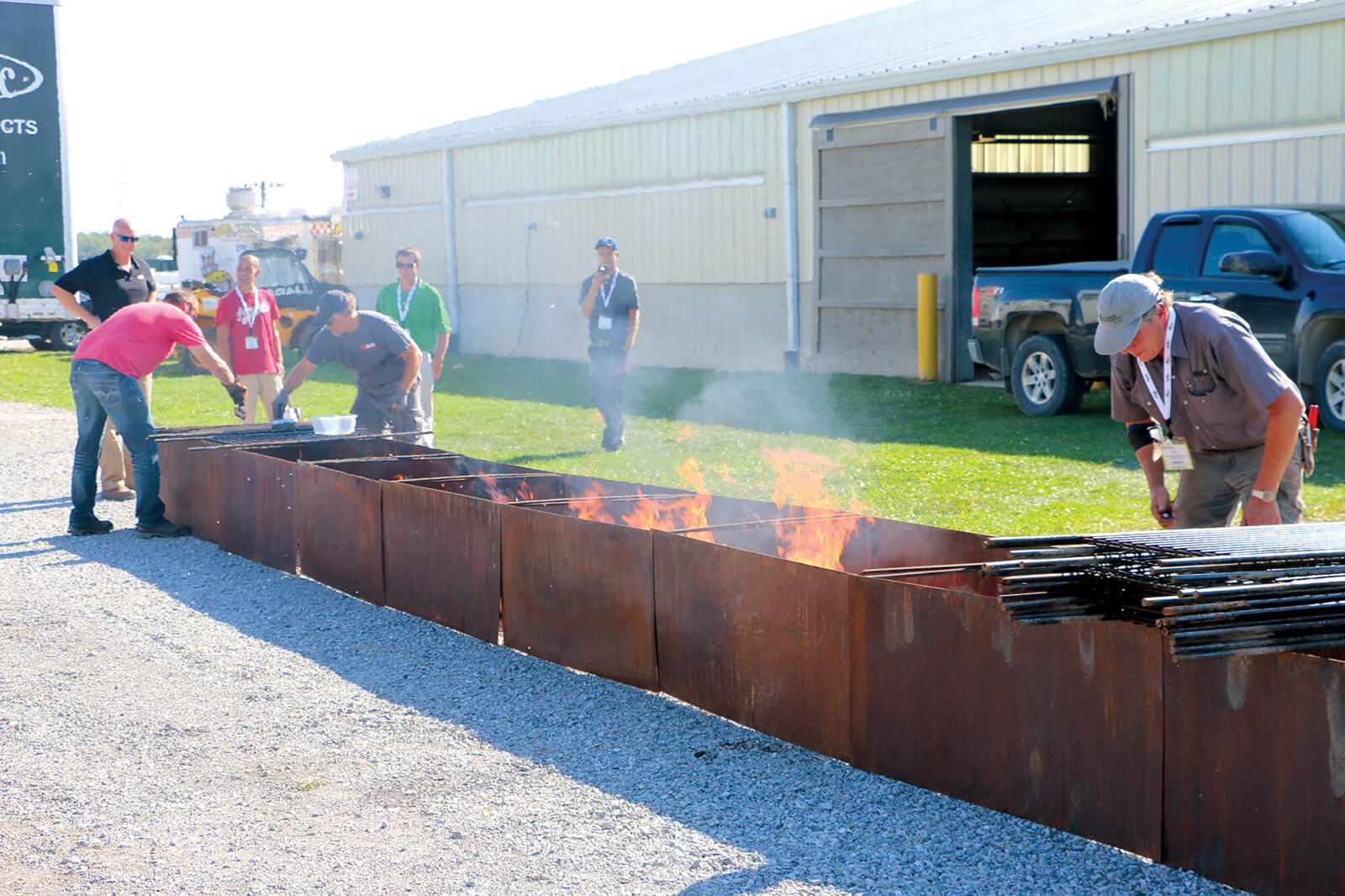 Golden Horseshoe Chapter's Chicken Roast had volunteers bring their unique cookery to Thrive.
---
Industry volunteers who worked to run the auction included operations manager John Moons, Harry DeVries, Beth Edney CLD, Brandon Lovegrove, Gerwin Bouman, John Mantel, Dave Braun, Mary Jane Clark, Jeff Gregg, Serge Leclair, Jen Llewellyn, Glen Lumis, Jamie Picket, Fred Somerville, Christine Stein, Joel Schraven, Dave Tillaart, Casey Vanderkruk and Jeanine West.
Back for another year was auctioneer Jim McCartney. As always, he added his sense of humour and fun to the event.
A special bidders' prize this year was a TV, donated by Plant Products. It was won by Mike Thomas of Hort Protect.
Generous donors to the 2015 auction include Plant Products, Phyto Serv, Millgrove Perennials, Langendoen Nurseries, Somerville Nurseries, JM Peeters Nurseries, Timm Enterprises, Fox Hollow Farms, J.C. Bakker and Sons, Canadale Nurseries, M. Putzer Hornby Nursery, Evergro, Willowbrook Nurseries, Dutchmaster Nursery, Gro-Bark/Connect Equipment, Hillen Nursery, Sheridan Nurseries – Georgetown, Winkelmolen Nurseries, Connon NVK and Trivic Trees.
Refreshments were courtesy of Evergro, and lunch was provided by Somerville Nurseries. Equipment and operators were courtesy of Connon AVK Nursery Holdings and Connon NVK.
2015 GROWERS' AWARD WINNERS
Category
Winner
For
Judges' Comments
1: Evergreens – Field Grown, Upright and Spreading
Sheridan Nurseries
Picea pungens 'Neon Blue
Good form and colour, fairly consistent culture.
2: Evergreens – Container Grown, Upright and Spreading
Connon Nurseries NVK
Assorted Juniperus
Quality, well grown labelled plants were presented for maximum appeal, this group won in a very close category.
3: Broadleaf Evergreens
Langendoen Nurseries
Yucca filamentosa 'Golden Sweet'
Flawless product that stood out in a very close category. Perfect for seasonal sale.
4: Deciduous shrubs
Willowbrook Nurseries
Assorted: Cornus, Rhus, Weigela, Berberis, Rosa,
Physocarpus
Well designed skid, beautiful contrasting colours and textures.
5: Deciduous Ornamental Trees, 300 cm or Less
Connon Nurseries NVK
Cornus kousa 'Samzam'
For time of year and type of plant, nice display. Three season plant.
6: Deciduous Ornamental Trees, Top Grafted/Worked
Willowbrook Nurseries
Assorted: Euonymus, Juniperus, Picea, Chamaecyparis
These top grafted evergreens are so sweet!
Wonderful assembly of textures and shades of green sure to delight any small landscape.
7: Caliper Trees
Braun Nursery
Quercus robur 'Fastigiata'
Nicely shaped, very good colour.
8: Vines and Groundcover
Willowbrook Nurseries
Assorted
Outstanding use of colour and leaf shape incorporated into a unique arrangement that will delight a wide range of urban and rural gardeners!
9: Perennials
Willowbrook Nurseries
Assorted
Unique selection of plants and the best use of contrast amongst the entries.
10: Unusual and Rare Plants
Blue Sky Nursery
Assorted: Colocasia, Albuca, Miscanthus
This unique assortment of unusual and rare species would complement any garden. Albuca is definitely a highlight that would provide a novel conversation piece sure to impress any horticulturist.
11: Design on a Skid
Willowbrook Nurseries
Assorted
This gorgeous collection of ornamentals is just bursting with delightful colours and textures. The unusual specimens like the 'Golden Tuffet,' Thuja and Athyrium will sell right off the shelves!
12: Judges Choice
Willowbrook Nurseries
All judges agreed that the unique arrangement and choice of textures make this the entry to beat. Great colour and form gave this visual appeal from all angles and provides the customer with design ideas to apply to their own garden.