March 15, 2011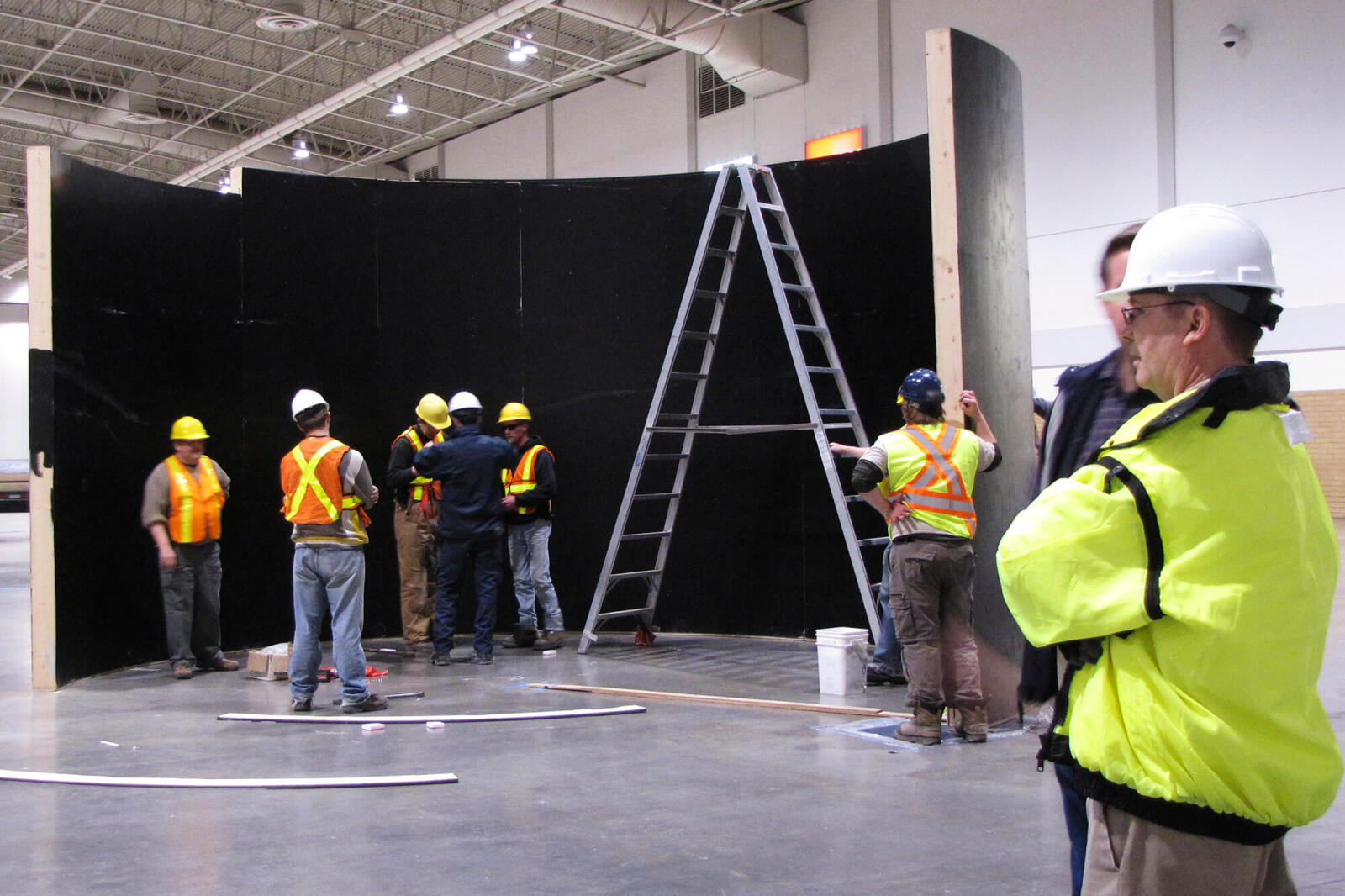 A funny thing happens on the way to Blooms
By Tim Kearney CLP

Editor's note: For the third consecutive year, Tim Kearney has taken on supervising construction of the LO garden project at Canada Blooms.His enthusiasm, drive and talent make him an excellent leader for the many LO volunteers taking on the task to build this year's garden.

Like the first signs of spring, a sense of excitement, panic, nerves, and the famous thoughts of, "We'll never make it," creep into our souls and minds.

After a winter of 7 a.m. conference calls, countless emails, many, many phone calls and meetings, we are almost there.

Our design team from Seferian Design Group has worked, worked, and worked again on finalizing the details needed for each task leader to achieve his or her portion of the build.
Haig Seferian has endured countless requests and concerns from a team of passionate installers. The garden will indeed represent some of the cutting edge items our industry is involved with and at the same time provide the public with an experience of education, storytelling, and community that Landscape Ontario represents.

Task leaders
Province-wide representation proves our advocacy network and its web of influence is working. Calls and emails come when you need it most, from Windsor to Ottawa, Upper Canada to Georgian Lakelands, Burlington to Durham, London and Kitchener, and of course Toronto. Just when you think that it is impossible, a call will arrive out of the blue from someone who says with passion, "I want to be there and help."

As an example, out of nowhere Nick Torenvliet from Environmental Design Landscaping Contractors offers to create our green roof display with zest, energy and a never-say-die attitude.

Barry Hordyk and his talented staff at Shademaster Landscaping each year create what seems to be the impossible. Green walls will take the public's breath away, while providing a strength and presence to our display that truly represents our industry and our association.

James Garfield Thompson calmly and professionally, in a matter-of-fact manner, has guaranteed I won't lose sleep at night and water feature masterpieces at the LO garden will be second-to-none. This crowd pleaser will truly draw standing-room-only crowds.

The tandem of James and Paul Doornbos from the Upper Canada Chapter are a formidable team that makes you simply get out of their way.

A talented team from Durham, Brian Marsh and Richard Portelance from Cypress Hill Landscaping, Chris Power from Bellaire Landscaping in Windsor, and Ryan Heath from the Toronto Chapter tackle the huge, complex job of close to 5,000 square feet of pavers with intricate patterns and timelines that approach lunacy. They simply laugh and dare anyone to say they can't get it done.

And then there is Lindsay Drake Nightingale, who said, "I will handle the plants." This before seeing the design! This task alone would crush many a weaker heart. Her tenacity, professionalism, and get-it-done mentality will be the coupe de grace of our installation. Together with PAO Horticultural and the generosity of many of our plant suppliers across Ontario they will provide the inspiration needed to kick start our spring.

Walk through and under our lit willows, and tell me you don't feel good.

Tony Lombardi couldn't describe the process any better when he said, "This is like conducting a symphony orchestra. When everything falls into place, beautiful music will result. If one person fails his cue, we have a minor disaster." So, Tony Lombardi, our orchestra leader, will chart, plot, pull his hair out, and then calmly proclaim, "We'll make it work."

And of course, as you all know there will be countless foot soldiers adding their piece to the puzzle. Check your ego at the door, this is not about any one person, it is about an industry that cares so much it oozes through their very souls.

Never is it said, "We can't do it." Instead it is, "Just let me think about it," —and then it happens.

Hundreds of volunteers have committed and dozens of companies have contributed. Our corporate leaders like the Permacon Group want to help the industry, and step up in ways that permit these dreams happen.

So when you visit Canada Blooms this year, you will notice a swagger and a sense of pride. It's a feeling of "This is my industry, my association." It is truly humbling to be around people who care so much about everything that we are. Our industry owes a great deal to these people.

A funny thing happened on the way to Blooms? We became one.

Welcome to spring!