November 15, 2013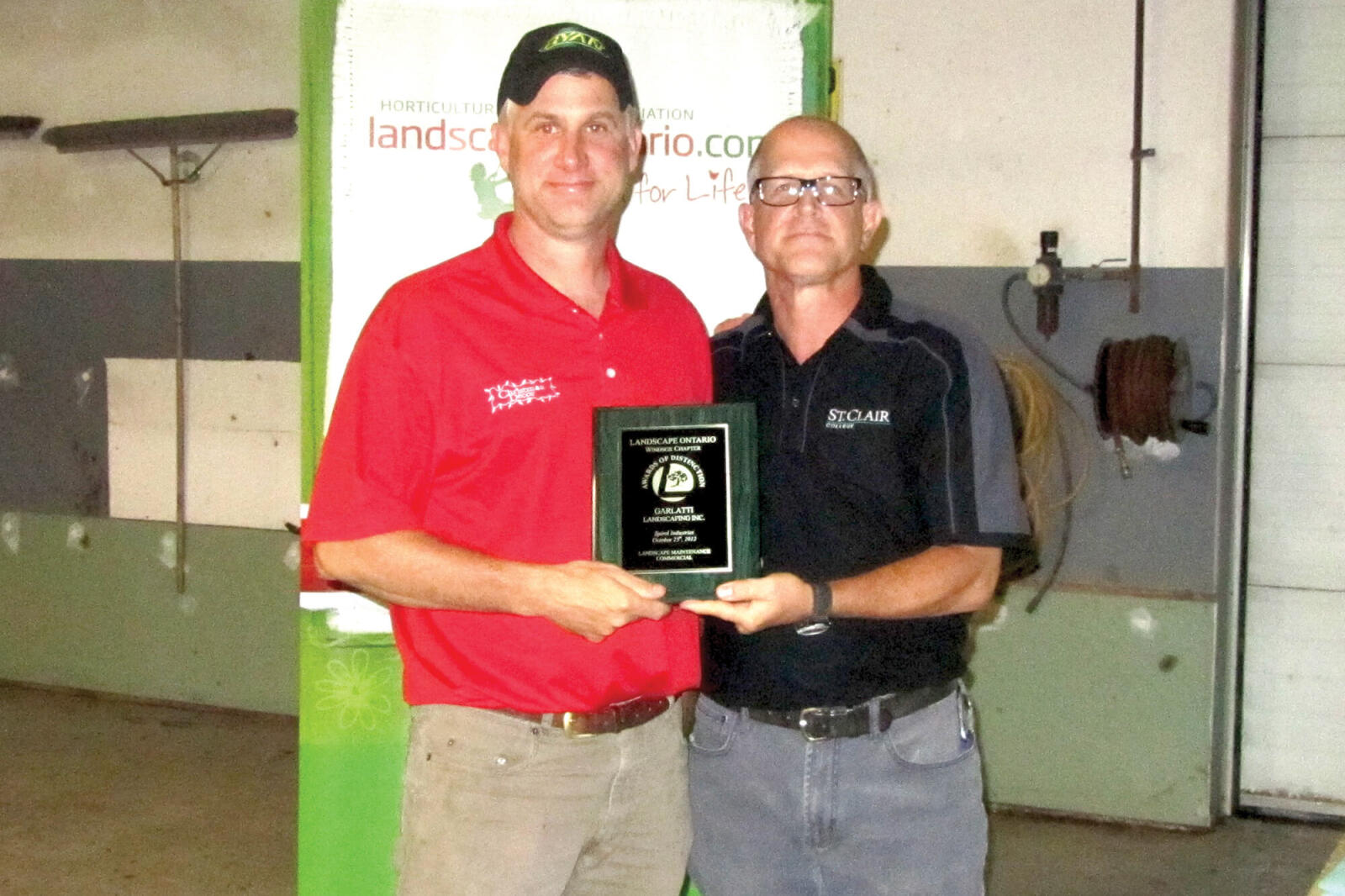 Windsor Chapter has big list of accomplishments
As the smallest chapter in the Landscape Ontario system, the Windsor Chapter has been able to accomplish many positives over the years.

With a very limited budget and numerous requests for assistance from the private and public sector, its 48 dedicated members have been able to step up and give back to the community on a number of initiatives.

In co-operation with St. Clair College horticulture department, a partnership was formed to promote landscaping and horticulture to the residents of Windsor, Essex and Kent Counties. This event, known as 'Growing Together,' brought together the students/staff of St. Clair College with the various participating members of Windsor Chapter for what was initially a one-day event. Guest speakers, garden displays, retail booths, equipment displays, petting zoos, etc., enticed the general public to come out with the whole family and enjoy a free admission event. Over the years, it has grown to two days due to popularity and interest.

Each year Growing Together was always weather dependant (first Saturday and Sunday in May). During the first few events, the Chapter enjoyed great conditions outside, however, was hit with less than desirable conditions for a number of years. This resulted in examining the future of Growing Together. Based on discussions with the college staff and Windsor Chapter board, a new event was created under the name Winter Blooms, which began a very successful five-year run at the college.

This event transformed some large empty spaces within the college into beautiful gardens that created some much-needed relief from the winter blues. Through both the Growing Together and Winter Blooms events, Windsor Chapter was able to donate several thousand dollars toward scholarships and bursaries for St. Clair horticulture students. Hospice of Windsor/Essex was also the recipient of several thousand dollars in cash and material donations that would lead to the development of some permanent Solidarity gardens at the hospital.

In recent years, the Windsor Chapter has been involved in construction of the Solidarity gardens, school greening projects at St. Anne French Immersion School, construction of Olivia's Garden for a young local resident who suffers from a debilitating disease, home shows and many more local activities.

The Chapter's main project for 2013 is the Perry Molema Memorial Garden that is tentatively scheduled for construction in November of 2013.

Also scheduled this fall is the construction of the South Western Ontario Certification site at Ridgetown College. This site will facilitate the testing of future CLT candidates in 2014 and beyond.
All this activity is a testament to the goodwill and need for giving back to the community by relatively few members. Windsor Chapter is proud of its contributions and would like to thank all the serving board members who fully supported these activities over the years.

Aside from the installed softscape and hardscapes and numerous donations given out over the years, Windsor Chapter is a social group. The annual Awards of Distinction recognizes the efforts of member companies in developing and maintaining residential and commercial properties in the Windsor/Essex County areas. This is Windsor Chapter's largest attended event with employees and St. Clair College Horticulture students invited to the proceedings. Baseball tournaments, bowling, annual golf tournament and Detroit Tigers Day round out an enjoyable social calendar.

Windsor Chapter looks forward to the challenges of 2014. "With the continued support of our small but mighty group, we hope to continue to support the branding of Green for Life in our community," says Chapter president, Don Tellier.
Windsor Chapter snapshot
Number of Members: 48
Number of Active Members: 25
Chapter Board
Donald Tellier CLT, President and Prov. Board Rep.
Chris Power, Vice President
Jay Rivait, Secretary and Chapter Assistant
Jay Terryberry, St. Clair College Liasion/Director
Dan Garlatti, Director
Karl Klinck, Director
Chuck Pronger, Director