December 15, 2011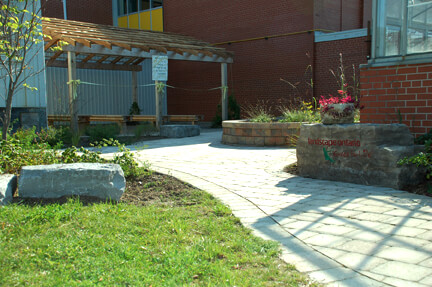 Waterloo's latest greening project creates outdoor classroom
Waterloo-Oxford District Secondary School has a new outdoor classroom thanks to the Waterloo Chapter.

The project was the Chapter's latest school greening community project. Don Prosser of Don Prosser Landscape Design of Ayr was the project's chair.

"We are so excited to have this outdoor classroom," said Greg Kaster, teacher at Waterloo-Oxford school.

The outdoor classroom will provide students with an interactive classroom for studies on ecology, environmental interaction, climate change and green technologies. Students from the horticulture class will maintain the outdoor area.

The official ribbon cutting ceremony for the outdoor classroom took place on Oct. 6, at the school, located in Baden.

Landscape Ontario donated materials, time and manpower to create the outdoor classroom, located beside the horticulture classroom at the school.