November 15, 2014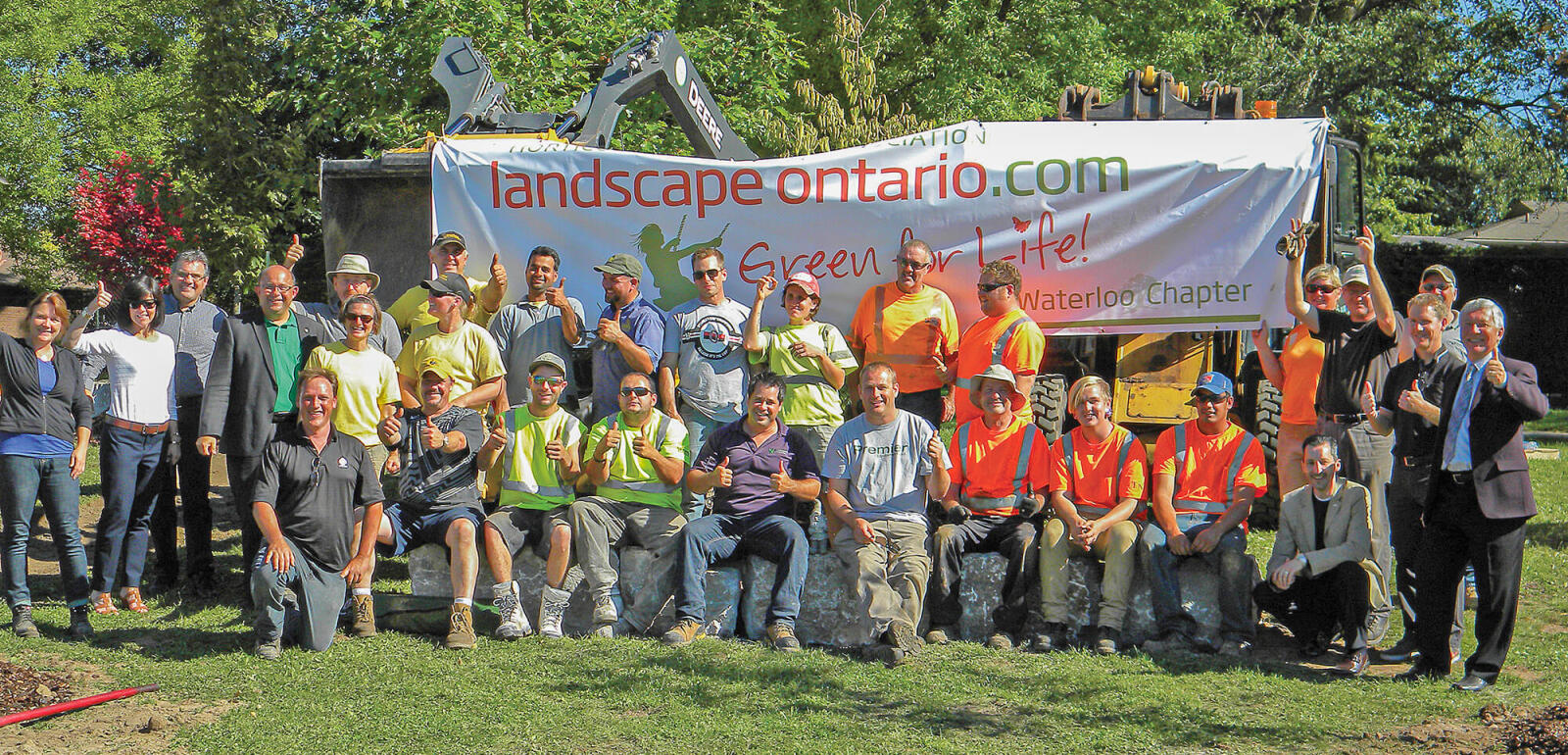 Waterloo Chapter rocks with latest greening of school
Waterloo Chapter celebrated National Tree Day on Sept. 24 with the official opening of its school greening project.
This year, the Chapter chose Stanley Park Public School in Kitchener, which was celebrating its 50th anniversary.
Planning began a year ago with former Stanley Park principal Rob MacQueen and teachers Brent Johnston and Andy Sinclair to celebrate the school's special anniversary.
On Sept. 24, approximately 45 Landscape Ontario volunteers gathered at Stanley Park. In one day, the school had an outdoor classroom, 19 planted trees, 33 armour stone seats, a new pathway and lots of mulch. As a bonus, Landscape Ontario volunteers also cleaned the jumping pits, refreshed front gardens, and planted some new shrubs around the school sign.
A blog on the Waterloo District School Board website, states, "Thanks to Landscape Ontario, and the local member companies and volunteers who made this dream a reality for the school. You rock!"
Waterloo Chapter contributed $4,000 to the project in time, equipment and materials.
Jason Dietrich of Ace Lawn Care, chair of the Chapter's Green School Committee, and the rest of the LO members were joined by representatives from the Waterloo District School Board, as well as Kitchener councillors and mayor, Carl Zehr.
"This was our 11th school in the last nine years that we have created a Green for Life space," said Dietrich. "We decided that these projects influence a generation people who will be our staff and future clients, while also exciting people about our industry. It's also a fantastic way to give back to the community."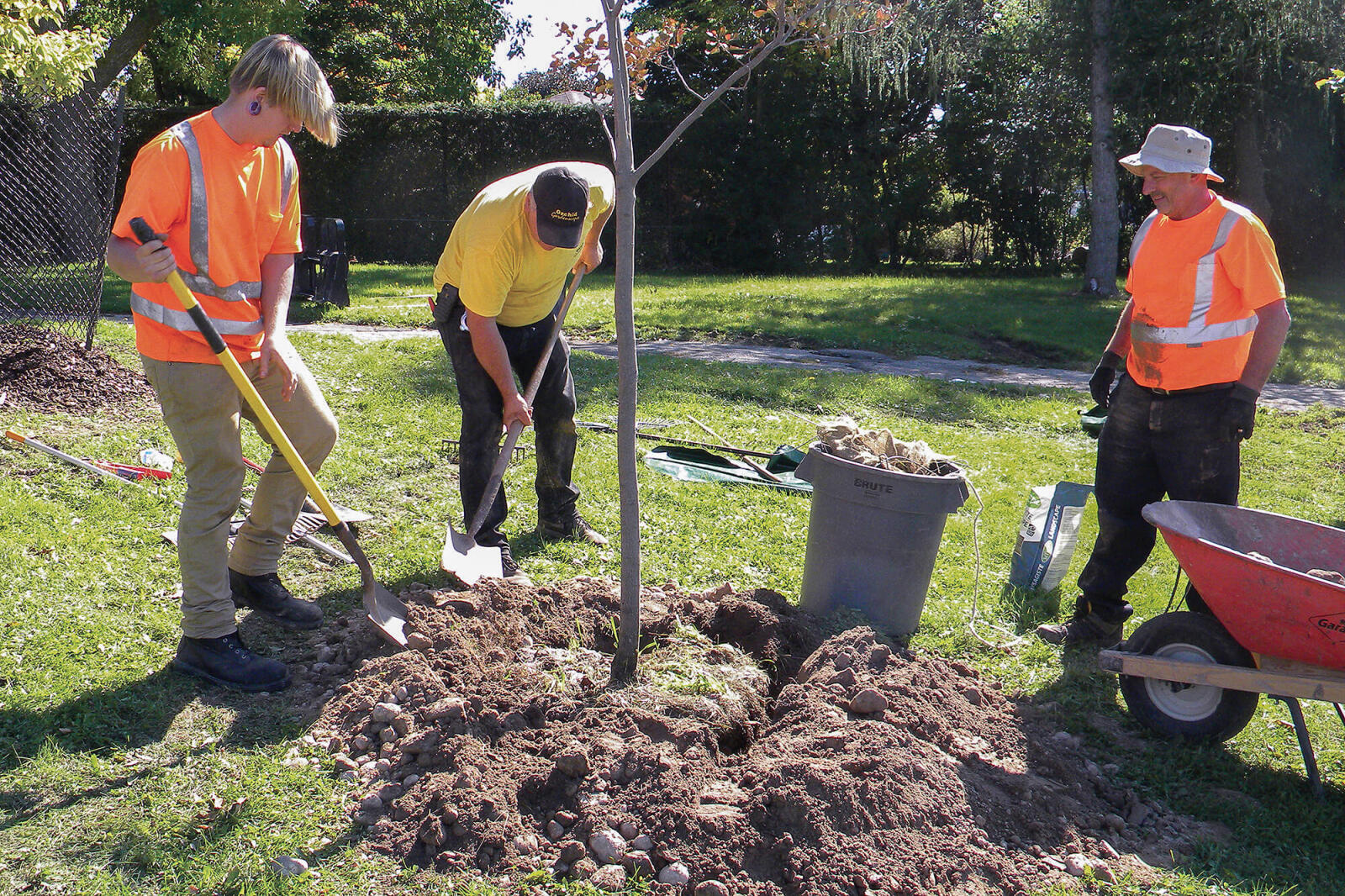 Over the past ten years, the Waterloo Chapter has contributed over $350,000 in landscaping to area schools.
---
During the last decade, Waterloo Chapter has given over $350,000 worth of landscaping back to its communities with generous donations of materials and equipment, and volunteering.
"We need to teach our students how to use this new outdoor space respectfully," said school principal Sandy Dawson. "Going forward, we will need to water the trees weekly for the next two years. Each tree has a gator bag attached, which is filled with water each week. The water slowly soaks into the ground to give the trees the best chance of survival. Classes are going to volunteer for a month at a time to water our new trees. The intent is to have our students be good stewards of their school ground."
Dietrich stated, "It is amazing the passion displayed by students and teachers for change and to influence the next generation to look at how we can beautify, teach, and manipulate the outdoors so that we can all enjoy."
At the official opening, Kitchener City Councillor Berry Vrbanovic, stated, "This will benefit future generations of students, and will add to the quality of life of people in the surrounding community, thus helping to build strong neighbourhoods in the City of Kitchener."
"Our mandate as a Chapter is to promote the green industry, show how landscaping is so important and provide outdoor spaces that many will enjoy for years to come," said Dietrich. He reflected how the reaction from the schools is fantastic. "Our hope is to let them see how we can provide landscape makeovers and show them what we do for people every day."
The completed park area now provides an outdoor class room, shade for students and staff on the school yard, a space for passive play, and a naturalized landscape of locally indigenous trees.
Waterloo Chapter volunteers included, Jason Dietrich and Adam Cook of Ace Lawn Care; Eric Horst and Rod Martin of Alltask Property Improvement; Al and Crystal Murray of Murray Enterprises; Kelly Brubacher, Julie Vonk, Scott Durst and Amit Persaud of Orchid Gardenscapes; Jamie Carmen of Premier Equipment; Scott Moser and Dan Cayer of Coleman Equipment; Ross Kaufman, Matt Kaufman and Nick Schickler of Greensleeve Maintenance; Clayton Knarr of OK Tire Baden; Rob Albrecht of John's Nursery; Rob Tester, Bob Tester, Dwight Baer, Doug Willis and Brett Sieber of TNT Property Maintenance; Richard Burch CLP, CLT, CIT of Burch Landscaping; Blake Sicard of UPI Energy LP; Mike Silva, Shawn Untch, Nick Bruno and Shannon Loney of Platinum Stone Design; Keith Snider of St. Jacobs Country Gardens; Steve Snider of Snider Turf Care; Trevor Garner of Landscape Plus; Glynis Logue of Evergreen; Jeff Thompson of Native Plant Source, and Lucan Allin of Fast Forest.
Companies that contributed products include, Cambridge Garden Centre, Fast Forest, JCA Trees, UPI Energy LP, John's Nursery, Premier Equipment, Coleman Equipment, Steed and Evans, Adams Landscape Supply, Sheridan Nurseries, Creative Landscape Depot, Green Sleeve Maintenance, Murray Enterprises, LP Landscape Plus, Ace Lawn Care and Speare Seeds.
"It really is all about our members who donate, contribute, and sacrifice paying work days to make a difference. Thanks again to all those who go above and beyond and reach out to the community and change it for all to enjoy," emphasized Dietrich. "We would gladly share our experience with other chapters if interested."