March 15, 2012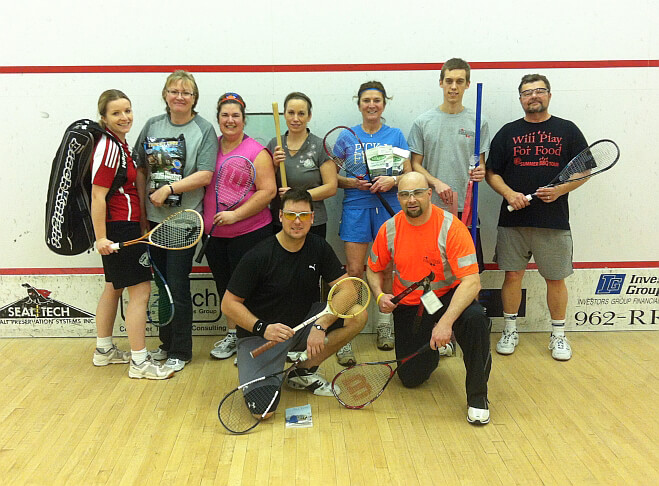 Upper Canada hosts its first squash tournament
By Dan Clost CHT

The Upper Canada Chapter held its inaugural squash tournament on Feb. 15 at Belleville's Harbour Fitness Centre.

Named, "I Was There Squash Tournament," the event attracted two full flights of competitors, as well as a mini-round-robin set. There was excellent participation by member companies.

The tournament provided two acts of recognition. The overall winner received the 'I Was There' vintage squash racquet to display for one year, at which time they must return and defend the title. The winner will autograph the trophy, thus creating a proper memento. The second act of recognition is the 'Dead Tin Award' ritual. Tossed at the person who displays a spectacular ineptitude for the game, the winner received a discarded hockey plaque and is banished to the weight room with the knuckledusters.

Undefeated Mike McKay edged out Mitch Wiskel for 'Journeyman Flight' honours and the privilege of holding the squash racquet for the next year. Mitch thoroughly trounced Dan Clost in a spirited match for the 'B' consolation title. Diana Cassidy-Bush was full value in taking the 'Apprentices Flight,' but it required double overtime matches. Veronica Shroder warranted the 'Dead Tin Trophy' and the best sport award.

Thanks go to my co-convener Janine Treanor and also Mitch Wiskel who was prepared to lead the stretching exercises. Also, thank you to the companies and individual who donated gifts for the draws: Connon Nurseries CBV, Steve Ally, Myke, Harris Turf Seed, Dan Clost's Greenscapes, and Reilly's Trophy Shop. The Harbour Fitness Club was a proper host and the Chapter is grateful for their generous pricing structure.

Watch next year when, "I Was There," returns with more squash action in Upper Canada. Be there.