April 15, 2017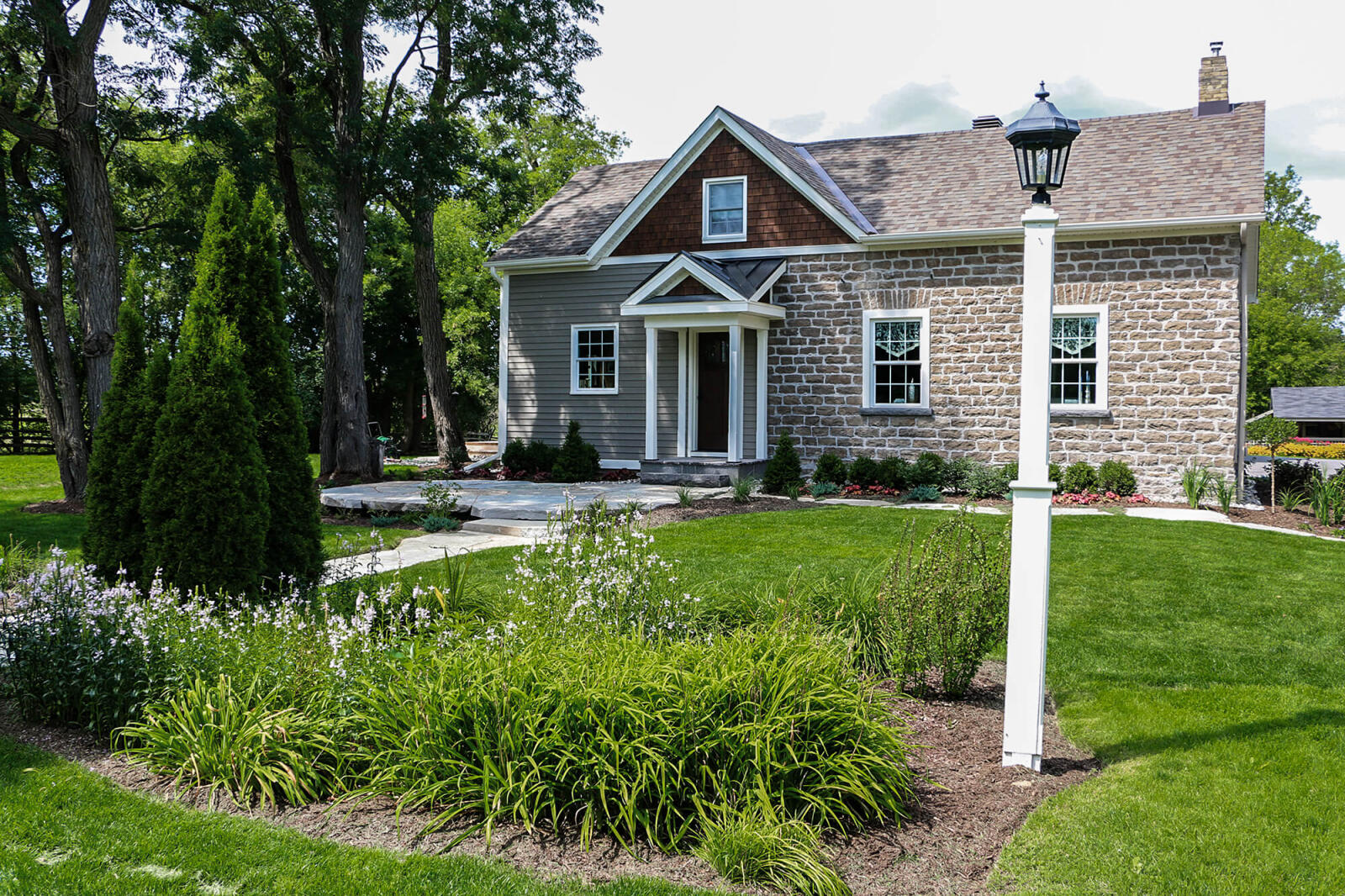 Thriving in small town Ontario
By Robert Ellidge
Running a landscaping business in a small town is not for everyone, but for Brian Rauwerda, owner of Terrascapes Landscape & Design in Perth, Ont., there's no place he would rather be.
After graduating from the University of Guelph's horticulture program in 1999 (specializing in design) Rauwerda founded his business in Ottawa in 2004. In 2010, his family and business moved about an hour southwest to the town of Perth. Located on the Tay River, the historic, 200-year-old town has a population of about 6,000 people.
Business thrived and in 2016, one of Rauwerda's employees, Kurt Rafuse, bought into the business, creating a co-ownership, split evenly between the two. Rauwerda handles the main operations of the business, does most of the design work and operates a crew of two to three employees in and around Perth. Rafuse works primarily in Ottawa with another crew of two to three employees and the two share equipment and machinery.
Rauwerda says the two owners really don't meet all that often. "Kurt will call in or send me information for all of the design required in Ottawa and we will communicate back and forth," explains Rauwerda. "We are both really so busy so if I don't have to go Ottawa and Kurt doesn't have to come to Perth then we don't do it." Rauwereda says the Ottawa projects tend to use a lot of interlock (which he uses rarely any of in his Perth projects) and the design can vary up to something that is ultra-modern.
---
Matching a natural setting
Terrascapes projects are mostly residential construction, design/build and average between $25,000 and $50,000. Rauwerda says "every job is different," and after moving to Perth, he finds his designs draw upon a lot of the natural elements of the area, such as cedar rail fencing, wood structures and natural stone.
"We use stones as large as possible to make it look very rustic, like it was always there," Rauwerda explains. Some projects require 30 to 40 tonnes of natural stone which means the company requires a logging truck full of natural stone brought in from a quarry in Peterborough about every two weeks.
Rather than the inefficiency of sending two staff to make the trip to the quarry and have downtime while stone is loaded, Rauwereda uses a local truck driver who is now so familiar with the company's style of work that he can also pick the right stone at the quarry.
Rauwerda also hires a local excavator when beginning a job and is happy to subcontract in other areas which allows him to focus on the job and deal with the client. "It's more manageable, and the customers really like that I can be on site," he says.
A different kind of design project
In March 2016, Terrascapes took part in the Living Landscapes at the Ottawa Home and Garden Show. Featuring 10 gardens built by members of Landscape Ontario, the event quickly became a very popular feature of the show.
Rauwerda says he spent the entire winter before the show planning the feature garden and that it was a tremendous amount of work.
Although he may work on one or two designs each winter, at Terrascapes, the offseason is a time for everyone to enjoy other pursuits. One of the staff is a musician, another enjoys winter sports and for Rauwerda it's a time to spend with his family and enjoy other interests.
So although he did have the added workload of participating in the home show, Rauwerda says it was a great experience.
"What was nice about that project was it was my idea from the beginning to the end," Rauwerda explains. Not having to deal with the tastes, expectations and budget of a client made for a unique experience that allowed him to do whatever he wanted and make the garden the way he truly envisioned it.
The idea for the garden was to "bring a bit of the country to the city," Rauwerda explained, as some of Terrascape's projects in Perth have been at summer homes or cottage properties of clients who live in Ottawa. Many elements in the garden came from local suppliers as well, including an outdoor barbecue unit from a local fireplace company, a large timber frame structure built by a local husband and wife, and a large pine cone3s sculpture created by a friend in Toronto.
The Terrascape feature garden was voted the People's Choice Award at the 2016 Ottawa Home and Garden Show, confirming Rauwerda's own choices of plant material, design elements and materials resonated with show visitors and his clients.
Rauwerda says he got a few jobs directly from participating in the show and many people around town were soon aware of the garden he created and accolades that ensued.
News travels fast
One potential drawback to working in a small town is that if you don't do good work, word will spread quickly. "We don't have a problem with that," says Rauwerda. "If anything, it's great to be in a small community," explaining that almost all of the work done in 2016 was a direct result of client referrals.
"When people contact us, they know exactly what they want," Rauwerda says, "and they have already justified why they called us." Based on seeing work done by the company on other sites, Rauwerda feels they have already qualified them based on that and their reputation, and also with the organizations they belong to and have worked with.
Terrace on the Tay
In celebration of the town's 200th birthday in 2016, town council made plans to build a new dry stone bridge to revitalize an old swimming hole adjacent to the Tay River.
For the project, Algonquin College stone masonry professor John Scott says about two-thirds of the required stone was donated by Upper Canada Stone Company. The bridge was then built with a lot of help from students in Algonquin's stone masonry program, plus many volunteers who helped to support students and an overwhelming number of dry stone wallers who descended on Perth for two days in July 2016.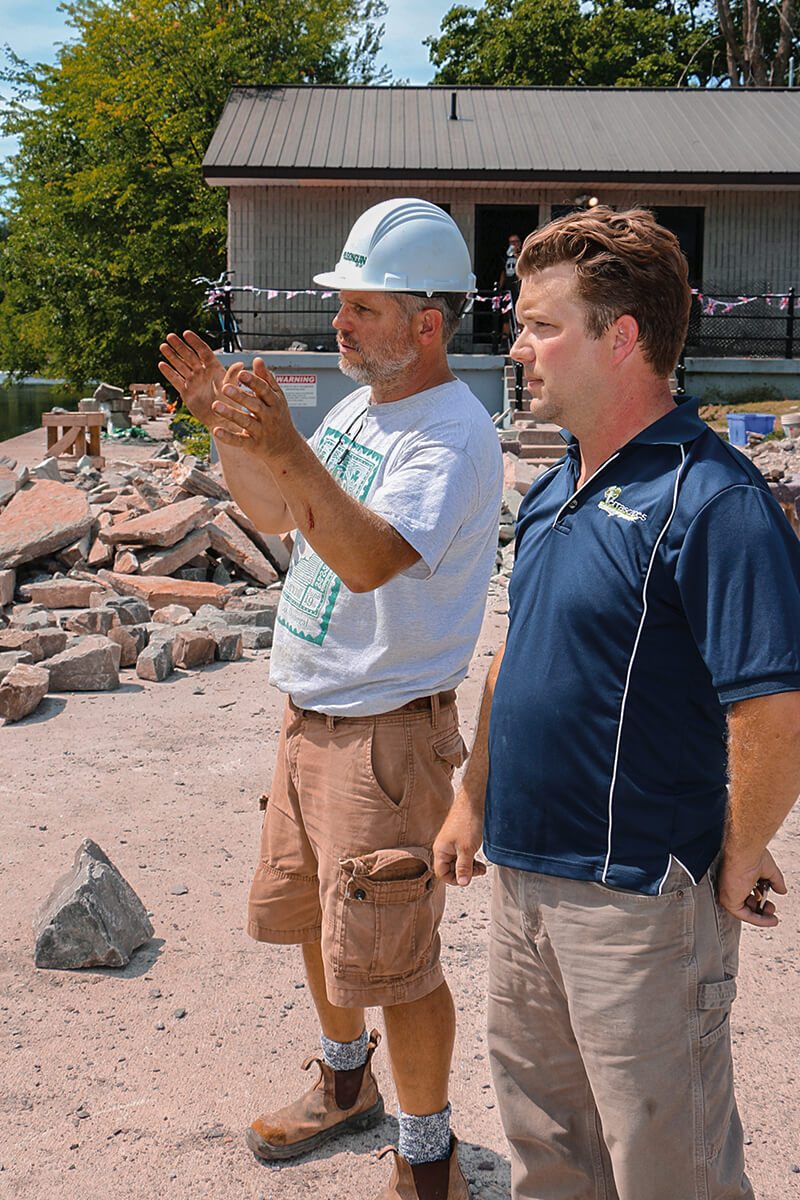 Algonquin college stone masonry professor, John Scott (left) at the site of the Terrace on the Tay project with Terrascapes owner Brian Rauwerda.
---
The Perth Dry Stone Wall Festival Workshop saw about 60 participants from all over the world use their skills to build the bridge that will be remain a feature of the town for decades to come.
Rauwerda put together a free design and submitted a proposal to the town for the Terrance on the Tay revitalization. He also included a budget and working drawings as part of the submission.
Town officials liked what they saw and are now able to allocate funds at each stage of the project which has helped with the budgeting process.
Terrascapes was involved in a large planting for the project and in November 2016, Rauwereda and local designer Ashley Cochrane (who works with the company at their busiest times and with 3D renderings), presented their plans for the area to Perth's town council.
The proposal included an area to host wedding receptions and for taking wedding photos (something that would provide a bit of income to offset operational and maintenance costs), as well as updating a small maintenance building into a concession area, plus seating for a small amphitheatre.
Town councillors were overjoyed with the proposal and Terrascapes is also working with the town on a soccer field as well as another wedding venue project.
Rauwerda has no plans to grow into a large company with four or five crews, citing it is very easy to lose control and lose the connection with clients at that stage. He feels being a smaller company is the most efficient way to operate, adding that clients like seeing him on site because that means he is working hard and has their best interests in mind.