September 15, 2017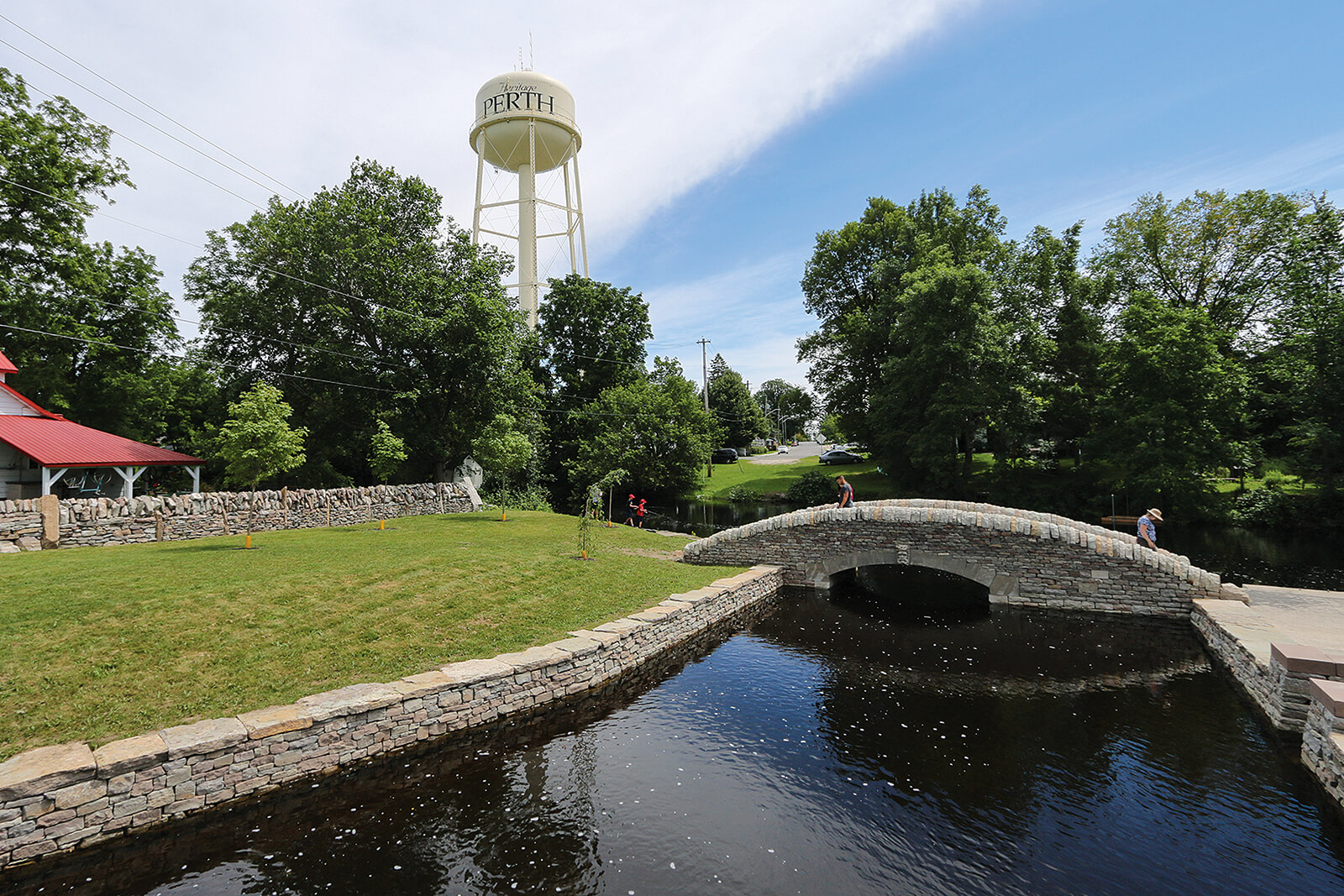 By Denis Flanagan CLD
LO Manager of Membership and Public Relations
Just like the lines from that famous Willie Nelson song, On the Road Again, July and August are good months to hit the road and spread the Landscape Ontario membership message. Below are just a few of the places we appeared this summer.
Member appreciation days
Staff from LO's membership department visited several members on their job sites in the Midland area. Some sites have specific challenges due to their waterfront location and dealing with local planning authorities. It was great to meet members on their own turf instead of just seeing them once a year at Congress. It's also a delight to actually meet the members' clients and we presented each with a certificate thanking them for hiring a professional member of LO. Member days also took place at Stonemen's Valley, and SiteOne Landscape Supply.
Parkwood Estates
In our last issue, we covered the story of how LO's Durham Chapter was involved in partially funding the donation of over $28,000 worth of new Husqvarna equipment to help with the grounds maintenance of Parkwood Estates in Oshawa, celebrating its 100th anniversary this year. As a follow up, Husqvarna decided to shoot a promotional video at Parkwood and flew in their national sales manager from South Carolina to spend two days filming and interviewing several of our members in action. When the video is released, we will share it via the LO website.
OHA convention
Each summer, the Ontario Horticultural Association (OHA) hosts a convention in one of its districts. Held this year in Markham, the event was attended by hundreds of keen gardeners from across the province to network, attend seminars and tour local gardens. This year's convention had an interesting water garden tour and a visit to the Toronto Botanical Garden, where a serviceberry was planted during a ceremony celebrating the 2017 convention. As usual, Landscape Ontario donated the tree and we look forward to contributing again next year when the convention takes place in the beautiful Kingston, Ont. area.
Zoomer Radio
When Charlie Dobbin goes on vacation, I stand in for her on the garden show on Zoomer Radio AM740. This year, Charlie went off to the Yukon and had no access to the Internet or a cellphone, which was great, because that allowed the show's hosts, Frank Proctor and me, to have lots of goodhearted fun at Charlie's expense without her hearing us. The live phone-in show gets lots of calls from all over the province and some from the Buffalo area. The hot (or should I say 'cool') topics this year were of course problems resulting from the wet weather, attacks by hordes of ants and Japanese beetles and lawn care problems. These common issues were a great segue for Frank to ask me about the LO website and the types of services our members provide. I guess Charlie likes to travel, because they have asked me to fill-in again on Sept. 2, which will be a great time to promote fall planting.
The Weather Network
Because all our businesses are so affected by the weather, it's always great to be close to the source on all weather information. The Weather Network has started a new series of short, informational videos. Titled, The Myth Busters, we were invited to participate in some lawn care segments to set the record straight and dispel some of the myths about proper lawn care. Healthy lawns is one of the most popular topics on landscapeontario.com and in less than a month, the two segments on the Weather Network website received over 150,000 hits combined.
Ottawa Chapter
LO editor Rob Ellidge and I go on a road trip to Ottawa each summer (Willie Nelson playing on the radio the whole way, of course!). We stopped for lunch in picturesque Perth, Ont., to visit an outstanding waterfront redevelopment project. Located on the Tay River, the project features a drystone bridge and wall. The design of the area and stone were supplied by LO members, Terrascapes Landscape & Design and The Upper Canada Stone Company respectively. We also participated in the annual Ottawa Chapter Golf Tournament, visited some LO members and took in the MosaïCanada150 event at Jacques-Cartier Park in Gatineau, Que. This amazing collection of living sculptures represents all provinces as well as some displays from other countries. It's a world-class event that will continue until Oct. 15. If you can find the time, it's definitely well worth the visit.
---
Denis Flanagan can be reached at
dflanagan@landscapeontario.com
or at 905-875-1805, ext. 2303.