October 15, 2015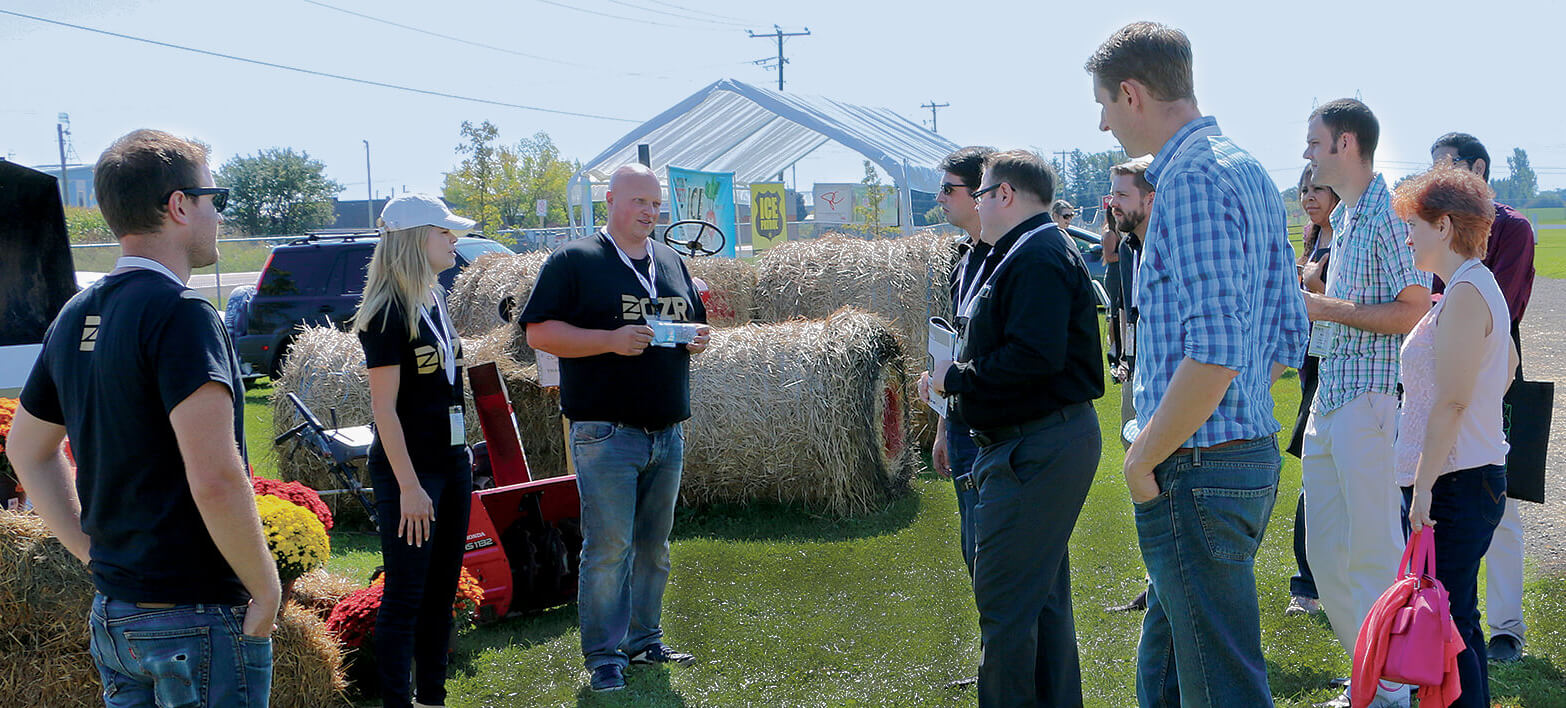 Snowposium enjoys great weather and well-attended sessions
Gorgeous sunny skies blessed the two days of this year's Snow and Ice Conference as part of Thrive '15.

Hosted by the Snow and Ice Sector Group, the event featured over 20 outdoor displays at the Ancaster Fairgrounds. Attendees had the opportunity the view the newest and best products to handle winter maintenance jobs.

It wasn't just outdoor displays at the Conference. The morning schedules featured information sessions with Gerald Boot from Boot's Landscaping, Thornhill, performing the MC duties. "He did a fabulous job of warming up the crowd which gathered for the snow seminars," said Kristen McIntyre, Conference and Event Manager.

The Sept. 16 conference featured Mark Bradley, CEO of TBG Landscape and LMN. His topic was entitled Get More Jobs Done On Time + On Budget with Better Job Costing! This popular session saw Bradley reveal how to have employees work faster, and help teams work more effectively. He also talked about how to use equipment to reduce job time and overhead costs and knowing when to invest in equipment.

The following seminar featured Phill Sexton of Snow and Ice Management Association (SIMA). He spoke about best practice guidelines for benchmarking a snow and ice management plan. He also covered a variety of issues, including safety and return on investment for employees.

The Ministry of Transportation session drew a great deal of attention, as ministry officers outlined what to avoid during the upcoming season.

Exhibitors taking part in the outdoor show included D & D Property Maintenance, Dozr, Drive Products, Draglam Salt, Eloquip, Equipe VTC Mfg., Fairway Building Supply, G.C. Duke Equipment, Outdoor Supply and Equipment, Leggat Auto Group, Premier Equipment, Premier Equipment Rentals, Rittenhouse, SIMA, The Kissner Group, Toro Dingo, Twin Equipment, Tillson Brands and Windmill Power Equipment.

Feedback from the exhibitors was positive. Many suggested the show become a one-day event.