November 14, 2018
Snow and Ice Operations Risk Management Guidelines released
Marsh Consulting, in cooperation with the Canadian Nursery Landscape Association (CNLA), and Landscape Ontario, recently released a new document containing guidelines to help snow and ice maintenance professionals to facilitate a consistent approach for the management of common risks.

The Snow & Ice Operations Risk Management Guidelines was produced by Marsh Risk Consulting to support Canadian Nursery Landscape Association (CNLA) and all associated provincial association members in the development of risk management programs with respect to snow and ice maintenance operations.

The guidelines will become the basis for widely-distributed education campaign to ensure best practices for snow and ice removal operations. The guidelines can also be used as a self-assessment tool by snow and ice operation professionals.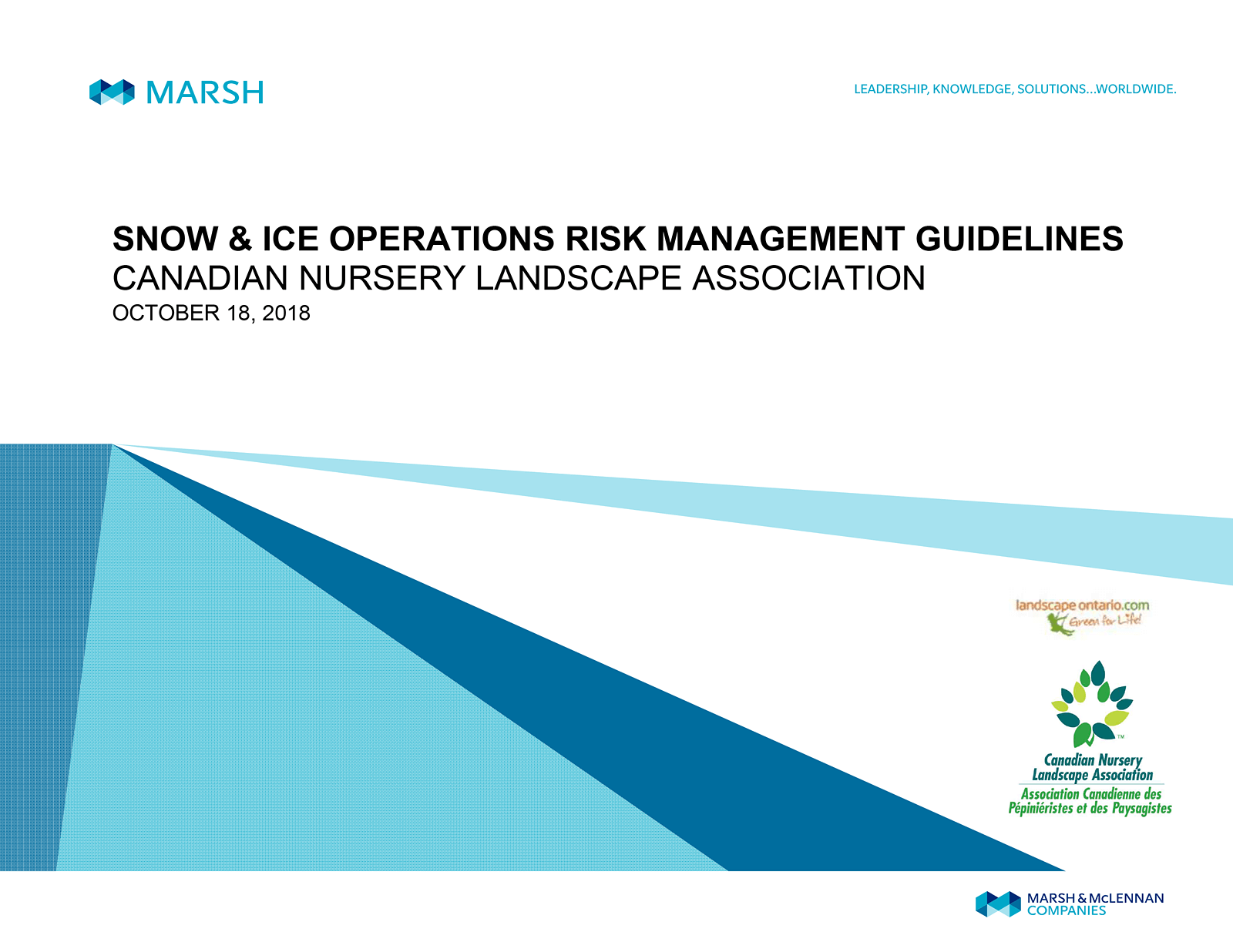 The collaborative development process included seeking input on scope and performance aspects of the tool from various CNLA members, and referencing various resources, codes and standards, namely:
Smart About Salt Council (SASC).
Snow & Ice Management Association (SIMA).
Environment Canada (Best management practices for salt use on private roads, parking lots and sidewalks).
Transportation Association of Canada (Syntheses of Best Practices Road Salt Management).
Conservation Ontario and Ontario Good Roads Association.
The guidelines are intended to be a simple and practical tool to assist users in effectively identifying, prioritizing, and managing / mitigating potential risks. Applying the outlined process will also serve to broaden the knowledge and understanding of risks. In addition, using a consistent approach will support the sharing of risk management strategies between CNLA members. This guide was designed with a process emphasis, hence is structured to be applicable at any stage of snow and ice maintenance activities. It is also intended to be complementary to current CNLA / Landscape Ontario tools and reference materials that also contribute input to managing risk.
Canadian Nursery Landscape Association, Landscape Ontario and Marsh Risk Consulting would like to recognize the following organizations and individuals for their valuable time and professional input throughout the development of this
Snow & Ice Operations Risk Management Guide
:
Jon Agg, Pristine Property Maintenance
Gerald Boot, Boots Landscaping
Megan Campbell, Marsh Canada
Lee Gould, Smart About Salt Council
Eric Hodgins, Region of Waterloo
Mark Humphries, Humphries Landscape Services
Robert Kennaley, Kennaley Construction Law
Jim Monk, Markham Property Services Limited
Luke Pallister, Marsh Risk Consulting
Brian Perras, BP Landscaping
Jamie Perras, BP Landscaping
Robert Roszell, Tuff Tech Bags
Terry Nicholson, Clintar
PDF FORMAT
MS WORD FORMAT