July 14, 2023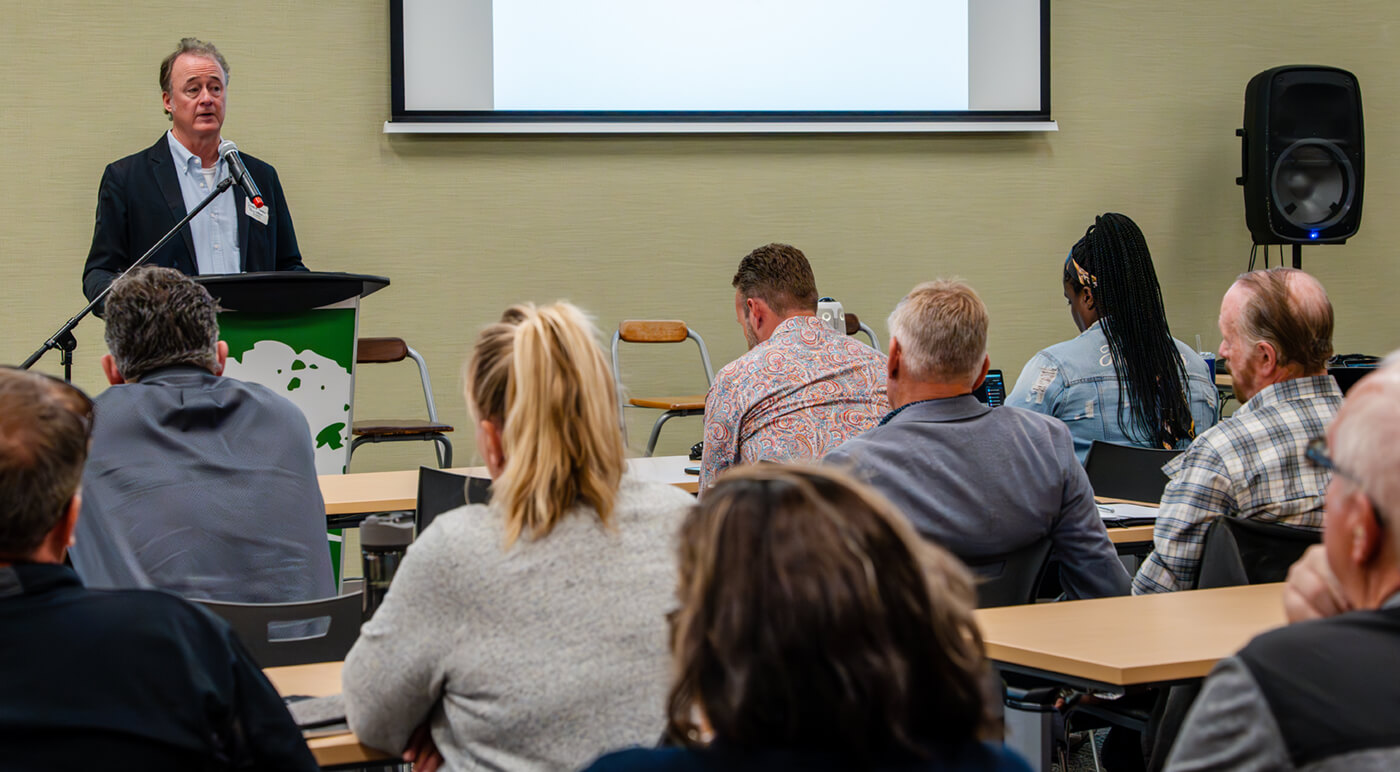 Snow removal sector meets to discuss insurance crisis
By Gerald Boot
Chair, LO Snow and Ice Sector Group
The Insurance Crisis Part 2 was an in-person and virtual event held at Landscape Ontario's home office in Milton, Ont., on May 25. Over 100 members of the snow and ice sector met to discuss the insurance crisis. This was a follow-up to an initial meeting held Jan. 9, 2020 at Congress where over 300 members expressed their disappointment and frustration with the availability and cost of insurance. Since that time, Landscape Ontario's Snow and Ice Sector Group (LOSIS) has been extremely busy working on solving this serious problem. An update of our activities was presented at this most recent meeting, and it is clear there is light at the end of the tunnel.
In July 2022, sector group board rep Jon Agg was introduced to Daisy Group Consulting via his neighbour, Tara. Daisy Group was ultimately selected as the government and public relations firm to represent our group. At the May 25 meeting, Daisy Group president Warren Kinsella explained their approach on combining government and public relations and recapped the main issues:
Face an insurance liability crisis.
The availability, capacity, and price of insurance is unstable. Many are being driven out of the industry.
Declining numbers of snow and ice contractors will result in a lack of service next winter without changes by government.
Bill 118 has not solved the problem.
Winter safety should be a shared responsibility for all involved: managers, owners and contractors.
Snow and ice contractors are currently shouldering all the liability risk for safety and the environment (safety and environmental duties are in conflict and need to be shared responsibilities), the result being many are shutting down their snow management business.
LOSIS has developed a vision of how the industry should operate and it requires reform. We have the attention of the Ontario premier's chief of staff and meetings have and are being held with other ministries to promote our vision.
Your stories are needed
As was the case with Bill 118, we need the industry to participate in order to take this campaign to the next level. Snow contractors work in a dangerous environment and help keep millions of Ontarians safe each year. We need you to tell us how you may have helped someone during a snowstorm, drove someone to an emergency appointment, or whatever else you may have done. These good news moments of our industry tells the story that can sway public opinion. These stories are important to our success. Stories of the many hardships that your business has had or is facing are also important to collect, along with cost of insurance or changes to your insurance — including availability of insurance.
We need these stories (good and bad) and data to demonstrate there is a widespread problem, but also widespread support for changes to the sector. We have heard the cry from members and our vision requires significant and urgent legislative and policy change. We need your help to accomplish this.
SHARE YOUR STORY
Financial support needed
Since we have retained the services of Daisy Group there is a call for financial support from Landscape Ontario and the Canadian Nursery Landscape Association. Both associations have contributed, however, we also need member companies to contribute financially. Many companies have already pledged support or donated. Please consider supporting this important activity — it's much needed and greatly appreciated.
SUPPORT THE CAMPAIGN
Standard training developed
The afternoon session included a recap of the work the sector group has done to get us to the point of obtaining the services of Daisy Group. The impetus came from the CSA Group's
Workshop Agreement on Assessing the Need for a Snow and Ice Management Standard of Canada
, published in May of 2022. The report identified the four key issues facing the sector: liability, training and competency, environmental impacts, and regulatory frameworks.
READ THE CSA REPORT
CSA Group indicated they could not develop a standard at that time, so rather than wait for them, the sector group continued to work toward that initiative on its own. In July 2022, a curriculum for training employees in the snow and ice industry was developed with the intent to improve safety, establish industry practices and ensure environmental concerns are a component of the training, allowing a person starting out in the industry to achieve a level of knowledge and competency equivalent to someone who has operated in the industry for many years.
SEE THE CURRICULUM
Thanks to all those who attended and participated in this event. Please consider supporting our campaign with your stories and a financial contribution.