October 15, 2018
Retailers shop at Windy City show
BY ANNE MARIE VAN NEST
Last August, the 12th Independent Garden Center (IGC) Show in Chicago saw its indie delegates storming the historic Navy Pier. Spread over three days, the IGC Show had a full schedule that still allowed ample time to talk to vendors, take in educational sessions, tour garden centres and be inspired by keynote speakers.
Founders and producers Jeff and Cheryl Morey worked hard to build this event exclusively for independent garden center owners, managers and buyers, combining a trade show with educational sessions, tours, and networking events — the biggest such event in the world. Their "Only for IGCs" philosophy requires exhibitors to be reviewed for suitability; vendors can't just buy their way onto the show floor, which contained around 550 booths this year.
The IGC Show was a great opportunity to recharge, reimagine, revitalize, and participate in the valuable retail-garden-centre shop talk that was happening everywhere. The following are a few products that caught my eye. All are available to Canadian retailers.
Privacy screen
Precision laser cut, the geometric-design screens from Veradek are available in black with a powder-coated finish or with the durable, protective patina of corten steel. This new product line is attractive, durable, and great for use as privacy screens on condo balconies or as a wall accent panel.
www.veradek.com



Indoor hydroponic system
The Indoor Hydroponic Gardening System from NutriTower can extend growing seasons, teach children how to grow edibles, or let homeowners enjoy harvesting their own fresh food — year 'round. The central column has four fluorescent lighting tubes and a simple drip irrigation system that feeds the 32 custom pots holding salad greens, herbs, fruits, or vegetables. The base contains a reservoir that holds 13 litres of nutrient solution and a submersible pump.
www.nutritower.com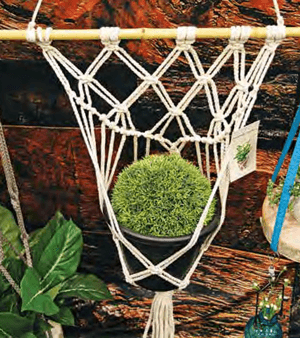 Macramé
plant hangers
Macramé offers timeless natural beauty in these all-natural jute hangers from Primitive Planters. Suspend plant treasures in these attractive and creative hangers. Owner Jennifer Marshall has created nostalgic hangers that are simple and sleek, without all the beads and tassels of the 1980s.
www.primitiveplanters.com
Fish garden sculptures
These lively fish sculptures by Maine artist Tyson M. Weiss represent a fluid beauty as they "swim" along garden beds. The luminous cobalt blue, fire orange, or dabbled white fish are caught in motion just as real fish would curve underwater. Bring the sensation of flowing water or wind into any landscape with Fish in the Garden sculptures.
www.fishinthegarden.net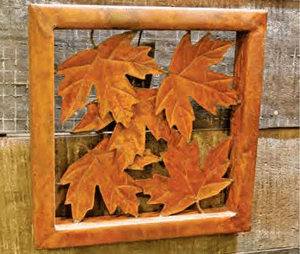 Recycled wall art
Think Outside creates hand-crafted sculptures using recycled and natural, sustainable materials — metal, wood, rubber and stone. The product line includes "Falling Leaves," a new maple-leaf cutout wall art. Founder Aaron Jackson is committed to creating a global community and supporting craftsmen in developing countries. He designs the unique pieces, which are then crafted individually by artisans in developing countries such as Vietnam. He believes in placing a high priority on sustainability.
www.thinkoutside.biz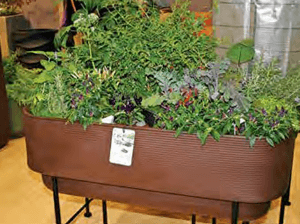 Self watering planter
Crescent Garden has developed a self-watering planter that is functional, beautiful, and ideal for the growing market created by new gardeners interested in edibles. Designed for easy plant care, the TruDrop Self Watering Raised Planter has a level indicator for its water reservoir. Crescent Garden's new planter uses less water, less fertilizer, is made from food-safe material, and is 100 per cent recyclable.
www.crescentgarden.com
Landscape Trades
, October 2018