September 27, 2016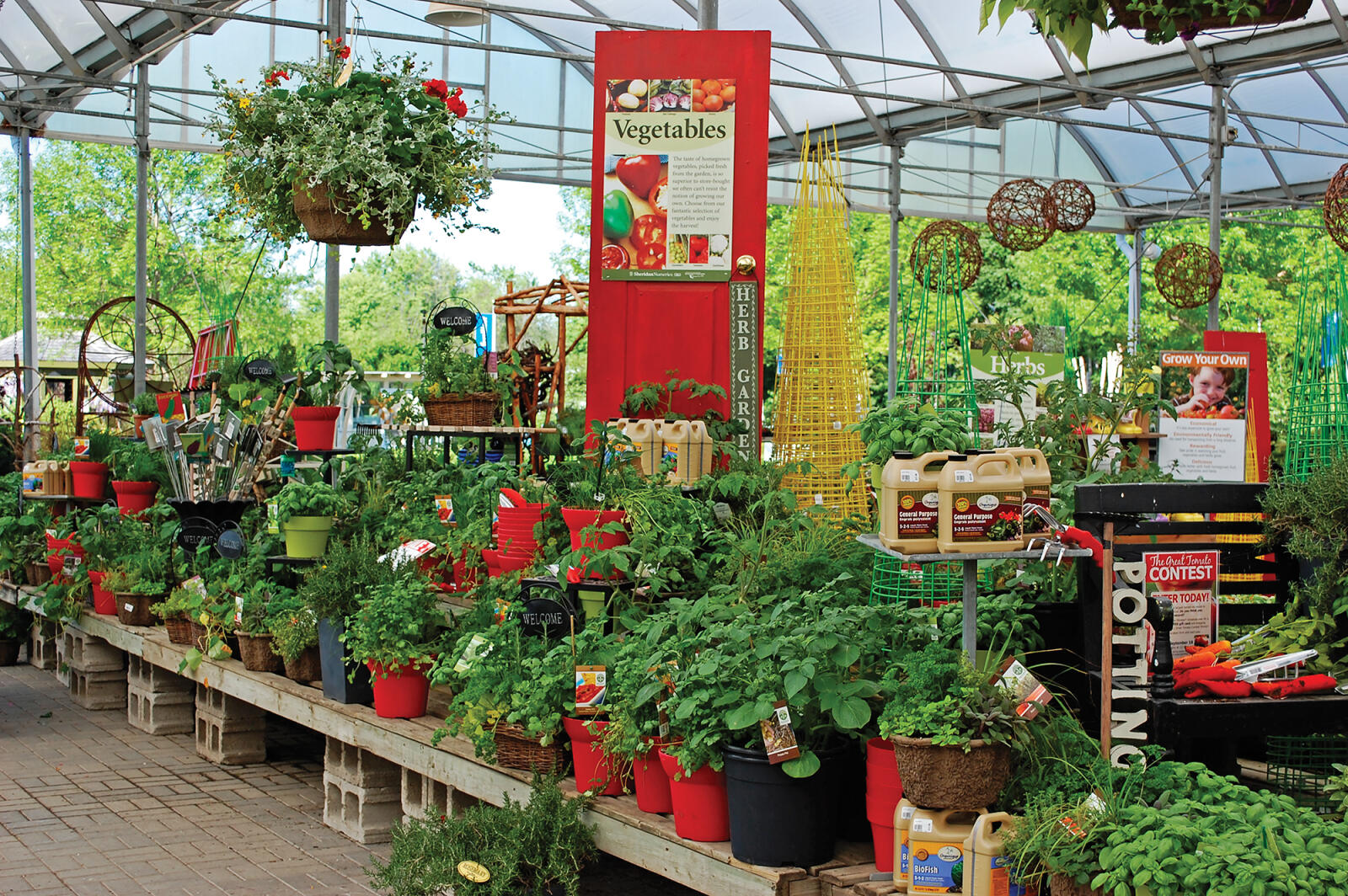 Retail details
Garden centres meet challenges for growth
BY MIKE EDWARDS
Not just a random list, but some of the tools that help garden centres survive and grow in today's predatory retail landscape. Of course, there is no magic formula for any business other than to be seasonably flexible and creative on several fronts all at once. Events are a universal way to draw traffic into any garden centre. "Hay rides suck," laughs Brian Minter, president, Minter Country Garden in Chilliwack, B.C.
However, spiders and snakes have played a role. "Our daughter Erin belongs to a group that protects and looks after abandoned animals," says Minter, who is also a gardening lecturer and broadcaster. So experts were hired to come into the store to teach kids about tarantulas and snakes. "They were putting snakes around kids' necks, putting a tarantula on somebody's shoulder to show they don't really bite. The parents loved it, too."
Rather than always having events that are strictly seasonal like Halloween themes, Minter says, "it's about questioning everything you do and asking yourself 'is it (socially) relevant?'"
Garden centre events can provide both a public service and be entertaining, Minter believes. His business is one of many in the industry that support the SPCA or other animal welfare organizations, especially at Christmas time when Canadian gardeners have largely been driven indoors.
Events with meaning
Steve Wilson, co-owner (with brother Colin), Wilson's Greenhouse and Garden Centre, of Saskatoon, Sask., notes that every second month his business works with a dog rescue organization on pet adoption days. "At Christmas time we do pictures with your pets — that's really popular. Last year we had two Santa Clauses and this year we will have three Santa Claus stations for taking pictures."
At the Greenland Garden Centre in Sherwood Park, Alta., an Edmonton suburb, many events are used to bring customers into the store. These include "a harvest gathering in fall, a couple of fashion shows each year, as well as our 'eager gardeners' event," according to manager Tina Burback.
"When we are at our coldest, craving sun and warmth, we build a large indoor landscape for Albertans to escape winter. And what was initially just a way to drive traffic in the depths of winter turned out to be a favourite spot for not only any average visitor, but both seniors' groups and mental health patients."
Greenland Garden Centre has added a full-scale restaurant and has been attracting a younger crowd as the baby boomers start to slow down, according to Burback. Classes are conducted at the centre to teach crafts and decorating which are either free or offered for a nominal fee.
Burback is also co-host of a Sunday morning gardening call-in show at CHED radio in Edmonton. She finds the media profile helpful to their business locally, as well as to garden centres everywhere because the advice is available to anyone live and archived on the internet.
Paradise in the middle of winter at Greenland Garden Centre.
---
Stretching the seasons
Garden centres certainly strive to stay open year round to flatten out the seasonal revenue dips. There is also another good reason, says Marina Phillips, manager, Cedarcrest Gardens of Saint John, N.B. "We try to stay open to keep our good employees employed as long as possible."
Open seven days a week in 2016 from March 1 to December 23, Cedarcrest Gardens has bridged the winter gap in January and February with weekend farmer's markets. On Saturdays, locals can escape the cold at the market inside the 25,000 square foot greenhouse, Phillips explains. As many as 1,500 people have come out to the farmer's market event.
The greenhouse allows Cedarcrest to grow much of what it sells, including custom retail planters, depending on what is available in season. "Customers can bring in their own planters to be done up," says Phillips. She adds that they have also started to meet the huge demand for homeowners who wanted landscape design services three years ago. "They come to us looking for help, so we created this division."
A changing customer base



Sheridan Nurseries, based in Georgetown, Ont., has garden centres scattered all over the GTA and southern Ontario, including a location in Unionville where the local population is 60 percent ethnic Chinese. "We have about five fluent Mandarin speaking employees full time that can answer any questions," says Karl Stensson, president of Sheridan Nurseries. "There are many that come in that cannot speak English. This gives that customer confidence and doesn't embarrass them."

At the downtown Toronto Sheridan location, there are different demands put on the business. According to Stensson, "customers want it now and they want something different." For Sheridan, this often means stocking one-year exclusives of certain flowers in different colours at just that garden centre so customers can personalize their homes.

Fashion — clothing and accessories — are increasingly taking over at garden centres that have the space. Five years ago Sheridan Nurseries introduced change rooms, mostly to attract what is a 75 per cent female clientele. "They want to buy something for the house," says Stensson, "they want to buy something for me."

Minter notes that the garden centre "leaders of tomorrow" have to diversify into areas such as fashion and outdoor furniture. "You have to understand that it is a business and for a business to be successful you need to improve your bottom line continuously and you have to stop getting out of the seasonal swings. By having year round inventory, understanding whom your market is — 80 per cent is female, a little older demographic — ask yourself how you can create a positive experience for them."

Planting for the table
Plant materials are still the heart and soul of garden centres and nurseries, so the trend for homeowners returning to edibles is a good news story repeated across Canada. Shawna Bell, vice-president, Jeffries Nurseries of Portage La Prairie, Man., says that its sales to garden centres extend as far west as Alberta, as far east as Ontario and into the states of Minnesota, Montana, North Dakota and South Dakota.

"The trend for edibles is still very strong," says Bell. This includes herbs, tomatoes and fruit. "People are planting apples, plums and small berries, trying to be self-sufficient."

This trend in edibles sales is echoed by Wilson, who notes that vegetable produce and fruit trees are now experiencing a renaissance with consumers. "Three or four years ago nobody wanted fruit trees. 'They're too messy'" was the sentiment, says Wilson.
Canada's variable weather dictates sales at garden centres, on top of seasonal averages. Spring came early in the Edmonton area this year, bringing an onslaught of customers to the Greenland Garden Centre — only to taper off just as quickly. Burback says she is continuously looking at the weather forecast for inspiration. "There's always something in our back pocket. We can ramp up with 'rainy day' sales as needed."

Even with positive, revenue generating diversification under way at many garden centres, challenges such as staffing and big box store competition remain. According to everyone canvassed for this report, these two concerns are inextricably intertwined because experienced, knowledgeable staff is what sets the industry apart from the big box retailers.

Wilson notes that Costco competes by selling plant materials during peak sales seasons. His business helps to offset this consumer buying trend with in-house expertise and competitive pricing. "And we grow a lot of our own plant materials," says Wilson.

It also doesn't hurt that his garden centre supplies the majority of landscapers in the region and has a list that customers can pick from. "We are the largest paving stone dealer in Saskatoon," says Wilson. "We're a one-stop shop. People come in for landscaping, top soil, base gravel, sod, paving stone, fencing material, bedding plants, pots for the deck — everything."

Almost as worrisome to Wilson as the big box stores are the people who don't understand business models that come into the landscaping market offering items like top soil at half price. "This is not sustainable; so they mess up the marketplace for a while and make everybody mad, but they disappear because they can't afford to keep going."

Quality of plant materials and customer service at big box stores are also questionable, according to Burback. "The flowers look good only when the truck drops them off.

"They are also negligent in July and August when we have lots of fresh stock available."

Customer, staff outlooks evolve
Minter and Stensson agree that the younger generation of buyers and potential employees are very different from the past.

"Millennials aren't going to be spending big dollars in your store," says Minter. "You have to understand their psyche." They are interested in environmental concerns and are attracted to events that speak to this, such as saving populations of bees with the right plantings, adds Minter.

"One of our biggest enemies is the next generation not wanting to be involved," according to Stensson. "That's been our problem. The next generation doesn't want to work as hard or as manually as needed in a garden centre."


Sheridan has developed into a more upscale operation over the years and has been willing to invest in its locations and services such as two-year plant warranties. "It's no longer mom and pop with their dirty boots on. People are coming out of their $100,000 cars, with their shined Florsheim shoes — they don't want to step in mud. They're coming in after work, they're tired, they want service. You'd better have a higher end store and staff, you better have a selection, you better not say 'I don't carry that,' but rather you say 'I'll get it for you.'"

Investing in making staff more knowledgeable than at any competitor, big box store or not, is paramount for garden centre operators. It is intimidating for a customer to walk into a garden centre that carries 700 varieties of nursery stock, 300 varieties of annuals, 800 varieties of perennials, and 200 varieties of flower bulbs, adds Stensson. "It's multiples of craziness."

This is when the customer needs help from staff who can provide answers, delivered with "the right attitude," he says.

Growth trend
The garden centre businesses of those approached for this article all appear to be growing. For example, Minter Garden Centre reports record sales the last two years, Cedarcrest Gardens notes a similar growth pattern and Greenland Garden Centre is benefitting from the large growth area surrounding its suburban location. Wilson's Greenhouse and Garden Centre, meanwhile, has experienced enough annual five to 10 per cent growth recently that it plans to double in size, to 120,000 square feet, in early 2017.

No one sounds like they are resting on their laurels, however, while a lot of hard work starts to pay off at garden centres across the country.

---
Mike Edwards is freelance business writer based in the Toronto area.
The demographics surrounding any garden centre affect what generates sales. For Cedarcrest, it's the pesky deer population in rural New Brunswick that puts pressure on the landscape, but in the Greater Toronto Area (GTA), it is the ethnicity of neighbourhoods that has to be catered to.