July 15, 2014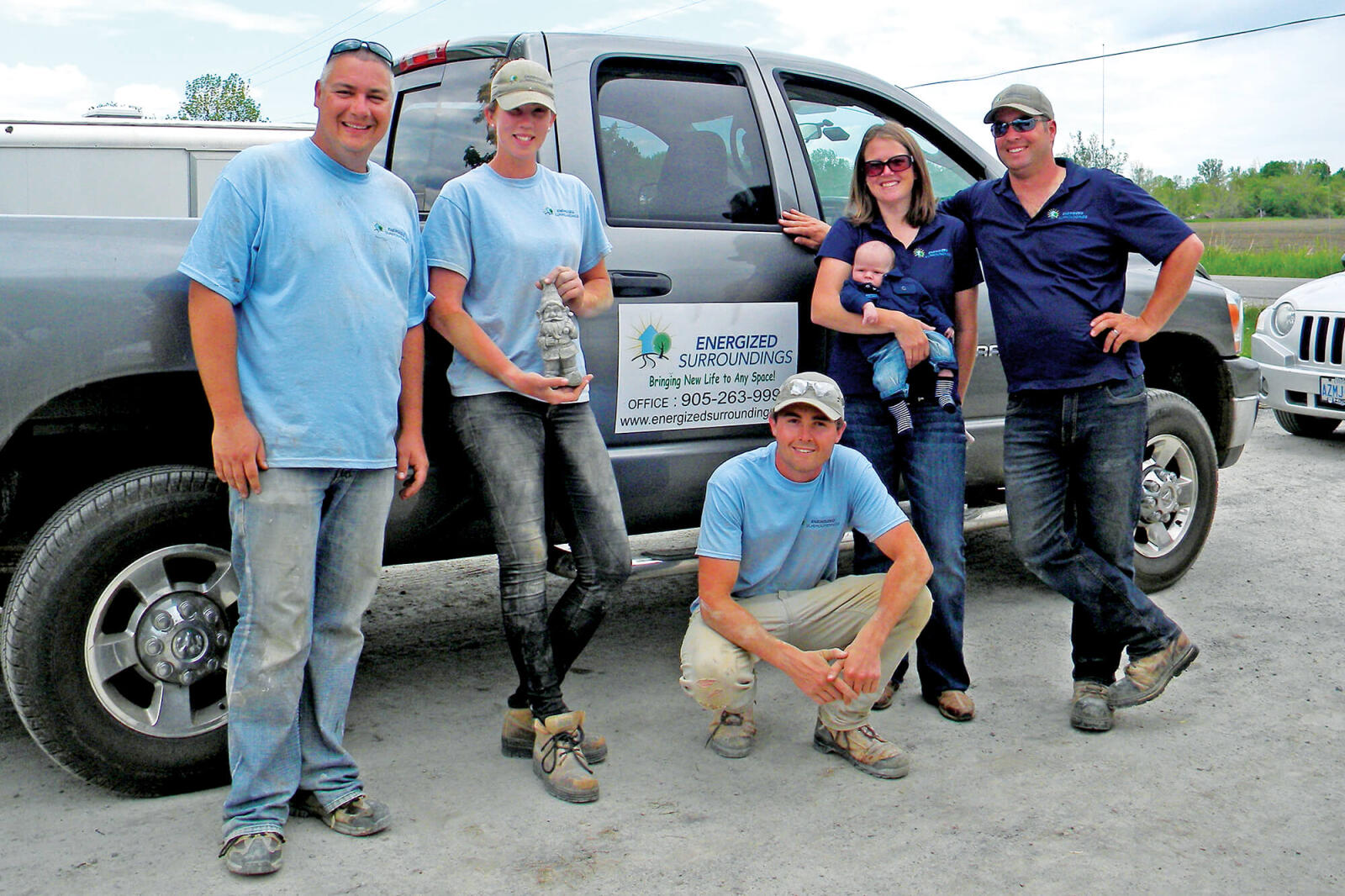 Putting your member benefits to work
By Myscha Burton
Membership and Chapter Coordinator
Well I don't want to jinx it, but the temperature has finally warmed and the world is again full of colour and the sound of lawn mowers. Hurray!
I hope that you are well and busy. We certainly have been active here at home office. On May 30, Denis Flanagan and I had the pleasure of visiting Lakeridge Contracting which is expanding its list of unique projects, following the indoor courtyard garden at the Peterborough Hospital.
We caught Lakeridge's 'Hardscape Brotherhood' hard at work beautifying a new fire hall in Toronto. The members were kind enough to take the time for some photo opportunities with LO's mascot Grout. If you're going to landscape a fire hall, what would the plant of choice be? Hint: what is the common name for a
Euonymus alatus
?
We also had the pleasure to visit Energized Surroundings. Michelle and Mo's work is of particular interest for me, based on their connection and work within the horse world. Bringing together a background in turf management and a background in horses, the dynamic duo, Mo and Michelle, have used these experiences to expand and grow their own company to a diverse group of clients, and provide a wide variety of services, including those specific to the equestrian community.
The company is growing in size, with a new addition to the family, Nathan, whose current specialty is public relations (who can resist an adorable infant?), but it also showcases the development of a member company and the variety of ways in which member benefits can assist you.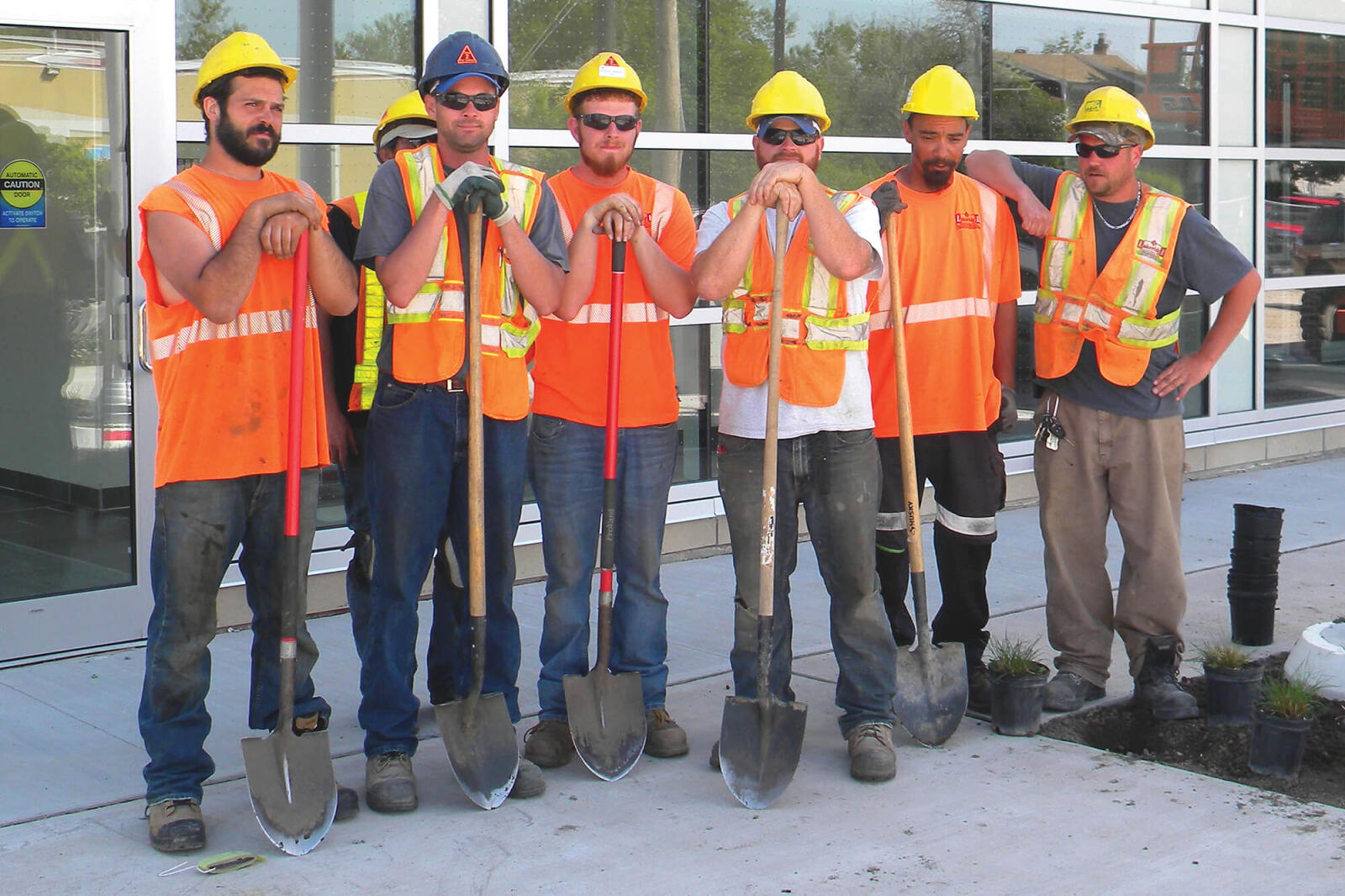 The Lakeridge Contracting Crew.
---
One of the first things I noticed when we drove to the site was the Professional Landscape Ontario Member license plate cover on the company vehicle. All active, associate and chapter associate members are entitled to use the Landscape Ontario and Green for Life logos and free marketing tools which showcase your professionalism and high standards of excellence to potential customers; people notice! These logos are available for download via
horttrades.com
where you can also order LO promotional material such as decals and bumper stickers.
Energized Surroundings' commitment to professionalism and education can be seen through both Mo and Michelle, who have pursued educational programs with the University of Guelph. Crew member Joseph Simon is pursuing further education with Durham College. This commitment to professional excellence can be seen in the ways in which Energized Surroundings is maximizing its member benefits, such as discounts on certification testing, as well as the preparation seminars in the winter and educational materials. Remember, as a member, these discounts can also be applied to your employees.
Mo and crew member Chris Beaumont are not only hard at work with the company, but are hittin' the books in preparation for the upcoming hardscape installation technician certification exam later this summer.
Since membership renewals are fast approaching, have a look at
www.horttrades.com/membership
/ to see what other benefits your membership entitles you to. Should you have any questions about member benefits, or if you are not sure which category of membership your company is in, please feel free to give me a call at 1-800-265-5656, ext. 354, or email
myscha@landscapeontario.com
. While you are visiting the
horttrades.com
website, have a look at the great chapter events coming up this summer and register today.
---
Contact
Myscha
with your questions about LO member benefits.