May 15, 2014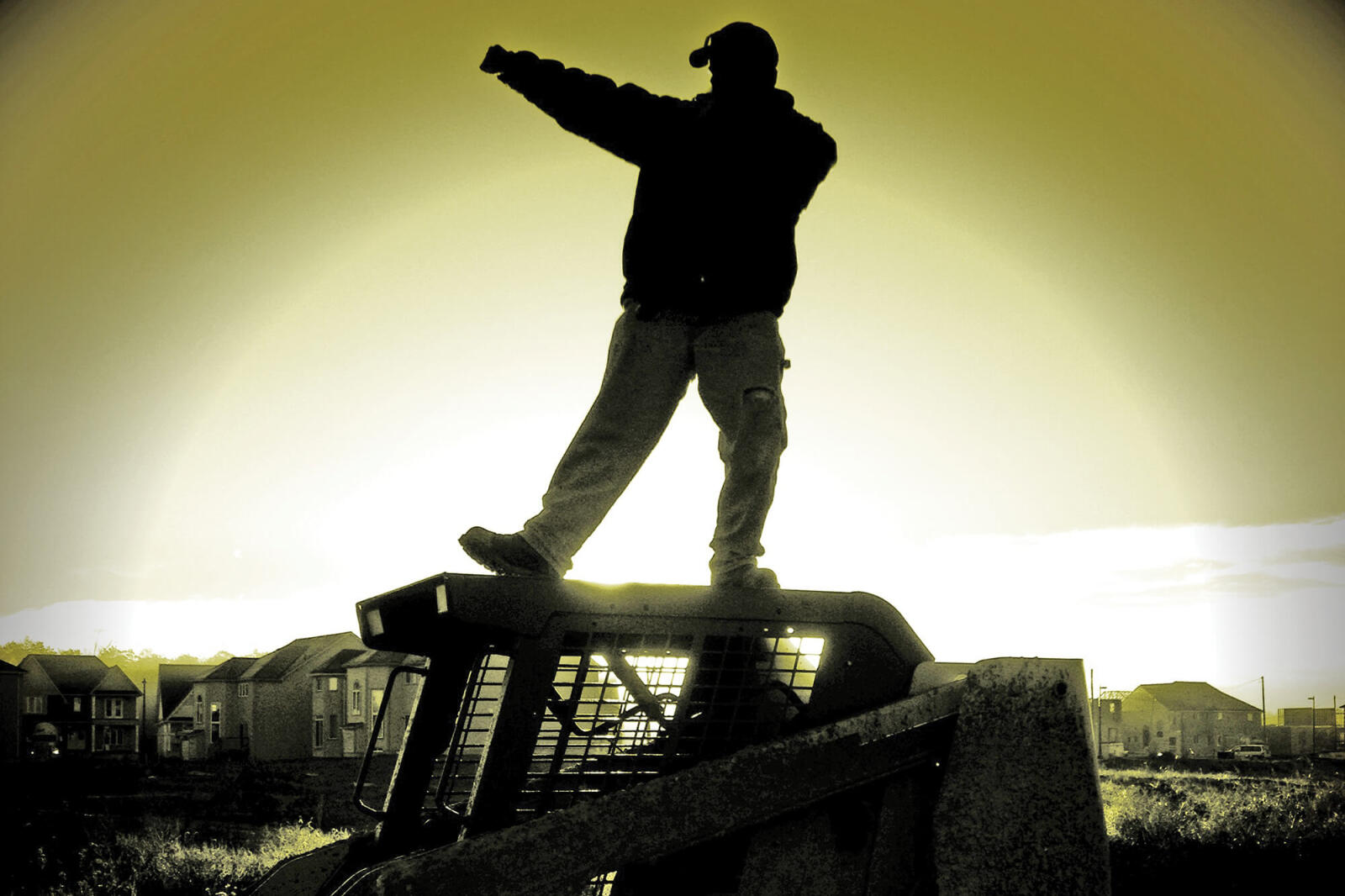 Lakeridge Contracting shows its pride through social media
In the landscaping world, Lakeridge Contracting in Whitby leads the pack in social media with its creative, entertaining and educational Tweets, Facebook, YouTube and Instagram postings.
Member of the Lakeridge crew, Mike Pennington says one of the main benefits of social media is to show the general public that those who work in this industry are proud, smart and skilled. "The public's concept is that people who work in this industry can't do anything else, so they must choose landscaping in which to make a living. We show them that that's not the case. It takes talent and hard work to achieve what the top people in this industry produce."
And show them they do, while having fun doing it, with Tweets that send out messages such as, "Take time to think of the less fortunate, like people who work in offices." Or, one that conveys the pride of the trade, "The meek shall inherit the earth...perhaps...but only after we're done building it."
"We couldn't do this unless Dean allowed it," says Pennington. He's referring to Dean Maahs, the president of Lakeridge Contracting.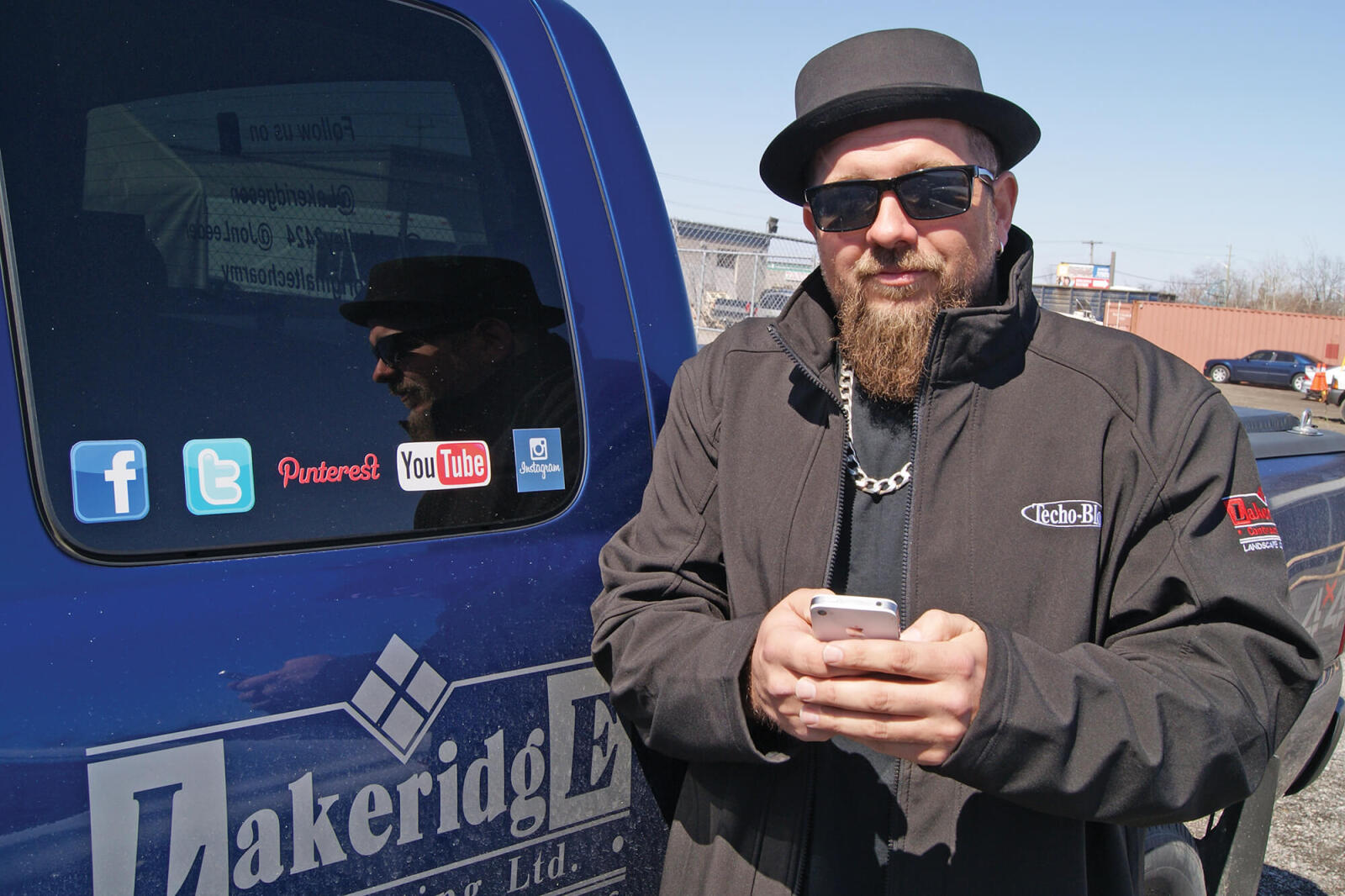 Mike Pennignton's truck lets everyone know where Lakeridge messages may be found.
---
"It's been a positive phenomenon," says Maahs, speaking about his crew and social media. "I'm proud of what they produce on the job, and how they reveal that work through social media."
After graduating from University of Guelph in 1983 as a landscape architect, Maahs began his business in Ajax in 1999. "My preference has always been construction, so it was a natural move to create Lakeridge Contracting," says Maahs.
Today, Lakeridge's client ratio is 80 per cent commercial projects to 20 per cent residential. "We deal with a lot of municipalities," notes Maahs. He says residential projects are about 90 per cent hardscape and 10 per cent plants, while commercial jobs tend to include about 50-50 hardscape and plants.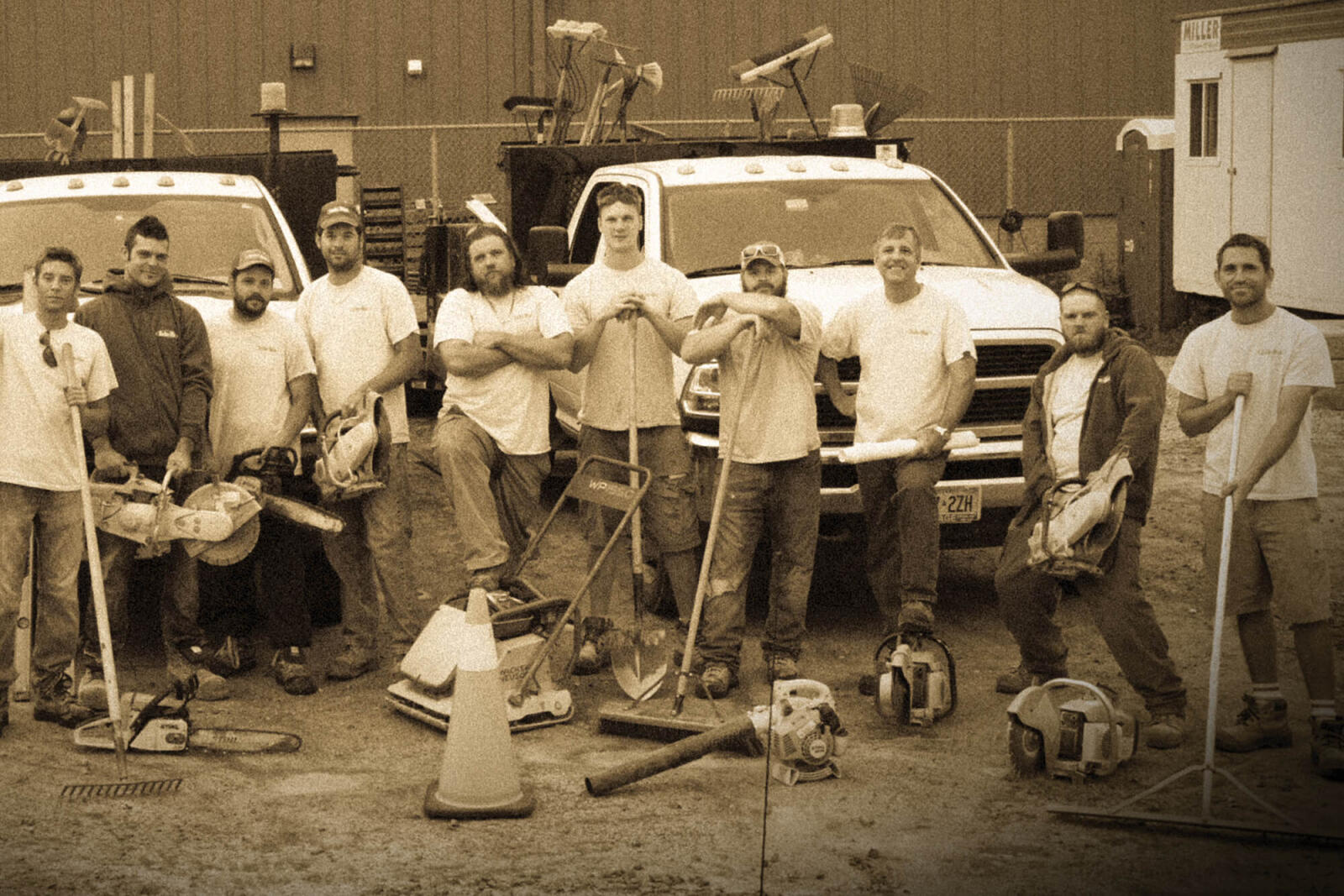 The Hardscape Brotherhood at Lakeridge Contracting.
---
Over the past few years the Lakeridge team has taken on some challenging projects. One in particular was the Peterborough Hospital, where Lakeridge completed an indoor garden in the hospital's interior courtyard. "It meant we had to deal with moving materials in and out of an enclosed building, which required sealing off both the entrance area and the work site as part of infection control," says Maahs.
"The scene at the hospital looked like something out of Dexter," says Pennington. "Everything was covered in plastic and plywood."
Maahs says his company provides a wide array of services to clients. Lakeridge offers everything from driveways, walkways and backyard patios to tree-planting, pergolas, fencing, retaining walls, pool renovations and more.
Online reviews show high marks from clients. One wrote, "The work was professionally done and there were no delays."
Another review stated, "The installation crew (three) headed by Joe was just awesome. They arrived on time each day (five days), worked long 12-hour days, and seemed to leave just as happy as they arrived. Their workmanship was first class."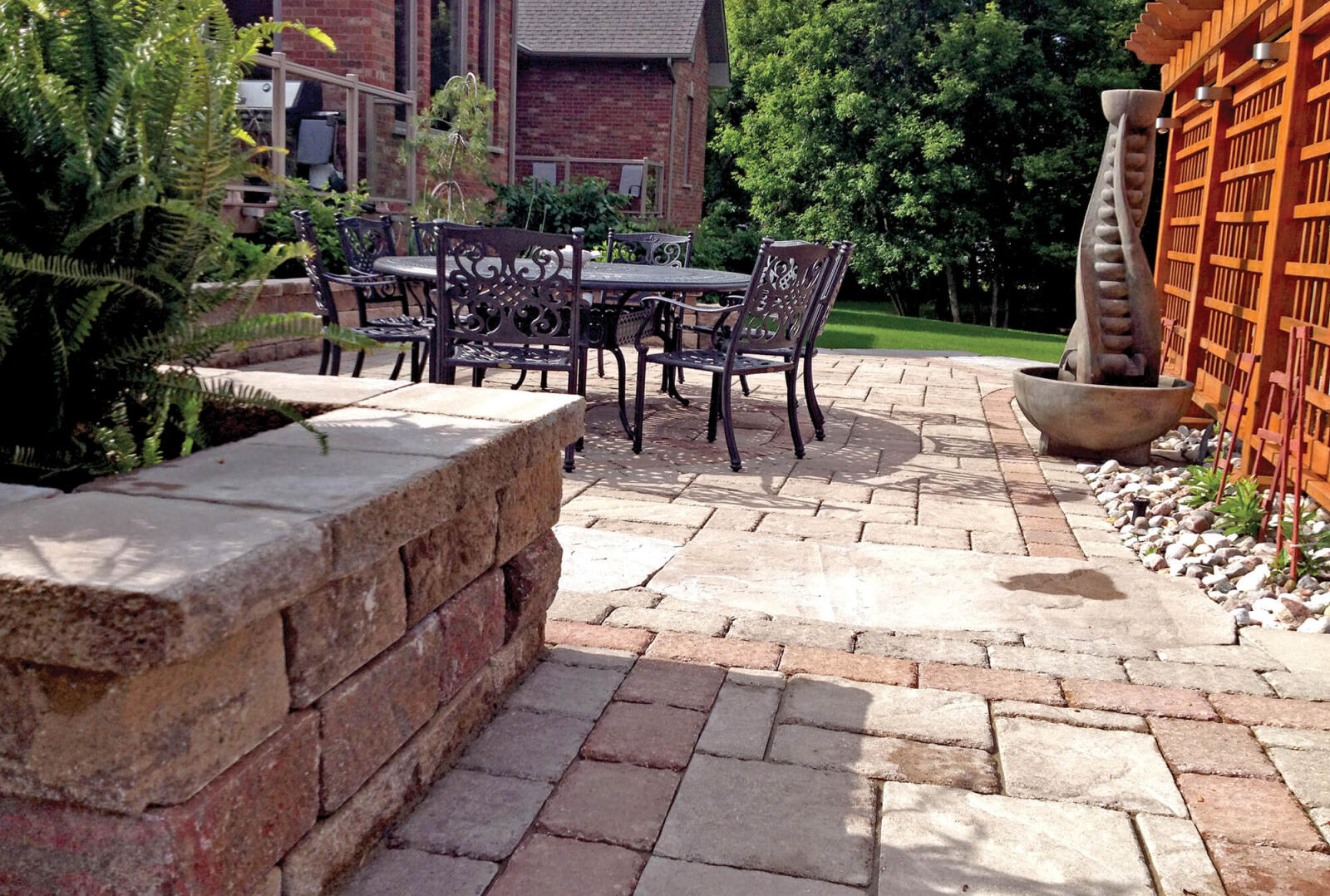 Lakeridge Contracting sees about 50 per cent hardscaping in its residential projects.
---
Maahs uses images from Lakeridge's Facebook page to show clients projects that the company has completed. "I use it to demonstrate to clients the high level of our work and to provide them with an idea of prices," he says.
"I'm always interested to see what the guys send out next," says Maahs. "Our guys work hard on the job and are proud of what they do," he says. He agrees with Pennington that not only are crew members communicating their pride in the work they do, but by using social media they all have a strong feeling of involvement with the company.
One of the more popular methods of communication used by Lakeridge is YouTube. The crew members have done some great take-offs such as Breaking Bad and Gangnam Style, and a hilarious Christmas parody. The most popular YouTube broadcast to date is Hardscape Brotherhood. To check them out, go to the YouTube site and type in Lakeridge Contracting.
With some messages aimed at the trade members and others toward the public, the Lakeridge crew members have quickly made themselves known. "It was amazing walking around Congress this year, to meet so many people who knew us from social media," says Pennington.
This spring some creative Tweets aimed at the public include, "Life is too short for boring landscapes," and "Life is better with landscaping."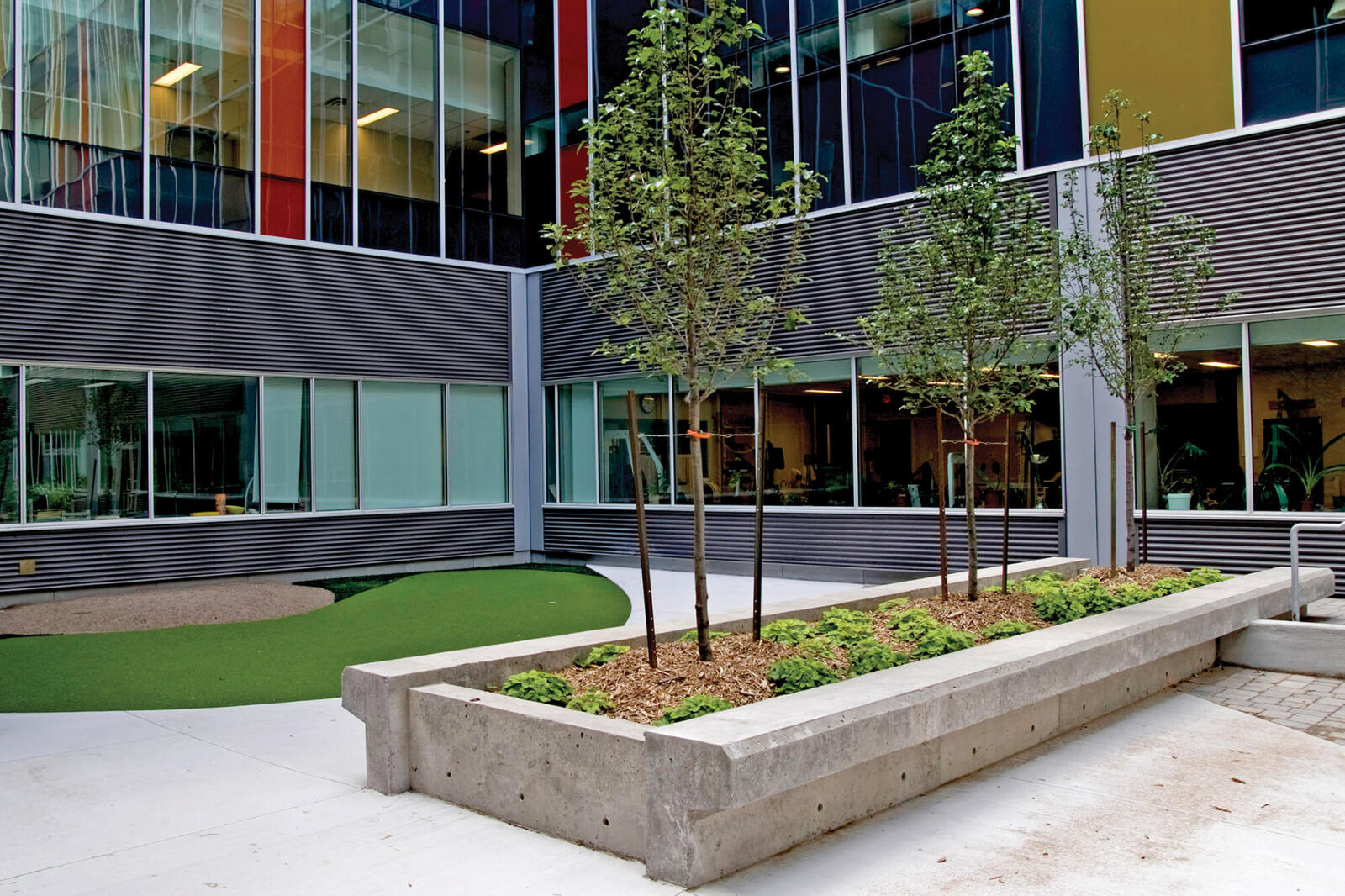 The Peterborough Hospital project presented some unique challenges to Lakeridge Contracting creating an interior garden in the hospital's interior courtyard.
---
Pennington says it's funny how people think the Lakeridge crew members are techies. "We are not," he strongly points out. "We only use our phones to show everyone the level of our pride in our work, and have fun doing it. We are hardscape guys, not computer guys."
He feels strongly that, "The on-the-ground installers are the backbone of this industry and the most important ambassadors to the public as they have the constant day-to-day interaction."
This year Pennington is bringing his enthusiasm and dedication to Landscape Ontario, moving onto the Durham Chapter board of directors. Both he and Maahs agree that it's important to be involved in the association that represents the industry.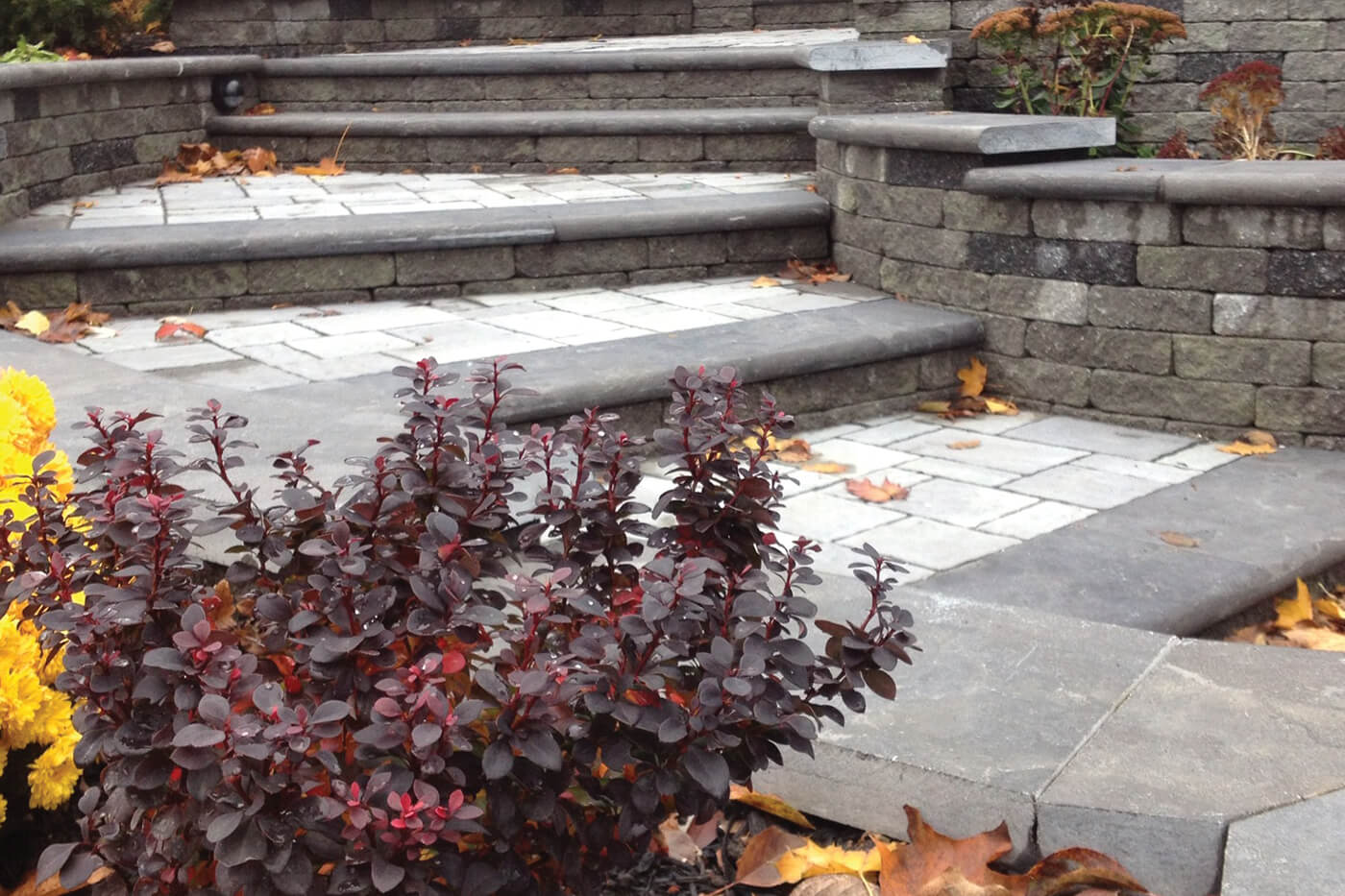 Lakeridge Contracting has created some beautiful and complex hardscape designs. In this project, the jack-o'-lanterns weren't part of the design.
---
"You can't stand on the sidelines and expect things to change," says Maahs. "You need to become involved to make positive difference in the industry."
Maahs and his crew have already made a difference with positive communications that demonstrate the talent, creativity and hard work needed to succeed in their industry.