September 28, 2017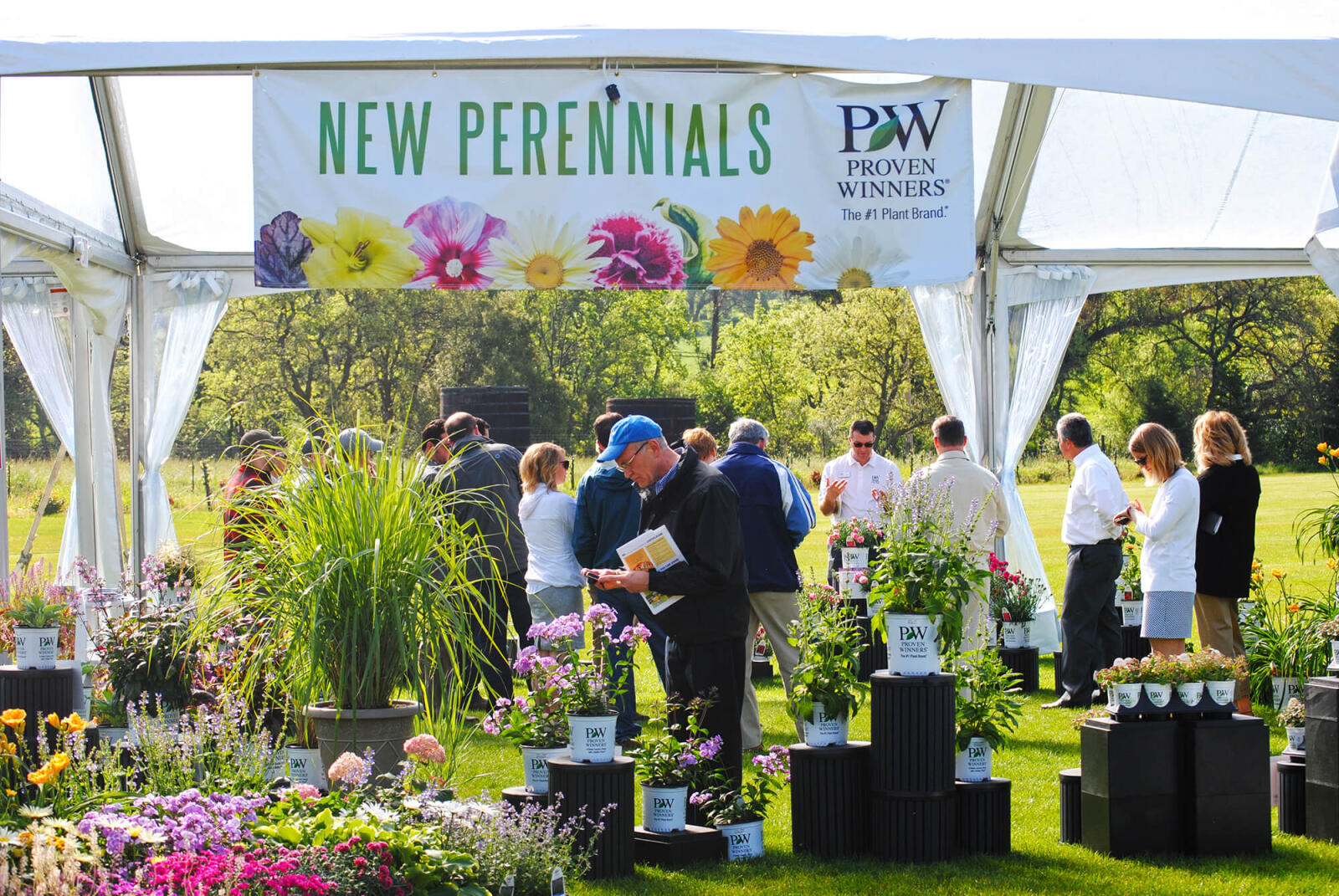 Plant stars on display
Touring the California Spring Trials

BY SCOTT BARBER

This spring, I had the opportunity to represent Landscape Trades at the annual California Spring Trials (CAST), and wow, it was a real learning experience. From the latest in plant genetics, marketing and retail strategies and new plant introductions, to networking with the industry's movers and shakers, it was a jam packed week, and I'm thrilled to share the highlights with Landscape Trades readers.

The 2017 California Spring Trials — formerly known as the Pack Trials — took place April 1-6 from Gilroy in the North, down through Oxnard, with more than two dozen plant breeding companies represented. Find a full listing of participants at americanhort.org/springtrials.

The trials are a meeting place for members of the plant industry to network and do business, as well as a prime opportunity for breeders to show off their new introductions. The event also provides an ideal setting for outdoor trialing and plant growth regulator experiments.

At the trials, there is a lot to take in over a week; it can feel overwhelming at times. However, it's a truly remarkable experience that is a must for professionals in the grower and garden retail sectors.

For my first trip to CAST, I joined up with Jeremy Feenstra, a landscape contractor and owner of Elmira, Ont.-based greenhouse and garden centre Floristerra. A veteran of several spring trials, Feenstra says the event is the best way to "keep up with the industry on a global level."

"Not only is it important to keep up with trends in the industry," he added, "but it's equally important to keep up with industry people to get a feel for where the market is going. It's easier to make decisions as a small business as to where to focus your marketing budget when you hear firsthand what has and hasn't worked for others. Seeing the innovation and speaking to the best in the horticultural business is invaluable. Also, clients appreciate it when they know you are constantly learning and keeping up with trends."

The 2017 trials showed a renewed focus on quality breeding, as well as innovative marketing strategies, Feenstra said.

Breeders tap social media to connect with consumers
Kirigan Cellars in Gilroy was the first stop, and the beautiful winery was an ideal setting for the wide array of Proven Winners annuals, perennials and shrubs. I was impressed with the social media strategy the company is developing to connect its brand directly with consumers.

"Social media in general, has really grown in importance to our company because of the amount of interaction it gives us with people who are familiar with our plant lines, as well as the ability to reach new gardeners," explained Proven Winners's media and public relations coordinator, Jeanine Standard.

Proven Winners, which includes Walters Gardens and Spring Meadow Nursery, crafts its messaging for Facebook, Twitter, Instagram, Pinterest and YouTube, with targeted and purpose-driven approaches tailored to each medium.

"This past January, we subscribed to an online analytical tool that pours all of our data from all five social media channels and tracks our influencers who are developing content for us, as well as other plant companies," Standard said. "We have learned that each social media channel has a slightly different audience, and that different forms of content are better suited for some than others. There is a strategy behind what we post and we cater the content to each medium."

On Instagram, for example, the photos that resonate most are more spontaneous, rather than staged, Standard says. "I was out in the garden this morning, and this is what I saw, kind of thing." Facebook, on the other hand, is better suited for "catchy graphics," including the popular, "plant this, get this" material that shows what a plant looks like at retail as well as at maturity.
On YouTube, Proven Winners has connected with Laura LeBoutillier to create Garden Ask, an increasingly popular video series of how-tos and fun gardening projects.
"It has really worked well because of this unique combination that Laura has of gardening knowledge and the fact that she is believable," Standard said. "She's genuine, and people have really connected with her."

On social media, it's critical that you engage with your audience, Standard added. That means taking the time to respond to comments, as best you can. It's a challenge, but with Proven Winners posts regularly getting tens of thousands, and sometimes hundreds of thousands of views, it can pay big dividends.

Proven Winners also uses social media to support retailers by promoting events, and even has a Google Docs system in place to allow growers and garden centers access to social media graphics and photos to use on their own networks.

"We use social media to support our retailers with information about how to use and care for our products and to promote their events to bring more people into their stores," Standard said.

New plants drive business
There are no two ways about it: consumers are drawn to what's new. This insatiable appetite for the latest is on full display at the trials, with each breeder putting new introductions front and centre. Landscape Trades will feature many of these in October's special New Introductions issue. In the meantime, here is a sneak preview.

At Syngenta, the first thing that struck me was a large display of beautiful, vibrant, Sunfinity sunflowers. These new sunflowers offer nonstop blooming, making them perfect for do-it-yourself cut flowers.

The next day, I attended the Sakata trials, where the new Candy Top dwarf snapdragon stole the show. Available in yellow, red, rose, orange, white and mixed, these snapdragons have strong stems and an abundance of blooms. And as the name suggests, they have a sweet fragrance.

Later in the trip, I was taken aback by the gorgeous coral bells from Terra Nova Nurseries, on display at Windmill Nursery in Buellton. 'Onyx' stood out the most, for its dark black leaves and tidy, mounding habit; it's the first black leaved form of Heucherella.

Edibles for your eyes
The Ball Horticulture Company facility in Santa Paula was one of the largest and most impressive stops along the tour. While there was no shortage of interesting and exciting new introductions across their many lines, the ornamental edibles really caught my eye.

Pepper Candy Cane Red, for instance, has an interesting look, developing lengthwise green stripes as it ripens. The Acapulco series of peppers comes in five vibrant colours (red, orange, yellow, purple and mixed), which all pop and work well in a container.

"These peppers are certainly edible, however they have been bred for their appearance rather than taste," explained Josh Kirschenbaum, vegetable account manager with Ball's Pan American Seed. "When you see these peppers, they are so striking and visually interesting that consumers pick up on what they're about quickly."
Ball has a variety of delicious, edible peppers and other vegetables, as well, but these ornamental introductions, which came over to the Pan American stable when the company purchased Ex-Plant out of Holland last year, make for a unique addition to a kitchen windowsill or a balcony garden.

Family friendly gardening
Located at the Edna Valley Vineyard in San Luis Obispo, the Dümmen Orange event was highlighted by "Kindergarten" displays. These colourful signs and point-of-purchase materials offer retailers a way to connect kids with the gardening lifestyle. Plants in the Kindergarten displays were bright and colourful, as well as pollinator friendly, the goal being to help kids learn about the connection between plants and insects, butterflies and bees. The program has already been a success in Europe, Dümmen says, and the Dutch company is hoping the messaging strikes a chord across North America as well in the coming months and years.

Technology seen first-hand
The expansive Benary facility in Watsonville featured some of the most inventive displays of the 2017 trials. Along with greenhouse tours and point-of-purchase set ups, Benary had a virtual reality demonstration that took visitors through its production facilities. Attendees also had the opportunity to fly "pollinator drones," and even enjoyed helicopter rides over the grounds.

"We are always trying to challenge peoples' thinking and trying to push the envelope. We try to come up with innovative displays to engage with our customers. That's the wonderful thing about CAST, it really gives you the chance to have one and one conversations with your customers to find out what they like and what they don't," said Benary marketing specialist Jennifer Calhoun.

Once-in-a-lifetime experience
The California Spring Trials lived up to the hype, and then some. Often described as "fashion week for plants," CAST offers far more things to see, people to meet and activities to do than you could possibly fit into seven days. While it is a challenge for any green professional to make time in early spring for a week of travel, CAST is certainly worth the investment. Hope to see you there in the years ahead.