August 15, 2012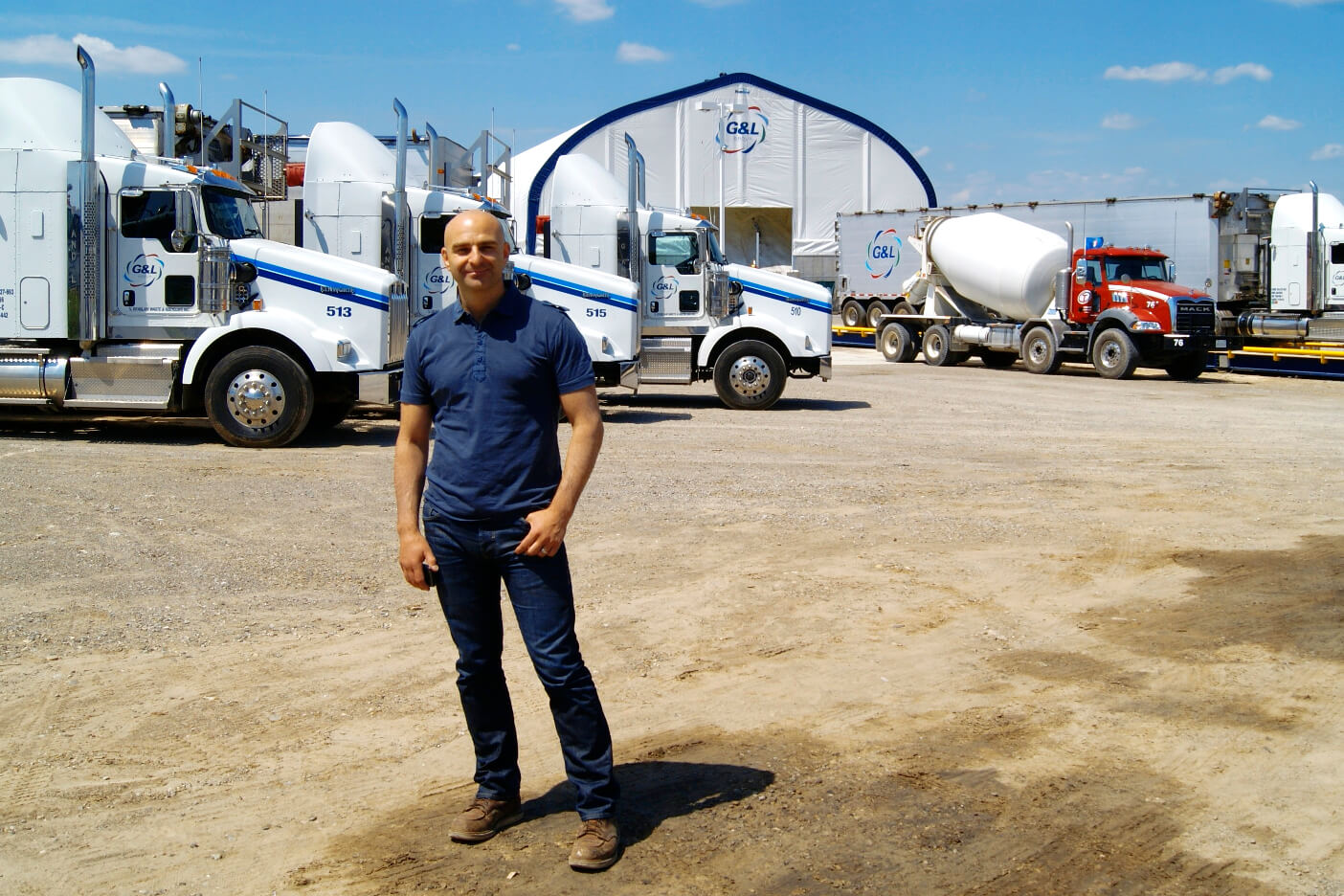 Pat Lamanna sees generous industry service as opportunity
When you speak to Pat Lamanna about success in business, it always comes around to having the ability to recognize an opportunity.
Lamanna reflects on how identifying and fulfilling needs in the marketplace present great business opportunities.
Today he is senior vice president of the G&L Group of Companies, which include Brock Aggregates, Draglam Salt, Earthco Soils, Draglam Waste and Recycling, and Toronto Redi-Mix. All have experienced tremendous growth over the past few years.
Born into business, Lamanna jokes that while growing up, his dad Joe gave him rocks to play with. Joe Lamanna began G&L back in 1971, in Thornhill, delivering concrete and stone in a single truck, which quickly grew into Toronto Redi-Mix.
After graduating from university in 1991, Pat Lamanna saw an opportunity in Toronto to provide a 24-hour, seven days a week salt delivery to the snow and ice control industry. Within a short time, he realized more locations were needed. He expanded Draglam Salt into the present 11 distribution centres across the Greater Toronto Area. Recently G&L opened the Ayr location which provides 20,000 sq. ft. of salt storage, with an additional 20,000 sq. ft. soon to be added.
After seeing another opportunity, Earthco Soil Mixtures was added to the group of companies. It provides the industry with fertile soil products and soil services, including on-site screening and soil processing. Part of the list of products includes Less Mess Enviro bag, which delivers topsoil, mulch and compost blends in one-cubic yard bags.
The head office for G&L is in Concord. Currently there are over 300 employees on staff, 130 trucks, and close to 100 independant broker trucks.
"Toronto is the best place in the world for a young entrepreneur who wants to work hard," says Lamanna. Besides recognizing a need and moving on it, he also believes, "You can't do anything well in business without good people. I have people on staff who bring an energy with them each and every day. They are 'A'-players."
Top of the list
Pat Lamanna is also a good friend of Landscape Ontario. Just ask the association's executive director Tony DiGiovanni, who says, "Landscape Ontario is blessed with having so many thoughtful and caring members.
At the top of the list are Pat and his wife Colomba Lamanna. I often call Pat or Colomba whenever we are presented with a unique opportunity, special problem or interesting idea. Their enthusiasm for the industry and their generous contribution ethic is inspiring."
DiGiovanni remembers a couple of years ago, during a snow-less Christmas in Toronto. "Landscape Ontario was asked by CityTV if we knew someone who could give the gift of snow to a family for Christmas. Pat came to the rescue with two large dump trucks full of screened snow from London. The video can be found on You Tube at
http://www.youtube.com/watch?v=yhjUy2S_I6o
.
LO's executive director also remembers one year there was a serious problem with sand at Canada Blooms. "Pat opened one of his yards in the middle of the night in order to accommodate us." Problem solved.
"When we decided to restore St. James Park, Pat immediately agreed to provide the soil. He even personally supervised the soil installation. There are numerous other examples," continued DiGiovanni.
Lamanna's response to that, "It's hard to say no to nice people."
"As long as Landscape Ontario keeps attracting such generous, committed members we will continue to be one of the most vibrant, engaged, relevant and effective landscape associations anywhere," says DiGiovanni.
Recognized for service
LO had the opportunity to honour Pat Lamanna for his work with the association and industry with the 2012 special achievement award at Congress last January. He was joined by Kyle Tobin, Alan White, Peter Guinane and Brad Vanderwoude, who were all honoured for their work at the St. James Park Renovation.
Lamanna also has strong words of praise for Landscape Ontario. He reflected that his companies belong to a number of industry associations, "but LO is the best of the group," he says.
He believes there are many great new and exciting things are in store for this industry. No doubt, once a new opportunity presents itself, Pat Lammana will be there.