October 15, 2013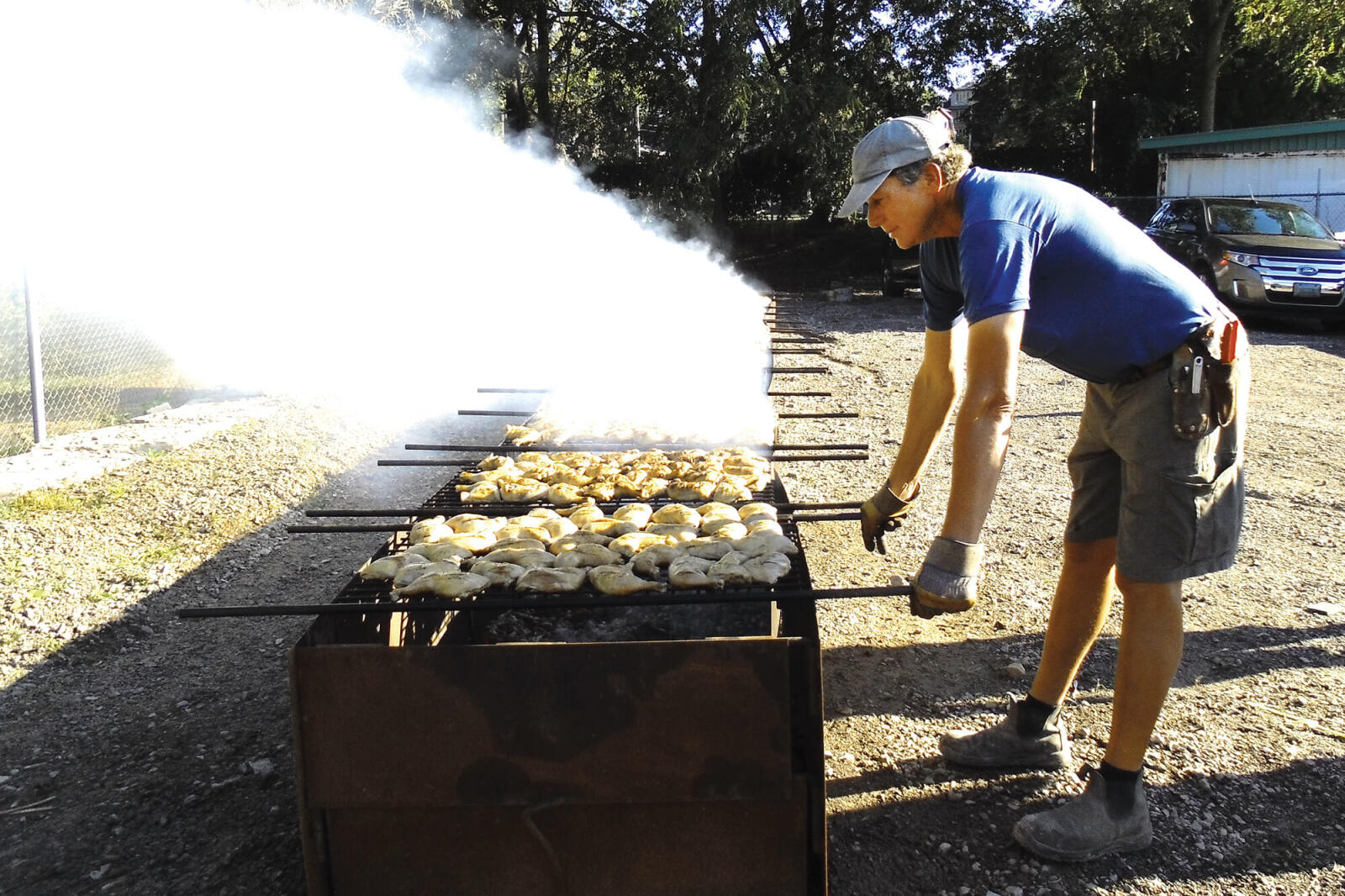 Over 275 enjoy Chapter's 25th annual chicken roast
Golden Horseshoe Chapter past president Fiore Zenone, chair of the Chapter's annual chicken roast, was very pleased with this year's event held at Windmill Power Equipment (WPE) in Dundas, on Sept. 12.
Over 275 people of all ages enjoyed a delicious roast chicken dinner. Chief Chicken Chef, Paul DeGroot and his crew of volunteers, perfectly cooked 300 lbs. of chicken on a 30 ft. charcoal barbecue.
The Chapter showed its appreciation to volunteer Doug Coote and his wife Barbara for keeping the food table filled for the hungry crew. A special presentation took place with the Chapter board taking the opportunity to formally thank and present Doug with a gift for his 25 years of continuous volunteering and assistance with the chicken roast. "The board wishes Doug all the best in the future, as he steps down from this position," said Zenone.
Other great activities for attendees included face painting, flower pot decorating, along with a fabulous show by The Travelling Reptile Show, which thrilled children (and even some adults). The Golden Horseshoe Revival Band serenaded attendees of all ages with music.
Competition was strong as attendees raced against time to move giant tree stumps in the Dingo Derby.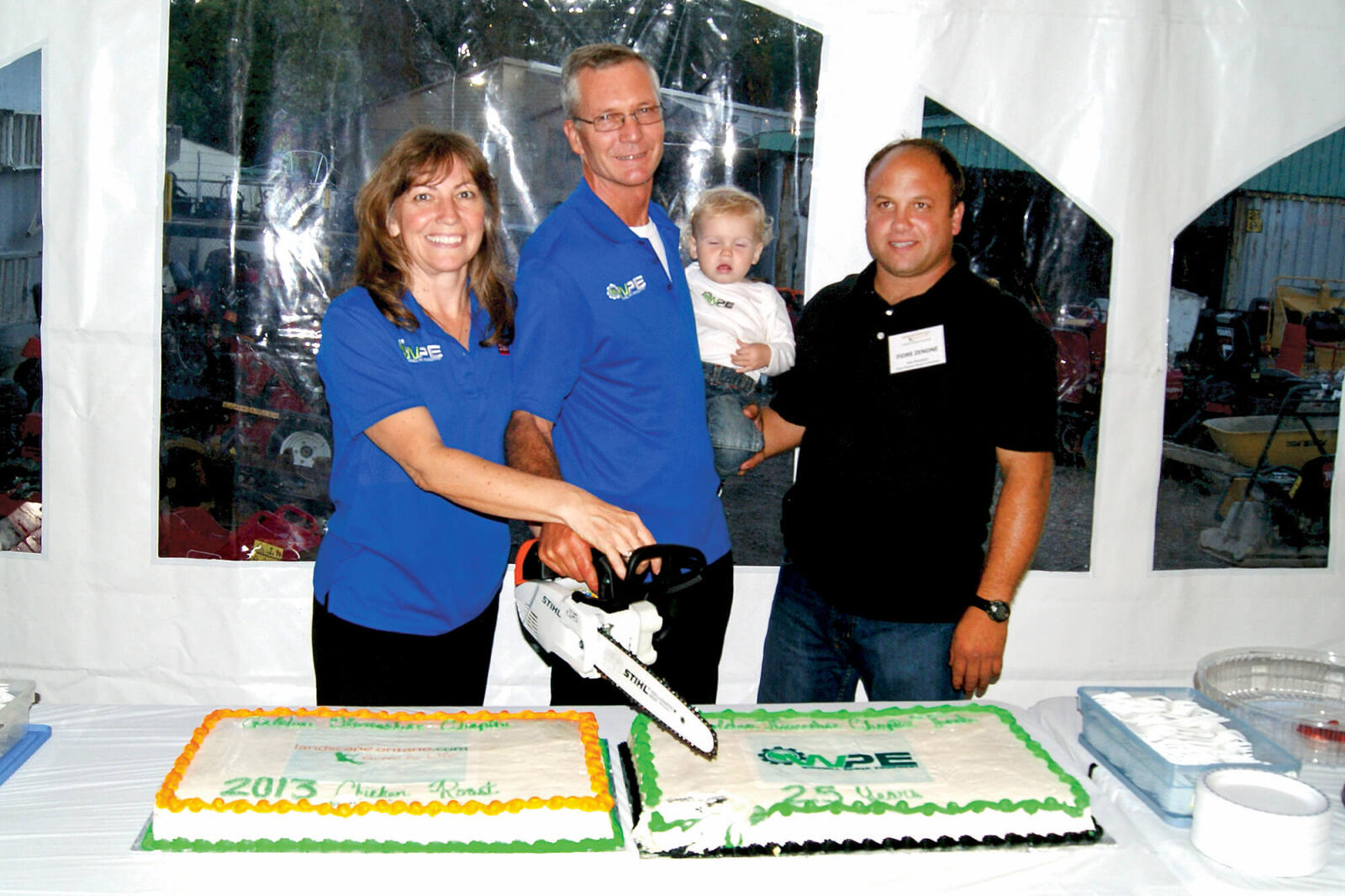 Hosting this year's chicken roast was Windmill Power Equipment (WPE) in Dundas. Windmill's owners Pauline and Vince Borgdorff, are joined by one of their young family members and Fiore Zenone, chair of the Chicken Roast and past president of the Golden Horseshoe Chapter, for the official cake cutting. Some question the choice of cutting implement.
---
A generous donation on behalf of all those who attended went to Hamilton Mission Services.
The Chapter gave its appreciation to Windmill Power Equipment owner Vince Borgdorff, his wife Pauline and their family, for hosting the 25th annual Chicken Roast. It coincided with WPE's celebration of its 25th year in business. A very special thank you went to Paul McCallum and the WPE staff for making this an awesome event.
Sponsors of the event included Windmill Power Equipment, Salerno Dairy Products and Connon Nurseries NVK. Prizes were donated by Drive Products (Western Snow Plows), Duke Equipment (Snoway Plows), Natural Landscape magazine, Walker Mowers, Wright Mowers and Terra Greenhouses.
The Chicken Roast is one of the most popular annual social events held by the Golden Horseshoe Chapter for the enjoyment of members' families, employees and friends. Next year's event will be held in early September. Any company interested in hosting the event is asked to contact Chapter coordinator Lee Rozon at
lrozon@landscapeontario.com
.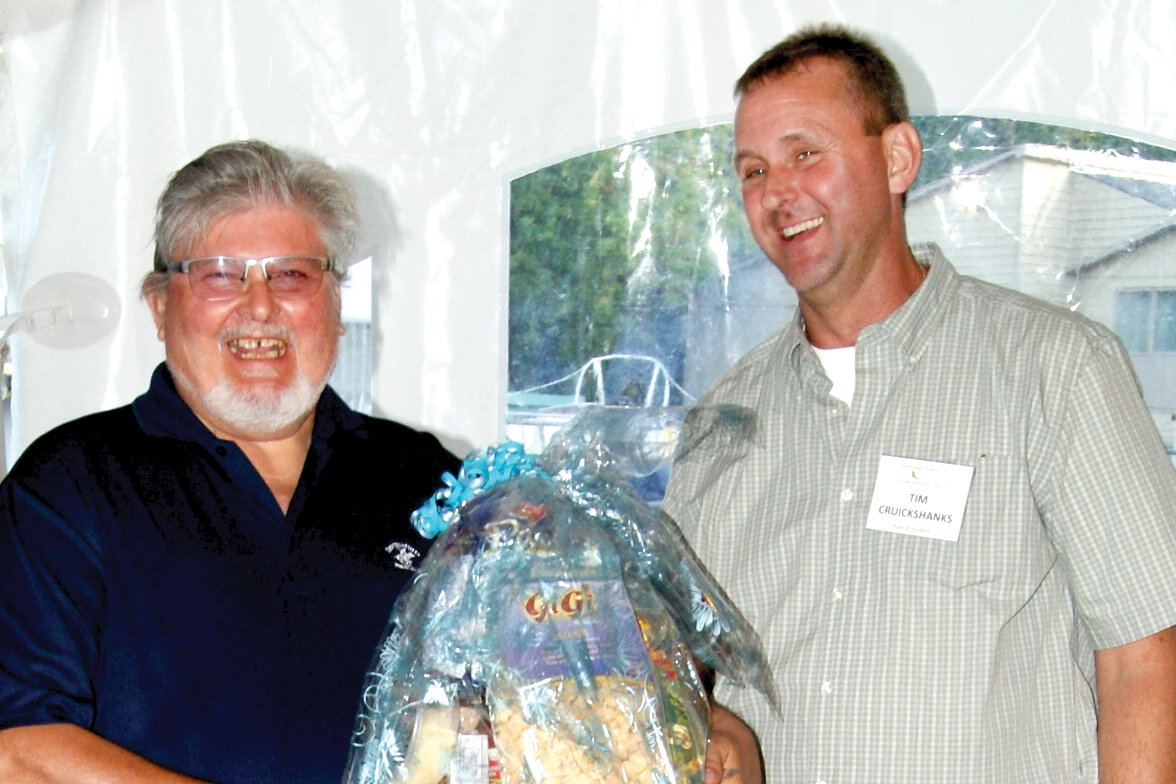 Tim Cruickshanks (right) represented the Golden Horseshoe Chapter board in thanking Doug Coote for his many years of work at the annual chicken roast. Coote has been volunteering at the chicken roast since it began 25 years ago. He is stepping down from his volunteer work.