September 2, 2019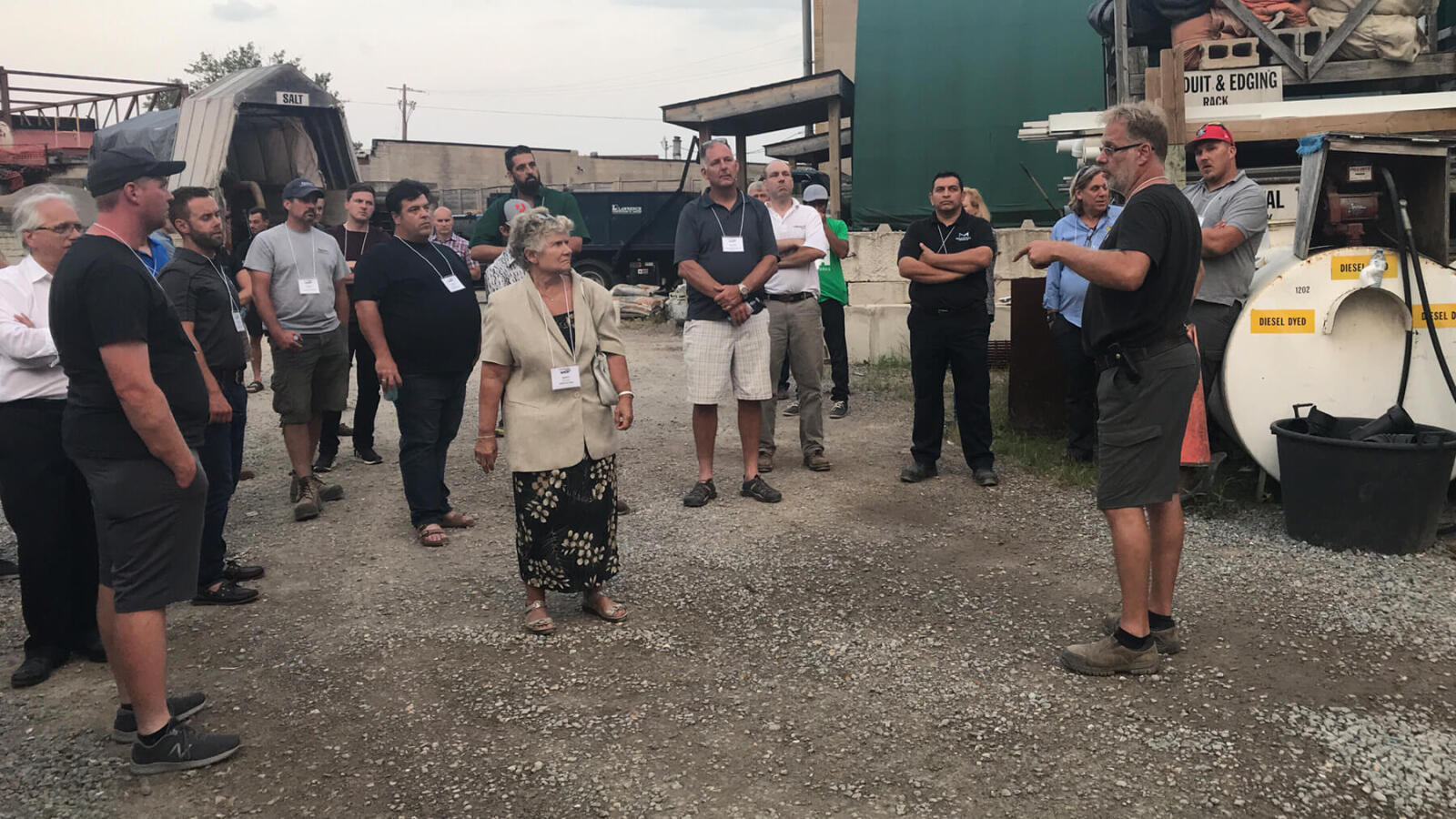 Oriole Landscaping hosts first "Let's Talk Shop"
With over three decades of experience creating and maintaining some of Toronto's most beautiful landscapes, Peter Guinane and George Urvari of Oriole Landscaping have overcome their share of obstacles, challenging clients and jobsite mishaps. But with level heads, a strong partnership and the passion to continually improve, the duo have always come out the other side stronger, wiser and ready for the next challenge.
On July 25, Urvari and Guinane hosted about 50 landscape and horticulture professionals at their East York office and operations centre, for the first "Let's Talk Shop" event. An initiative of the Landscape Ontario Contractor Sector Group, the networking event included dinner, a discussion on problem solving and best practices for landscape businesses, plus a tour of Oriole's operation.
During the tour, Urvari emphasized the importance of organization and the need for detailed systems and processes. One example is their use of large labels and signs accompanying all tools, equipment and materials throughout the yard.
Perhaps the most impressive part of Oriole's operations centre is the efficiency in which staff load and offload trucks to start and finish each day. While most tools and equipment remain on trucks to cut down on load and unload time, additional materials, fuel or equipment is picked up or dropped off along a meticulously-organized loop throughout the yard. This system is particularly important for Oriole, because of its Toronto locale: minutes lost at the yard in the morning can grow exponentially in traffic getting to job sites.
However, the Toronto market also has benefits, offering perhaps the largest potential upscale client base in the country. It's also a competitive marketplace, with a plethora of companies vying for clients in coveted neighbourhoods such as Forest Hill, Lawrence Park and Rosedale.
Oriole Landscaping didn't always swim in those waters. During the first few years in business, Urvari recounted cash flow struggles that almost ended the company. Fortunately, the pair found a rather simple solution: "We decided to just raise our prices, to see what would happen," Urvari said.
It worked. Projects continued to come in, and margins were even better. Now, Urvari, who also does consulting work and speaking engagements, encourages burgeoning businesses to do the same.
If you are interested in hosting a Let's Talk Shop event at your business, please contact Amy Buchanan at
amy@landscapeontario.com
.