April 15, 2014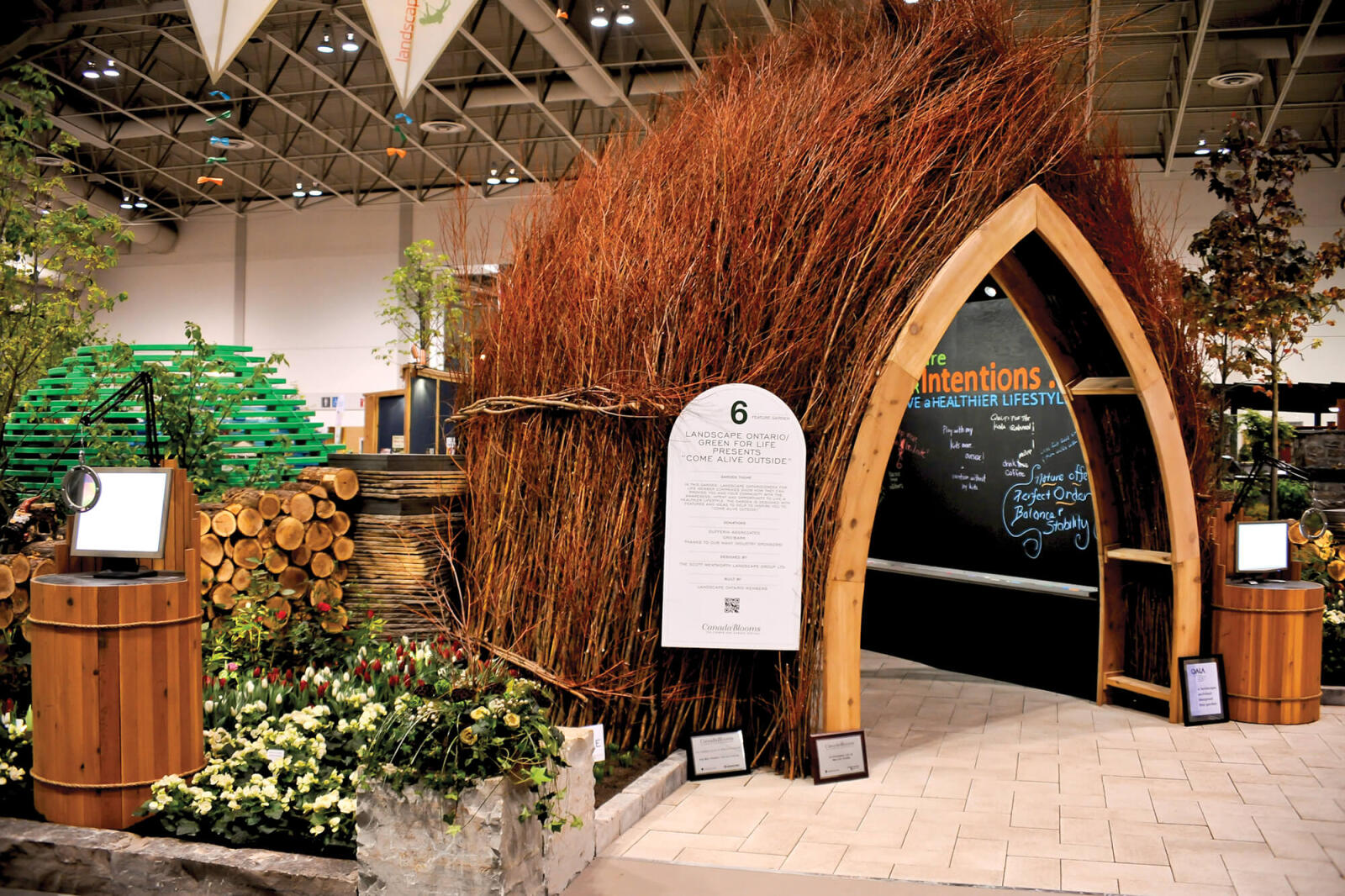 Message at LO's Canada Blooms garden sees public response
By Scott Wentworth
LO garden project manager

The 2014 Landscape Ontario Green for Life Celebrates Come Alive Outside feature garden wrapped up on Mar. 23, and as with all temporary display gardens, it was dismantled and shipped away in a fraction of the time it took to construct.

Hall A of the Direct Energy Centre was left clean, and without any signs of Canada Blooms having ever been there. The sights and sounds of the exceptional craftsmanship and creativity demonstrated throughout the event left hopeful memories of spring and a longed for summer season ahead.

The legacy of the display lives on though, through the thousands of photos that were taken; photos that showed friends and family within the glorious display of spring colours, the puzzling altered monitors and of the unusual structures defining the Come Alive Outside message. More importantly, the legacy of the display lives on in the thousands of visitors who took the time to write down their stated intentions of how they will live a healthier life outside.

The 'Wall of Intention,' a chalkboard within the willow hut, took on a life of its own, as the board was filled daily with visitors writing down their personal intentions. By mid-afternoon, the wall was typically so filled with colourful declarations that new messages had to be scrolled over existing, or space found within the letters of others.

Some of these messages were extremely personal and obviously heartfelt. Statements ranged from promises to get outside and exercise, and spend more time playing with their children outside. Intentions to plant a garden, grow milkweed for butterflies and plant 20 different types of heirloom tomatoes showed a dedication to gardening.

We asked ourselves what would motivate someone to publicly declare their desire for a better, healthier life outside. Upon reflection, it seems to be the power of the message and the public's personal connection to it. The message is intuitive; we need to get unplugged, get outside and re-connect with nature. People know they feel better in doing so. How each individual does this is as varied as the people themselves.

This should be the essential lesson and legacy of the Landscape Ontario Green for Life display at Canada Blooms. The public wants the opportunity to Come Alive Outside, and Landscape Ontario members have a stewardship position in making this a reality. We can do so with our families, helping them to connect with nature, despite the extreme busy-ness of our spring season. We can frame the experience we provide our clients in a way that creates greater benefit than just a commodity. Our services can change their lives by giving the next generation of children those five years back that the health impacts of a sedentary lifestyle can rob them of. We can act as a catalyst within our communities by providing events and facilities that get them outside, and teach them "the lost art of unstructured play."

The public has great enthusiasm for getting out and becoming active. The wave of awareness of the related health issues is before us every week in the media, if not daily. Our hope is that collectively we will not only respond to this need, but be leaders in providing the opportunities to live a healthier lifestyle outside.