February 15, 2010
Major buzz surrounds Congress 2010
From attendees to exhibitors, reactions were unanimous: Congress 2010 was a smash hit.
And, success wasn't measured in just positive comments, as hard numbers prove this year's event was a triumph. Overall attendance showed a 22 per cent increase over last year. And those attendees were in the mood to do business, as exhibitors report great contacts, with some making a number of good business deals.
The increased attendance numbers began on Mon., Jan. 11, with the conferences. Each session needed additional seating brought in to handle the extra participants. Results show attendance numbers: 164 at the IPM Symposium, 72 at the irrigation conference, 177 at the landscape designers' conference, 68 at the OPA's 54th Annual Conference, and 15 attending the CLP Financial Management Study Group.
"There were a number of factors at play this year that resulted in success at Congress," said show manager Paul Day. "Of course the weather had a lot to do with it, but there was also the fact that many members of our industry are buoyed by the improving economy and that Congress has become the place to be in order to see what's new in the industry." Day also felt that partnerships with the Canadian Fence Industry Association, Communities in Bloom and the Ontario Parks Association, and the Mayors' Breakfast, make Congress a must-attend event. "The status of Congress improves every year," said Day.
The trade show began Tuesday, with over 60 Ontario mayors attending a special Green Eggs Breakfast. The event initiated the Green Forum at Congress, hosted by Landscape Ontario, the Ontario Parks Association and Communities in Bloom.
Through a special arrangement with Via Rail, the mayors and elected officials were transported to the breakfast on the Mayors' Express trains that ran from Ottawa and Windsor. Sponsors of the event included Alfa Products, Via Rail Canada, Tradewinds International, MMM Group, Porter Airlines, Unilock, Doubletree by Hilton Toronto Airport, City of London, Muskoka in the City and Nuworld Research and Development – Div of MMC Ontario.
The breakfast was followed by Toronto Mayor David Miller, with a pair of golden hedge shears in hand, snipping the ribbon at the official opening ceremonies of Congress 2010.
Following the opening ceremonies, the delegation was led by a piper in full Scottish regalia to a special presentation of an environment award from Landscape Ontario to Mayor Miller and the City of Toronto. The award was presented by LO's executive director Tony DiGiovanni, who said that Mayor Miller's core value is environmental stewardship. "I'm privileged on behalf of the City of Toronto to receive Landscape Ontario's Environment Award," said Miller.
Tuesday night featured LO's Awards of Excellence Show.
See page 8
in this issue for the special award winners, and go to
www.loawards.com/2009winners
for a complete list and photos of the winning entries.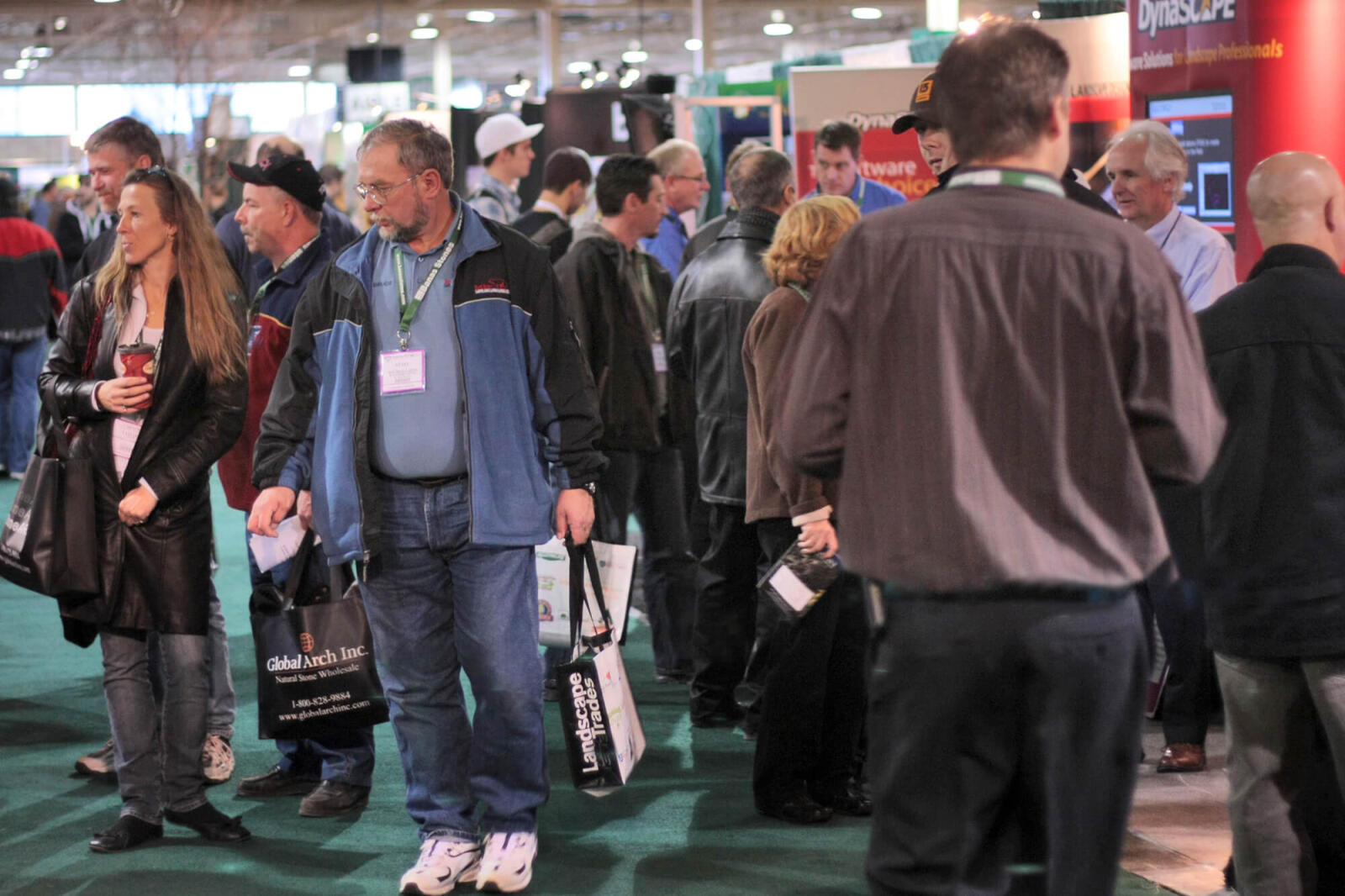 ---
Green for Life Award
Winners of the inaugural Green for Life Award were announced Jan. 13, at Congress' Tailgate Party. The winner of the contractor award was Appleby Landscaping of Milton, with Lemkey Landscape Design of Winnipeg, Man. winning the design category and Clintar Landscape Management of Mount Hope taking the prize in the lawn care.
The Green for Life Award recognizes and awards environmentally responsible companies in the horticulture, landscape construction and design industry. Winners were drawn from participants completing the Environmental Scorecard. There were 472 entries, including 287 from Ontario.
In congratulating the Green for Life Award winners, Nathan Helder, chair of LO's Environmental Stewardship Committee and awards judge, said, "Environmental assessments are a tool that businesses can use annually to make continuous, incremental improvements and become even more environmentally responsible." Turf Revolution sponsored the Green for Life Awards.
Best booth awards
Best booth and best promotion awards were presented to the following winners in each of the six categories:
Stone-Link Corp. of Woodbridge for the best of show booth. "Stone-Link Corp.'s booth was unmatched from top to bottom," said John Neofotistos, one of the contest's judges. "They utilized every ounce of space and incorporated multi-leveled areas causing all the elements to flow together," he continued.
In the heavy equipment category, Kubota Canada of Markham.
Winner of the small equipment category, Echo Power Equipment from London.
The best booth, excluding heavy equipment, under 100 sq. ft., Xero Flor Canada from Mississauga.
Santerra Stonecraft from Windsor, category for booths between 100 and 400 sq. ft.
Permacon Corporation from Milton, for over 400 sq. ft.
Turf Revolution received the award for the best promotion. The award is presented to the exhibitor who best develops strategic and measurable marketing campaigns to promote their participation in advance of Congress.
Over 400 ballots were cast to decide the winners of the best new product displayed in the New Products exhibit. Xero Flor Canada's Green Roof Systems won the vote, followed by Rubaroc Rubaflank and Bosman Patio Bar Set and Husqvarna solar automower. There were 41 green products and 68 new products submissions showcased in the showcase.
Seminars well attended
Education is a major component at Congress. This year saw great conference attendance numbers.
A number of positive comments were received from attendees. One was about Jim Paluch's session on the Risks and Rewards of Change: "Very helpful. Jim forces you to dig deep within yourself to find the answers you need in this business to succeed." And this about Jacki Hart's talk on Prosperity Partners: A Career that's Great for Life! "Best landscape seminar I've attended in three years. It was relevant to me and where I am in my business in Alberta (LANTA)!"
Partners happy
"The Ontario Parks Association is pleased to report that the 2010 edition of the Explorations and Educational Forum was a great success," said Paul Ronan, OPA executive director. "The decision to join with Landscape Ontario and combine the two trade shows and educational components proved a hit with our delegates. Based on this year's success, OPA will be enhancing our educational and trade show components for next year," continued Ronan.
"I received lots of positive responses from all of my Fencecraft exhibitors who thought Congress was a great show," said Evie Isenberg, of the Canadian Fence Industry Association. "Our association was happy to be a part of Congress once again. We look forward to partnering with Landscape Ontario in 2011."
---
Congress 2010 Sponsors
Landscape Ontario thanks the following sponsors for their generous support of Congress.

Platinum, Ariens/Gravely and Banas Stones; Gold, Chrysler Canada, Global Arch – Natural Stone Wholesale – Stone Arch, Via Rail Canada;
Silver, Doubletree by Hilton Toronto Airport, Turf Revolution, Landscape Trades;
Bronze, Bobcat of Hamilton, Devtra, Sittler Environmental, Toronto Argonauts Football Club, Vermeer Canada, Whiteoak Ford Lincoln Sales.

Designers' Conference sponsors
Platinum, Blue Sky Nursery; Gold, Unilock, HGH Granite;
Silver, Astley Gilbert
Bronze, CNLA.

Irrigation Conference sponsors
Toro, Hunter Industries/Irritol, Rainbird,
Turf Care Products, Vanden Bussche,
John Deere Landscapes

Legacy Room sponsors
Nutrite (a division of Fertichem), Kubota Canada, Vanden Bussche Irrigation, Connon Nurseries/NVK Holdings, Stihl, Oaks Concrete Products, Echo Power Equipment (Canada), Agrium Advanced Technologies, HortProtect, Beaver Valley Stone, Redbud Supply.

Congress 2010 Volunteers
Congress Committee
Scott Beaudoin, Diana Cassidy-Bush CLP, Terry Childs, Brian Cocks CHT, Doug Coote, Paul DeGroot, Barry Dickson, Beth Edney CLD, Nathan Helder, Michael LaPorte CHT, Brian Lofgren (Chairman), Bob McCannell,
Nick Solty, Klaas Sikkema, Jack VandeRee CHT, Monica van Maris

Conference volunteers
Candice Avery, Patrick Biller, Emily Bright, Irene Bultena, MaryAnne Davies, Anna DiCarlo, Tim Emmons, Jennifer Emmons, Jim Gray, Gillian Hargreaves, John Harsevoort, Ann Hollings, Ann Jakins, Michael Kettner, Liz Klose, John Lamberink, Greg Mais, Laura McCaul, Jeff McDonald, James McGlashan, Kevin O'Hara, Adele Pierre, Irina Polstvin, Greg Redshaw, Christine van den Bogerd, Ernest van Helsdingen, Garret Van Santen, Ryan Webb, Keri Wilby CHT.

New and Green Product Showcase
Martha Walsh, Terry Childs and Michael LaPorte

Student Gardens
The student gardens were supervised by Brian Cocks and Michael LaPorte. The following schools participated: Bendale Business andTechnical Institute (supervision of Shane Jones), Humber College (supervision of Harry Chang), Fanshawe College (supervision of Michael Pascoe CHT), St. Clair College (supervision of John Lein, LAT), Niagara College (supervision of Mike Hoekstra), Kemptville Campus of University of Guelph (supervision of Dr. Darren Robinson)

LO booth
Suppliers of products and services:
Connon Nurseries, NVK holdings, Camilla House Imports, Moonstruck Landscape Lighting, Permacon;

Volunteers
Lisa Orridge, Jason Anderson, Diana Cassidy Bush CLP, Jay Stevens, Candice Avery, Paul De Groot, Jack VanderRee, Paul Doornbos CHT, CLP, Carl Hastings, Geneva Tubby and John Harsevoort.