February 15, 2010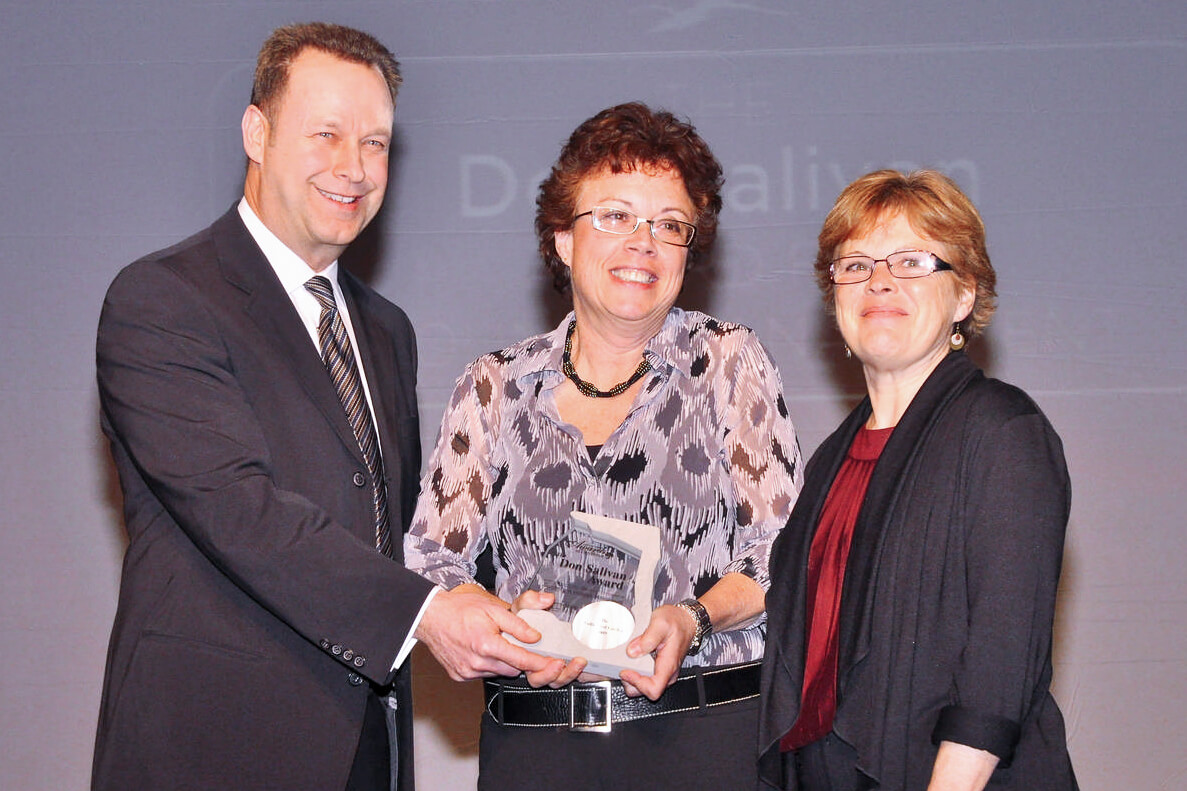 LO celebrates achievement at annual Awards show
The high level of excellence and professionalism among LO members was again recognized at the 37th annual Awards of Excellence. As part of Congress 2010, Landscape Ontario's version of the Oscars, featured a gala evening of ceremony and special acknowledgements.
Frank Ferragine and Mark Cullen co-hosted the evening, announcing the winners in the construction, maintenance, landscape design and interior plantscaping categories. A complete list of those winners can be found on
www.loawards.com
.
A number of special awards were handed out during the evening. First up was the Government Individual Award for Dedication to Horticulture. John O'Rourke, with the Ministry of Training, Colleges and Universities was recognized as an important element of Upper Canada's efforts in the horticultural apprenticeship program.
John Wright, president of the Ontario Horticultural Trades Foundation, read the list of scholarship recipients. They include, high school level: Jordan Albers, Derek Brick, David Charpentier, Telesphore Marie, Sean May, Matthew Owen, Delor Popplewell, Shane Rea and Jackie van der Heyden; post secondary recipients: Amanda Barr, Algonquin College, Shane Benish, Humber College, Patrick Biller, Niagara Parks, Tory Carmichael, Algonquin College, Richard Fournier, Fanshawe, Kayleigh Holden, Fanshawe, Jessica Horsburgh, St. Clair College, John Levesque, St. Clair College, Miriam Palmer, Fanshawe College, Katie Rettig, St. Clair College, Robert Toste, Sir Sanford Fleming College, and Christine van den Bogerd, Niagara Parks Commission School of Horticulture. The Casey van Maris Memorial Scholarship was awarded to Henry Sikkema from Niagara College and the Tony DiGiovanni Scholarship went to Sonny Parkes from the Niagara Parks Commission School of Horticulture.
A re-named award this year was the Don Salivan Award for Grounds Management. On stage to present the award in the memory of his father was Gregg Salivan. "I can't think of any higher honour for my father than to have this prestigious award – the very symbol of the best maintenance quality in the province – now carry his name." The inaugural winner is The Cultivated Garden of Toronto for the Badeau residence.
The Casey van Maris Award was presented to Oriole Landscaping of Toronto. This award is given to the project deemed to have the most innovative and unique execution of design from all of the submitted construction projects. Casey van Maris' granddaughter, Cassie Zalewski presented the award. "It is a truly special thing to be asked to present an award that is named after your grandfather. I know he would have been quite humbled at how this association keeps his name and spirit alive with this prize."
President of the Canadian Nursery Landscape Association, Cary van Zanten of British Columbia, presented the CNLA President's Award to Karl Stensson, president of Sheridan Nurseries, for his "30-plus years as a trailblazer, leader among peers and industry, and a very passionate volunteer who always has industry's best intentions at heart."
In an emotional presentation, immediate past president Bob Adams accepted the president's ring from Bob Tubby CLP. "There are few LO members of who care about our association as deeply as Bob Adams. Even during a serious stroke a number of years ago, his thoughts were with Landscape Ontario," said Tubby. "Bob Adams demonstrated his commitment to the association by attempting to participate in every single activity that the association organizes."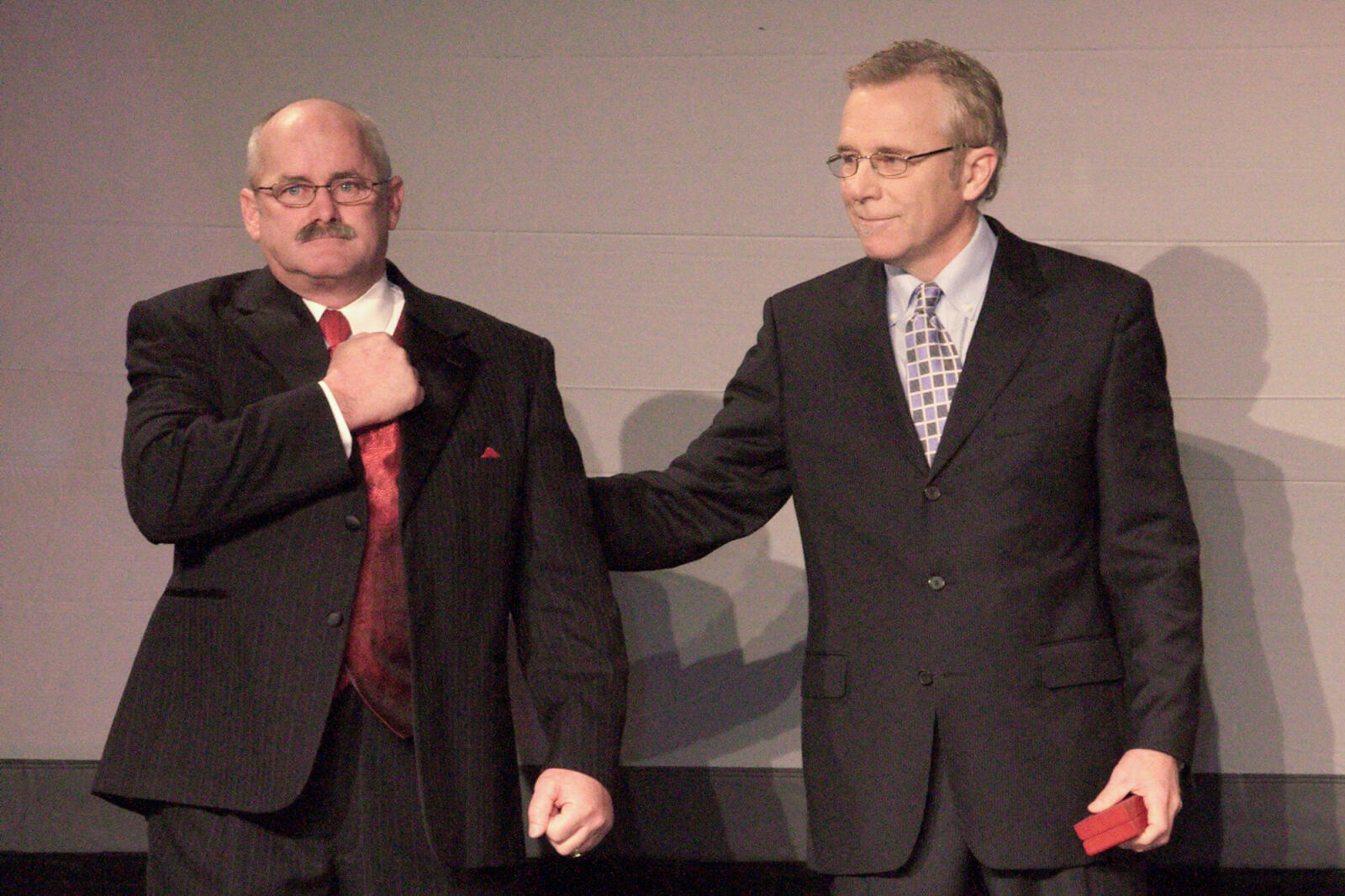 In an emotional moment, LO president Bob Adams receives the president's ring from past president Bob Tubby.
---
Prestigious Award
One of the most prestigious awards is the Dunington-Grubb Award. The 2010 winner is Tumber and Associates of Orangeville. This award goes to the most outstanding and highest-overall-scoring project in the construction categories. Randy Tumber CHT, CLD, received the award from Karl Stensson.
Nathan Helder of Jan Gelderman Landscaping, chair of LO's environmental committee, presented the Frank Ewald Junior Award 2010 to Michael LaPorte CHT, of Clearview Nursery, Stayner. This award is presented to a member of Landscape Ontario, or an employee, who has not yet reached his 36th birthday and has made an outstanding effort in the promotion and betterment of our association. LaPorte is currently the youngest serving president of the Georgian Lakelands Chapter.
The Garden Communicator's Award this year went to Rob Howard of the
Hamilton Spectator
. The award is given to a writer or broadcaster who consistently produces a high level of quality in the field of horticulture through his or her efforts in communication.
Three Past President's Awards were given out this year. This award is given to recipients who, over many years, have made outstanding contributions to the association: Gavin Dawson of Greenlawn, Mississauga, Beth Edney CLD, of Designs by the Yard, Toronto, and Monica van Maris, an honorary life member, past president of LO, Building Management, Show Committee, By-Law Committee chair, and past chair of the IPM Symposium. A special surprise came when her grandson Alex Zalewski came on stage to present the award.
Lorne Haveruk CIT, of DH Water Management Services, Toronto, received the Water Conservation Award from last year's winner Chris Le Conte. The honour is given to an irrigation project that demonstrates water stewardship, conservation and innovation while maintaining thriving landscapes.
Given only in exceptional circumstances to an individual achieving an outstanding contribution in the field of horticulture, the Trillium Award this year went to Adam Bienenstock, Gardens for Living, of Dundas. Gardens for Living has introduced an entirely new sector of the landscape industry, helping to promote economic benefits and green jobs, raising awareness for the societal benefits of green infrastructure and helping to develop a new generation that respects nature.
The Prosperity Partners Leadership Award went to former LO president Bob Tubby of Arbordale Landscaping/Moonstruck Landscape Lighting, Toronto. He received the award from new LO president Tom Intven. Six recipients were on hand to accept the Prosperity Partners Business Engagement Award. They are: Bill Beamish, Beamish Landscape Services, St.Thomas; Mark Fisher, The Escarpment Company, Milton; Ryan Heath CLP, Ryan Heath Professional Landscaping, Keswick; Erin Schuler, Create It! Williamsburg; Hetty Teuber, Silverthorn Landscape Supplies, St.Thomas; and Jason Zehr and Mike Wardel, Rural Roots Landscaping, London.
Volunteer judges for the 2010 Awards of Excellence were Harry Chang, Don Chase CLD, Alistair Johnston, Ron Koudys CLD, Jeff McMann CHT, and Bruce Peart