May 15, 2016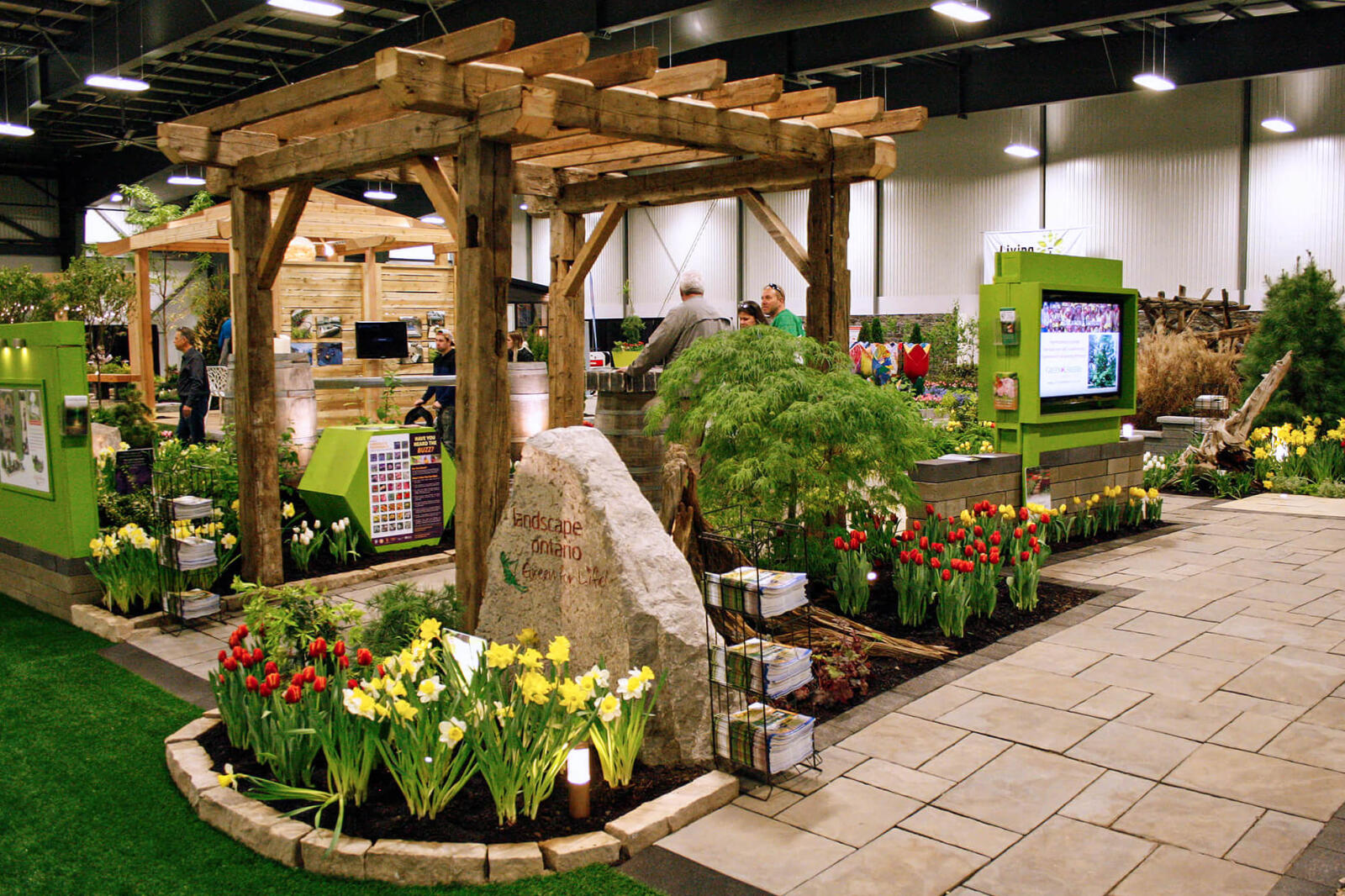 LO members shine at Ottawa Home and Garden Show
By Theresa Whalen
LO Eastern Ontario Communications and Marketing Coordinator
Celebrating its 36th year, the Ottawa Home & Garden Show, held March 25-28 at Ottawa's EY Centre, has come to be known as one of the first sure signs of spring. The inaugural Living Landscapes feature, presented by the Ottawa Chapter of Landscape Ontario, brought spring to the capital with 10 gardens spanning 30,000 square feet, each designed and installed by professional members of Landscape Ontario.
"The Living Landscape hall of gardens was a natural progression of the relationship between the Ottawa Chapter — with a great deal of support from Permacon — and the Ottawa Home & Garden Show," explains Sundaura Alford-Purvis, CLD, BCIN, and president of LO's Ottawa Chapter. "It was a big undertaking, but also a great opportunity to increase the public recognition of the Landscape Ontario brand and our members in the Eastern Ontario region."
'The Garden of Knowledge - Choose Your Path' garden was a joint presentation by both the LO Ottawa and Upper Canada chapters. The lead creative and build team project co-managers were designer Alford-Purvis, of A Cultivated Art, along with build leader Paul Doornbos, CLT, CLM of Thornbusch Landscaping and Upper Canada Chapter secretary.
The intent of the 'Choose Your Path' garden was to inspire visitors to consider green careers by displaying the multiplicity of skills and expertise needed in landscaping and other green professions, where the demand for qualified staff is extremely high. Large scale projects require multi-disciplinary teams to put all the unique aspects of the build into proper order for beauty and environmental sustainability as well as long term durability and maintenance. Design, lighting, engineering, irrigation, heavy equipment operation, masonry, plant care, biodiversity, habitat creations, green infrastructure, storm water runoff, heat island effects — there is an endless list of career opportunities for those who are team oriented and who find fulfilment in a hands-on environment.
"Landscape Ontario is an association of like-minded professional companies that agree to work to certain standards. There are numerous varied career opportunities for young, older, and even second-career individuals within the green professions and there are also many scholarship opportunities available too. Lastly, for children, building a sandbox inspires play, creativity and dreams of what's possible — and landscaping is the grown-up equivalent!" adds Doornbos.
He continues, "In short, as an association, we need to be clear that we are not in the garden building business, but rather, we are the uniting network of professionals that connects like-minded individuals with the common goals of mutual improvement and client benefit. We are the source for landscape professionals and we can vigorously promote our membership's talents at these shows because they are on full display."
Thanks is extended to all the volunteers who built the LO feature garden and then returned to tear it down — as well as those who manned it during the show. Special thanks to the horticulture students from Algonquin College, led by Steve Neumann, who provided vital assistance with the construction and planting.
The LO feature garden 'Garden of Knowledge - Choose Your Path' would not have been possible without the generosity of Cityscape, Cohen and Cohen Natural Stone, GeoSynthetic Systems, Greely Sand & Gravel, Gro-Bark, Ground Effects Landscapes, Highland Design Build, in-lite Design, Lanark Cedar, Manderley Turf Products, Rymar, Toromont and Unilock. A complete list of volunteers and suppliers can be found at
horttrades.com/ohgs2016-build
.
In appreciation of and recognition for all the work that went into all 10 of the garden creations, visitors were asked to vote for the Living Landscapes 2016 People's Choice Award for Best Garden Build. With votes tallied, first place went to Terrascapes Landscape & Design; second to Hansen Lawn and Gardens; and third to Welwyn Wong Landscape Design. All voting visitors' names were put in a draw and Thomas Kerr was the winner of the $500 Via Rail gift card, sponsored by Via Rail and the Canadian Tulip Festival.
The Living Landscape gardens were comprised of:
"The Garden of Knowledge - Choose Your Path" by LO Ottawa and Upper Canada chapters
"Spring Escape" by Terrascapes Landscape & Design
"Your Backyard" by Hansen Lawn and Gardens
"Garden of Serenity" by Welwyn Wong Landscape Design
"Permacon Modern Oasis" designed by A Cultivated Art and built by Permacon and Davis Landscape and Design
"Burst Forth" Harmony Gardens Landscaping designed by A Cultivated Art
"Spring in the Upper Valley" by Thunderbolt
"Canadian Tulip Festival" designed by A Cultivated Art in association with Permacon, Landscape Ontario, The Canadian Tulip Festival and the Ottawa Home & Garden Show
"Bring Nature Home" by Les Entreprises Maréchal, designed by DM Design
"Horticultural Industries Class of 2015" by fourth semester landscape design students at Algonquin College.
The first annual Living Landscape feature was a welcomed addition to the Ottawa Home & Garden Show. As planning starts for 2017, LO members are encouraged to be part of the next Living Landscapes feature as ambassadors of green profession excellence. For more information contact Sally Harvey at
sharvey@landscapeontario.com
.