May 15, 2017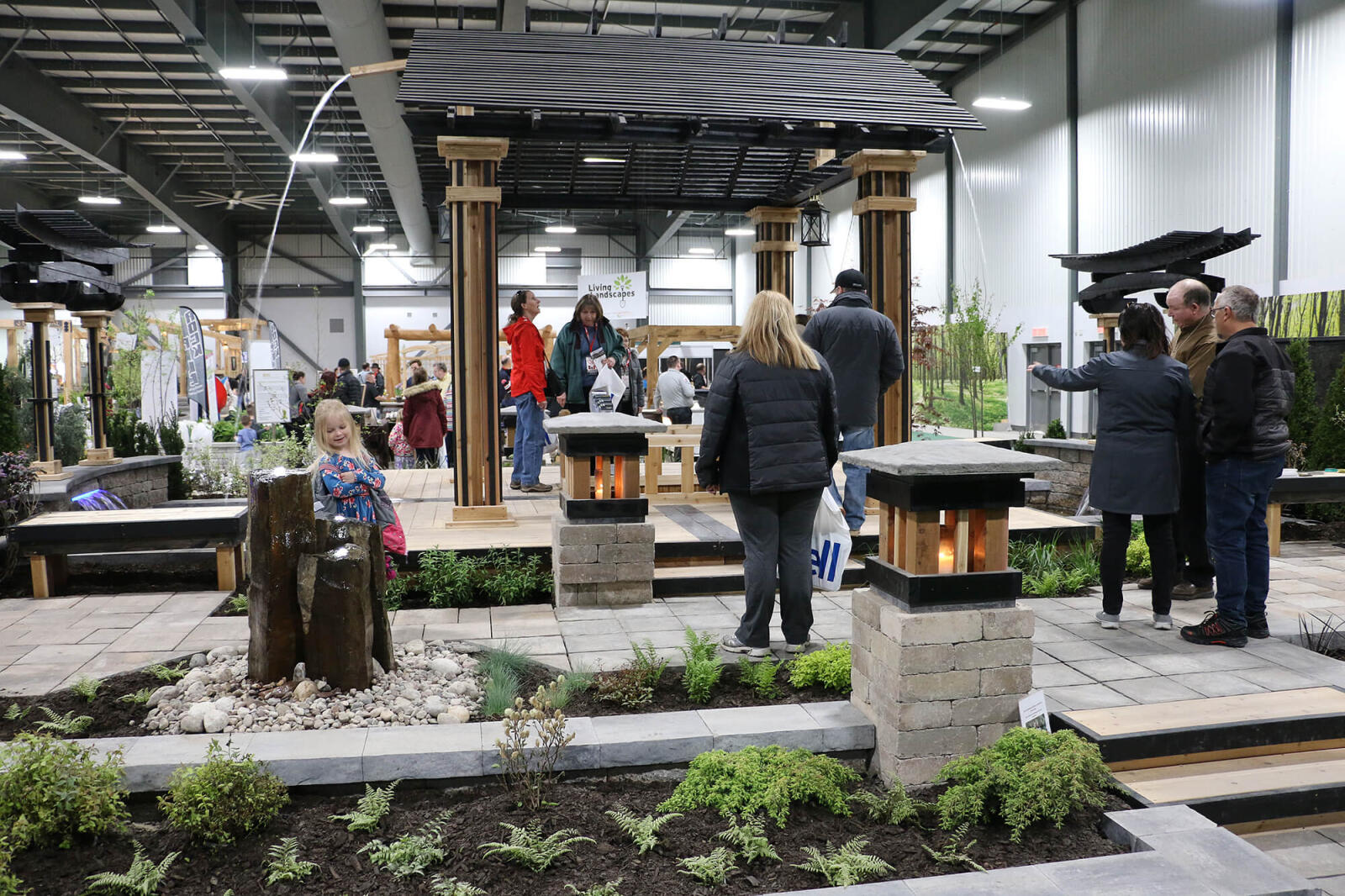 Gardens a big draw at Ottawa home show
Landscape Ontario members wowed residents of the Ottawa area with their talent, expertise and creativity at the Ottawa Home and Garden Show March 23-26, 2018.
Living Landscapes by Landscape Ontario, a unique 30,000 square foot area within the show, contained nine feature gardens built by LO members that delighted visitors with the sights, sounds and smells of spring.
The quality and design of the gardens got a lot of media attention — from live radio broadcasts, to local television news segments and plenty of buzz on social media.
Ed Hansen, owner of Hansen Lawn and Garden, won the People's Choice Award for his garden that demonstrated how a professional design can provide a place to relax and escape the hustle and bustle of everyday life.
Hansen's garden invited visitors to a small seating area with a focal point, that meant having their backs turned away from the busy home show area behind them. The result was an easy escape from the nearby noise and activity.
Hansen says his garden oasis took about 800 hours of work from start to finish and he had many inquiries from people who wanted a similar area in their own backyard.
Hansen Lawn and Gardens won the People's Choice Award for their garden that offered a place to relax and escape.
---
Hansen has participated in many events over the years and says he always looks forward to the opportunity to show the public what is truly possible when working with a professional member of Landscape Ontario.
Hansen teamed up with Living Landscapes feature garden coordinator Jason Smalley, who also teaches landscape design at Algonquin College, and gave about 60 Ottawa and Upper Canada chapter members a tour of the gardens the day before the show opened on March 22. The tour leaders explained the subsidies for garden builders, the amount of work and commitment involved, as well as the many benefits to showcasing their work through participation in the show.
While touring the gardens, members also had judging criteria in hand and evaluated the gardens for a new award. Congratulations go to BVG Landscape Contractor, winner of the Industry Profession Award.
Brian Geraghty, owner of of BVG Landscape Contractor says he too has been participating in the event for many years (on the home show side), and recommends the move into Living Landscapes for other landscaping companies as the best way to showcase the work they do.
In addition to coordinating the feature gardens, Smalley did a tremendous amount of work for Living Landscapes that included securing and forcing plant material required for the show. Smalley says Richmond Nursery and Ritchie Feed and Seed really stepped up to the plate to make things happen and a lot of the plant material was supplied by NVK Holdings. Smalley also worked closely with event organizers to ensure the LO message of professionalism was present within the show and in promotion of the event.
Smalley also teamed up with fellow Algonquin College teacher and Serenity Landscaping owner Chad Chambers to build a garden at the show, with help from the students.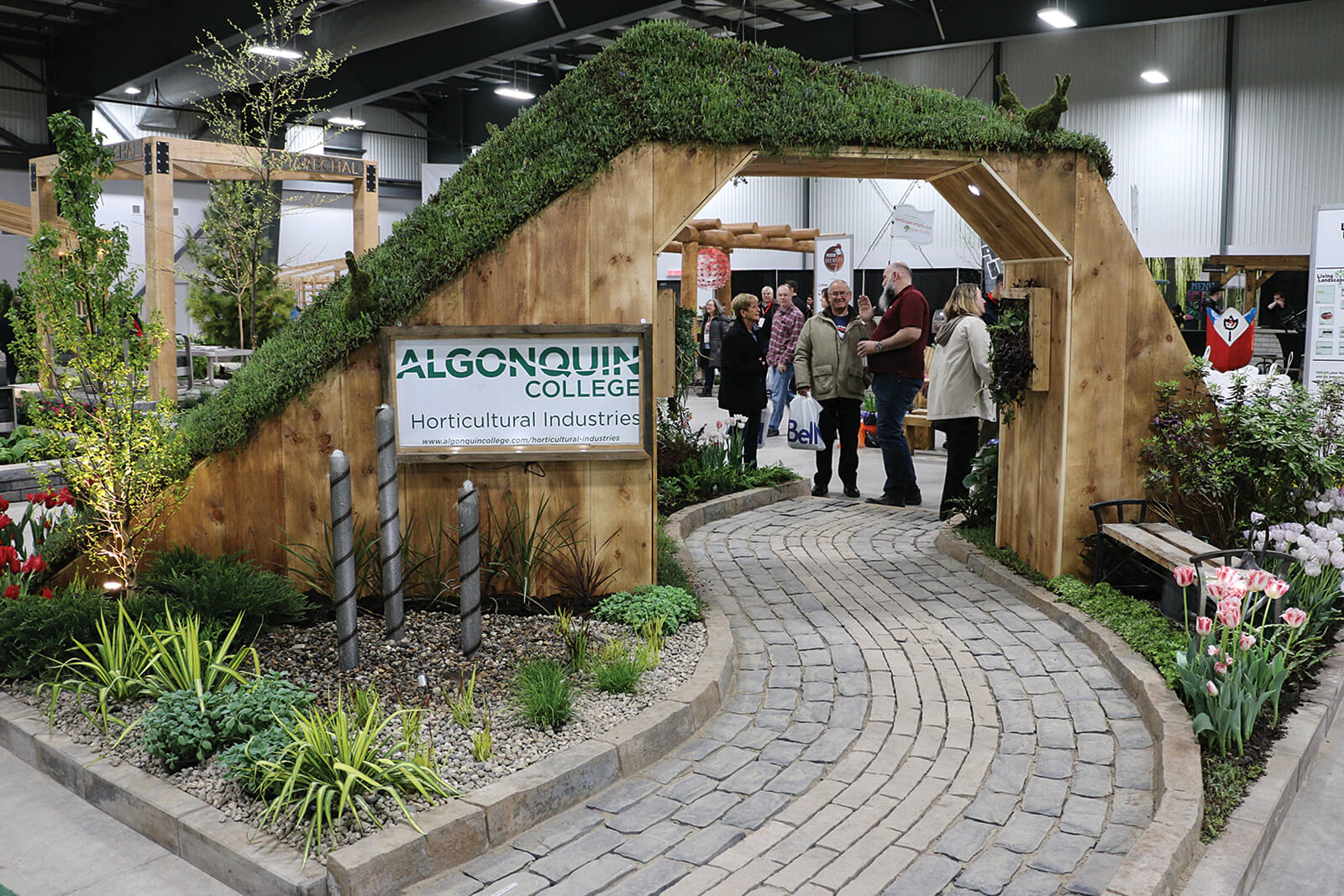 Algonquin College students helped with many of the gardens, in addition to their own.
---
"We are lucky we have huge involvement from Algonquin College," Smalley says, noting a lot of students volunteered to help with the build and even before hand taking care of the plant material.

Algonquin students were also involved in both the construction and design of the Permacon garden. As part of a term project last fall, Smalley's students presented designs to a panel of judges that included representatives from Permacon, and a winning design by Eleni Scharf, Feighona Valencik and Tara Mills was chosen.

Scharf spent a lot of time in the garden during the show and got lots of feedback and positive comments from visitors. Now a recent graduate, Scharf says the process of bringing a paper design to life so early in her career is a thrilling and unique experience. In addition to coordinating materials for the build, Scharf says the process taught her things don't always go according to plan, as some minor changes to plant material took place during the build.

The garden's theme of "introspectum" (the Latin word for introspection), is all about creating a space where people can take the time to relax, reflect and escape, says Scharf, adding she chose plants also based on their smell to showcase how aromatherapy can be included in a garden.

Scharf says her studies at Algonquin included learning about the many therapeutic and health benefits of gardens, including a study that found people recovering in hospital did so faster when they had a garden view outside their window.

Scharf is excited about her possibilities for the future, and says she will pursue any path that involves her love of design and her passion to work with, and learn more about, plants to use in her designs.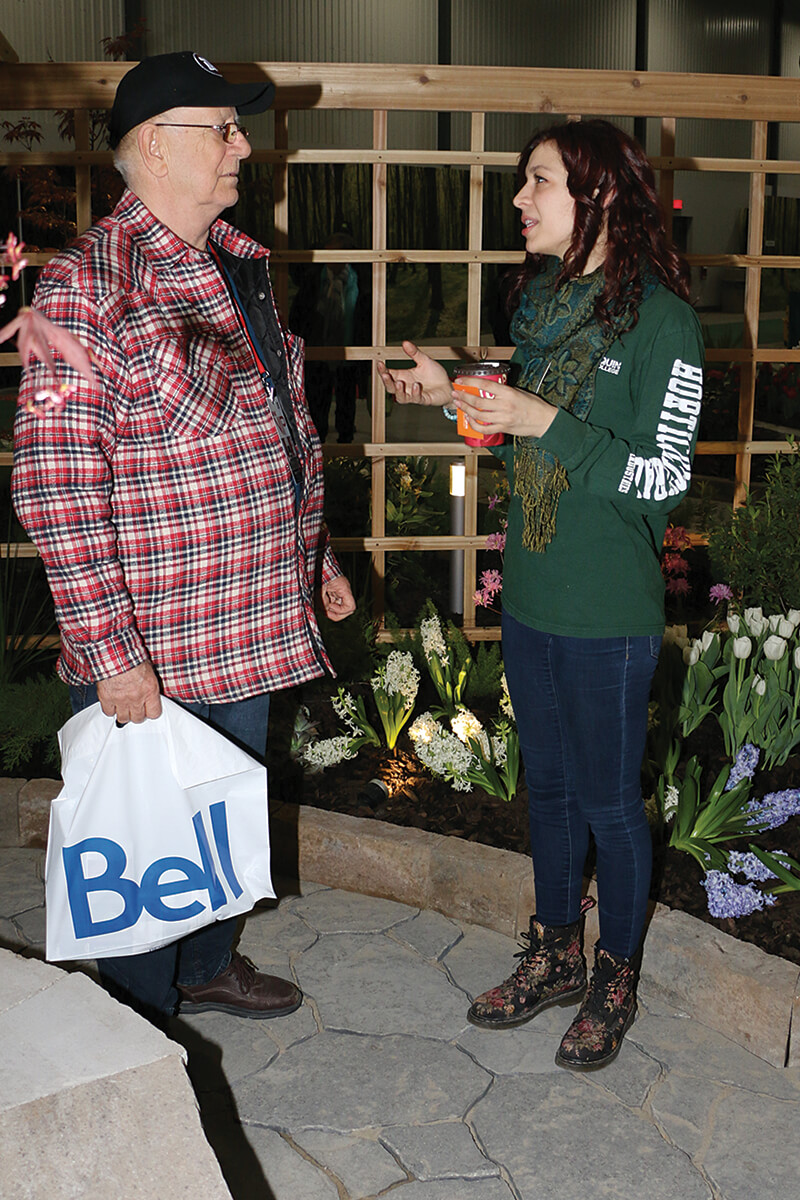 Eleni Scharf got a lot of positive comments on the garden she designed for Permacon.
---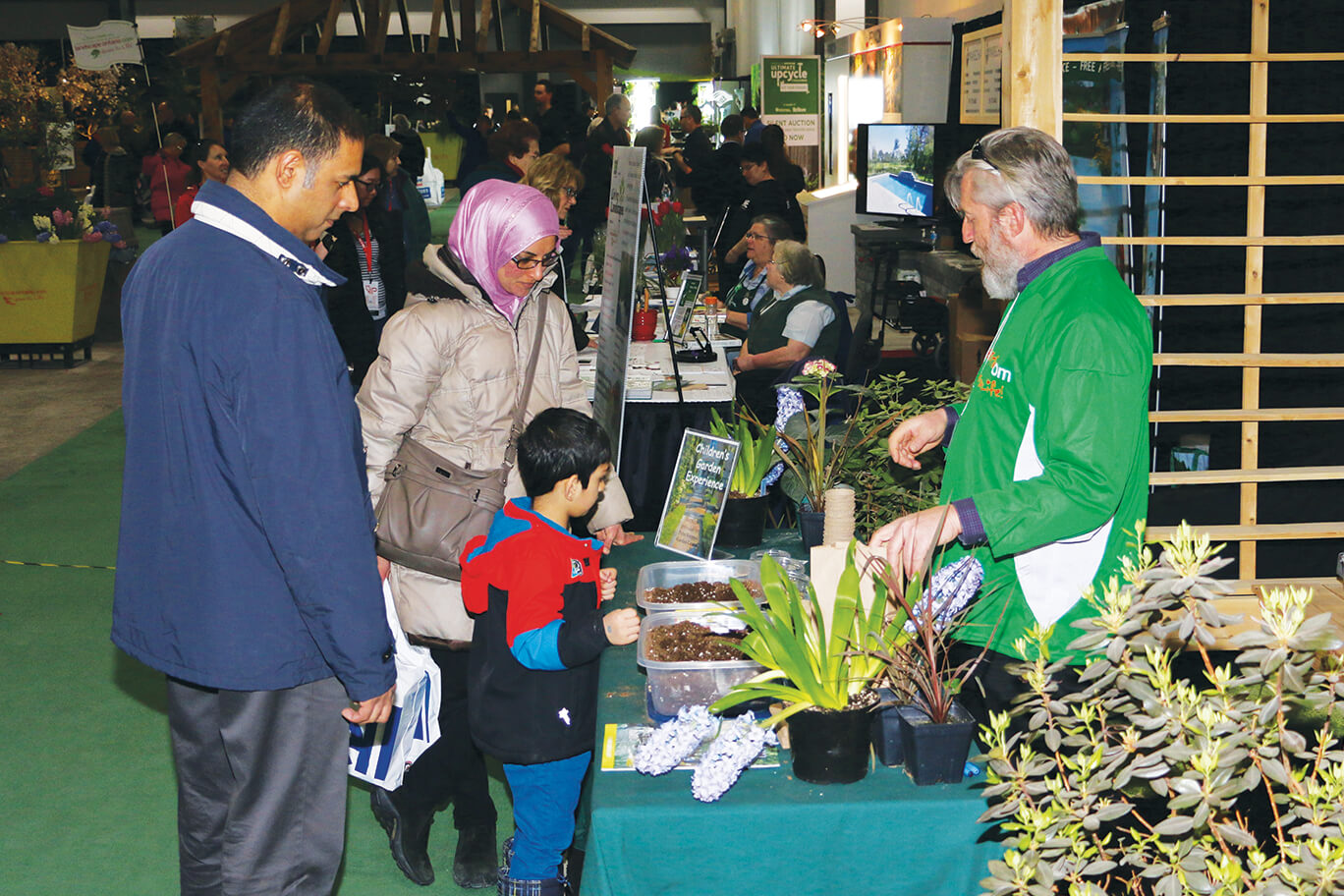 Volunteers promoted LO members, shared their expertise and helped kids to plant seeds at the LO display.
---
Thank you to the following individuals who helped with Living Landscapes
Aleisha Block, Erin Baun, Eric Brooks, Laura Dove, Stephanie Ann Fulcher, Morgan Fulcher, Sydney Fulcher, Elaine Gariepy, Guy Gariepy, Sandra Grella, Jerome Hamilton, Terrence Hills, Sonya Hirsig, Joan Johnston, Sarah Johnston, Chris Urquhart, Sharon Urquhart and Rob Windle.