November 15, 2013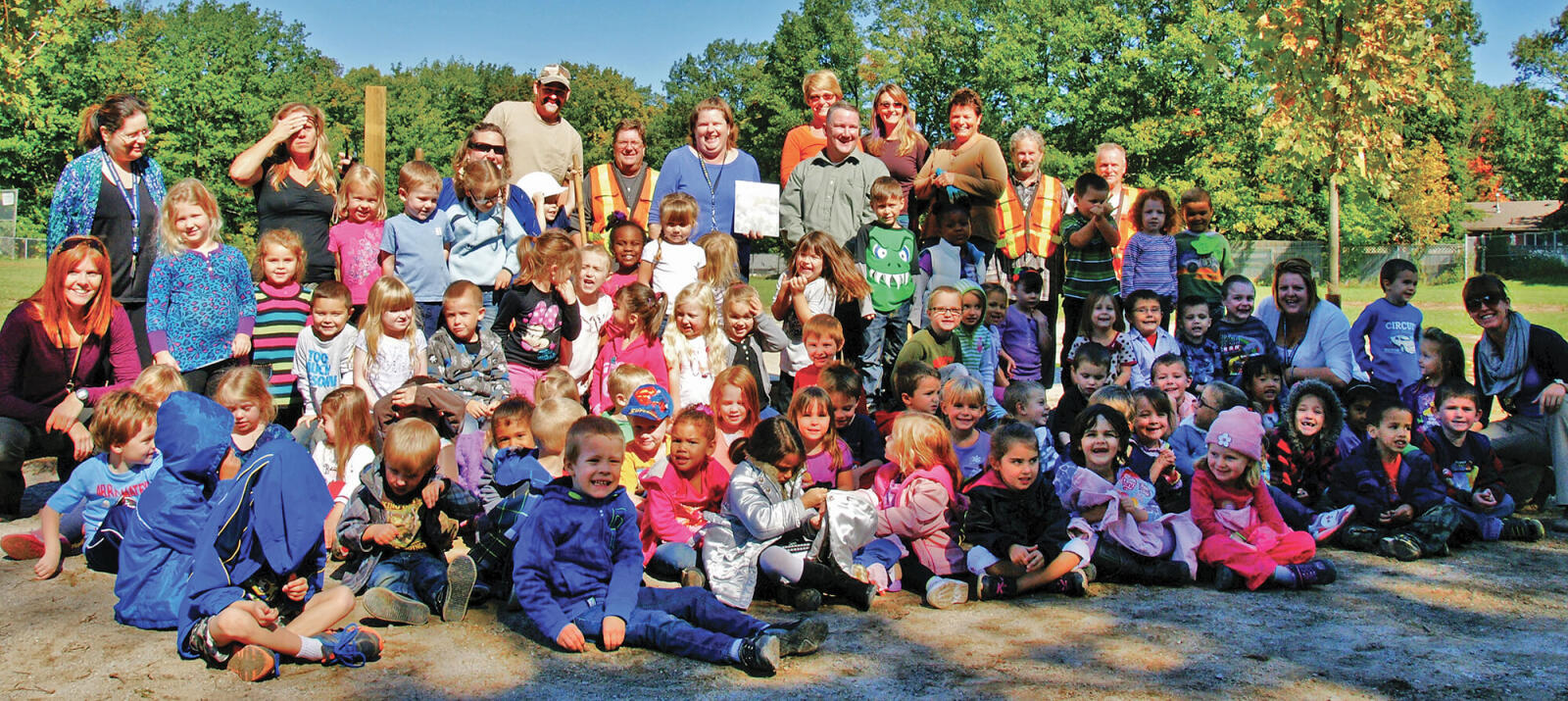 LO members mark National Tree Day across the province
LO members were out in force to mark National Tree Day on Sept. 25.

Even Chapters were involved in the event, such as Waterloo, which marked the day by taking part in its green school event at Elmira District Secondary School.

Georgian Lakelands Chapter members came together at Cundles Heights Public School in Barrie to enhance the school yard by planting three large sugar maples. With over 200 students from kindergarten to grade 4 overseeing the installation, everyone cheered as the trees were raised. Students were given the opportunity to help dig and then fill-in around the trees.

Chapter members taking part included Dearborn Designs and Associates, Kowalski Landscaping, LA Gardens, and Solty Garden Centre.

At the LO home office in Milton, Landscape Ontario staff and board members planted two trees at the entrance of the site.

Willowbrook Nurseries in Fenwick donated two trees for local school plantings.

Vermeer's Garden Centre in Welland donated two trees for local school plantings.

The Grounds Guys in Hanover led a planting demonstration at St. Basil's Catholic School in Owen Sound. Grounds Guys' Marilyn Grubb said that 48 kindergarten students participated.

Gelderman Landscape Services in Waterdown planted a tree at Pineland Public School in Burlington with the assistance of pupils and staff.

Terrascapes Landscape and Design of Perth planted an Empire apple tree at the local community food bank, called The Table. A local gardening group was in attendance, along with some students from Perth Children's House.

Sheridan Nurseries was also busy. In Georgetown, John Reiter helped Silver Creek Public School in Georgetown plant a tree. Michael Davis in Kitchener led his Sheridan team planting a tree at Monsigner Haller School in Kitchener, and Scott Baillie and his team in Unionville planted a tree at James Robinson Public School in Markham. Sheridan's Larry Parr in Mississauga planted a tree at St. Clement Catholic School in Etobicoke and Steve Cline in Whitby planted a tree at Robert Munsch Public School in Brooklin. A tree was also planted at Blessed Cardinal Newman Catholic in Scarborough by Andrew Jinkinson and his team from Sheridan.

Cindy Cluett of Beyond the House held a planting demonstration in the new garden at the front of her building in Russell. The LO member also held a planting demonstration in the new Children's Reading Garden at the Russell Township Library. This was done in conjunction with the Russell and District Horticultural Society.

Jeff Lee of Lees Landscaping in Minesing planted two trees at two school locations, Hillsdale Elementary and Huronia Elementary in Elmvale.

LawnSavers Plant Health Care in Concord planted a tree at Holy Name Catholic Elementary School in King City. Kyle Tobin said that the company also built an outdoor classroom and peace garden.

Snips Landscape and Nursery of Welland donated trees and facilitated planting events at eight local schools.

Darko Trifunovic of Neighbourhood Landscaping in Etobicoke said his company led a fun and interactive planting demonstration at a local school.

OGS Landscape Services in Brooklin planted a tree at Carnwith Park with assistance from Chris Hadfield Public School. The company also provided tree seed and planting instruction to 60 students at Winchester Public School in Brooklin.

Western Landscape Services in Kingston planted a tree with grades 3 to 8 students at Kingston Christian School in celebration of National Tree Day. Over 80 students took part in the event.

Michael LaPorte of Clearview Nursery in Stayner said the company planted trees at the schools of its staff's children. "At St. Noel Chabanel, Wasaga Beach, we planted one tree and talked to the kindergarten classes. At Nottawa Elementary School in Nottawa, we planted two trees and also held a presentation for the kindergarten to grade 4 classes, while at Admiral Elementary School, we planted a tree.