March 15, 2017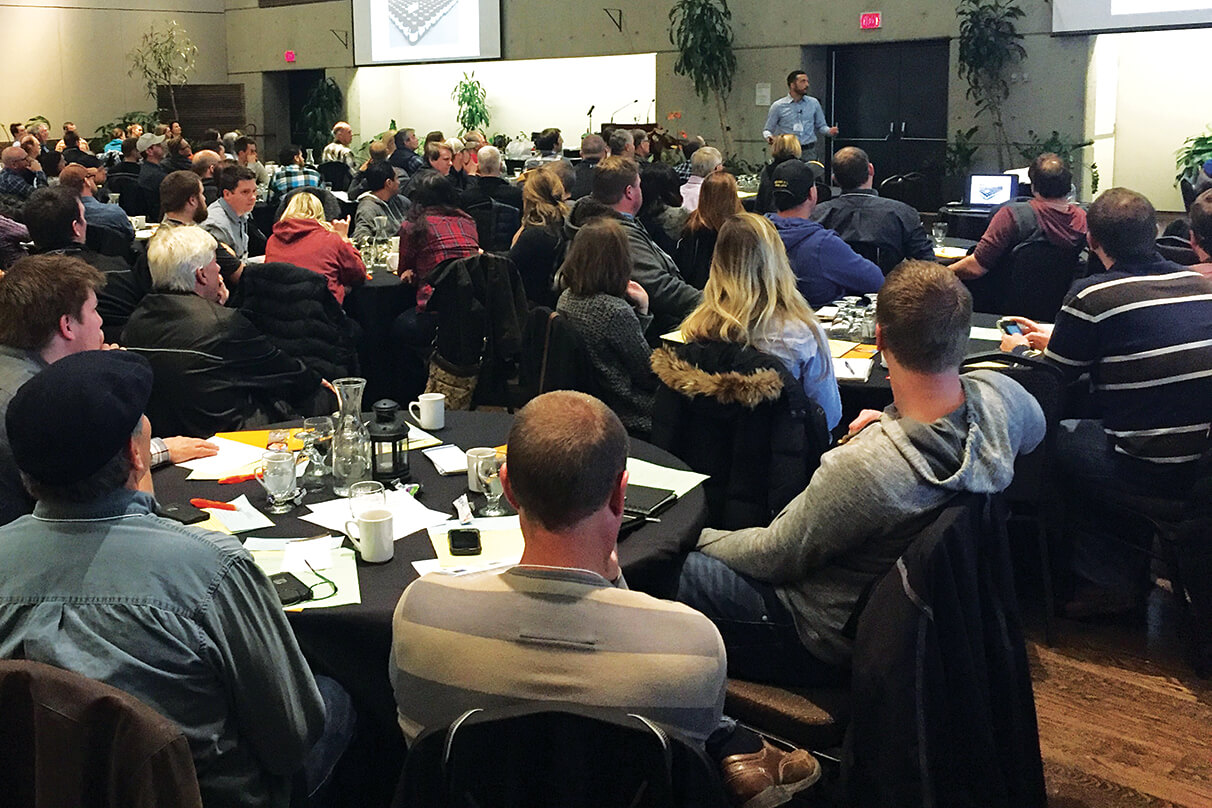 Latest technologies and techniques for growers
Professionals in Ontario's grower sector convened Feb. 15 at the Royal Botanical Gardens in Burlington, Ont. for the annual Nursery Growers' Short Course. The educational event, organized by the Landscape Ontario Growers' Sector Group, sees industry leading researchers and experts discuss and disseminate the latest technologies and techniques in the ornamental horticulture field.

Landscape Ontario partners with various government programs and industry groups each year to fund and support many research projects and the short course provides the ideal venue for the results of those projects to be shared amongst the growing community.

The event was moderated by Growers Group members Glen Lumis, professor at the University of Guelph, and Jen Llewellyn, Ontario Ministry of Agriculture, Food and Rural Affairs (OMAFRA) Nursery and Landscape Specialist. Llewellyn opened the program with a talk that included the results from a Septoria Leaf Spot fungicide screening trial and a warning about Oak Wilt, a serious threat to red oaks that has spread into New York and Wisconsin.

Dr. Jeanine West of Photoserv followed, with a presentation on invasive species legislation. West called on Ontario growers to "make their voices heard" on the controversial topic of invasive species and shared her concern that "horticulture products are easy targets" for government regulators due to the clear pathway of entry and distribution.

Next, Dr. Youbin Zheng from the University of Guelph's school of environmental sciences detailed an ongoing fertilizer study at the Vineland Research and Innovation Centre.

A major topic of discussion this year was irrigation efficiency. Robb Parmeter from Canadale Nurseries said water use strategies were "top of mind" for him as he and a colleague from the St. Thomas-based grower made the decision to attend the short course this year. "Like a lot of growers out there, we still look at our plants each day when we're making decisions about our watering schedules, and we're interested in learning about some of the newer technologies that could add to what we do."

Jared Stoochinoff from U of G talked about an innovative water potential sensor called a stem psychrometer and a prototype irrigation scheduling controller that predicts water requirements based on weather station technology, while John Bakker of J.C. Bakker Nurseries discussed the Argus Titan system his Niagara region nursery uses for its irrigation system.

Jason Deveau, an application technology specialist with OMAFRA, went through some of the latest advances in sprayer technology and cleaning processes, and recommended ornamental growers consider attending sprayer educational conferences and seminars geared towards the field crop industry in the future, because they typically include "something for everyone."

After lunch, Mike Byland from Byland Nurseries in British Columbia shared production and inventory management strategies.

Jeff MacDonald from Clearview Nursery in Stayner, Ont. said the inventory management presentation was a real draw for him. "This is probably the fifth or sixth time I've been here," said MacDonald. "The networking aspect of the event is really important for us, because we can't grow everything on our 100-acre nursery and there are a lot of contacts in the industry that we do business with that I've met through coming here over the years."

Inventory management and networking were also two of the reasons why Andrew Barbour, from NVK and member of LO's Growers' Sector Group, attended the event. "This year I'm looking forward to learning about how some of our industry colleagues are managing inventory, because that's always an area that can be improved," said Barbour. "We look forward to taking part in this course each winter and find the information really valuable."

Soil experts Christoph Kessel with OMAFRA, and Dr. George Lazarovits of A&L Laboratories, each led talks on the importance of soil health and soil management strategies. Kessel challenged the growers in the room to take part in the "underwear challenge," which involves burying cotton underwear in soil for several weeks to get a sense of how healthy the soil is. Lazarovits noted that a third of Earth's farmland has been destroyed in the last 40 years, and that in order to "avert disaster farmers must adopt sustainable agricultural practices based on ecological principles."

Dr. Ann Huber from the soil research group discussed water management practices for growers, while Jason Henry outlined some of the many nursery research projects underway at Vineland.

Jane Beggs-Joles from the Michigan-based Spring Meadow Nurseries changed things up a little with a talk on marketing trends in the ornamental horticulture industry. The big take away from the presentation was the need for growers to get their message out to the public. As Beggs-Joles put it, "there are a lot of great singers out there, and some are performing dinner theatre, while an amazing self-promoter like Lady Gaga is at the Super Bowl; it doesn't matter how great your product is if no one knows about it."

The final presenter of the day, David Cheung, unveiled the new BugFinder smartphone app and announced it was now available as a free download from the Apple App Store. The app, funded by Growing Forward 2 and co-authored by Jen Llewellyn, is a new tool to enable those working with woody ornamentals to quickly detect and identify insect pests in the field. The app uses an extensive photographic database and simply requires the user to input the plant name and approximate time of year to generate a checklist of pests to scout for.

The day concluded with the popular Growers' Good Ideas session. Andrew Barbour from NVK won a prize for his presentation on creating a family atmosphere at his company through social events, while Sheridan's Bart Brusse showed off winter protection practices, James Somerville from Somerville Nurseries discussed drone technology and John Mantel from Connon AVK talked about drip irrigation.

The event was sponsored by Mother Nurture by Braun, Plant Products, ICL Specialty Fertilizers and Kam's Growers Supply.

The 2018 Short Course will take place at the RBG on Feb. 8.