February 1, 2019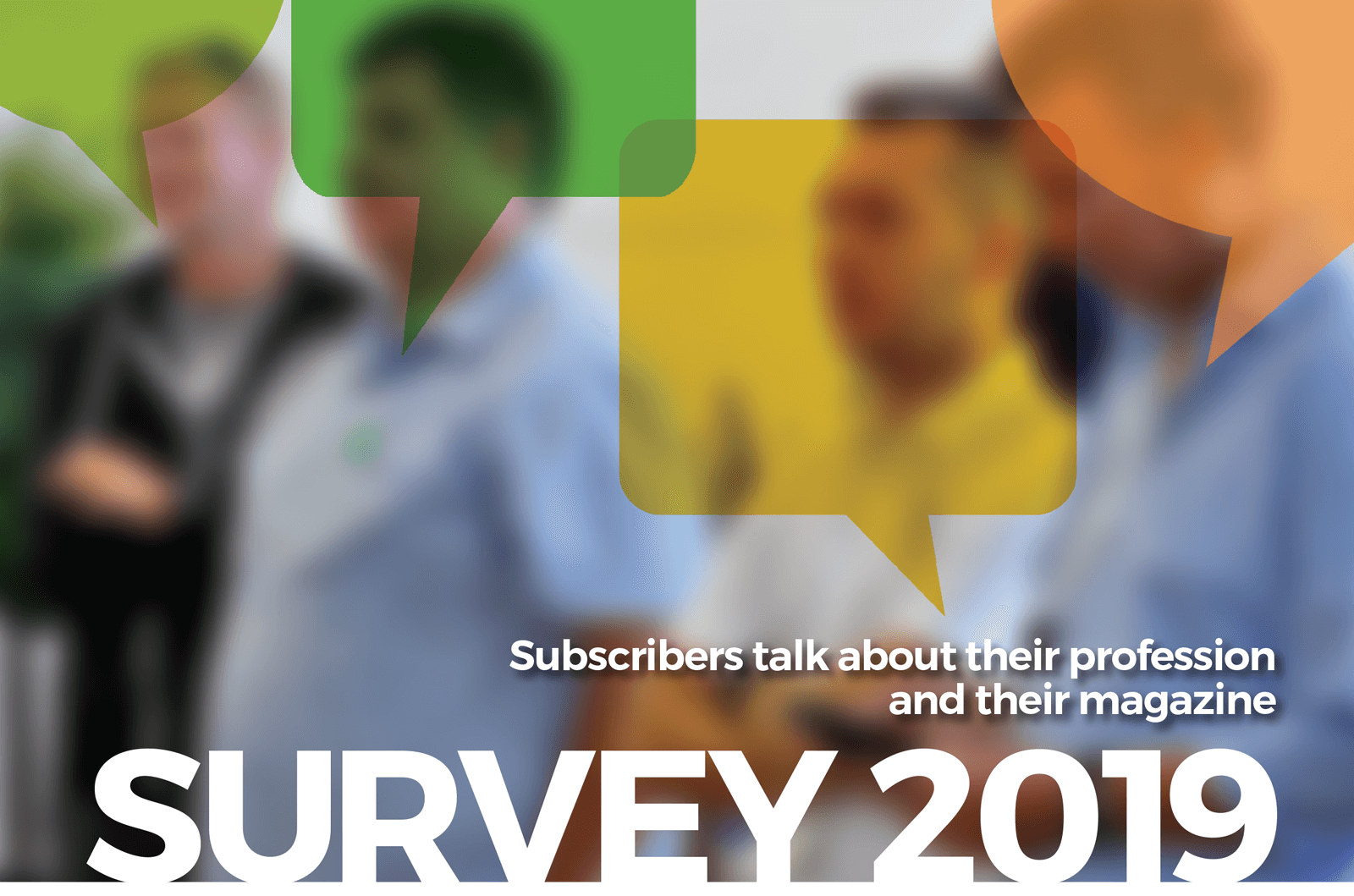 Landscape Trades Reader Survey 2019
Landscape Trades
always welcomes comments; we hear from readers often and appreciate their perspectives. Since we had not surveyed readers since 2014, we felt it was time. However, spam and email fatigue have been depressing survey response rates recently, so we were apprehensive. To cut to the chase, you really came through: this year's survey response rate was nearly four per cent, a very rare and strong response rate in these times.
We like to start our surveys with a big question, so we asked subscribers about the business outlook for 2019. Over 57 per cent of survey respondents expect stronger performance in the coming year. By contrast, only seven percent expect weaker performance. Many observed in comments that their growth prospects are limited by the tight labour market.
We also asked about business investment plans for 2019. While about nine percent plan to scale down or cut staff this year, over 40 per cent of respondents plan to invest in their businesses, hire more staff or both. One commented, "More projects booked!" Another said, "Super busy.
What factors limit Canadian horticulture professionals' growth? Availability of skilled labour was by far the most significant limiting factor, cited by nearly 41 per cent. Lower-priced competitors were the most significant factor limiting growth for about 16 per cent. Other factors included management skills and time constraints.

The Landscape Trades Source Book is the only product and service directory for Canadians in landscaping, but with many directories moving exclusively online, we asked about its continued usefulness. Positive comments outnumbered negatives; "It rides around in the truck with me," was typical.

Several questions centred around Landscape Trades' usefulness and future direction. When asked how industry information is received, the top response is trade magazines, selected by nearly 85 per cent. Trade shows, networking with peers, internet searches and direct sales contact with suppliers fall into the next tier of usefulness. About half receive information from email newsletters and association membership, and the least popular information sources were social media and blogs.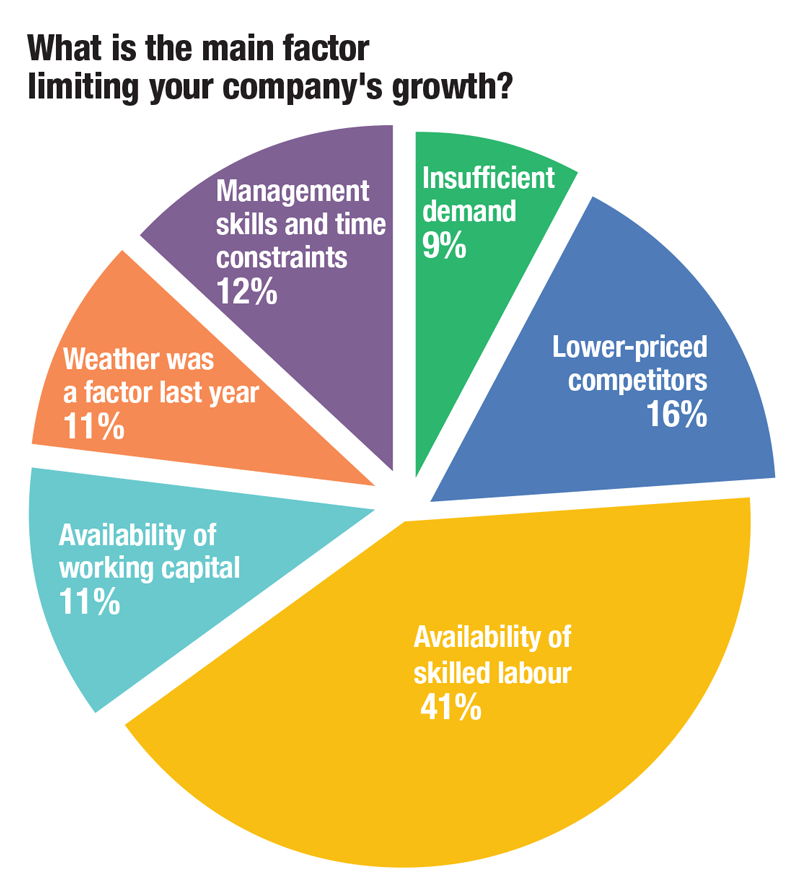 We asked readers to rate
Landscape Trades'
usefulness to their businesses. Well over half reported it is staying the same, about five percent deemed
Landscape Trades
less useful, but nearly 32 per cent answered
Landscape Trades
is become more useful to their business. This is gratifying, and we will do our best to keep this trend going.
On the same theme, over 59 per cent of respondents save or file their
Landscape Trades
issues. This is a stunning statistic, and even beats the issue retention rate from our 2003 survey, which was 53.7 per cent. And according to 97.54 percent of respondents, Landscape Trades publishes credible content.
While concern about hiring talent is pervasive, the Canadian industry has plenty to be thankful for, according to hard survey numbers. Respectful of subscribers' in boxes, we e-blasted the Landscape Trades survey invitation only once and received an impressive 302 responses. By contrast, a U.S. magazine in the same sector, Lawn & Landscape, got 163 responses to its November 2018 survey. This reflects very positively on Canadians, who are willing to take time for the good of all in their sector. Our 2019 survey was comprised of 16 questions, and besides ticking off answers, the number of comments submitted totalled 436 — typical Canadian generosity aimed at improving a resource.

Coming back to the labour shortage, we asked if respondents had suggestions to ease the crisis; 110 took time to share their thoughts. Selected comments are presented in the sidebar at left.

The three things that elevate professions are trade shows, associations and media. Canada is fortunate to have vibrant trade shows, and benefits from strong provincial and national horticultural trade associations. When it comes to media, Landscape Trades works hard to live up to its tagline: Canada's premier horticultural trade publication. Thanks for your confidence, and thanks for your suggestions on where we can do better.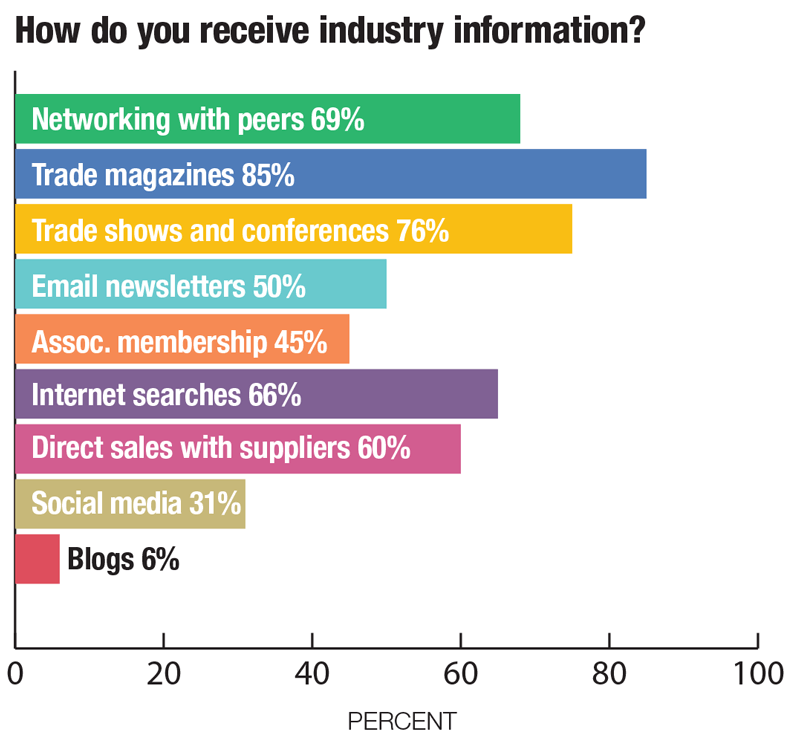 Ideas from readers to ease the labour shortage
Offer professional development potential and a clear career path for success.
Create a great company culture and attract them.
Pay more. Treat the hort profession as a full-time career and employees will, too.
YouTube channel: training videos, reality show format of a phenomenal landscape build, appeal to lifestyle and environmental issues important to young people.
To promote the 'health' factor at the high school level to horticultural students.
Health benefits, pension plans and set hours have helped us.
>Direct conduit from Europe where their training is better and graduates actually have some marketable skills. Would be nice to connect with potential immigrants who have the necessary skills. Canada needs a better training platform.
I have seen a lot of poorly run businesses, so I have to wonder how much of the problem is management or lack thereof.
Off-shore labour.
Survey all the children of current landscape industry professionals for ideas/feedback.
>Have government offer more help to small business.
Give people a chance, even if they don't look as skilled as you may think, you never know until you give them a shot.
Easier access to and/or less red tape in hiring process for foreign workers.
Unless the extensive training and educational programs as provided in Europe and Asia are implemented, recruiting specialized and experienced workers abroad is the still the best option — unfortunately.
Train workers, give responsibility, show that there's room to advance, show your appreciation often. We have recently had good success with Iranian workers. Honest and hardworking. What they don't understand in our language and culture they make up with hard work.