June 15, 2013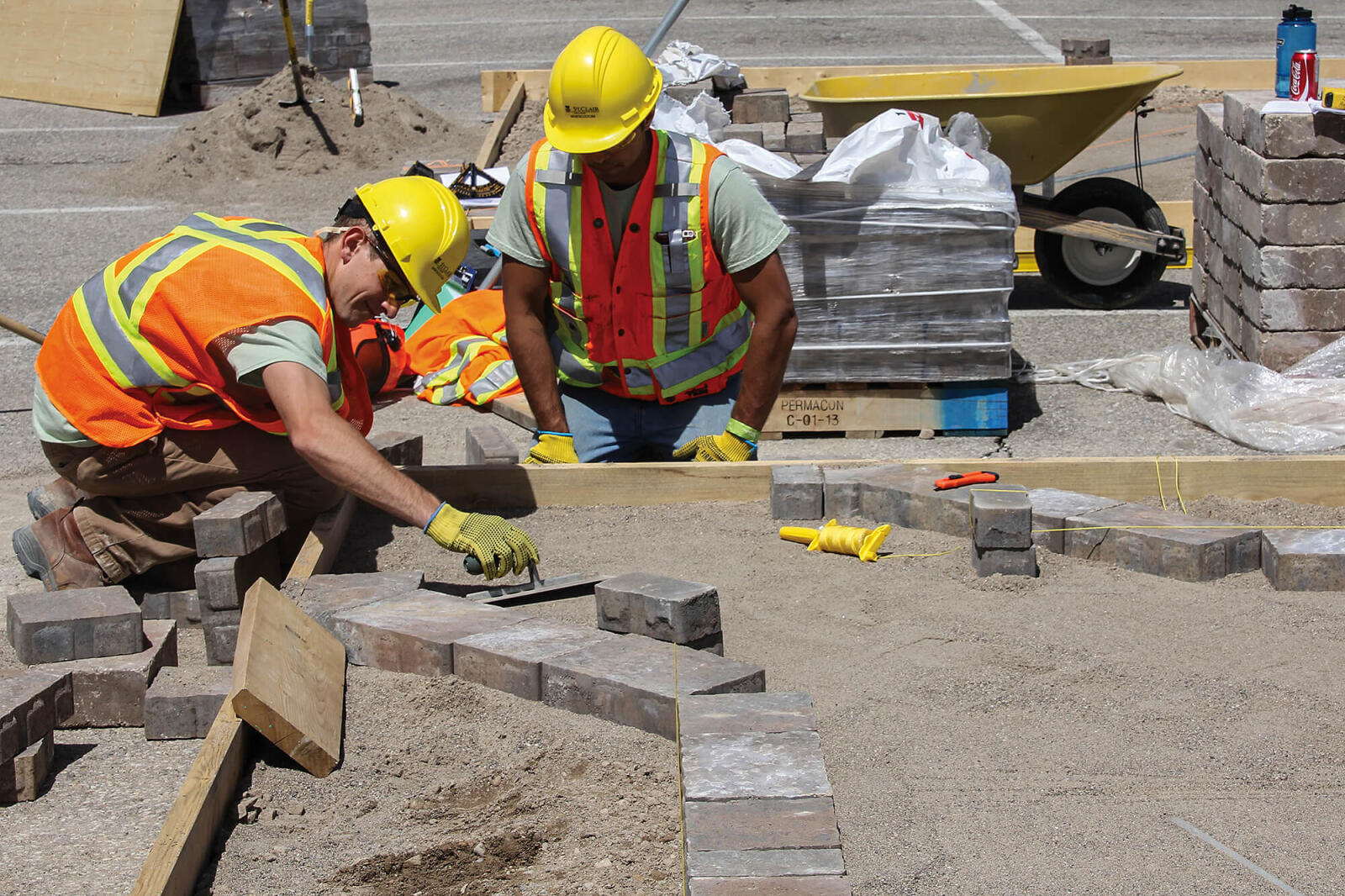 Landscape students show their skills in Waterloo
The 2013 Ontario Technological Skills Competition (OTSC), held on May 6 to 8 in Waterloo, featured a number of high school and college students competing in landscape and design categories.
The Ontario event is the largest in Skills Canada with over 1,900 competitors from across the province in more than 60 contests in the skilled trades and technologies. The Waterloo event attracted over 30,000 spectators. Skills Canada has been in operation since 1989.
Landscape Ontario staff once again supported the Skills Ontario competition, including workshops this year. Six classes of grade 8 students had the opportunity to try their hand at the trade. An experiential opportunity had students learning about plants, horticulture, and Landscape Ontario. In addition, Permacon provided a fantastic hardscape/paver practical experience for the grade eight students.
"It was wonderful to see the interest and the level of engagement of this age group. We thank all of our sponsors that enabled this outreach," said LO manager of education and labour development Sally Harvey CLT, CLP.
In addition, LO supported the technical committees of post-secondary and secondary horticulture and landscape competitions. The association provided a career booth, event administration and handled the competitor job interview and resume reviews, which were required as part of the overall competition score.
This year LO also took on the role of technical chair of the secondary landscape design competition.
Thanks to the Ontario Horticultural Trades Foundation, the gold, silver and bronze winners of each competition were recognized with awards to support them in their ongoing training and to offset costs for those who advance to the national Skills competition later this month in B.C.
"Our appreciation goes out to the numerous industry leaders who provide leadership as volunteers to make these events possible, and also to the teacher and educators who prepare the students, and to the numerous judges and sponsors," said Harvey. "Without you and your dedication to the students, this event would not be the success that we are able to celebrate."
Taking top spots in the post-secondary landscape division was the team of Mark Hecnar and Simon Van Raay of St. Clair College in Windsor, with second going to the Humber College team of Marc De Leon and Nathan Faux.
The top secondary school pair in landscape was Mark Dawson and Jacob Holt, representing the Niagara Catholic District School Board, while second went to the team of Cole Mackey and Charles Walsh of Bluewater District School Board. The following teams are in order of placement from third to tenth: Derick Medeiros and Michael Trigiani, Dufferin-Peel CDSB; Youssef Mroueh and Aidan Topping, Halton CDSB; Pedro Neves and Gabriel Puerta, Toronto CDSB; Zachary Degen and Jacob Hueglin, Waterloo Region DSB; Ciara De Boer and Dallas Dyer, Upper Grand DSB; Matt Anderson and Matthew Patterson, Halton DSB; Dalton Bonneville and Justin Cabrera, Waterloo CDSB; and James Casey and Bryanna Ross, Thames Valley DSB.
In the Landscape Design competition, the top student in the secondary division was Mitchell Carter of Halton DSB, with second going to Stephanie Prymak of Grand Erie DSB, and third to Zachary Simao of Halton CDSB.
For more information on the competition, go to
www.skillsontario.com
.