February 15, 2014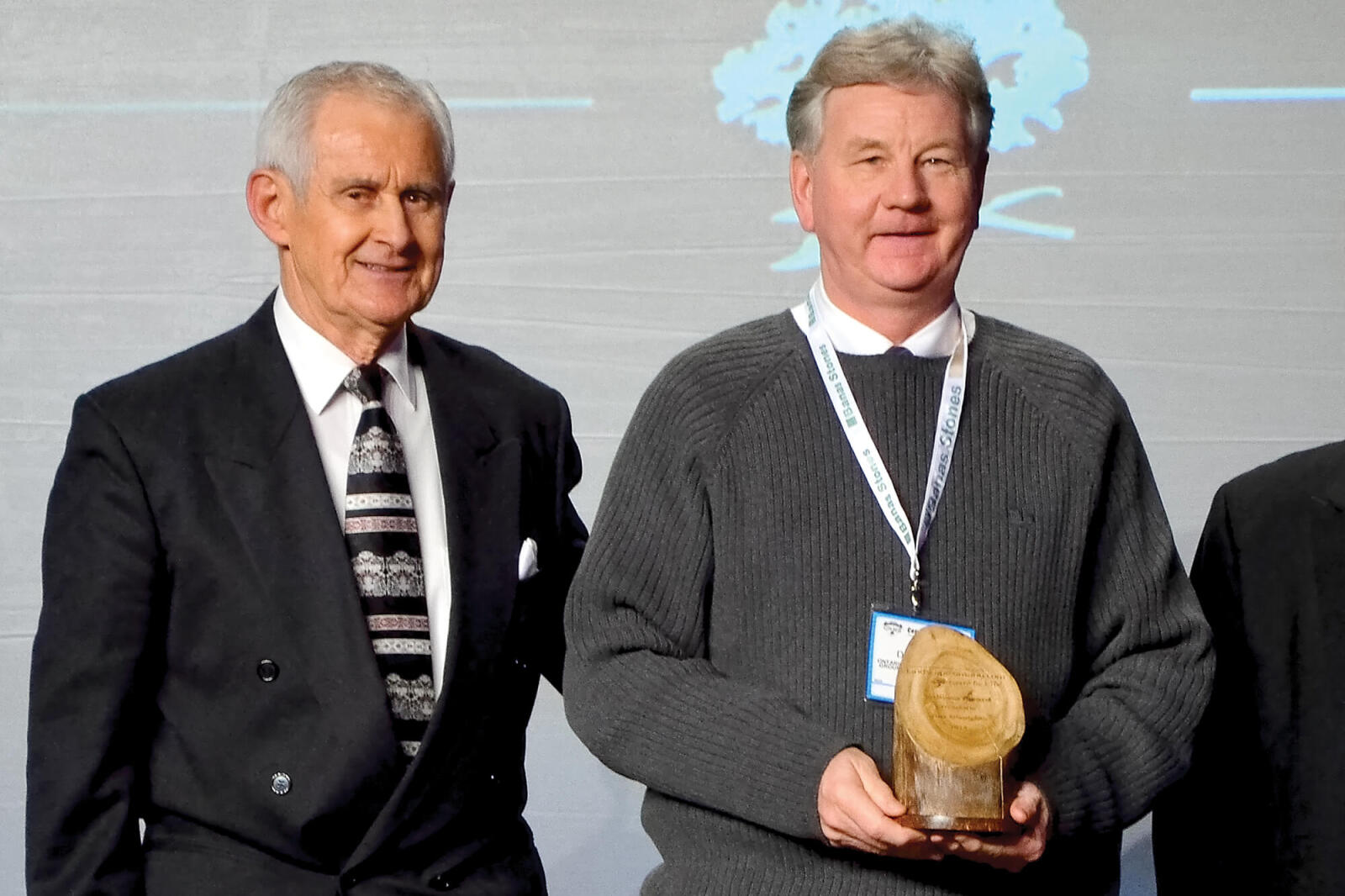 Jim Douglas receives Landscape Ontario Trillium Award
By Terry Murphy CLP
Every once in a while you will notice a company, an organization or an individual doing exceptional work and accomplishing great results. The recent Congress Awards of Excellence evening recognized one such individual. It was Jim Douglas, past president of the Ontario Regional Common Ground Alliance (ORCGA).
He has been a real friend and partner with the landscape industry and has been the leader in Canada in promoting underground damage prevention. He is truly deserving of The 2014 Landscape Ontario Trillium Award.
There are billions of dollars worth of underground utilities under or streets and running through our urban and rural properties. We have gas lines, electric distribution lines, telephone lines, oil lines, water and sewer pipes, fibre-optic lines and other utility assets. Every time someone digs or excavates the soil, serious potential damages can occur. These underground utility damages cost our industries thousands and thousands of dollars to repair annually, in addition to the potential of injury or loss of life.
It is not just a cost to industry, but also to all of us as consumers. ORCGA is dedicated to underground damage prevention, getting contractors to obtain locates before they dig and lowering the costs of damages to industry and the public. Jim Douglas has dedicated the last 30-plus years of his working life to this endeavour, and the last decade as the president of the ORCGA. The Trillium Award recognizes and honours Jim for his dedication to the damage prevention industry and for his many successes over the years. Here are some of Jim's accomplishments:
One of the original founders of the ORCGA.
Chair or president for the last decade.
Partnered with large organizations and encouraged sponsorships to make the organization financially sound.
Single handily developed a membership of over 400 companies.
He has championed Bill 8, The Ontario One Call Act, through the provincial legislature in record time (requires that all utilities, municipalities etc., belong to the Ontario One Call network).
Chaired the development of the industry's Best Practices Manual for safe excavation for Ontario industry. Other provinces are looking to use the same manual.
Developed a certification program for locators to improve skills and expertise, called the Damage Prevention Technician Program, with over 400 participants to date.
Developed the Dig Safe logo, and even fought a three-year lawsuit to protect its exclusivity.
Initiated a spring Dig Safe public promotion, which takes place in more than 30 centres across the province and has Home Depot and Tim Hortons as participating partners.
Initiated a Dig Safe Fall Expo featuring educational seminars, demonstrations, competitions and a trade show. The first event was held at Landscape Ontario last September with over 200 participants.
Started an annual competition and skills development for underground locators called Locate Rodeo.
Started a summer golf tournament with over 250 participants.
Organized an annual three-day winter symposium consisting of educational seminars, an awards ceremony, and a trade fair with more than 300 industry professionals participating.
Encouraged other provinces to come together to form a national damage prevention organization known as the Canadian Common Ground Alliance.
Set in place a provincial network of 13 underground alliance local chapters called Geographic Councils.
Started a quarterly publication for the underground damage prevention industry called Ear to the Ground.
Headed up several marketing efforts in an attempt to reduce insurance rates to excavators.
Introduced and has all utilities using the Damage Information Reporting Tool Report, known as the DIRT. It contains the industry's statistical information on underground strikes.
All of these efforts have contributed to increasing locate requests, reducing the costs of damage and saving lives. Jim has been a hard-working leader, results-oriented planner, future-thinking innovator and a true professional. He retired from full-time employment with ORCGA in September of 2013, but will continue to work part-time a couple of days a week. He has helped build a strong network of underground professionals who will continue the challenge of promoting the philosophy of getting locates and the Dig Safe message of safety in our industry. In honour of Jim and the ORCGA, Landscape Ontario declared Jan. 8, 2014 as Dig Safe Day at Congress.

We congratulate my friend, Jim Douglas, as the landscape industry's Awards of Excellence Trillium Award recipient for 2014, in recognition of all his great work in damage prevention and his partnership with the landscape industry in Ontario.

Jim, thank you for your friendship and it has been honour and a privilege to represent Landscape Ontario on the ORCGA Board of Directors and to work with you. We are all very proud of your significant contributions to the landscape industry.
---
Contact Terry Murphy at
tvmurphy@ca.inter.net
with your suggestions, questions and comments on any underground damage prevention issue.