October 23, 2016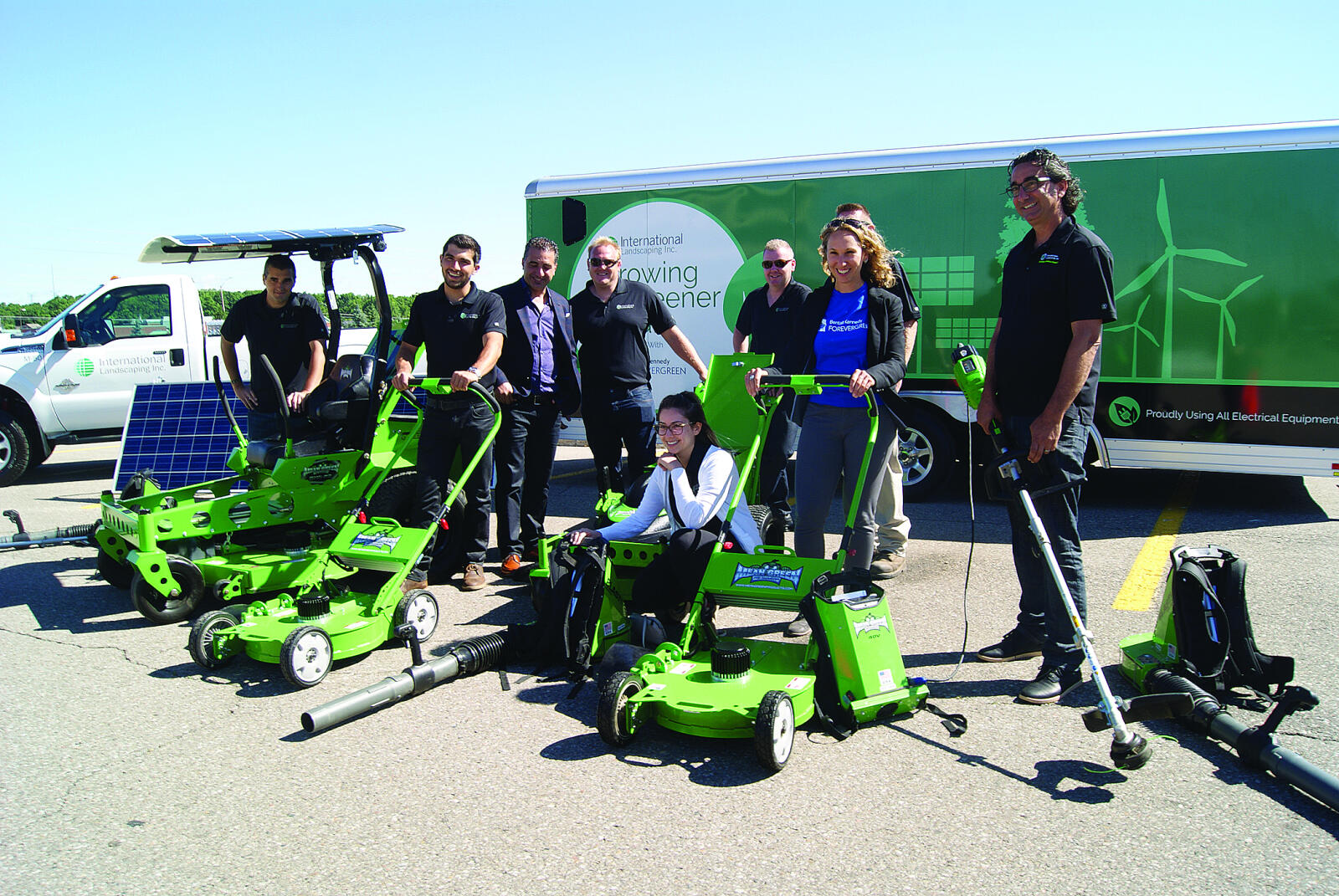 International Landscaping launches electric maintenance crew
International Landscaping has partnered with real estate investment company Bentall Kennedy to launch the largest, all-electric, low-emission commercial landscape management program in Canada.

Leaders from both companies gathered at the 170-acre Meadowvale North Business Park in Mississauga, Ont., on June 22 to celebrate and demo the state-of-the-art green equipment, solar technology and electric charging systems.

Michael-Anthony Gucciardi, IL's environmental sustainability manager, spearheaded the initiative.

"Having worked in the landscape industry for 10 years, five in maintenance and five in construction, I know that one of the biggest drawbacks was having to use gas powered equipment," he said. "Every time you use a piece of equipment you are dealing with exhaust, and each time you refuel you end up with gas on your hands or your clothes," said Gucciardi.
He offered a personal anecdote.

"During the week before I took on my current role, I can remember power sweeping, where we were cleaning a curb line with backpack blowers. I was at the end of the line and all of the emissions from each blower were blowing towards me. It's like a warm, toxic gas that is unavoidable, and I thought 'I wish this wasn't happening and I wish this wasn't there.' And that's something that a lot of people don't really think about with electric equipment, and that's the human health benefits."

The environmental benefits are important, particularly when you look at the amount of landscape work being performed across the province and the country, Gucciardi acknowledged, but for green professionals in the field, electric equipment can make day-to-day work healthier.

As the battery life of electric mowers, trimmers and blowers grows, Gucciardi believes IL will be able to transition more of its crews off gas powered equipment.

Connections with forward thinking property managers like Bentall Kennedy will also make electric crews more feasible, he added.

"It's critical that the electric equipment is as effective as a traditional mower, and that's what we now see," Gucciardi said. "Another benefit is the noise; this equipment is not as loud as gas equipment, and that's a real positive for both the crew member and the people working in the offices here."

Vibrations, particularly important for line trimming, are also reduced.

Nada Sutic of Bentall Kennedy says the partnership with IL shows both companies' commitment to innovation.

"We think it is pretty exciting," she told Mississauga.com. "Sounds boring I know. But where we see a benefit is on the carbon footprint and pollution side of things. That is the most obvious thing. But from a property management perspective a thing like the reduction in noise is huge."

The real estate investment firm, an offshoot of Sun Life Investment Management, ranked first in its peer group by the 2015 Global Real Estate Sustainability Benchmark.

"As we tendered this contract we had an opportunity to further this (landscaping energy efficiency)," said Sutic. "We weren't sure if any of the contractors would be able to step up."

Bob Delaney, MPP for Mississauga-Streetsville, and a tenant of the Meadowvale Business Park, was also on hand for the demonstration.

"There's an adage in marketing that goes, 'it's good to be the best, but it's best to be the first,'" he told the group of about 40 people in attendance. "In this case, the best practices being adopted by Bentall Kennedy and demonstrated by International Landscaping mark you among the first to do this. This is very attractive, if you're a tenant. I know this because I used to know when the grass was being cut, but now, I haven't a clue when the crews are working on the property; it's a good thing."

He also noted that while many places in the world use coal or oil to create electricity "Ontario has gotten carbon completely out of the electricity generating cycle," and therefore electricity is truly the greenest solution.

The future looks promising for electric grounds maintenance. In fact, a number of major corporations have already called IL for quotes to go green with their properties.