September 15, 2013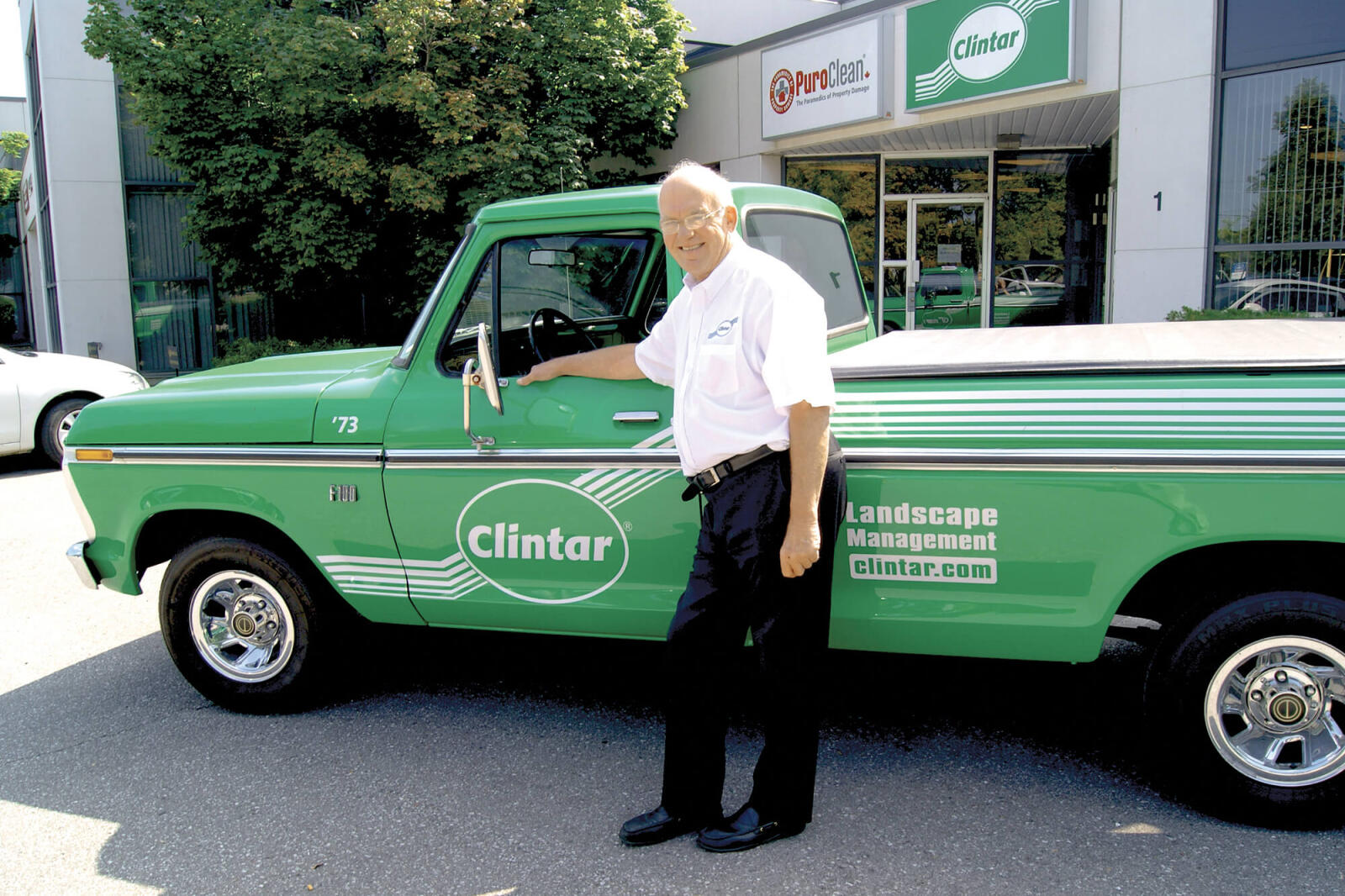 In its 40th year, Clintar Landscape Management continues to grow
In the late 1960s, Bob Wilton was a busy student at Ryerson Polytechnical Institute in business administration. To help pay his way, he sprayed lawns for a company named Weed and Grub Spray Service.
It turns out that it was time well spent. Following his graduation from college in 1968, Wilton worked full time for the spraying business before starting his own company, Clintar Landscape Management. Today, Wilton is president of one of the largest landscape management companies in North America.
Clintar boasts 24 franchises from New Brunswick to British Columbia, and down into the U.S. in New Jersey and Florida.
Asked how he came up with the name Clintar, Wilton laughs and relates how his partner at the time had a young son he named Clint, and newborn daughter named Tara. "So Clintar it was," says Wilton. "I see young Clint every now and then, who recently celebrated his 43rd birthday."
This year marks the 40th anniversary of Wilton's company that began spraying weeds and, soon added grass cutting and landscaping. This was shortly followed with snow removal operations.
"I began the snow removal service so I could eat throughout the winter," says Wilton. He relates how with the seasonality of the spraying business, he had to figure a way to keep the company bringing in income during the off-season. With very little money, Wilton added the required equipment, and soon he was in the snow maintenance business.
In 2013, Clintar is one of the major players in the industry. The company services many major commercial and residential estate accounts, employing between 500 to 600 people at a time.
The first franchise began in 1984. "I decided I could grow the business through franchising. It was an unconventional move, using franchise marketing to build a landscape management business," Wilton says he knew at the time that there were entrepreneurs who would see the value of being a part of a professional organization that offered a great deal of experience and a top-end reputation.
This year Clintar opened franchises in Calgary and Vancouver, and is also looking towards the U.S. to provide excellent opportunities for franchises. Unlike Canada, Wilton says the expansion into the U.S. requires careful consideration. "The Americans have very strict laws in place to regulate franchising," says Wilton. "Not that Canada doesn't have laws, but the U.S. is more restrictive."
He also notes that the physical requirements in some areas of the U.S. can create problems with labour costs. As an example, Wilton says in Florida most of his franchises work in gated communities, which require a crew of six, compared to what would be three crew members in Canada. "Each gated community has so many hedges that it's a full-time job just for a couple of crew members to handle."
Proud supporter of Certification
Bob Wilton is also known as one of the major proponents of industry certification. "It's the right thing to do." From manpower to equipment to administrative support, Clintar is a major supporter of the Landscape Certified program.
Referring to the certification program, Landscape Ontario education and labour development manager Sally Harvey CLP says, "We would not be where we are today, without Bob Wilton and Clintar's support. "That includes from committee involvement to judging to providing vehicles and equipment; it's truly amazing."
Wilton believes in the certification system so much, that he encourages a system of raises for those employees who achieve their certification. Clintar also offers bonuses up to $2,000 to employees who achieve certification on the first try.
"I find that by embracing certification, the company says to its employees that we care," says Wilton. Clintar's president feels that when an employee is added to Clintar wall of certification, there is a real sense of pride for themselves and the company they work for.
"The system proves that the person who achieves certification has reached a professional standard in the industry, unlike the guy with a truck and a shovel," states Wilton. "Unfortunately the public doesn't fully understand the system yet."
Bob Wilton says that after 40 years, he still loves his job. He is just as excited about the future, as he is proud of the past. And, he has much to be proud of.
Clintar has been cutting edge for many years. It was one of the first companies to embrace computers. "We were also one of the first companies to use GPS systems on our vehicles to manage costs," says Wilton.
Looking ahead, he is excited about the paperless time sheets system that Clintar is developing. All work hours are recorded on mobile devices; no more paper.
Out on the street, Clintar has long been recognized for its distinctive green coloured vehicles and uniforms. As part of the 40th anniversary celebrations, Clintar adopted the motto, 'Green since 1973.'
Wilton looks back over the years, and readily admits that being green has sometimes been slow to embrace, and yet at times there has been an immediate acceptance. He acknowledges the pesticide ban dramatically impacted the industry. "No doubt property owners found chemicals better than pulling weeds," says Wilton. He says many property owners abandoned 'weed-free lawns,' but there were many who were willing to pay more to have their property maintained weed-free. "Now instead of chemicals, we use aeration, over-seeding, better irrigation and more to maintain healthy lawns."
Clintar's dedication to being green is more than just colour branding. The company is constantly updating its fleet with vehicles that use new technologies to improve fuel efficiency and reduce emissions. Of course, that doesn't necessarily apply to Wilton's 1973 customized high-performance Ford 150, which is a tribute to the year he began his lawn spraying company.
Today that lawn spraying company sees more than $50-million in sales, thanks to the work, dedication and far-sightedness of its team leader Bob Wilton.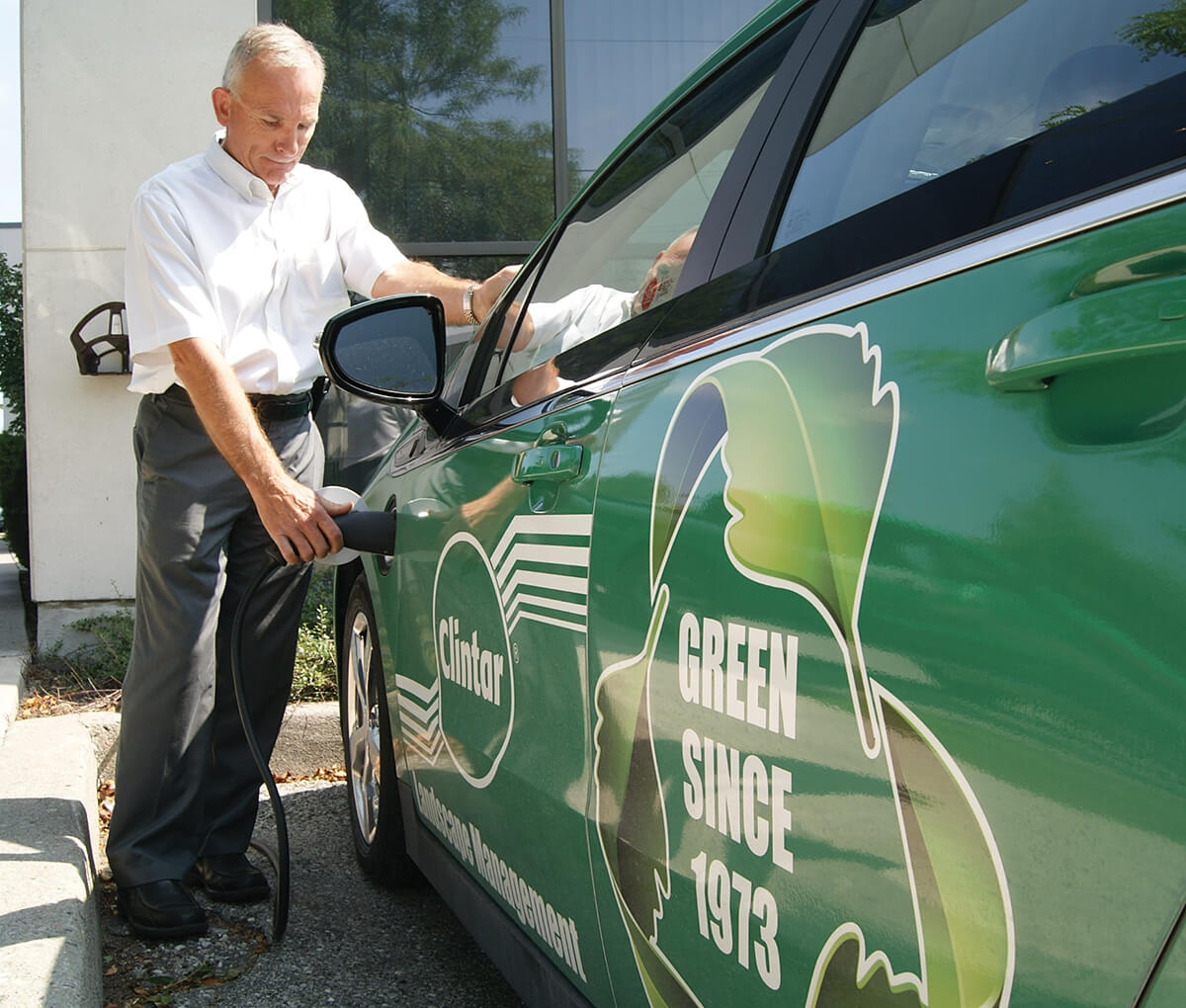 Clintar's vice president of operations John O'Leary CLT plugs the electric charger into the company's latest addition to its fleet.