March 15, 2018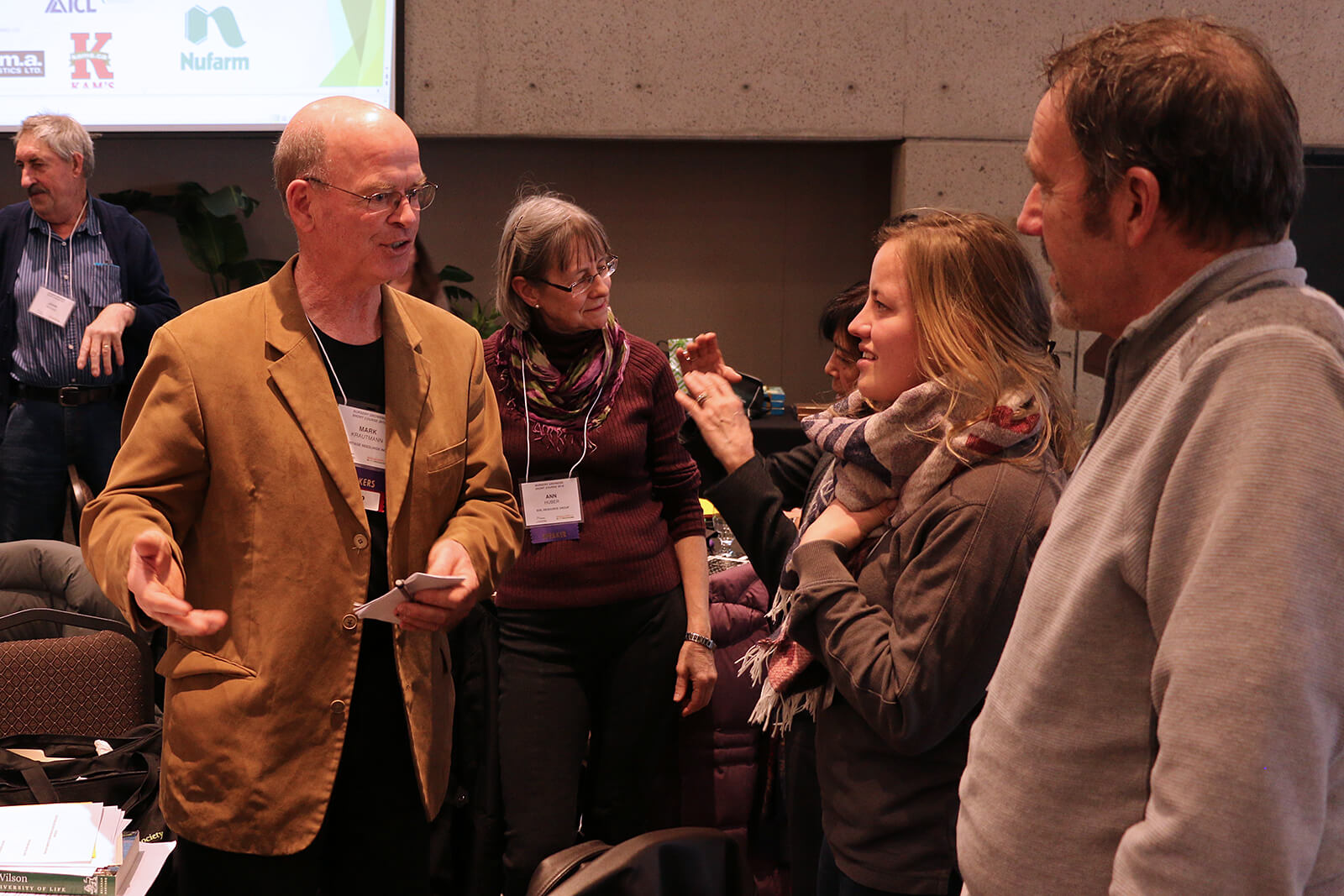 Growers group event shares latest innovations and research
Landscape Ontario's Growers Sector Group held their annual Short Course at the Royal Botanical Garden in Burlington, Ont., on Feb. 7. The nearly 200 growers and suppliers in attendance spent the day learning about the latest research projects, innovative production practices, market trends, technology, and more.

Program Chair Jen Llewellyn, Nursery Crop Specialist at Ontario Ministry of Agriculture, Food and Rural Affairs (OMAFRA) welcomed attendees and spoke about the Ontario government's plans to introduce two carbon offset programs to reduce greenhouse gases, including a voluntary program and a cap and trade program.

In the first of two talks, keynote speaker Mark Krautmann, co-owner of Heritage Seedlings & Liners in Salem, Ore., shared innovations, procedures and business philosophies that have played a crucial part in the success of his, and wife Jolly's business over the past 30 years.

Started in 1981, the couple set out to propagate unusual deciduous tree and shrub liners of which they now supply over 500 varieties.

Before sharing some of the innovations and changes made to their production facilities over the years, Krautmann began by stating employees are the number one resource when it comes to business success. "What is our business without our people?" he asked, explaining the need to ensure employees are happy, valued and involved in both the decision making process and ultimately tied to the success of any business.

Krautmann showed examples of his innovations, such as ergonomic benches for employee comfort and safety, but says even more important to the innovation of his business is his time spent mentoring employees.
Providing firsthand experience, Krautmann explained how he and Jolly had identified and successfully mentored people within their company to become key players at a very young age. He challenged everyone in the room to identify someone within their own organization that would benefit from mentoring, adding the many benefits to the mentor as well.

Rebecca Parker from Connon NVK attended the event and said, "For my first time, I found the growers short course to be very valuable. The speakers were great and the topics were very relevant to our industry. There were many interesting thoughts and products to further the growing horticulture industry. I am looking forward to next year's course."

After lunch and some networking, Erin Bullus-Appleton, Plant Health Survey Biologist at the Canadian Food Inspection Agency (CFIA), gave a presentation on the early detection, response plans and public outreach campaigns the government agency has when dealing with invasive species in the landscape. CFIA have developed very detailed surveys to track the locations of various pests in the province and also have a smartphone app called EDDMaps that allows anyone to take a picture of and pest found in the landscape and submit a report and location for follow up.

Darby McGrath, researcher at Vineland Innovation and Research Centre (VRIO) presented some tree species that are not commonly planted in urban or highway settings that may well be best suited for those harsh conditions.

For his second talk, Krautmann showed examples of woody ornamentals that were not successfully introduced into the retail market over the years. In order to be successful, Krautmann says a plant must be distinctly different (but not too weird looking), be relatively easy to grow, be widely adapted to many growing conditions, have an easy, catchy name and be attractive to female buyers. Krautmann says another key to success is the variety must also be actively promoted and marketed by both the producer and the retailing agent.

Dave Cheung, co-authour of the BugFinder app provided a one-year anniversary update on his app launched at the 2017 Short Course. In addition to the Android release last June, Cheung says a new report function and host selector have been added based on user feedback and urged users to continue to provide feedback in order to constantly improve the ap. Cheung says the next evolution of the app, called BugFinder server, could allow real-time alerts to users on pest sightings, key events and outbreaks.

The popular Growers Good Ideas sessions ended the day with a variety of growers sharing home-made solutions that increase productivity, solve a unique problem, or simply make a task possible. In the end, the audience voted Gerwin Bouman of Stam Nurseries with the best idea for his easily transportable, black plywood cutout nicknamed "Vern." A life-sized cutout of Bouman himself, Vern is placed in the field beside trees and shrubs when taking photos to give potential clients a feel for the size and scale of the plant material in the photo.

The Growers' Group also announced they are in the process of organizing a one-day bus tour, tentatively scheduled for Sept. 18. More information on the group and its activities can be found online at HortTrades.com/growers-group.