March 15, 2013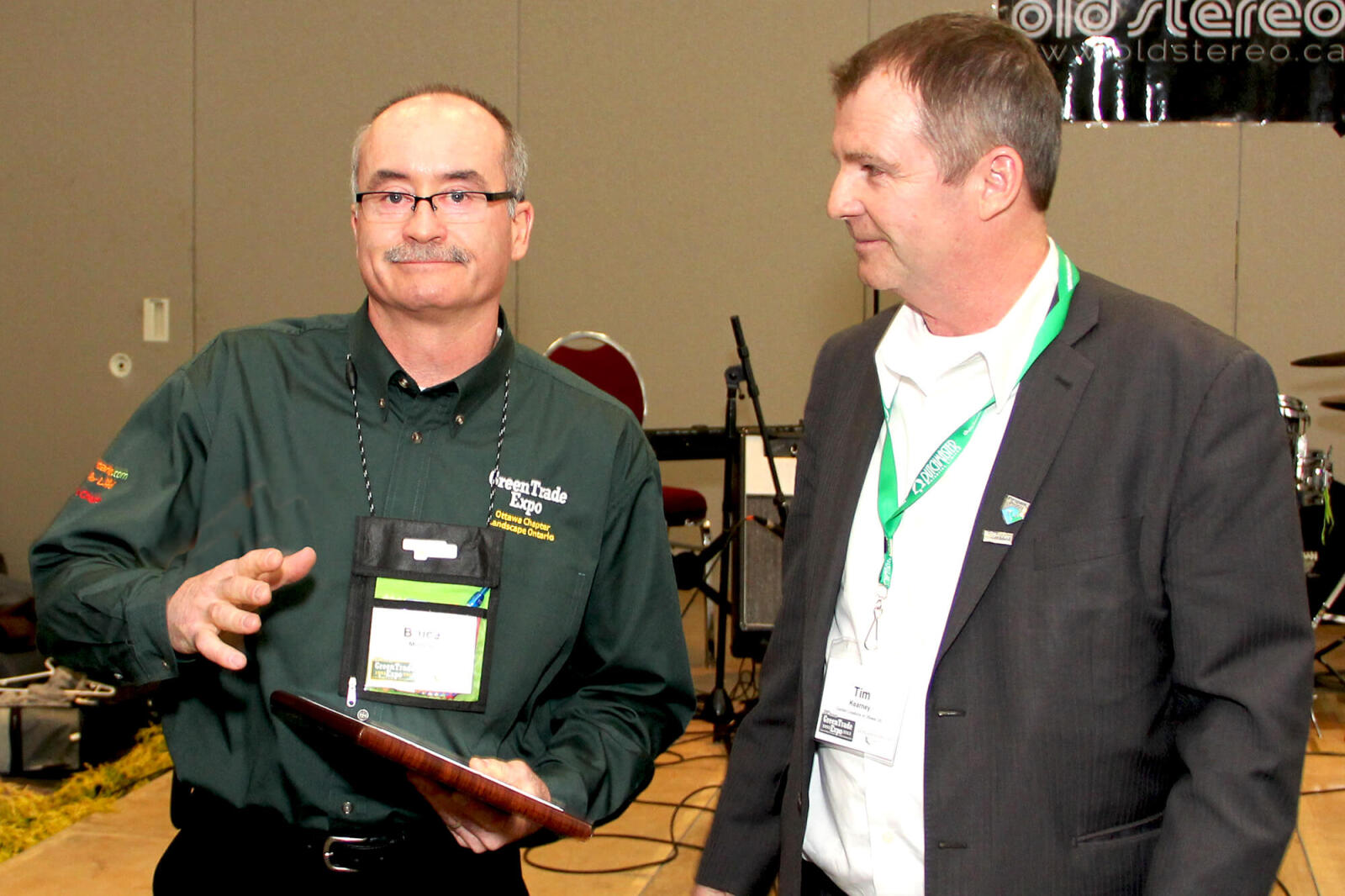 GreenTrade's 20th anniversary attracts record crowd
By Martha Walsh
GreenTrade Expo 2013 manager

A record crowd and a clear winter's day at the Ernst and Young Centre in Ottawa marked the 20th anniversary celebration of Ottawa Chapter's GreenTrade Expo 2013.

Celebrated as the premier event of the Ottawa Chapter, this is the second year that GreenTrade took place at this state-of-the-art trade show facility. GreenTrade Expo show chair and Ottawa Chapter provincial representative Bruce Morton welcomed attendees.

The morning session was presented by Ginsberg Gluzman Fage and Levitz LLP, with to the MTO contractors' breakfast sponsored by Tubman's Chevrolet Oldsmobile and Petersen's Turf Farm. For the third consecutive year over 70 attendees were brought up-to-speed on Ontario Ministry of Transportation rules and regulations by local ministry officer Marc Stang. The presentation included a question and answer session, which allowed great feedback for members.

The trade show opened its doors to a bustling crowd from all over eastern Ontario and western Quebec, picking up their show badges sponsored by Dutchmaster Nurseries, show bags from Canlok Stone and show guides courtesy of Greely Sand and Gravel. Horticultural students from Algonquin College and University of Guelph Kemptville College, and students from Bell High School were a large component serving as volunteers. Also included were many Chapter champions from Hansen Lawn and Garden, Clintar Landscape Management - Ottawa and Greenscape Watering Systems. They were all put through their paces by this year's volunteer coodinator Melanie Crisitiano of Greenscape Watering Systems.

GreenTrade Expo is proud to have over 50 members of the industry giving their time throughout the show's move-in and trade show. Beth Edney CLD once again was GreenTrade Expo's floral exhibit hall designer and Connon Nurseries NVK Holdings donated the floral product for the designs.

Back by popular demand was the free coffee bar, co-sponsored by Bradley's Commercial Insurance and Geosynthetic Systems. Ottawa Chapter members were appreciative to have home office representation as an integral part of the show. Members and potential members had direct access to Landscape Ontario staff who answered questions or concerns.

With over 105 exhibitors in this year's sold-out show, and a 30 per cent increase in sold trade show floor space, the event addressed all sectors of the industry. Additions to the exhibits this year included new large equipment dealers, representation from local horticultural associations, Communities in Bloom, Ottawa Botanical Garden Society and the local college horticultural programs. Also present were nurseries from both Ontario and Quebec.

The plant identification booth, so popular at Expo and Congress, was manned by local Chapter volunteers, including Ottawa Certification chair Kennedy Johnston CLT, Ottawa Certification committee members Richard Rogers CLT and Eric Brooks CLP, Ottawa member Karin Banerd and Ottawa directors Sundaura Alford CLD and Erin Schuler-Van Gilst. Along with conducting the plant identification tests, they handed out information about Landscape Industry Certification. GreenTrade once again featured free business education seminars, sponsored by Connon Nurseries NVK Holdings, Peter Knippel Nursery and Permacon - Ottawa.

This year's lineup of speakers included Paul Zammit, Beth Edney, Hugh Faloon, and the ever-popular Sheila James from Workplace, Safety and Prevention Services.

GreenTrade Expo began as a small trade show in a local Ottawa hotel with a few exhibitors and networking. Throughout its 20-year history, the show has continually grown, while moving to larger facilities and becoming eastern Ontario's do-not-miss event for the landscape and horticultural industry trade.

A post-show charity event celebrated the 20th anniversary. Based on the famous Congress Tailgate Party, this event included a fund-raising component for the Ottawa Food Bank. Sponsors included Bradley's Commercial Insurance, Canlok Stone, Central Irrigation Supply of Canada, Communities in Bloom, Consulting by Hart, Create It!, Cullen Landscaping, Garden Creations, Green Thumb Garden Centre, Greely Sand and Gravel, GreenScape.ca Watering Systems, Hansen Lawn and Garden, Lafleur de la Capitale, Landscape Ontario, Lindsay Landscapes, Manotick Tree Movers, Natural Care Lawn and Garden Products, Natural Impressions Landscaping, Norleans Technologies, Patricia Stanish Landscape Designs, Permacon - Ottawa, Peter Knippel Nursery, The Professional Gardener, RJ Rogers Landscaping, Skeggs Landscape Designs, Talun Eco-Products, TerraPro Corporation, Thornbusch Landscaping, Yards Unlimited Landscaping and Yates Custom Lawn Sprinklers.

A raffle for a pair of Ottawa Senators tickets to a 200 level game, donated by The Sam Group, was held with all proceeds going to the Ottawa Food Bank. The winner of the tickets was Cindy Summerfeldt-Madeley from Hutcheson Sand and Mixes.

Local Ottawa jazz, funk soul band Old Stereo provided the entertainment. A special part of the event, had LO executive director Tony DiGiovanni taking the stage as lead guitar on the Stevie Ray Vaughan classic Pride and Joy. Trade show chair Bruce Morton from Greenscape Watering Systems received a distinguished member award, presented by Tim Kearney of Garden Creations. Morton was thanked for all of his dedication from the beginning of GreenTrade, as well as his involvement in the Ottawa Chapter. As a result, the GreenTrade Expo Charity Tailgate Party donated over $2,000 to the Ottawa Food Bank.

The 21st edition of GreenTrade Expo, presented by the Ottawa Chapter of Landscape Ontario, will be held on Wed., Feb. 12, 2014 at the Ernst and Young Centre in Ottawa.