December 15, 2010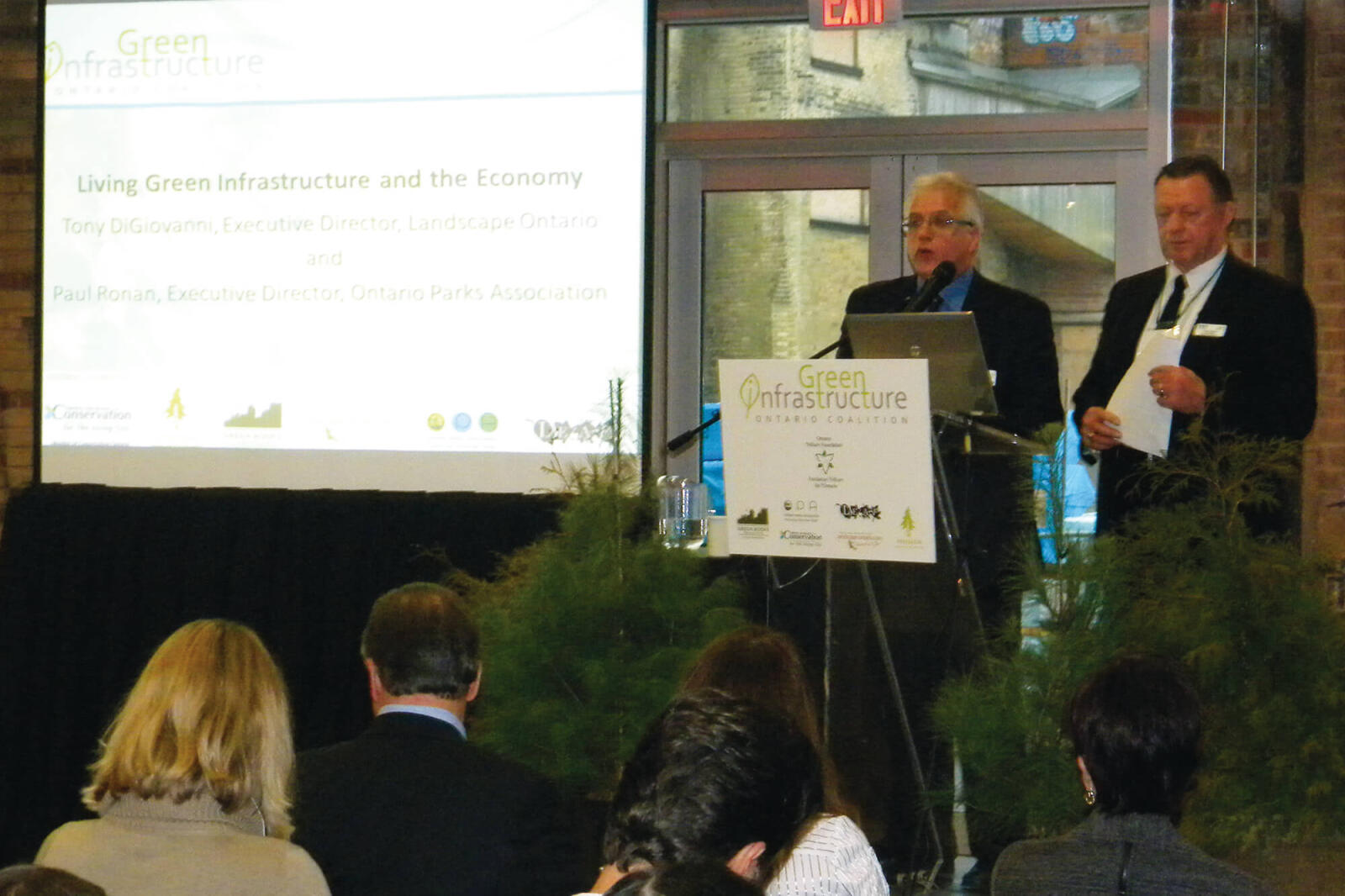 Green Infrastructure Coalition calls for governments to invest in green projects
Members of the Green Infrastructure Ontario Coalition celebrated another step in its evolution on Nov. 22, when it launched a call for strategies from provincial and municipal governments to develop polices to invest in green infrastructure.

Held at the Evergreen Brick Works in Toronto, approximately 150 people took part in the event, that also featured a tour of the facility, along with background about the Coalition, and guest speaker Gord Miller, Environmental Commissioner of Ontario.

Landscape Ontario is a member of the Green Infrastructure Coalition, which also includes representation from Local Enhancement and Appreciation of Forests, Green Roofs for Healthy Cities, Toronto and Region Conservation, Ontario Parks Association and Evergreen.

Taking the stage at the event, LO executive director Tony DiGiovanni stated, "Landscape Ontario believes that the future of our industry is bright, as long as we are able to tell our story of economic, environmental and societal benefit." He went to add, "We need to dispel the myth that landscapes, gardens and green space are simply ornamental. What we do for a living is essential. It enhances and improves the quality of life in many ways. The Green Infrastructure Coalition will help us raise awareness for our industry's value."

Accompanying the LO director on stage was Ontario Parks Association executive director Paul Ronan. He stated, "A recent study commissioned by the Ministry of the Environment, which looked at the benefits of implementing the Rouge River Watershed Plan in the GTA, estimated the net benefits of green infrastructure to existing and proposed communities ranged from $416 to $960 million."

A special presentation acknowledged the assistance of the Ontario Trillium Foundation to finance the Coalition's strategy plan. In June, the Coalition received a $255,700 grant from the Foundation.

The Coalition defines green infrastructure as everything from woodlots, wetlands, gardens, parks and urban forests to vegetative and water management technologies, such as green roofs and permeable paving.