August 1, 2023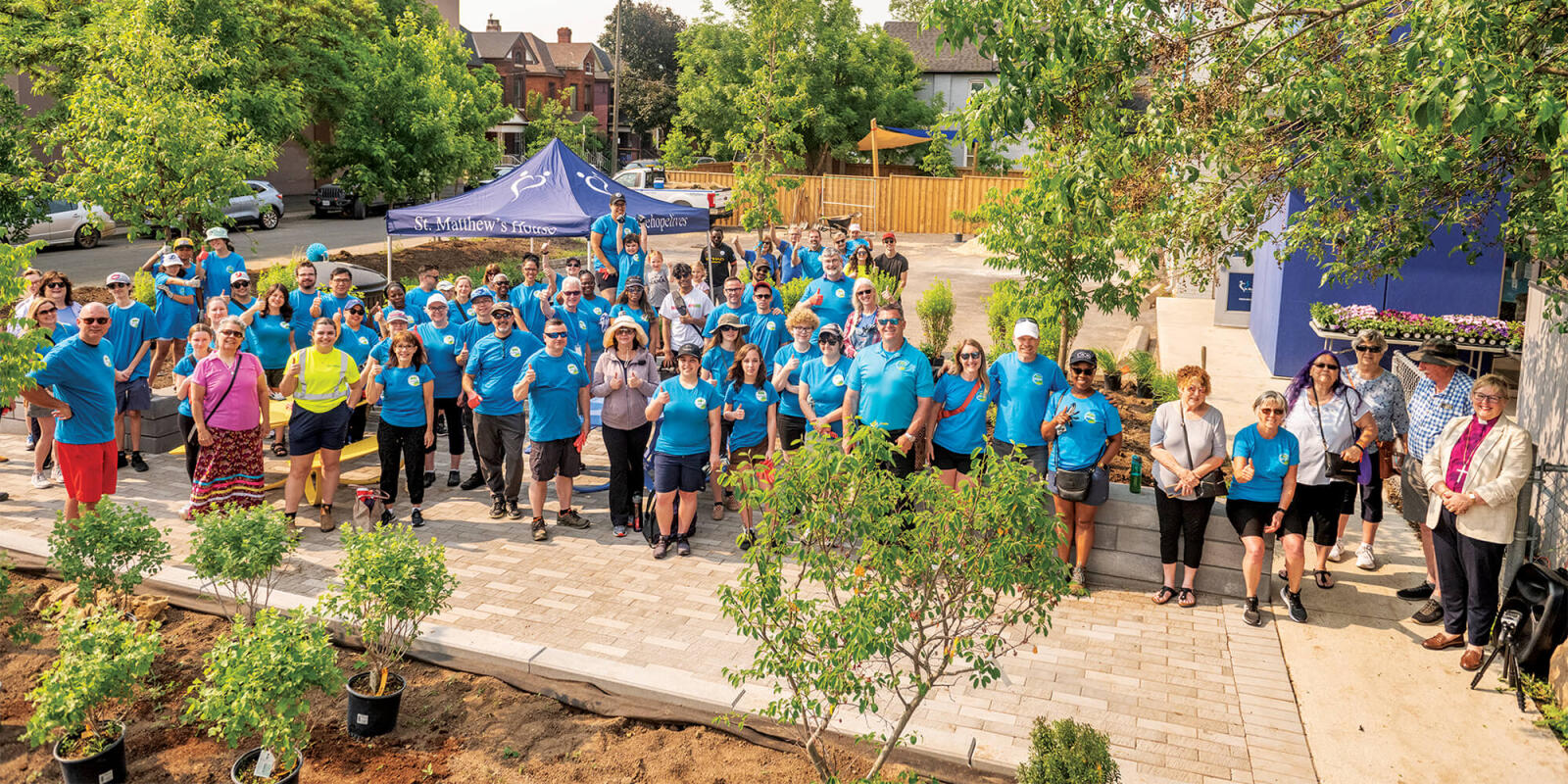 Green Cities revitalization of urban space in Hamilton now complete
BY FRYDDA SANDOVAL & STUART SERVICE
Following years of hard work by a team of volounteers and Landscape Ontario members, an urban greenspace project in Hamilton's Barton Village celebrated its official grand opening on June 3. The revitalization was completed in partnership with the Green Cities Foundation's #GreenMyCity project.
Work towards finalizing the new look of St. Matthew's House, which supports seniors, children and vulnerable members of the community, began in 2019. Dedicated efforts by volounteers over the years have transformed the neglected playground and parking lot corner into an inviting, natural oasis with a vibrant seating area in the courtyard.
"Today is the day where it all comes together," said St. Matthew's House Executive Director Renee Wetselaar, seated at a picnic bench in the courtyard following the official grand opening. "It's really phenomenal what a space like this can do to a neighbourhood."
Wetselaar said enhancements to the St. Matthew's House grounds fill a missing need for Barton Village by providing a welcoming outdoor space for neighbours to gather.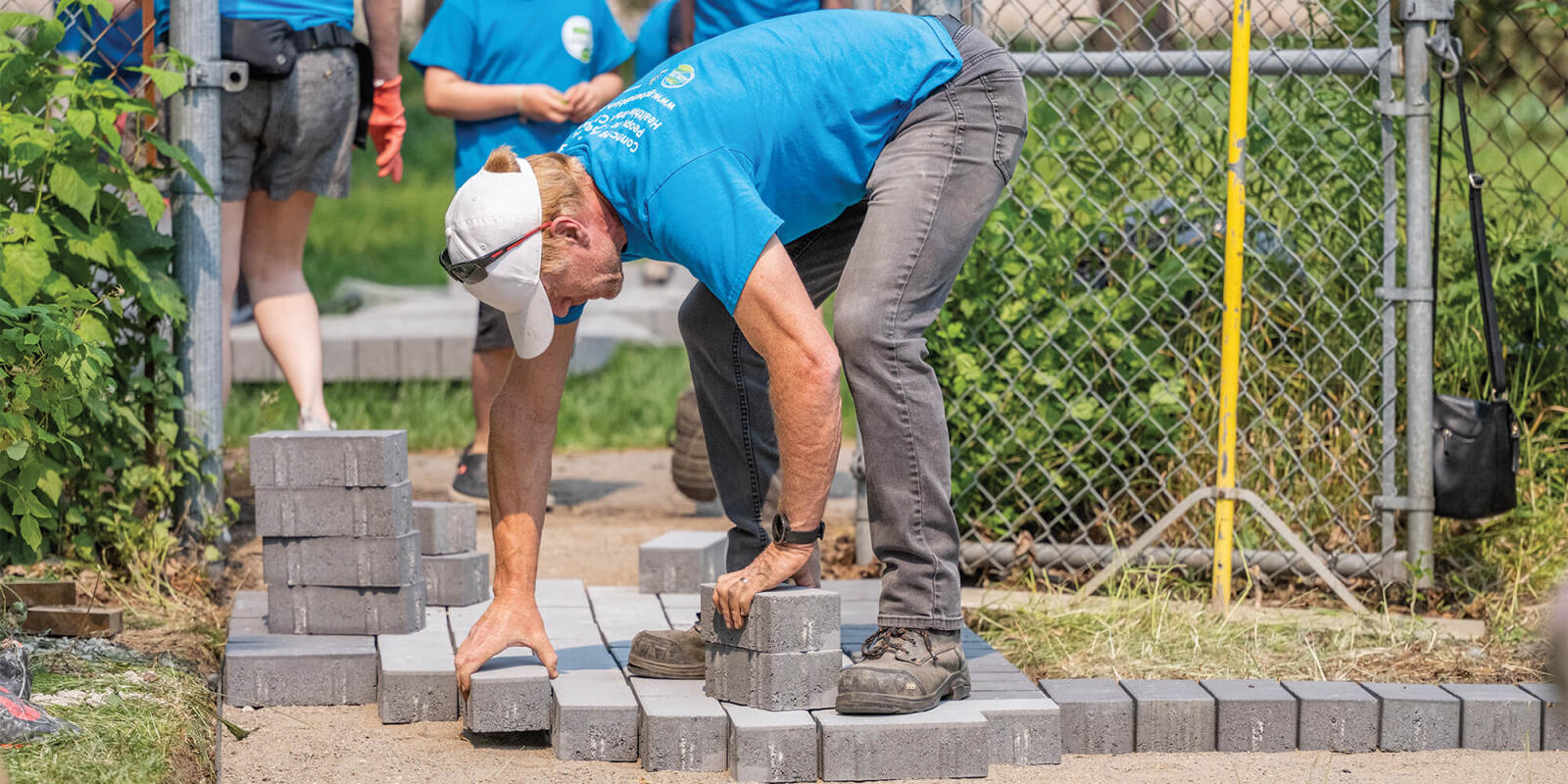 Project Lead for the St Matthew's House revitalization, Peter Guinane, installs an interlock pathway at nearby Birge Park.
---
"It'll be here for years and years to come. And I have so much thanks for that."
The centrepiece of the project was the transformation of the playground area, which highlights natural elements to create an engaging and eco-friendly space. Wooden structures such as climbing features, balance beams and a log bench were carefully installed to encourage active play and stimulate children's imaginations. These natural play elements offer opportunities for exploration, physical development and social interaction. In addition to the wooden structures is a triangle shade sail, providing a sheltered area for children to enjoy a respite from the sun's rays. Also adding to the improved aesthetics of the playground is a new fence, providing a visual barrier and a more protected play area for the children.
Near the St. Matthew's House grounds, volunteers from the Green Cities Foundation built an accessible pathway leading to the community vegetable garden at nearby Birge Park. The pathway, along with the removal of an overgrowth of weeds, rejuvenated the space to be fully accessible. Birch and Woodlands Parks have also been tidied up by volunteers who pruned shrubs and weeded and mulched garden beds.
"What was done today by dedicated, trained people was beyond anything we could have done as a community with a few volunteers," said Barton Village resident Brenda Duke. "Their expertise and experience, and willingness to work that hard, just shows their investment in the neighbourhood as well."
This #GreenMyCity project in Hamilton is a remarkable testament to the strength of community-driven initiatives. The unwavering dedication of our passionate volunteers and the generous support of sponsors and partners has breathed new life into spaces that were previously overlooked and forgotten. Work on St. Matthew's House and its surrounding parks showcases the immense potential and beautiful results from connecting plants and people to create a greener and healthier urban climate. "This type of work, it's not going to solve our climate problems, but our climate problems won't be solved without projects like this," said Peter Guinane, who led the St. Matthew's House revitalization project. "I'm thrilled we got this one done, and we got so many people out and participating today. Now they can take that message and it'll continue to multiply. Onto the next one."
Special thanks to the companies that generously donated their time and materials to make this project a reality: Connon Nurseries, Unilock, Turf Systems, Oriole Landscaping, Unique Landscape Services, Aldershot Landscape Maintenance, Landsource Organix, Garden Grove Landscape, AVK Nursery Holdings, Arborwood Tree Service, Fibertop, Miller Compost, Scotts Canada, Abingdon Heights, BudgetBin, Rockcrest Landscape by Design, Martek Supply, Plant Products and Rain Bird.
And thank you to our project partners: RBC Insurance, the Federal Economic Development Agency for Southern Ontario, the Hamilton Community Foundation, the City of Hamilton, the Golden Horseshoe Chapter of Landscape Ontario, and the Canadian Nursery Landscape Association membership.