May 15, 2013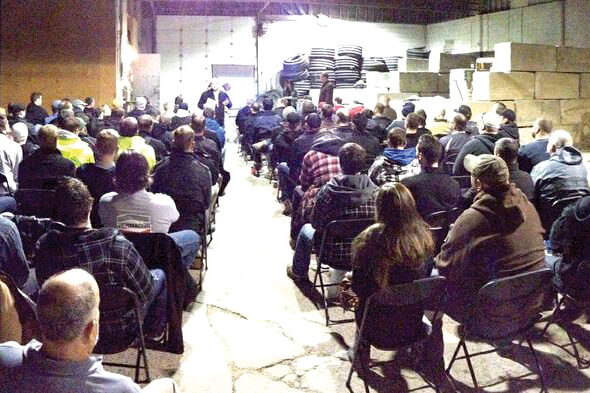 Golden Horseshoe MTO meeting attracts over 120
This year's Golden Horseshoe Chapter MTO Spring Event was a huge success with over 120 in attendance.

Hosted by Cap Brick Building Products in Burlington, Ministry of Transportation officers, Ian Walters and Mark Bonner, held an interactive presentation on road safety, and shared their insights on MTO regulations for commercial
vehicles.

"This event was made possible through the generosity of our host Cap Brick and their sponsors," said Chapter coordinator Lee Rozon. She pointed out that attendees arrived from across the region, ranging from Ancaster to Welland and in-between.

Of the 126 who attended the event, over half were LO members and employees, with about 10 per cent of those attending being non-members. "Those non-members in attendance will hopefully be convinced of the benefits to becoming LO members," she said.

Along with Cap Brick, other sponsors were Techo-Bloc, Unilock, Permacon, Dutchman Landscape and BonRoy Services.