November 15, 2013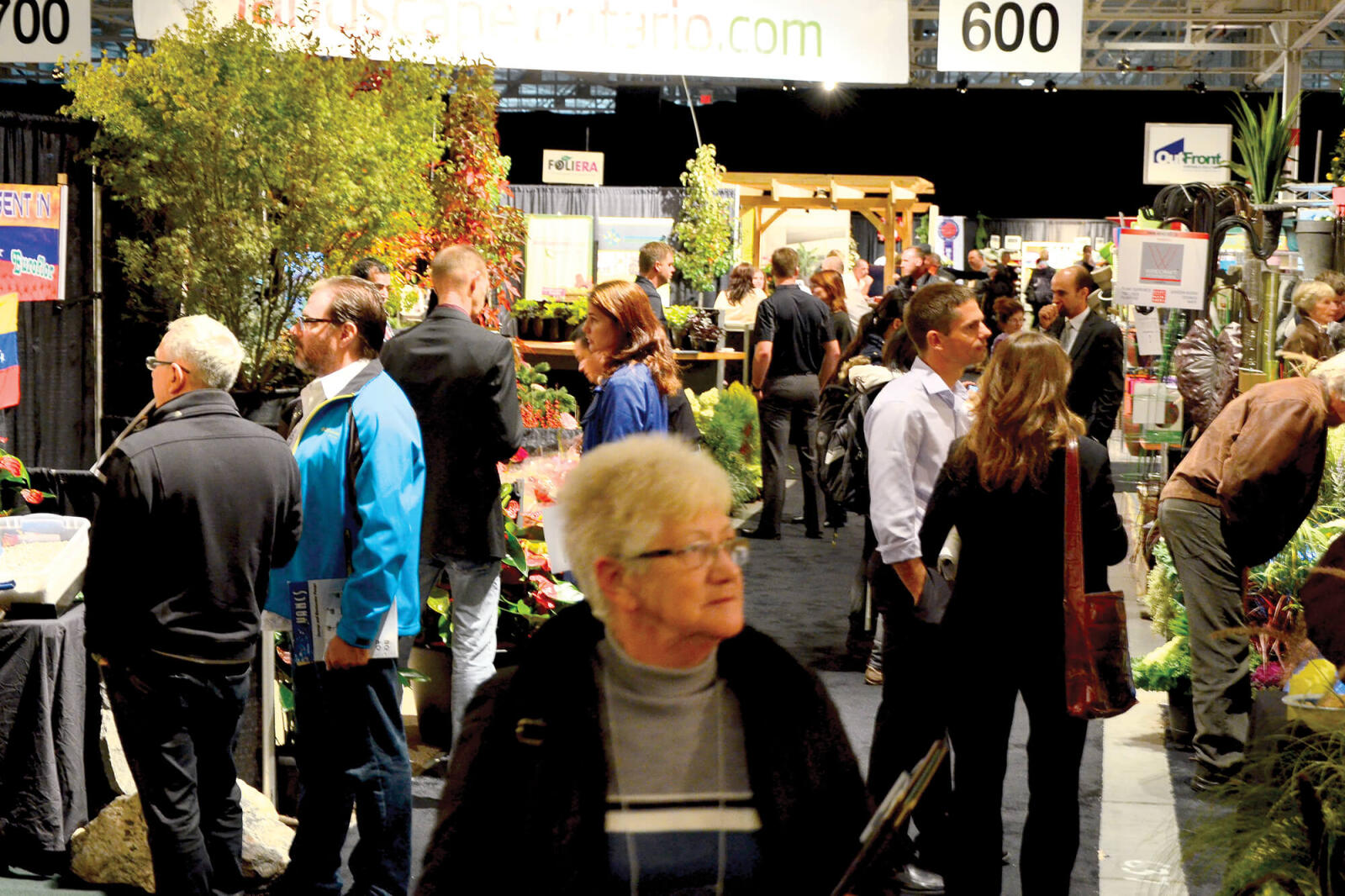 Expo meets all expectations of attendees and exhibitors
Expo 2013 had some positive comments this year from both attendees and exhibitors on Oct. 23 and 24.
Trade show committee chair Terry Childs said a goal of Expo is help retailers meet business goals and obtain prosperity. "I think this year's show met that goal," said Childs. "Networking, first and foremost is the best way for our members to grow their business. This coupled with seminars, workshops, suppliers and social events all combined to make for a successful show."
Keynote speaker this year was Jim Hole, president of The Enjoy Centre, in St. Albert, Alta. His talk outlined how garden centres can engage with gardeners. He told those present to find ways to attract the new generation of customers, who don't see themselves as gardeners.
On Wednesday evening, Karl Stensson, president of Sheridan Nurseries, moderated a panel of retail industry leaders and innovators presenting top ten business tips.
Many of those in attendance were owners and staff of top garden centres across Ontario. They were also at Expo to take part in the Awards of Excellence program.
See article here
.
A first-time exhibitor at Expo, Henk Westerdvin of Plant Suite in the U.S., said, "With us entering the Canadian marketplace, Expo delivered quality attendees who had great enthusiasm about our product. What more could a business owner ask for? Excellent results for our first time launch."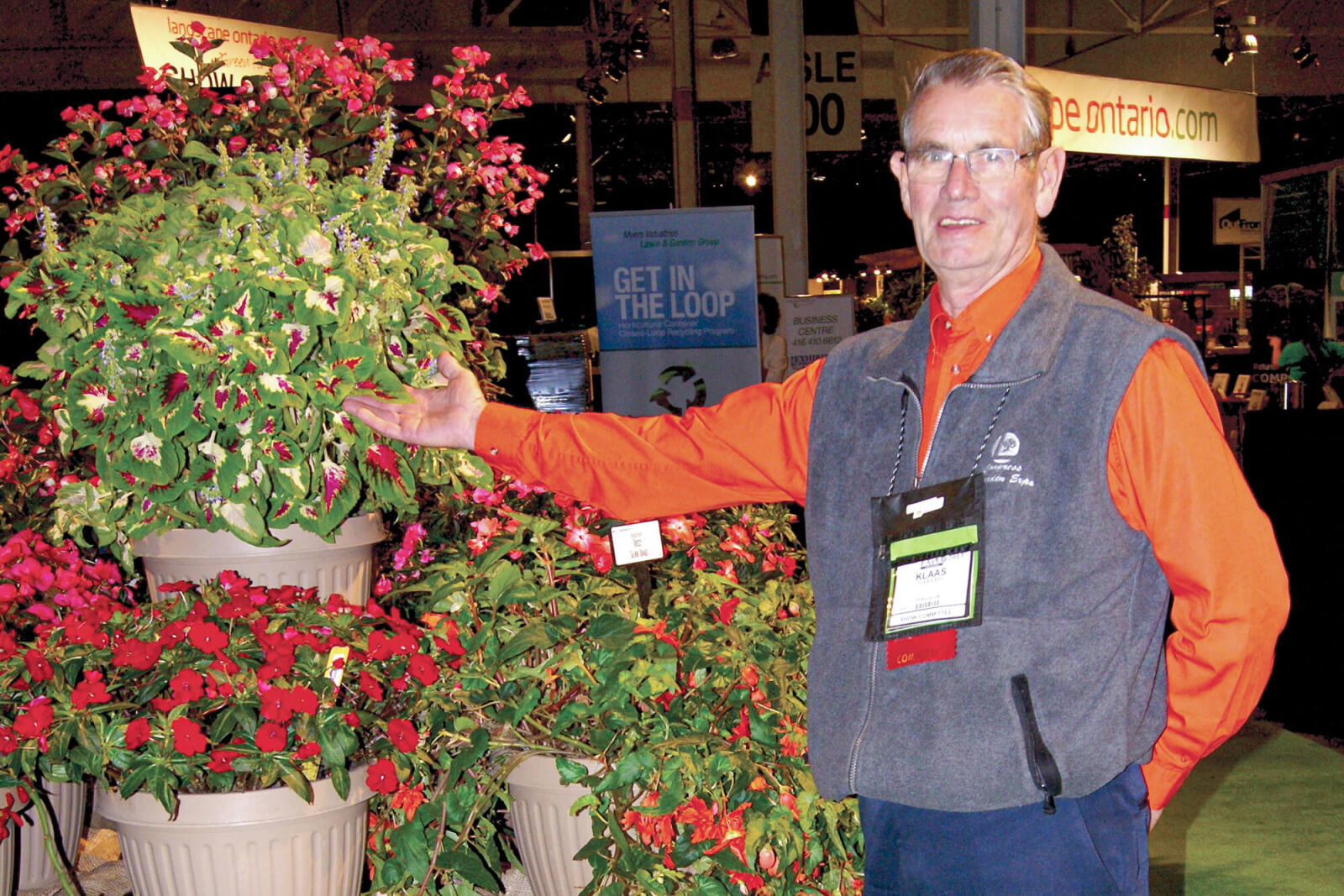 Show committee director Klaas Sikkema shows off some of the new plants in the New Product/New Plants display.
---
New Product Showcase
The latest plants, flowers and the ever-increasing popularity of vegetables were on display in this year's New Product Showcase.
Free workshops were held both days at Expo on stage at the Destination Inspiration Theatre.
Garden writers took advantage of the opportunity at Expo to hold their annual connect event. The meeting also included a visit to the trade show floor. This provided a great opportunity for vendors to show-off to the writers who are an important connection to customers.
The subject of green walls, roofs and urban farms took centre stage at a lunch event hosted by the Interior Plantscape Sector Group. Chris Raimondi, of Raimondi Horticultural Group, N.J., spoke about how today's interior business environment is affected by, and profits from, biophilic design factors.
The term biophilic literally means "love of life or living systems." Biophilic design points the way toward creating healthy and productive habitats that connect people and nature, such as hospitals where patients heal faster and offices where workers are more productive.
Raimondi outlined how protection from the elements, building insulation and civic beautification are some of the benefits of green walls and roofs. Those in attendance heard what system is appropriate for living walls and roofs.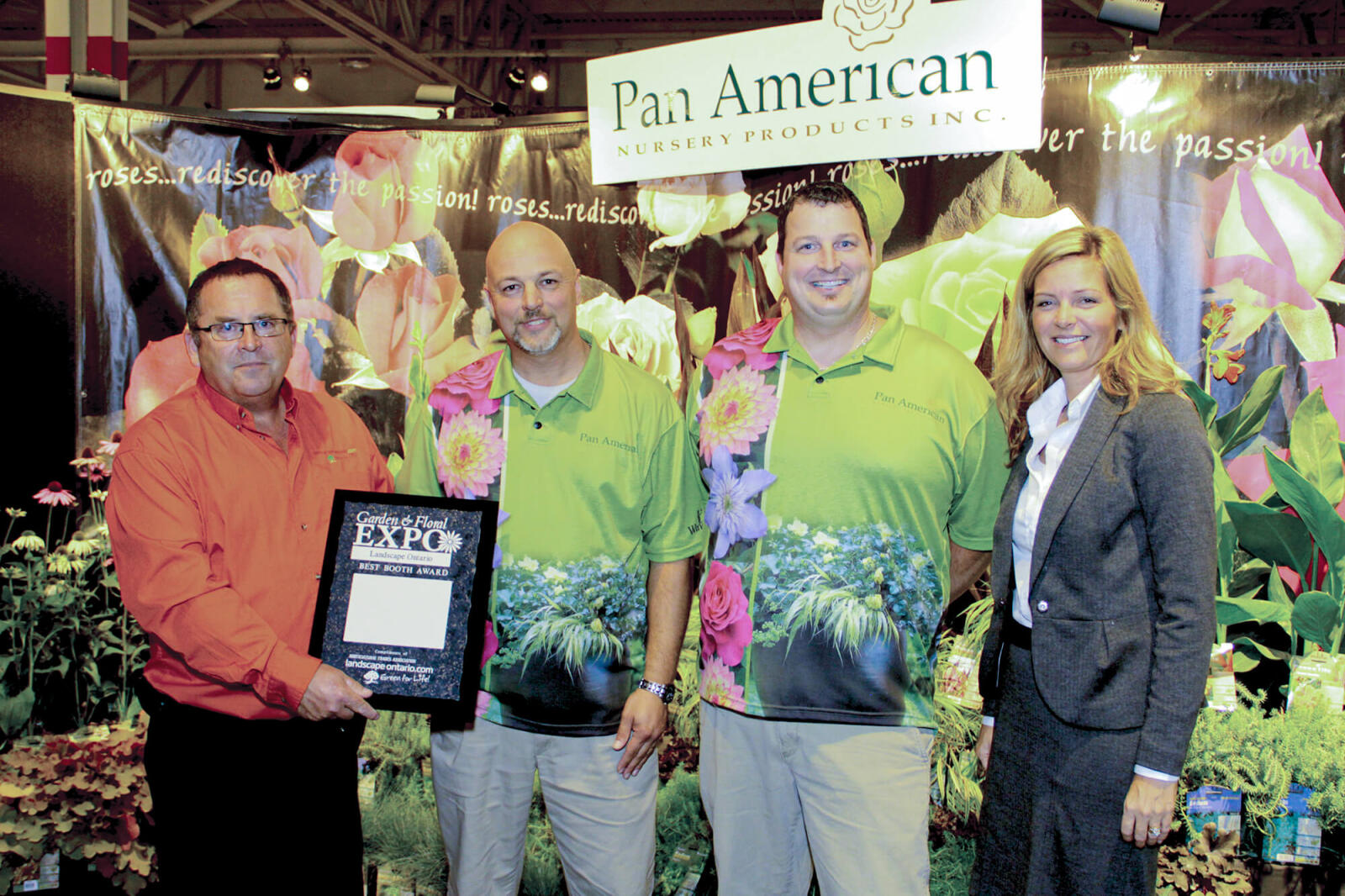 Pan American Nursery Products of Millgrove won top prize for the best booth under 200 sq. ft. In photo, show committee chair Terry Childs, Alex van Barneveld and Ryley Anderson, of Pan American, and trade show manager Heather MacRae.
---
Best booth awards
Winners of the best booth and best promotion awards were announced near the end of the show. Evaluations are based on a set of criteria, which includes design and visual impact, quality of construction, signage, staff identification, promotional material, layout, unique display techniques, visual aids and booth attendees passion for their work, appearance, knowledge of their product, willingness to answer questions, and pride in their company.
Judges had a tough time this year, as so many exhibitors displayed high standards.
"Year in and year out, the show floor of Expo is a sight to behold, with bold, vibrant colours and stunning displays that really show the strengths of Ontario's green industry," said Heather MacRae, director of events and trade shows for Landscape Ontario. "The creativity and imagination that goes into these displays is astounding."
Pan American Nursery Products of Millgrove won best booth award for under 200 sq. ft., while Maple Leaf Nurseries of Jordan Station received the award for booths over 200 sq. ft.
Judges felt that Pan American Nursery Products applied creative thinking to create a happy booth presence and generate new customers. The staff sported custom shirts, featuring strong, colourful graphics of the company's blooming products. "It takes a secure man to wear this shirt," said sales rep Ryley Anderson. He reported that attendees love the outrageous outfits. Pan American's well-lit display was effective, taking advantage of varied heights and massed colour, but the shirts will remain in customers' minds.
Maple Leaf Nurseries won the large booth prize for the third year in a row. The open metal structure was a simple and effective design strategy with draped purple fabric and festive, tiny lights. Maple Leaf's perennials, shrubs and trees were well displayed.
For the second consecutive year, Canadale Nurseries of St. Thomas was recognized for its marketing efforts to drive pre-registrations to Expo. A big part of Canadale's program was a chance to win an iPad for customers who place an order at the show.
Best Booth judges were Mike Russell, business development manager for the Toronto Congress Centre; Lee Ann Knudsen, publisher at Landscape Ontario; and Brad Hellas, manager of Showtech Power and Lighting.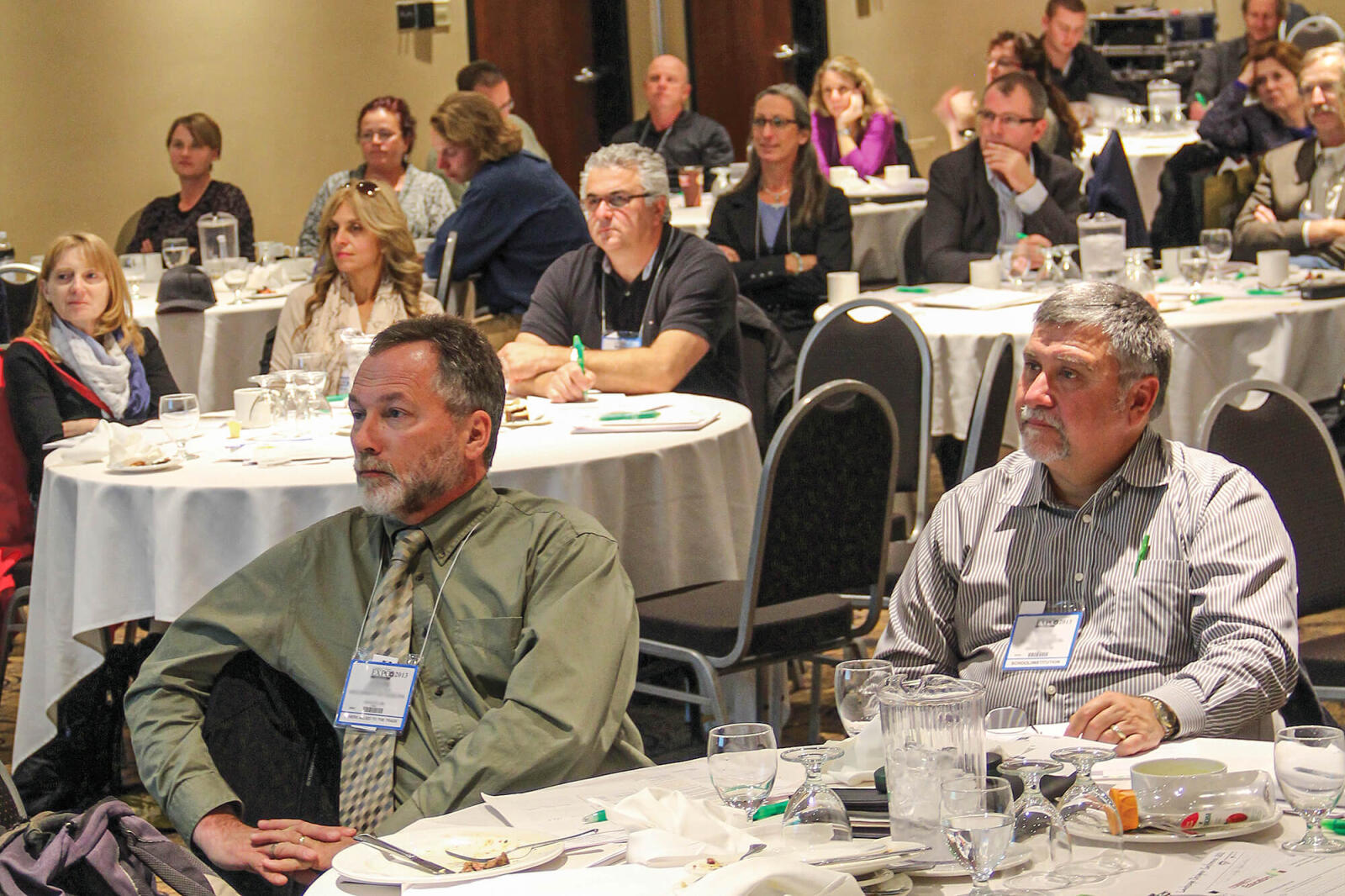 Connecting Educators Conference brought industry, education and government people together to discuss serving the horticultural industry.
---
Over 150 delegates from education, industry and government came together for an exciting new event, Connecting Educators. Highlights included seminars and talks about education opportunities, labour market information, career awareness, apprenticeship, safety, and Skills Ontario.
Sponsors
Sponsors of this year's Expo were Compost Council of Canada, Global Arch – Natural Stone Wholesale, and Studio Specialties. The media partner was Landscape Trades. Conference and event sponsors and contributors included Beaver Valley Stone, Bernardin, Canadale Nurseries, Fafard et Freres, Green Plants for Green Buildings, Lechuza Canada, McKenzie Seed and Plant a Row – Grow a Row.
Flowers Canada Growers and Canadian Academy of Floral Art were partners with Garden & Floral Expo 2013.
The next big event for Landscape Ontario is the 40th annual Congress on Jan. 7 to 9 at the Toronto Congress Centre. For more information on one of North America's largest horticultural, lawn and garden trade shows and conferences, go to
www.locongress.com
.