November 15, 2012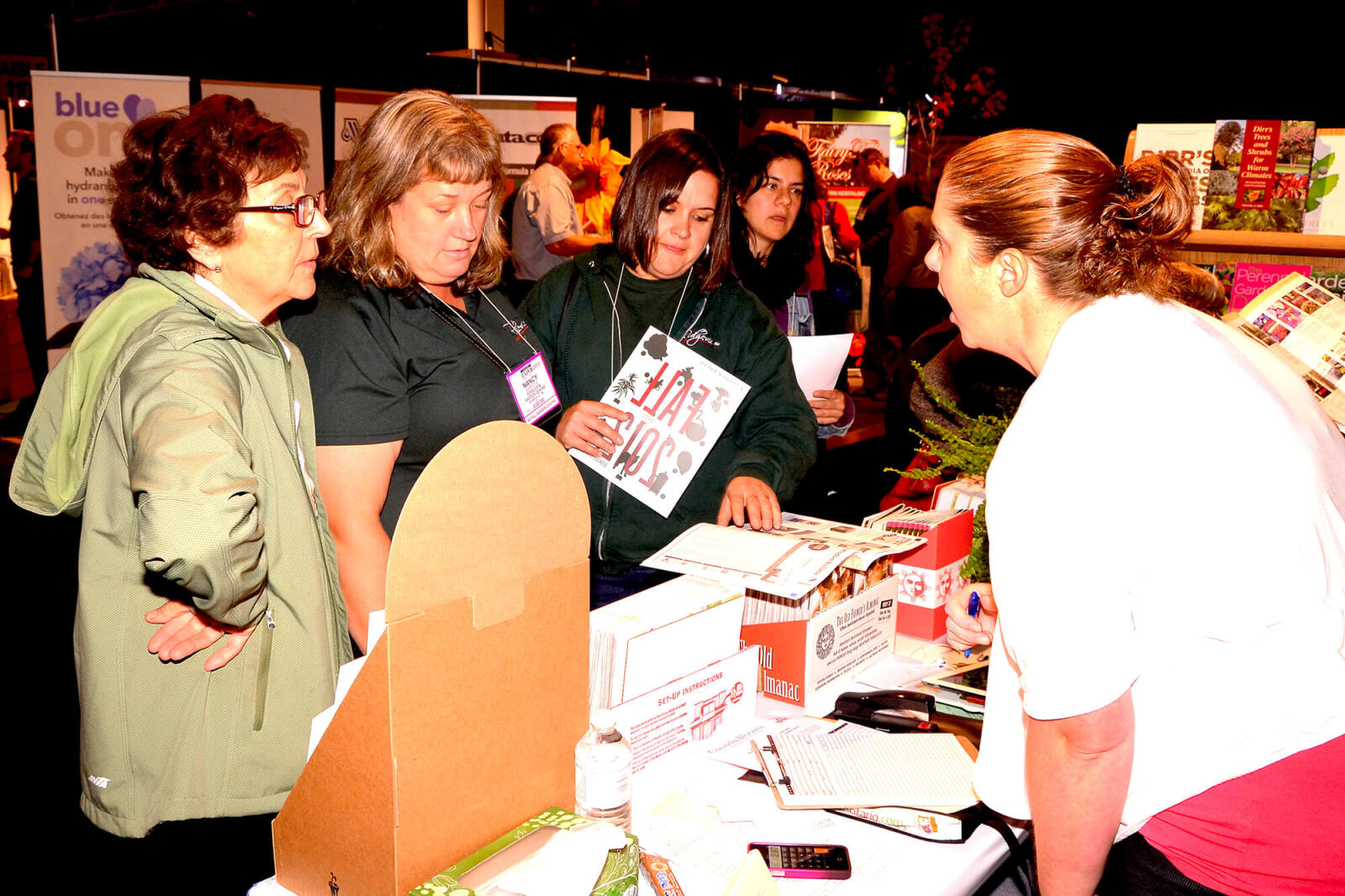 Expo generates positive energy for both attendees and exhibitors
A positive vibe was very evident among both attendees and exhibitors over the two days that Expo 2012 took place at the Toronto Congress Centre.
Vivian Bowman of The Garden Helper in Barrie, said, "We went to the show on Thursday. The three of us all agreed it was one of your best shows ever. We will go again next year."
"There's been a really vibrant buzz throughout the entire show which indicates that the future looks bright for the upcoming spring season," said Beth Edney, show chair of Expo. "Attendees have come away with lots of great tips from our presentations and the exhibitors stepped up with even better displays, creative ideas and information on their products and services that will help make us all better retailers of horticultural products."
Expo opened bright and early on Oct. 17, with the Garden Centre Awards of Excellence (see results on page 6) and a breakfast keynote speaker presented by LO's Garden Centre Sector Group.
Domoney opens show
U.K. television personality David Domoney gave a lively presentation entitled Diamonds in the Rough. Domoney is a horticultural school graduate, who has managed garden centres, been a buyer for a large British DIY chain, run his own design firm and hosted television gardening shows in the U.K. He is also known for the creative and award-winning gardens he builds at Royal Horticultural Society garden shows. In Domoney's words, he has "a passion for looking at gardens in a refreshing new way."
With
Diamonds in the Rough
, Domoney showed the standing-room-only crowd photographs from his travels around the world, adding his thoughts on how the ideas could be adapted for Canada's retail market.
Some examples Domoney gave included a carpet market in Dubai, toy stores in Germany that made the shopping experience a family event and store facades in the Caribbean that have been dressed up with signage. "Inexpensive and impressive," said Domoney.
The keynote speaker told his audience to have some fun in your stores, just like the shoe store that advertised on a large sign, "Buy one shoe, get one free! Humorous signs get customers talking about your store," he said.
Trends is a popular subject; but Domoney told his audience that garden centres can set their own trends for their customers. "Focus on the plants being the stars of your show."
Presenting sponsor was Fafard et Freres, and supporting sponsors included Canadale Nurseries, Langendoen Nursery and Valleybrook Gardens, and
Landscape Trades
was media sponsor.
Hosted by Landscape Ontario's Interior Plantscape Sector Group, Thursday morning's breakfast presentation featured Jill Jensen, founder of Jill Jensen Botanical Specialties, and Sue Blaney, from Lechuza Canada. They spoke on maximizing profits.
Best booth
Judges had a tough time to choose winners of the best booth and promotion awards. They named winners of the award, Hillen Nursery of Mount Brydges for an exhibit area of under 200 sq. ft., and Maple Leaf Nurseries of Jordon Station for over 200 sq. ft.
Said Heather MacRae, director of events and trade shows for Landscape Ontario, "Our judges always have a tough decision but found engaged staff along with a clever interplay of product and graphics in the compact, 100-sq. ft. display presented by Hillen Nursery.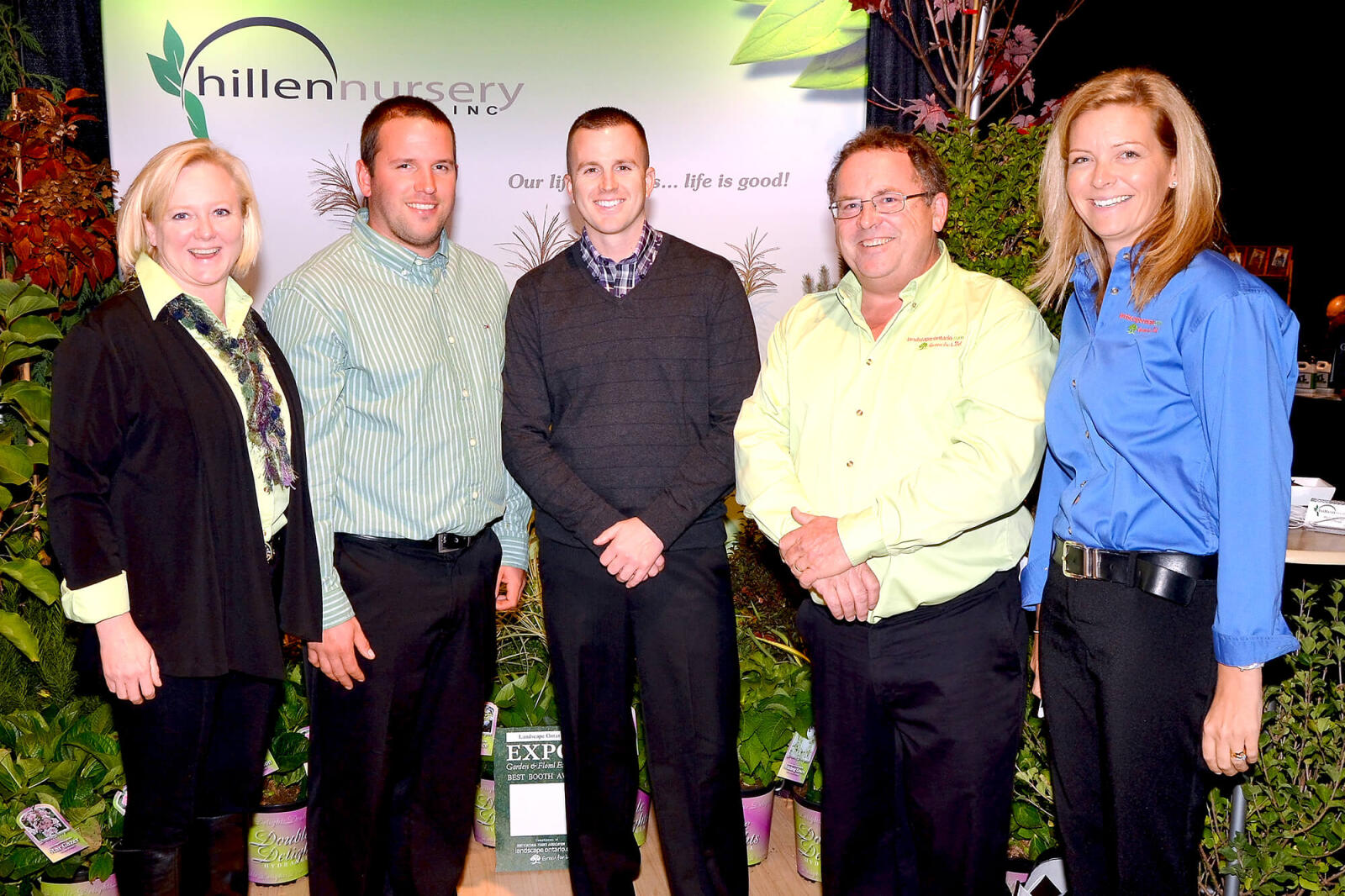 Hillen Nursery of Mt. Brydges won the award for the best booth under 200 sq. ft. In photo during the award presentation, are from left, Beth Edney, chair of the show committee; Ben Hillen and Mark Endicott, of Hillen Nurseries; Terry Childs, vice chair of the show committee; and Heather MacRae, director of events and trade shows.
---
General manager of Hillen Nursery, Mark Endicott, said, "We are very honoured to have won this award. Our goal for this year's show was to offer both new and existing customers a fresh look to our company. Having our booth recognized by Landscape Ontario at this year's Expo as Best Booth is most rewarding!"
In commenting on the Maple Leaf Nurseries booth, MacRae said, "Coloured fabric sails flying high, combined with a stunning display of larger-than-life tropical plants and attention to traffic flow, impressed the judges at Maple Leaf Nurseries' island exhibit."
When presented with the award, Harry Brouwer, sales associate from Maple Leaf Nurseries, said, "Thanks very much to Landscape Ontario for a well run, dynamic show where we can meet all our friends in the industry. We are humbled to receive the Best Booth Award, considering the many other exciting and colourful booth displays."
Best Booth judges included John LeRoy of GSS Security, Hamilton, Deborah Dugan of CONEXYS Registration, Mississauga, and Lee Ann Knudsen, publisher of LO's
Landscape Trades
.
Canadale Nurseries of St. Thomas was recognized for its marketing efforts to attract delegates to pre-register for Expo. The company conducted an aggressive promotional campaign that included a chance to win an iPad for placing an order while at Expo.
"Canadale embraced our new customized electronic VIP passes and added an additional incentive for their clients to attend Expo and place an order at Expo," says MacRae.
New Product Showcase
This year's New Product Showcase saw a return to plants and flowers, including vegetables, herbs and native plants. Many of the plants featured in the showcase highlighted colour, texture, foliage and contrast.
Delegates were invited by showcase sponsor Greenstar Plant Products to cast a vote for their favourite new product.
Winner of the People's Choice Award was Greenlander Boots. The product provides a removable and washable liner, is 100 per cent waterproof and rated down to -30 degrees C.
Supporting Expo 2012
Sponsors supporting this year's event included Flowers Canada Retail, Global Arch Inc/StoneArch, Sheridan Nurseries and Greenstar Plant Products; Education and Event Sponsors were Fafard et Freres, Lechuza Canada, Waterdale Inc. and Smithers-Oasis North America; Supporting sponsors were Valleybrook Gardens, Canadale Nurseries, Langendoen Nurseries, Jill Jensen Botanical Specialities and Ambius; Media partner:
Landscape Trades
.
"Expo was my first major event with Landscape Ontario. Working with both the committee and staff was a very enjoyable experience, the commitment and dedication from both parties were impressive," said Heather MacRae.
The next big event for Landscape Ontario is the 40th annual Congress on Jan. 8 to 10. For more information on one of North America's largest horticultural, lawn and garden trade shows and conferences, go to
www.locongress.com
.