November 15, 2011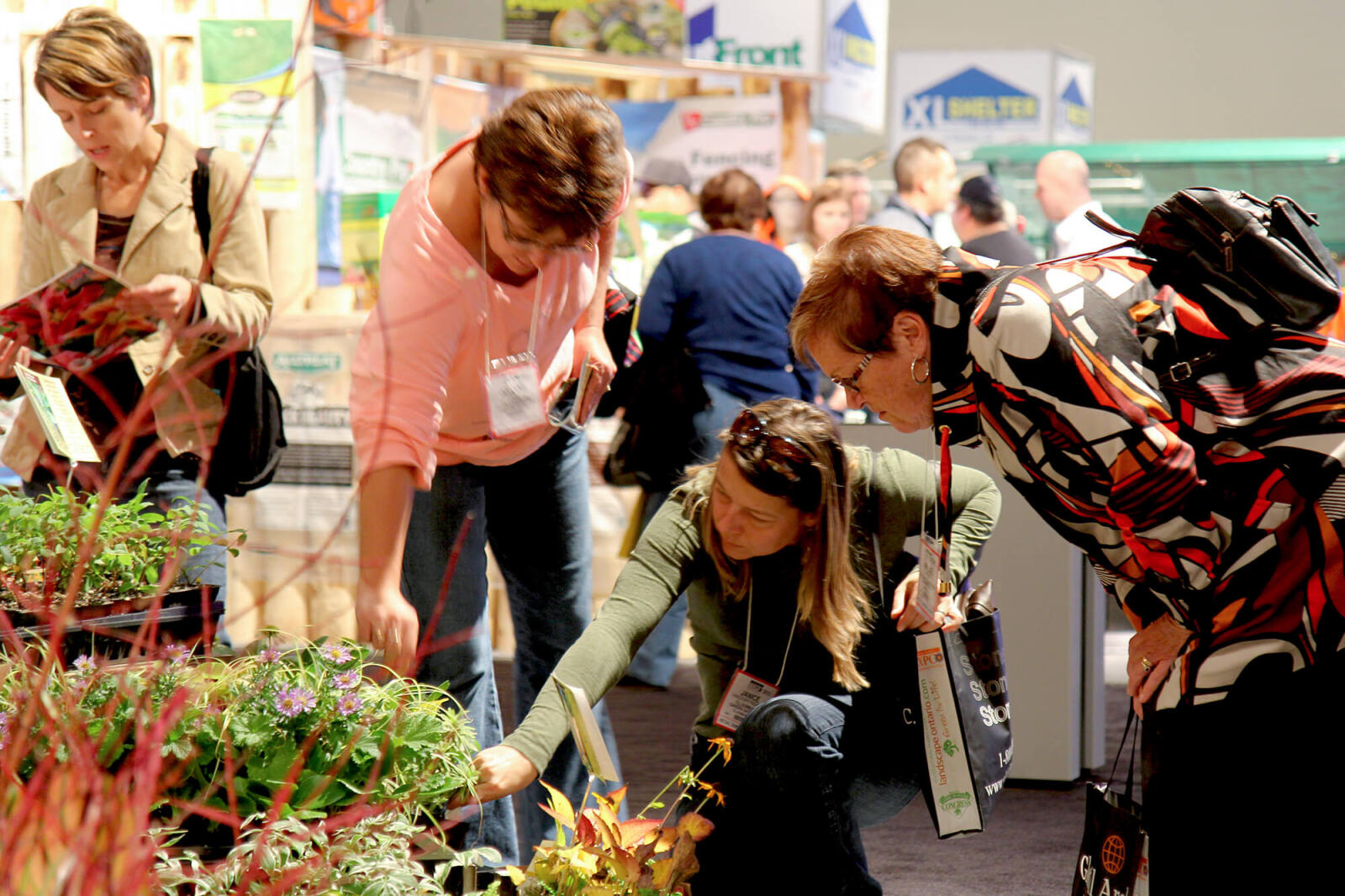 Expo continues to provide high value
A renewed energy greeted horticulture and floriculture professionals visiting Canada's premier garden and floral trade show, Expo 2011.
This year Expo moved to a new building at the Toronto Congress Centre, where the two-day October event included not just the popular trade show, but also education seminars, award presentations for Ontario garden centres and municipalities, a new product showcase, design shows and more. Over the two days, more than 2,000 visitors attended Expo.
"Every year Expo strives to be better than it has ever been, and with the help of top notch exhibitors and innovative new products, we succeeded this year in keeping the show fresh and exciting," says show manager Lorraine Ivanoff.
Although attendance numbers were slightly down from last year's, a real sense of a positive business atmosphere was found throughout the trade show.
Expo 2011 is a kick-off event for the industry preparing for the 2012 season, showcasing all the hot new products to attract consumers looking to create something new in their home gardens. It also allows garden centre operators to learn new ways to grow their business through product selection, customer service, guest relations and marketing.
Great start
Well over 120 garden centre owners came away feeling fortunate to have taken advantage of the opportunity to hear Sheridan Nurseries president Karl Stensson share his experience and philosophy on how to build a garden centre's brand. His keynote presentation featured Stensson's policy of referring to customers as 'guests.' He noted, "When we invite guests to our home, we ensure that they are comfortable and enjoy the experience. It should be no different in your store."
Noted industry expert JPaul Lamarche said that Stensson's presentation was "likely the most informative seminar I have seen, period!" He went on to say, "It is said many times, that you should take in as many lectures, seminars and presentations as possible, as you may get one or two things that can transform your business. Karl Stensson delivered a passionate, well thought out seminar on the little things you can do, to not only stay ahead of the box stores, but to move them out of your radar! Personally, I saw approximately 20 things I would implement tomorrow if I had a garden centre. Most would cost only hundreds of dollars and generate thousands in return. Most could be done by staff, thereby improving attitude and enthusiasm."
At the end of this presentation, the Garden Centre Sector Group presented a $500 cheque to Stensson toward his company's favourite charity, The Children's Wish Foundation.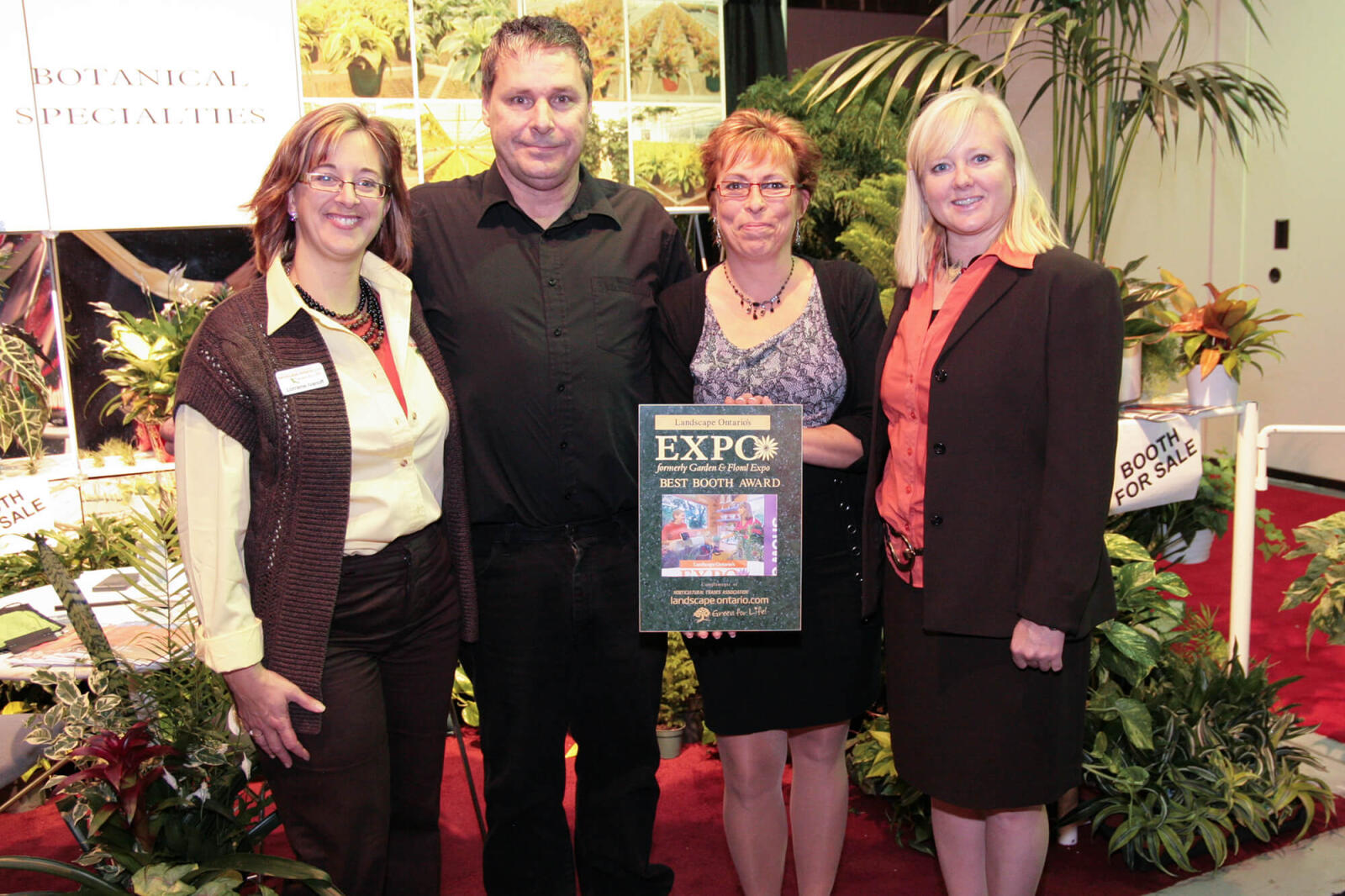 The best booth award was won by Jill Jensen Botanical Specialties of Newcastle. In photo, from left, Lorraine Ivanoff, show manager, Randy Ball and Henri Piersma, both representing Jill Jensen, and Beth Edney, chair of the trade show committee.
---
Exhibitor awards
Judges had a tougher time than usual this year deciding the winners of the annual best booth and best promotion awards at Expo. Two categories for the best booth award were less than 200 sq. ft. and over 200 sq. ft. The first award went to Jill Jensen Botanical Specialties of Newcastle, while the latter award was won by Maple Leaf Nurseries of Jordan Station.
"Choosing the winners is always a tough decision, because there are so many deserving booths at Expo, but Jill Jensen and Maple Leaf stood out for the attention to detail and crisp layouts," said Ivanoff.
John Neofotistos, ceo of Exhibitor Insurance.com, Concord, Tracy McKnight and Dave Brown, show managers, Seasons Christmas Show, Midhurst, were the 2011 judges.
Westbrook Floral of Grimsby won the best promotion award at Expo for the work put into engaging customers to attend the show. "Westbrook exemplifies the marketing savvy that we look for in our exhibiting partners. Our exhibitors are the best conduit to reach out and engage our industry," said Beth Edney, chair of Landscape Ontario's show committee. The best promotion award winner is determined by the committee after a careful review of the promotion efforts by exhibitors prior to the show.
For the first time in the show's 12-year history, the volunteer members of the show committee selected their top three best booth winners, based on seven criteria: signage, flooring, circulation in and around the booth, innovation, use of lighting/special features, clarity of products bring sold and staff attire. All exhibitors, regardless of booth size, were included in this evaluation. The overall winner was Westbrook Floral. Second place went to Aquascape and third place to Floral Express.
To view results of the Communities in Bloom Green for Life Awards, see
Denis Flanagan's column on page 27
.
New Product Showcase
More than 100 of the latest industry products were featured in the New Product Showcase. Winner of People's Choice for best new product or plant introduction was Jalisco Imports' flat tire baskets.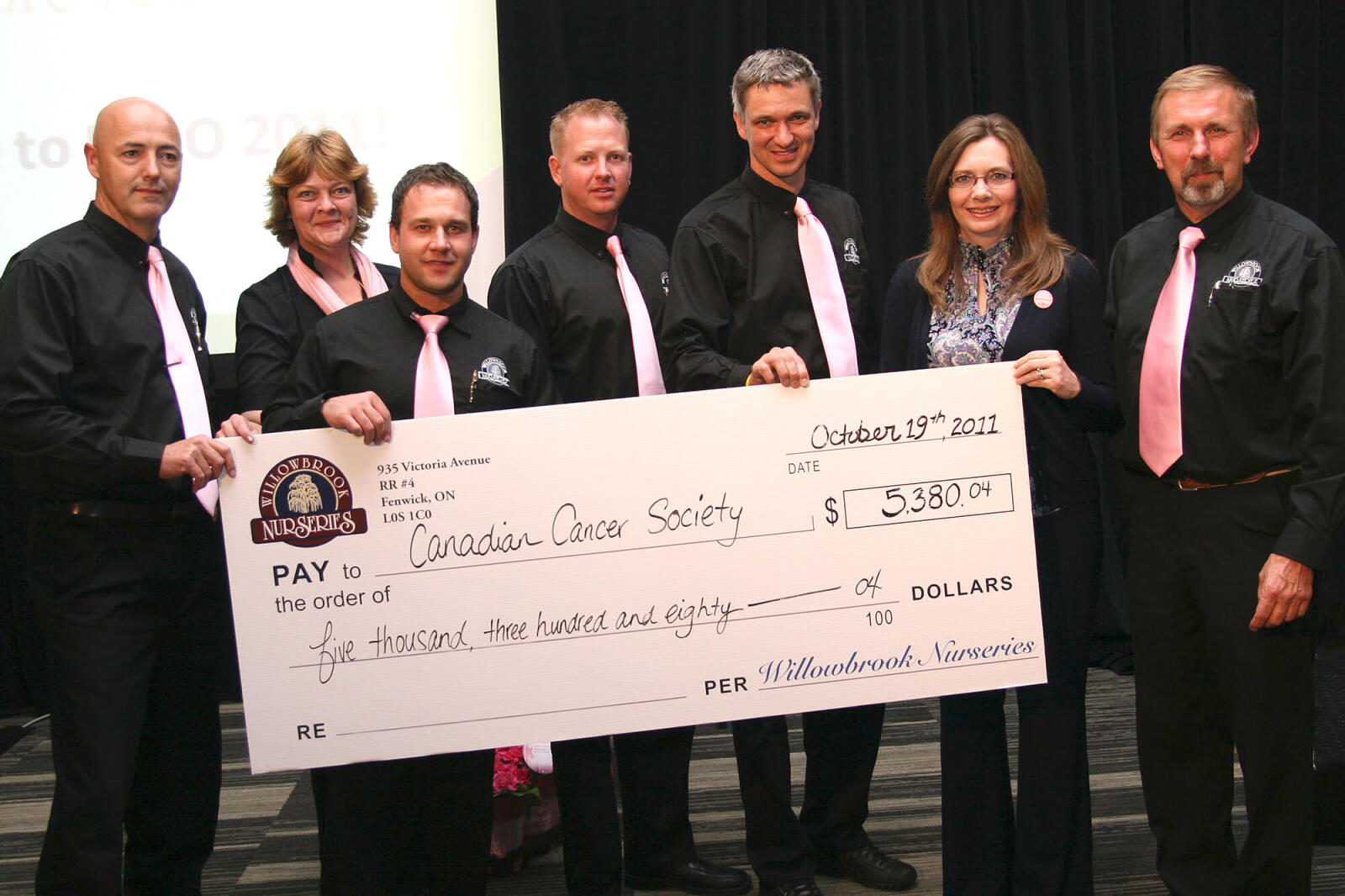 A heartfelt presentation took place when a ceremonial cheque was presented by Willowbrook Nurseries Angela Daley of the Canadian Cancer Society.
---
Supporting a good cause
A heartfelt presentation at Expo's welcome reception was Willowbrook Nurseries' cheque presentation to the Canadian Cancer Society. Willowbrook has branded its one-gallon pots of perennials pink and yellow. For every perennial purchased with the cancer pot wrap, five per cent of the sale is donated to the Cancer Society.
John Langendoen, president of Willowbrook, presented a cheque of $5,380.04 to Canadian Cancer Society representative Angela Daley during Expo's opening reception.
Ideal forum
The induction ceremony for new Canadian Academy of Floral Art (CAFA) awarded members for participating in a competition entitled A Tribute to Things Canadian.
"Expo is the ideal forum to showcase the artistic talents of floral designers," said CAFA president Derrick Foss. "We are pleased and excited that we have once again been able to be part of this wonderful event."
Attendees heard author Rory Sheehan provide an informative discussion on finalizing a sale and building your business. He was the star attraction at the Landscape Designers' networking and breakfast event.
Attendees enjoyed the fragrant and eye-catching displays created by ten leading Ontario growers, Bayview Flowers, Cosmic Plants, Floral Dimensions, Northern Innovators, Pioneer Flower Farms, Prins Grow, P. Ravensbergen and Sons, Slappendel Greenhouses, Westbrook Floral and Westland Greenhouses.
Expo 2011 partners
Sponsors continuing to support the industry include: Canadian Academy of Floral Art, Communities in Bloom – Ontario, Flowers Canada (Ontario), Pick Ontario, Dig, Drop, Done Foundation, Global Arch, Greenstar Plant Products, Fafard et Freres, Canadale Nurseries, DeWitt Company, Langendoen Nurseries, Valleybrook Gardens (Ontario), Horta-Craft , Ambius, Plants in Design, Ada's Flowers, CMC Wholesale, Floridus Design Images, Mex Y Can, Westbrook Floral, Flowers Canada Retail, LO's Landscape Designer Sector Group, Connon Nurseries – NVK, Gib-San Pools, Teleflora, Tradewinds International.
The display garden, designed by Jack VandeRee CLT, with help from Boot's Landscaping and Maintenance, and Connon Nurseries - NVK Holdings (plant material), Permacon Group (stone), Dinstinctive Rail (pergola) and Westbrook Floral (flowers), attracted a great deal of positive response.
The next big event for Landscape Ontario is the 39th annual Congress on Jan. 10 to 12. For more info on one of North America's largest horticultural, lawn and garden trade shows and conference, go to
www.locongress.com
.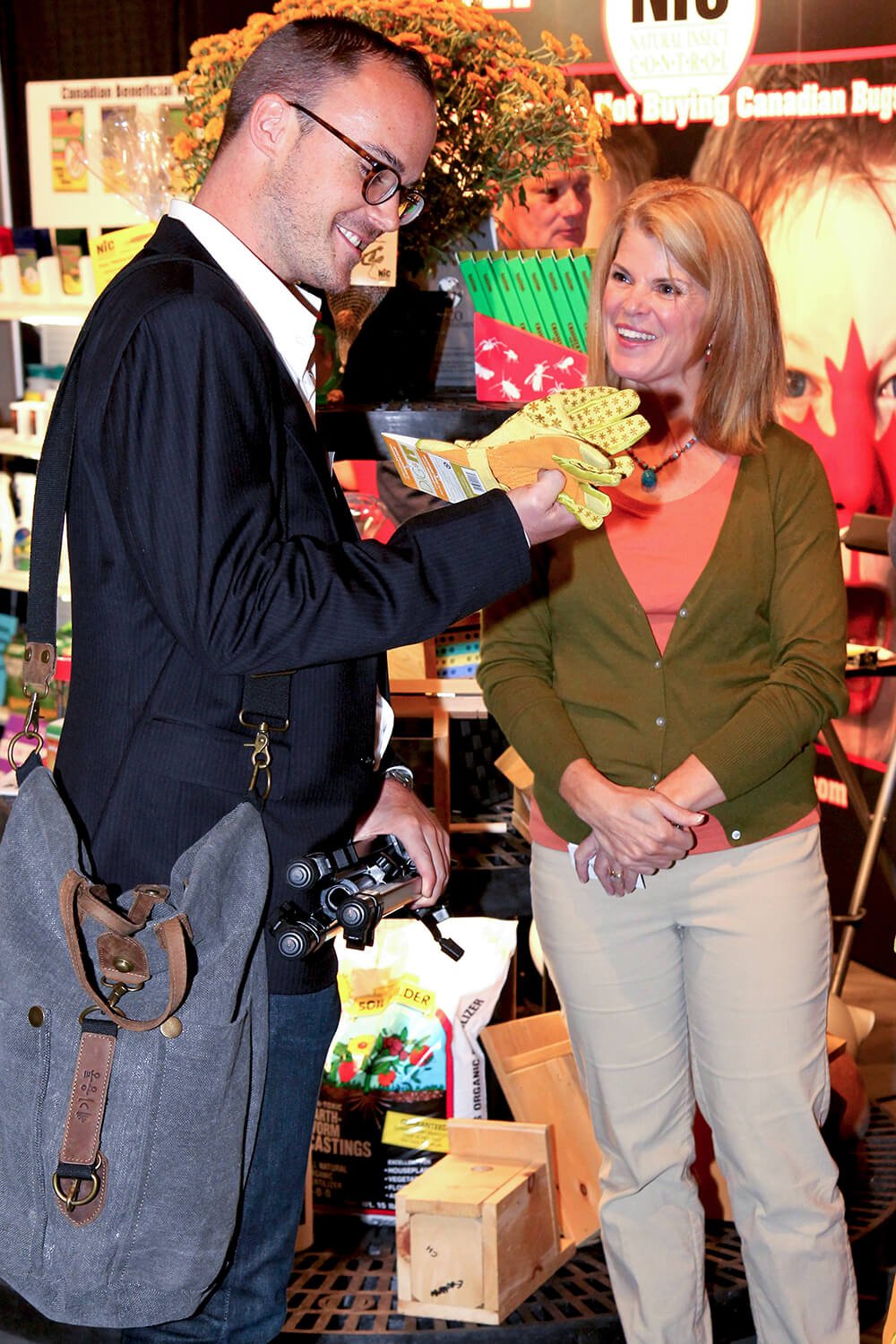 Expo 2011 created a great atmosphere for business networking opportunities.