November 15, 2014
Expo celebrates 15th year with lots of wow factor
The 15th edition of Garden and Floral Expo experienced two days of positive reaction from both attendees and exhibitors.
Along with the traditional plants and decor, this year's Expo featured some well-known alumni of the CFL, Michael 'Pinball' Clemons and Matt Dunigan. It all added to the positive atmosphere at this year's event.
Show manager Heather MacRae, Director of Events and Trade Shows for Landscape Ontario, said that most people she spoke with had positive comments about the show. "We had some great feedback on Design Day and about the overall feel of the show."
Chair of the Expo show committee, Michael Van Dongen, said, "A wonderful show once again! Our 15th year was amazing. I find with all our schedules these days, it's still really nice to commit the time to slow down and talk with fellow industry people. It's always a pleasure seeing what's new and sharing stories of the year."
Attendance at the 2014 show, held Oct. 22 and 23, reflected last year's numbers. One prospective exhibitor scouting the show, who asked to remain nameless, said that what he really liked about Expo was that there were so many nursery company decision makers present in the booths. "That fact makes it very worthwhile for buyers to attend this show," he said.
MacRae said many first-time exhibitors say they will be back next year. "That's a good sign," said MacRae.
See page 7
a letter from Heather MacRae on the re-invention of Expo.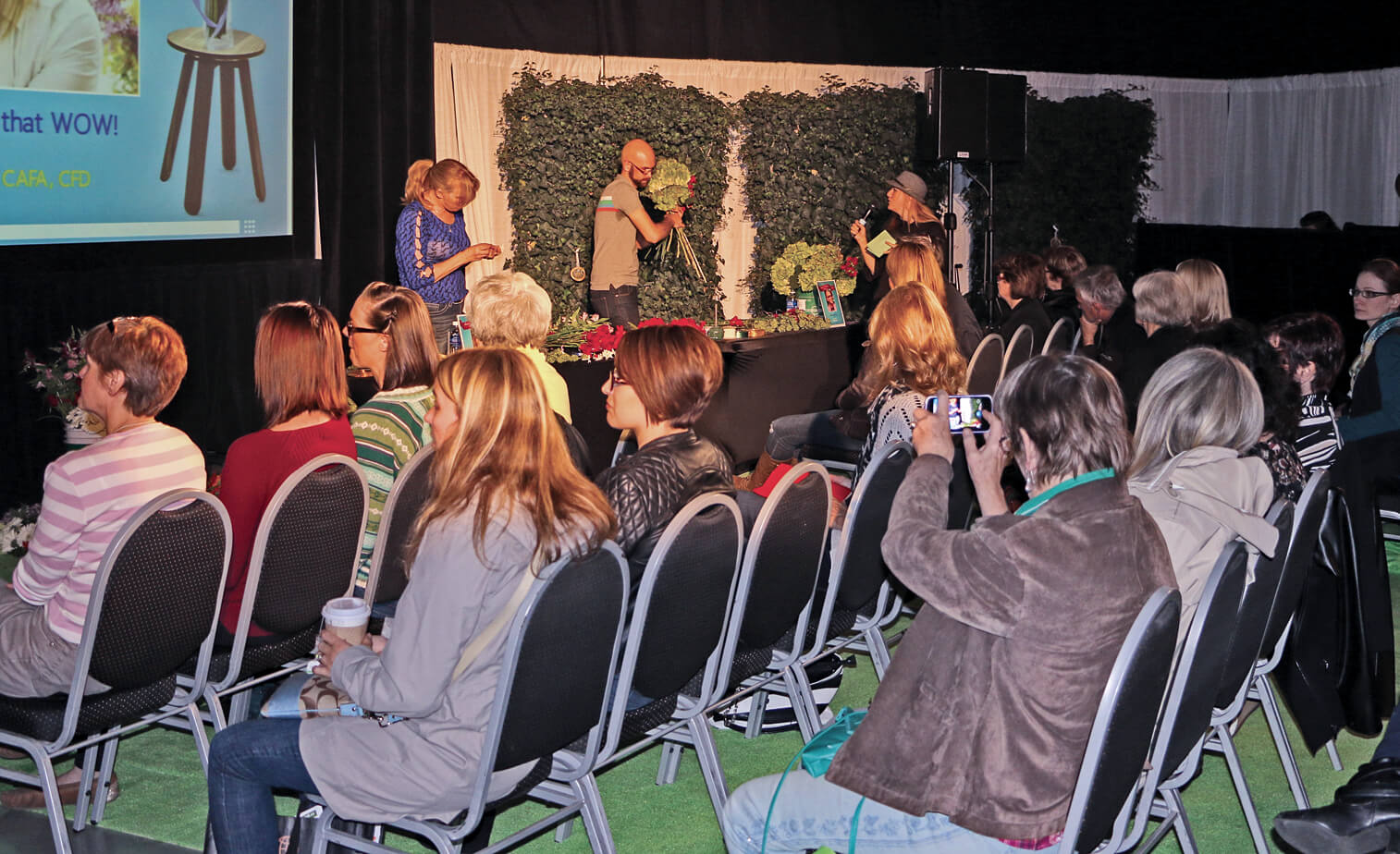 The floral design competition, moderated by Jennifer Harvey, was a lively, well-attended event.
---
The opening day of Expo was Design Day. It featured respected industry speakers, Jennifer Harvey, an international designer, Marc Prudhomme and Yves Renaud, both of Planterra, as well as Karl Stensson of Sheridan Nurseries.
Harvey gave a presentation, Winter Florals That Wow, and hosted a design contest featuring a competition with five talented designers. The Planterra speakers highlighted the latest in the commercial Christmas decor business. At the Welcoming Reception, Stensson introduced speakers talking about the Top Ten Tips.
Thursday was Down to Business Day. Kate Seaver, well-known for TV and magazine appearances, began the day's presentations with a talk on managing seasonal staff. She was followed by former Loblaw vice president Peter Cantley, whose topic was on driving seasonal sales.
The final presentation of the day was by Laurie Scullin, of The New Product Group, and Frank Zaunscherb, of ZRB and Glacier Digital. Their talk centred on branding a business.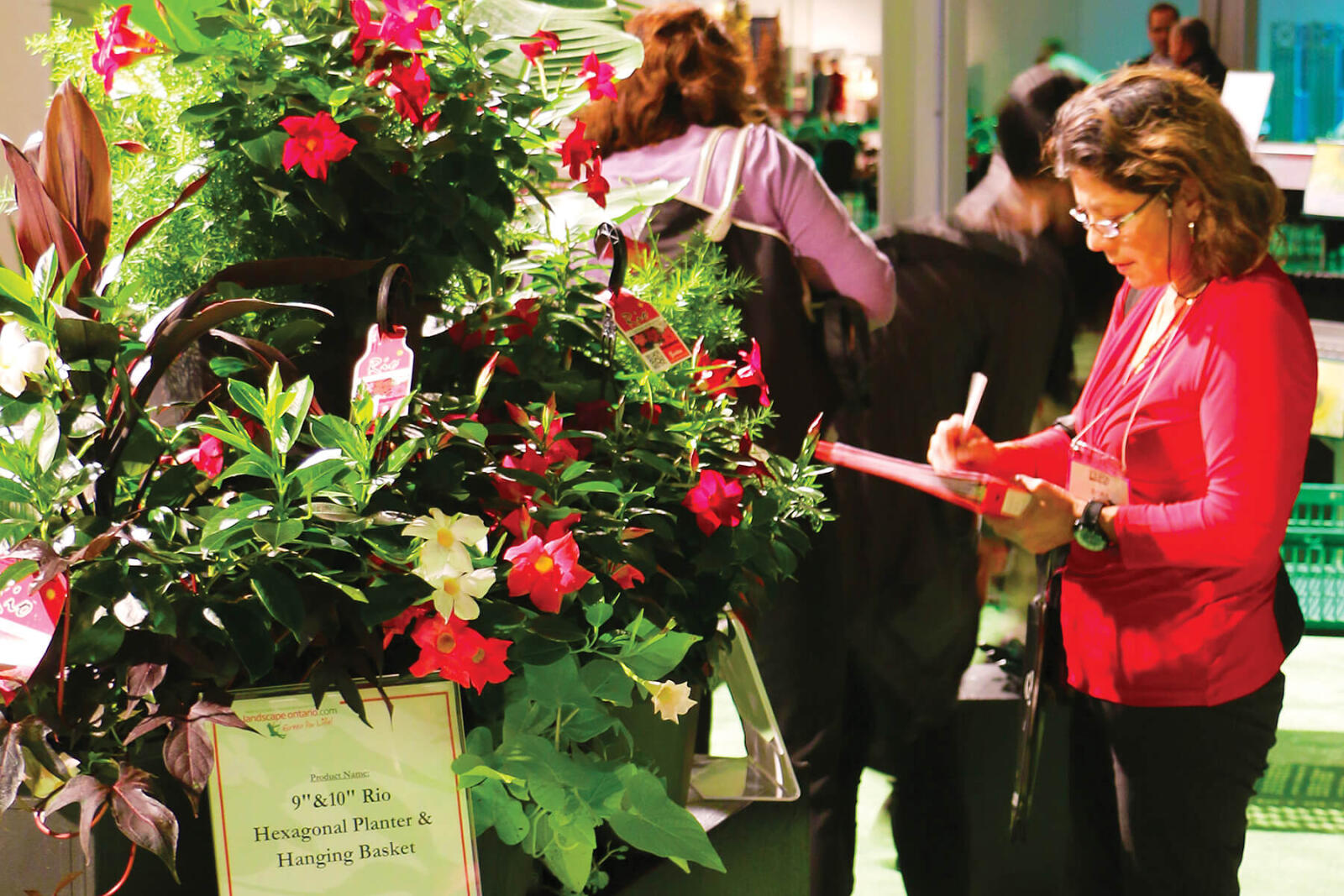 The New Products Showcase drew a great deal of attention at this year's Expo.
---
New Product Showcase
This year's New Product Showcase featured the latest retail products that will hit store floors in 2015. Products ranged from plants to equipment to specialty items.
One item that attracted a great deal of attention was the Never Alone rose, which is the new symbol of a national charity committed to improving the lives of people affected by cancer.
LO member J.C. Bakker and Sons, of St. Catharines, brought in CFL alumni Matt Dunigan and Michael 'Pinball' Clemons to promote the rose and foundation. Both athletes attracted a great deal of attention to the Bakker booth and the Never Alone campaign.
Founded by former CFL executive and Winnipeg Blue Bomber Alumnus Lyle Bauer, the Never Alone Foundation works to ensure no one enters the fight against cancer feeling alone.
The CFL Alumni Association has joined with the Never Alone Foundation to assist in marketing the Never Alone Rose across Canada. In partnership with CNLA, the Never Alone rose will raise funds for the Foundation and for the CNLA's Heritage Fund. Monies for both organizations will be collected as royalties.
Clemons will be the featured speaker at the 50th IPM Conference on Jan. 5 at Congress 2015.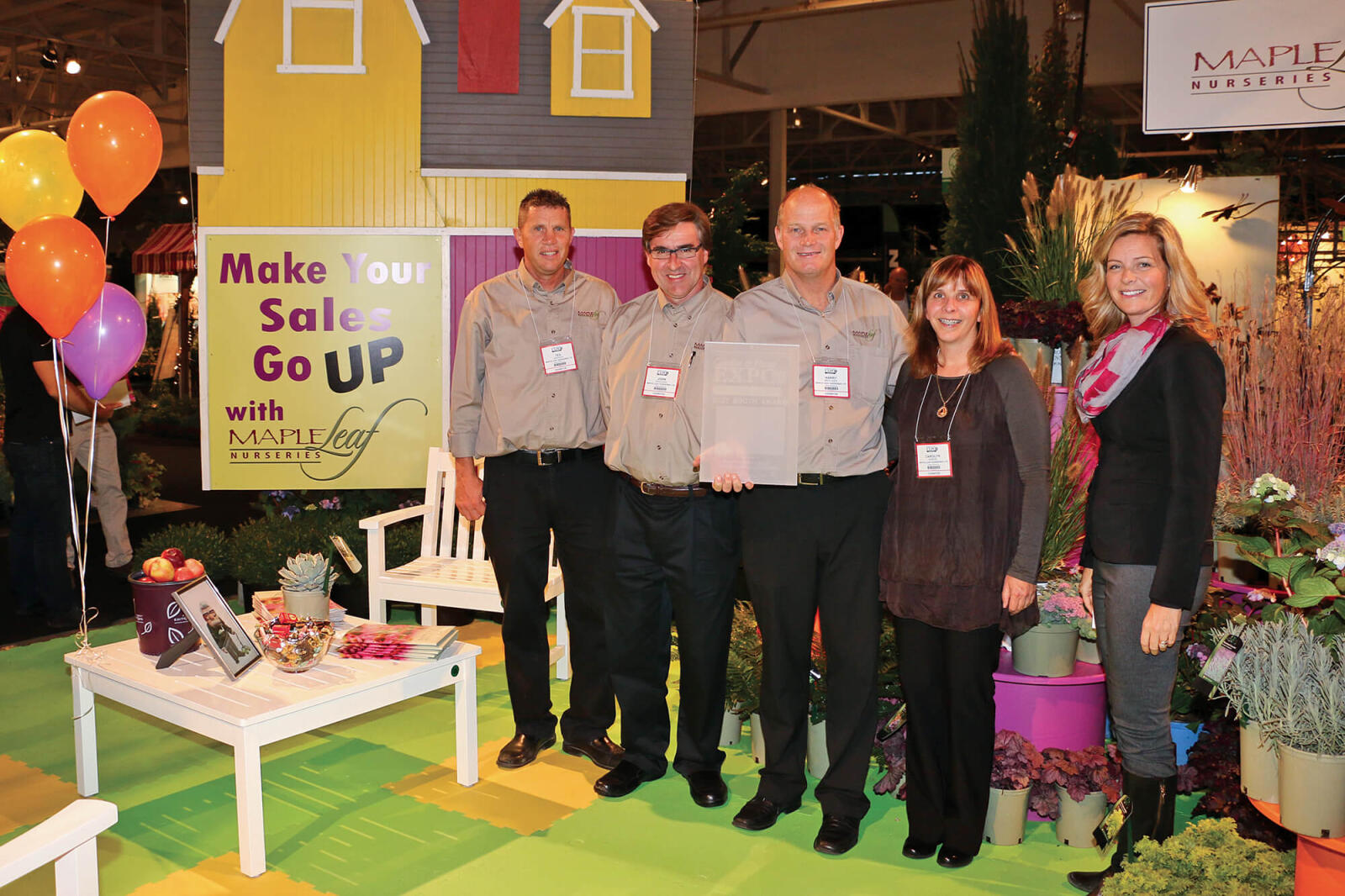 For the fourth consecutive year Maple Leaf Nurseries of Vineland won a best booth award.
---
Best booth awards
The best booth winner of Expo 2014 featured a familiar name. For the fourth consecutive year, Maple Leaf Nurseries of Vineland received the nod for the best booth over 200 sq. ft.
"Maple Leaf Nurseries conceived a brilliant theme to inspire garden centres to boost their sales and profits," said MacRae.
The other winning exhibitor was Mar-Co Clay Stone, of Bright, which won for the best booth under 200 sq. ft.
"There was a definite 'wow' factor with some of the booths that are designed for Expo," said MacRae.
The judges used pre-determined criteria, which included lighting, cleanliness, safety, signage, product presentation and booth personnel.
The booths were judged by Terry Childs, president of Nature's Way Landscaping in Gananoque, and Martha Walsh, manager of the GreenTrade Expo in Ottawa.
"Maple Leaf Nurseries and Mar-Co Clay Stone put together booths that encouraged a vital connection between the exhibitor and the patron," said Childs.
Sponsors
Sponsors of this year's Garden & Floral Expo were
Canadian Florist
, Canadian Academy of Floral Art and Global Arch Natural Stone Wholesale. The media partner was
Landscape Trades
. Conference and event sponsors and contributors included Fafard, J.C. Bakker and Sons, Oasis Floral Products, Royal Flowers, Rosa Flora and Ambius.
The next big event for Landscape Ontario is Congress, from Jan. 6 to 8, at the Toronto Congress Centre. For more information on this event, go to
locongress.com
.