November 1, 2016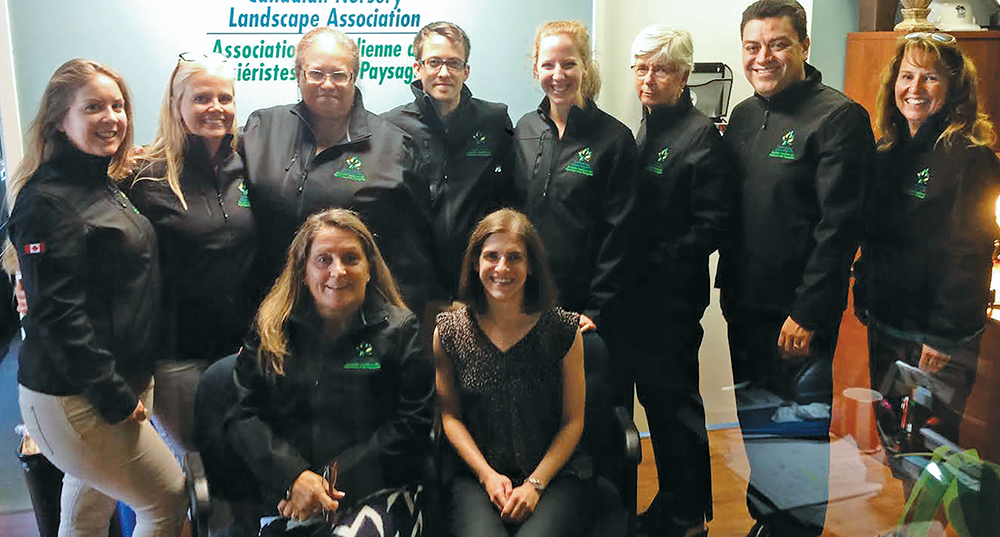 Summer board meeting wrap-up
The CNLA board of directors met in August for its semi-annual meeting in Kelowna, B.C., hosted by the British Columbia Landscape and Nursery Association. The board meetings allow both national and provincial association staff, CNLA committee chairs and the CNLA executive committee to meet face-to-face to discuss important issues regarding the association.
Below are some highlights from the three- day meeting:
Staff changes at CNLA
This summer, CNLA said goodbye to long-time staff member Julia Ricottone, commodities and professional development manager, who took a position with the City of Hamilton. With almost a decade at the association, Julia will be missed by staff and board members alike. We wish her all the best as she begins the next chapter in her career.
With Julia's departure, current staff have reorganized to ensure the work of the Landscape Canada and Garden Centres Canada committees continue without interruption. While retaining responsibilities with the Professional Development Committee (PDC), Claudia Santos takes over the staff coordination role for the Garden Centres Canada committee and the International Garden Centre Association. Jason Young will step into a more active role with the PDC committee. Stacey Porter and Rebecca Doutre (returning soon from maternity leave) will help with the Landscape Canada committee.
Climate Change Adaptation Committee
The CNLA board approved creation of a standing committee for Climate Change Adaptation. It is widely agreed among the board of directors that climate change is an important issue where our industry can positively affect change. This is in-line with the outcomes of the Landscape Canada Summit held earlier this spring. The summit identified the need for the landscape industry to "affect public policy and have a cultural shift." This is to be achieved through climate change adaptation (incorporating living green infrastructure) and by emphasizing landscape standards, including natural solutions to problem areas in cities. CNLA sees a huge opportunity to engage with governments and to leverage the green industry in Canada as a solution to climate change/adaptation.
Member services
The vehicle and equipment programs continue to grow in use as members realize the significant discounts available to them. The Member Services committee is also looking into programs for tires and large trucks. Have a program idea? Email Christine Finn at
christine@cnla-acpp.ca
.
---
Order the Canadian Landscape Standard
CNLA encourages members and municipalities to order the . Produced in partnership between CNLA and the Canadian Society of Landscape Architects, this groundbreaking document is a single, authoritative resource for landscape construction projects in Canada. This is the first time there is a national guideline to set the standard of landscape work in every province across the country. Order your copy at www.csla-aapc.ca/standard.
---
Harold Deenen wins President's Award


Passionate about horticulture and the impact green living has on the future, Deenen has devoted countless hours to volunteer work. The industry has recognized his efforts over the years by presenting him with both the Frank Ewald Junior Landscape Award for outstanding leadership to the horticultural industry and Honorary Life Membership in Landscape Ontario Horticultural Trades Association. His enthusiasm has grown from an unstoppable belief in his profession and for those who work in it.

As CEO of Hank Deenen Landscaping, Deenen brings zeal for professional excellence and the environment to a corporate level. Originally founded by his father over 50 years ago, the company has grown to become an industry leader by emphasizing training, education and a healthy respect for the environment. The company won the first-ever Environment Award presented by Landscape Ontario in 2000.

Deenen's professional credentials include Landscape Industry Certified Manager (the first CLM in Canada), Landscape Architect (OALA), Landscape Technologist (HLT) and Horticulturist/Landscaper/Greenskeeper (C of Q).

On a more personal note, Deenen is equally comfortable above and below the water's surface. While he is happiest boating on board "Wreckless," he is also a private pilot and scuba dive instructor. He firmly believes that "balance of life" is an essential ingredient to happiness and success.

---
The Canadian Nursery Landscape Association is the federation of Canada's provincial horticultural trade associations. Visit cnla-acpp.ca for more information.
Long-time industry veteran and volunteer, Harold Deenen CLM, won the 2016 CNLA President's Award for his outstanding commitment to the industry and association. CEO of Hank Deenen Landscaping in Toronto, Deenen is a past president of CNLA, treasurer for the Canadian Agriculture Human Resource Council and current CNLA human resources chair.