February 4, 2020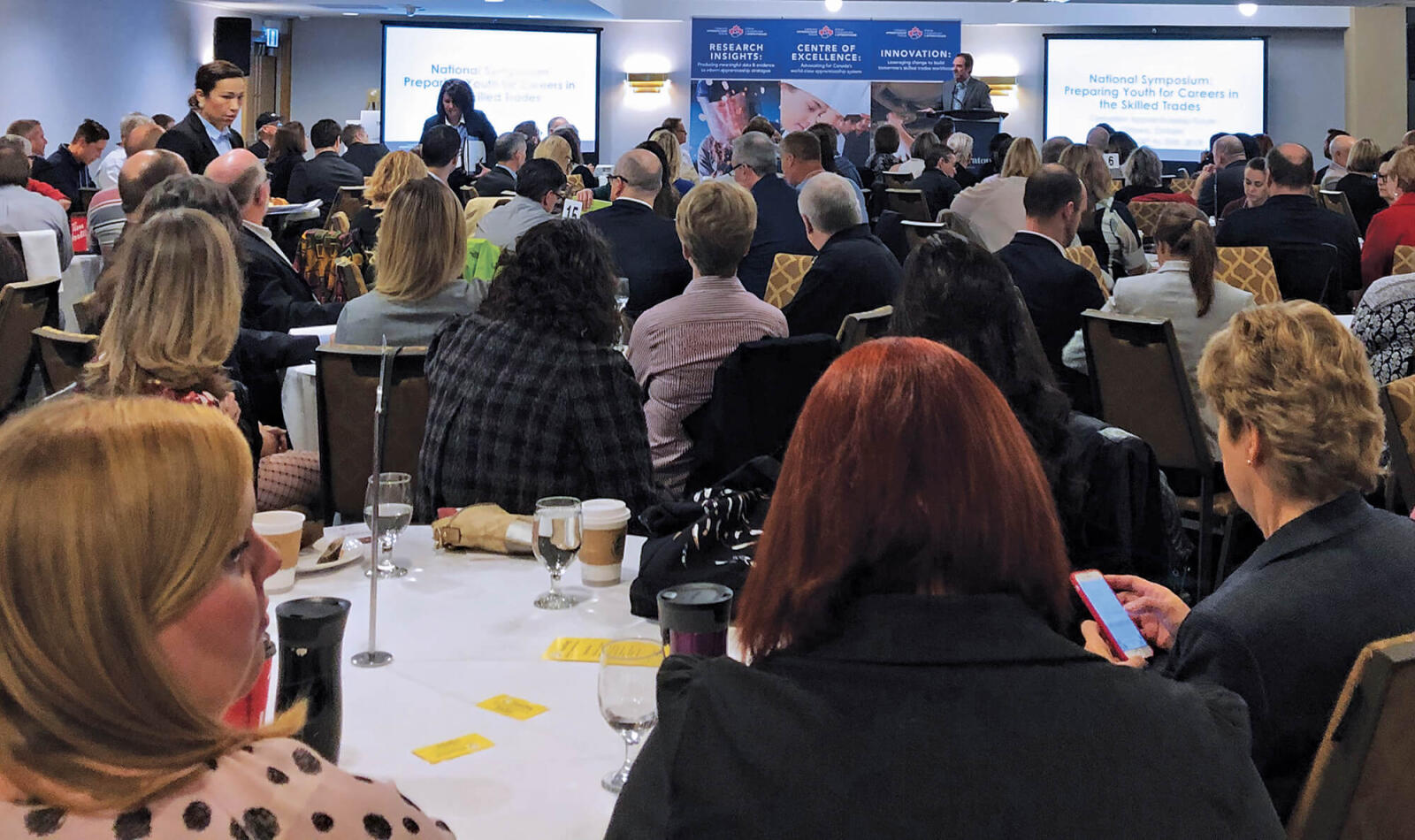 CAF Symposium
The Canadian Apprenticeship Forum (CAF) held a two-day symposium in Ottawa, Oct. 23-24. The symposium, Preparing Youth for Careers in the Skilled Trades, addressed the realities surrounding apprenticeship in Canada and how it pertains to youth.
The two days of sessions included an open discussion led by facilitator Warren Wilson which engaged members in discussions on best practices and evaluating success in pre-apprenticeship. Another session run by Statistics Canada presented research conducted about who completed apprenticeship within the prescribed duration, those who took additional time to complete, and those who dropped out of their apprenticeships.
The statistics were preliminary and do not take into account careers that have a mandatory apprenticeship over those that do not. It did not reveal what happens to those that do not continue their apprenticeship, whether they continue to work in the same industry, or break out apprentices working in unionized or non-unionized places of employment.
These are all major factors that would affect the research conducted. Statistics Canada realized some of this, but not all, and agreed they could certainly look deeper.
Some key findings show that apprentices were more likely to become certified if:
They received credits for pre-registration training.
They work in the most common industries in their trade.
They applied for the Apprenticeship Incentive Grant (Red Seal Trades only).
Apprentices are more likely to discontinue if:
They work in multiple industries in the year of registration.
They had financial difficulties.
The symposium closed with a panel discussion and roundtable conversations. Interesting ideas from the discussions include:
The need to engage youth at a younger age.
Businesses should take on a co-op student as a gateway to get them interested in the trade.
Summer students are a great resource and can spark an interest for future labour.
A need to get in front of schools to educate them on the value of the trades.
Consider changing the name from Skilled Trades to Skilled Professional.
---
New chair for NPDC
The New Plant Development Committee (NPAC) named Michel Touchette chairperson. Touchette takes over the position from outgoing chair DeVonne Friesen from Van Belle Nursery. John Bakker continues his term as co-chair of the committee.
The NPDC is responsible for fostering and encouraging the development of new landscape plants for the domestic and export marketplaces, as well as overseeing the Heritage Research Fund and to ensure it is being managed in accordance with its Terms of Reference. The Hardy Rose Breeding program, which has introduced the roses Canadian Shield, Chinook Sunrise and soon Aurora Borealis to market, continues under the direction of this committee.
As new plant development at CNLA was never intended to be just rose breeding, the committee is looking for ideas from across Canada on what its next plant breeding focus should be. Is there a particular tree or shrub that, if improved upon, would make an ideal new plant for the industry? Are your customers asking for anything in particular that is not available in existing cultivars? Please call Jamie Albers at 647-724-8630; he would be very interested in discussing the potential of these ideas with you and with the NPDC.
---
New CNLA staff
CNLA welcomed Frydda Sandoval to its team as Environmental Policy Coordinator. As far as she can remember, she has always loved nature and trees in general; therefore, her first career option was in the environmental and natural resources area. Her background includes sustainability projects, community engagement and policy research, as well as substantial expertise in managing the preparation and submission of all relevant permitting documents. She is academically founded in environmental engineering, environmental management and public policy.
Her past professional experience includes orchestrating implementation and monitoring of strategic environmental goals, liaising with the local community and government, and handling permit applications.
Sandoval's role as Environmental Policy Coordinator at CNLA includes working with the Climate Change Adaptation Committee and the international partners in the research, development, application and monitoring of environmental programs and policies.
The role includes promoting the benefits of green infrastructure in light of climate change adaptation, mitigation and resilience, as well as integrating landscape best practices into environmental programs, policies and communication pieces using the
Canadian Landscape Standard
.
---
Program year-end highlights
It has been an incredible year of savings for CNLA members. We increased the number of member savings programs to 25 this year. Some of the highlights for 2019 include:
$464,600 in savings discounts for FCA vehicles.
7,354 Mark's Work Warehouse savings cards issued to members.
$13,578,900 in savings discounts for GM vehicles.
These numbers are as of the end of November, 2019. We are always on the lookout for new programs that will benefit you and in turn, help serve your customers. Be sure to stay up-to-date on all the latest news by checking out future issues of the
CNLA Newsbrief
and our monthly membership update.
---
Apprenticeship information
Finding staff is a real problem that many employers are facing. Our industry is not the only one in this situation. Canada is running out of tradespeople, and the government is trying to encourage people to consider a trade with grant incentives. Did you know the government is also providing tax breaks to employers who take on apprentices?
The Apprenticeship Job Creation Tax Credit (AJCTC) is a non-refundable tax credit equal to the eligible salaries and wages payable to eligible apprentices in respect of employment after May 1, 2006. An employer can claim up to $2,000 per year per eligible apprentice.
What is an eligible apprentice?
Any person who is working in a prescribed trade in the first two years of their apprenticeship contract. The contract must be registered with a federal, provincial or territorial government under an apprenticeship program designed to certify or license individuals in the trade.
What is a prescribed trade?
A trade that is currently listed as a Red Seal Trade; Landscape Horticulturist is a designated Red Seal Trade.
How do you claim the credit?
An employer can claim the AJCTC on the individual income tax return, on line 412 – Investment Tax Credit, by filing form T2038 (IND), Investment Tax Credit (Individuals). Any unused credit may be carried back three years and carried forward 20 years. If two employers employ the same apprentice, only one may claim the credit.
---
The Canadian Nursery Landscape Association is the federation of Canada's provincial horticultural trades associations. Visit
www.cnla-accp.ca
for more information.