July 15, 2014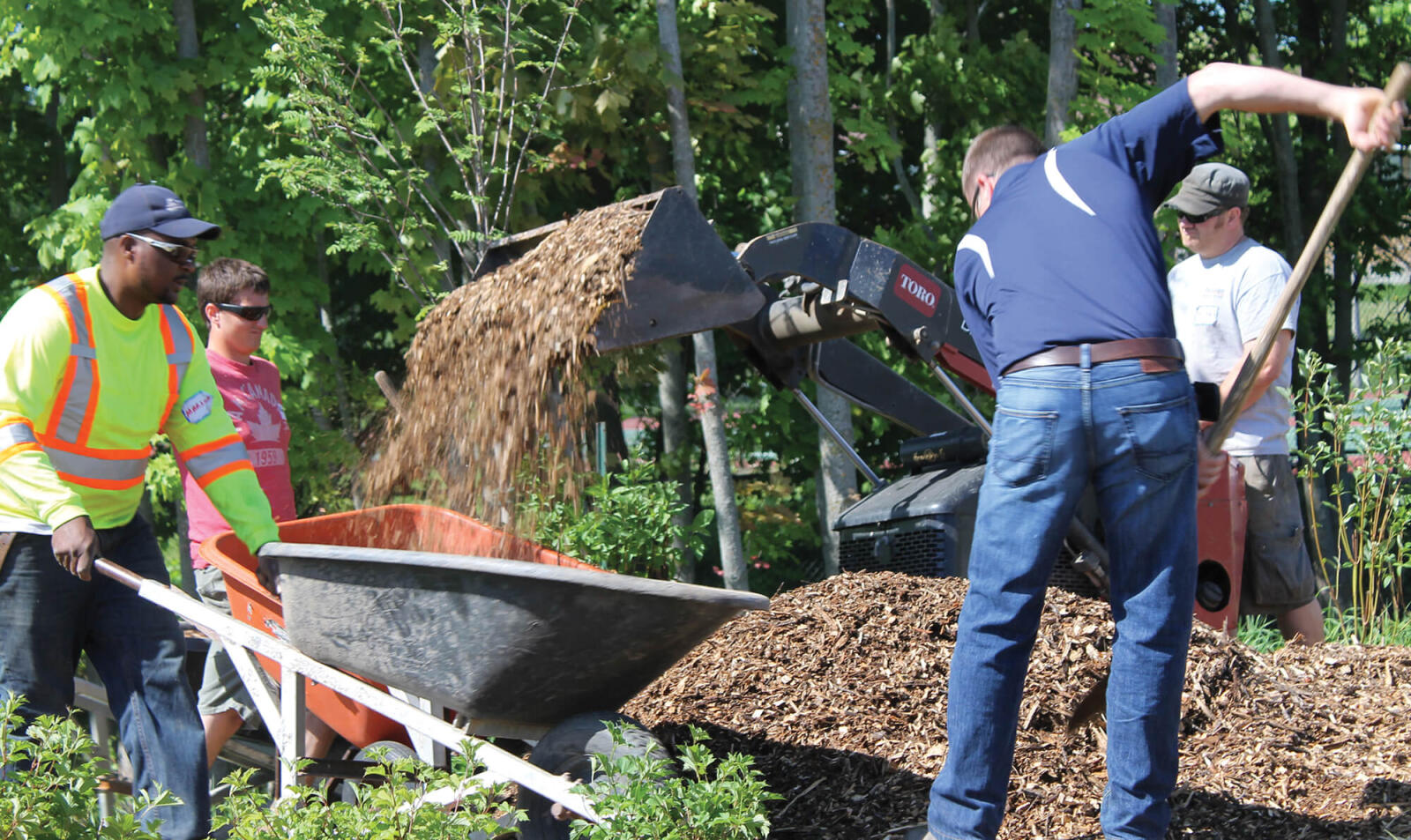 Caledon landscape blitz beautifies Bethell Hospice
"The wind blowing in the grass reminds me of my childhood."

That simple statement was from a resident of Bethell Hospice in Caledon. She was talking about native gardens surrounding the hospice, located in the village of Inglewood.

The MacDougall garden project at the hospice was designed with native plants and low maintenance as guiding principles. The gardens are completely naturalized, attracting birds, butterflies and wildlife. They were planned to be maintainable by volunteers, and to prevent the need for noisy power equipment.

The garden was very successful at connecting residents with nature for several years. However, it came time for some professional help. Audrey Partridge, of LO member company Juergen Partridge, has been involved with Bethell for seven years, and is a leading volunteer on its landscape committee. On May 31, she organized a massive landscape blitz comprised of area contractors, suppliers and volunteers.

Combined, the Saturday morning effort enhanced the gardens with over $40,000 worth of work from about 30 volunteers. Landscape companies brought in so much equipment, it had to be staged at the library parking lot next door.

The meadow gardens had become challenged by opportunistic invasive species. In addition to weeding, blitz participants created a shrub and mulch barrier. Others installed new plantings around the hospice's gazebo.

While blitz volunteers ranged from landscape professionals to their family members to community volunteers, all observed safety measures and worked together smoothly and efficiently. "This is very well organized. There is no standing around here," said Ron Sikkema of Caledon's B.P. Landscaping.

By mid-morning, work was ahead of schedule, and set-up for a thank you barbecue was well under way.
Audrey Partridge believes in the gardens as a living expression of Bethell's mission. But she has larger visions: "We could consider using this garden in WSIB return-to-work programs." She also sees the project as an opportunity for industry to educate the public on native gardens.

Area companies participating, or providing donated or at-cost product, included B.P. Landscaping and Snow Removal, Bolliger Landscapes, Brookdale Treeland Nurseries, CJ Blower Truck Services, G. Edick & Sons Landscape Contractors, Glen Echo Nurseries, Gro-Bark, Juergen Partridge, Ms Plants, Owens Shrub and Tree Care, Peel Landscape Depot, Riverdale Farm & Forest and Vanhof & Blokker. Audrey Partridge singled out Owen Goltz of Riverdale and Sheilagh Crandall of Ms Plants for special appreciation.

On the industry level, the co-operation seen at Bethell on May 31 is inspiring. Equally inspiring is the thrill a resident reported at seeing seven orioles from his window.