April 21, 2017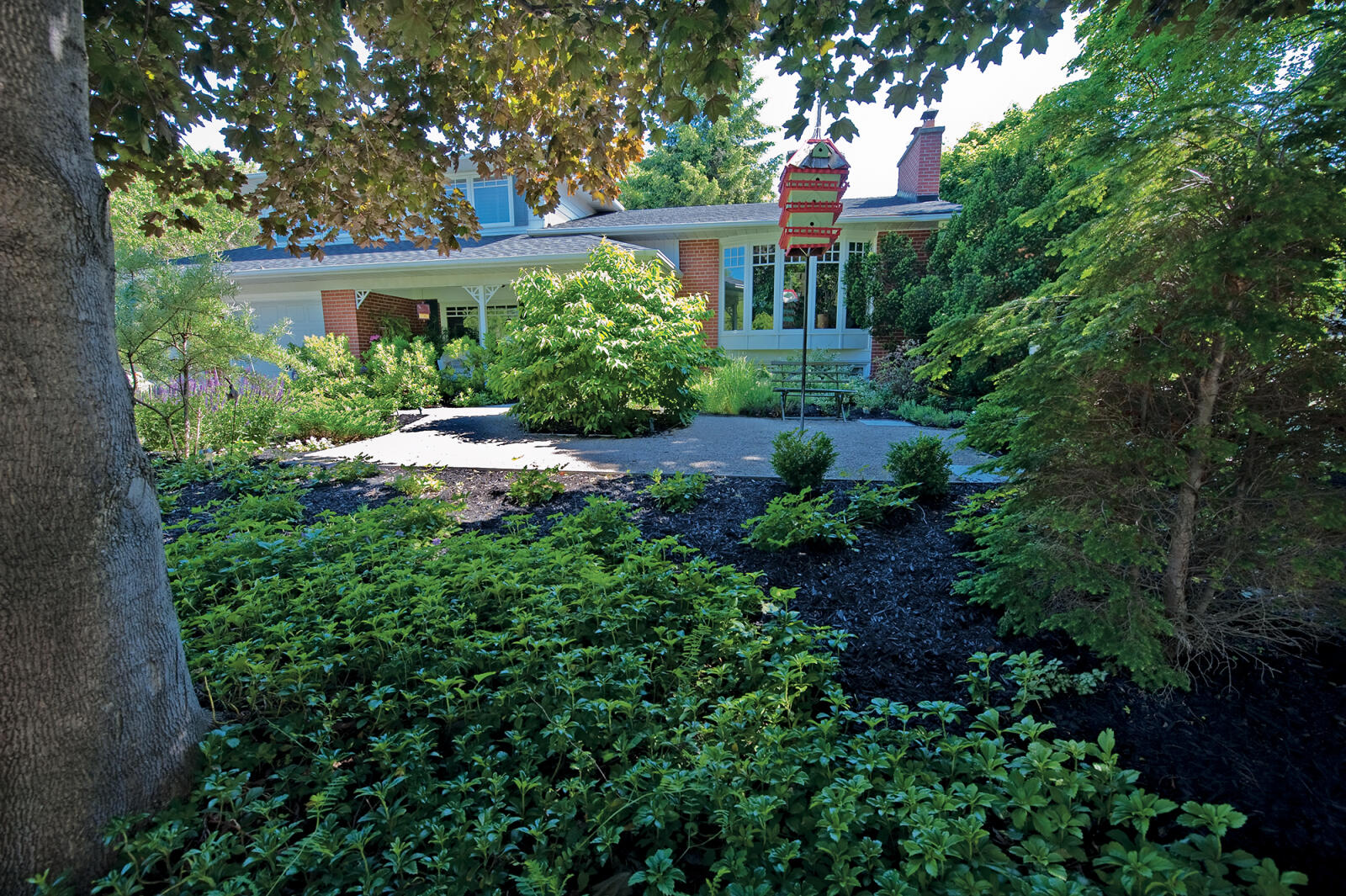 Beautiful landscapes or water conservation
A demonstration project in Mississauga, Ont., convinces homeowners they can have both.
BY KENT FORD
In 2009, Tracy Patterson of Freeman Associates undertook a market research and analysis study that surveyed 200 homeowners across the Greater Toronto Area to find out what their home landscape meant to them. Beauty, peace and pride achieved through watering, lawn cutting and other maintenance lay at the heart of the responses.
According to Gino Piscelli, The Region of Peel then utilized this research to commence a community project that would convince the public that reducing home irrigation during peak-use periods in the summer could alleviate the stress of increasing demands on municipal infrastructure.
Fusion Landscaping
Piscelli says, "Fusion Landscaping was developed to help address residential outdoor water use. Fusion Landscaping is an exciting trend that brings together the splendor of traditional gardens with modern, eco-friendly plants and flowers."
Region staff then sought out a landscape design firm to undertake a visioning session with the public, assist in the selection of five residential sites in Clarkson and design Fusion Landscapes for the five sites. My design firm Kent Ford Design Group (KFDG) was thrilled to be selected and conducted an initial public workshop in the fall of 2009.
At the workshop, large photo boards and informational tables were set up to invite discussion between homeowners and Region of Peel and KFDG staff. The outcome was a short list of potential residential sites, ultimately narrowed down to five chosen for diversity of setting and ease of viewing by the public. The sites, all in the Clarkson neighbourhood of Mississauga, Ont., included 1066 Welwyn Dr., 1189 April Dr., 1818 Barsuda Dr., 1824 Delaney Dr. and 1930 Davebrook Rd.
KFDG staff then conducted input meetings with the five homeowners, the same way we would with any residential client. We acquired as much input as possible while reminding owners of the basic parameters of the Fusion Landscaping program. It was important to us to make the gardens both functional and beautiful. Much thought went into the inclusion of central access pathways and seating areas.
By January 2010, five conceptual plans and 3D renderings had been produced and were presented individually at KFDG's office. Detailed input was gathered from the five homeowners over hot chocolate and a relaxed atmosphere. For the most part the designs were very well received and the owners embraced the underlying Fusion principles. I do recall two of the five owners pushing back a bit, with desires that were contrary to the Fusion program. One owner was determined to retain his existing irrigation system while another insisted on including a very long list of landscape plants, some of which unfortunately were water loving, such as hydrangeas and rhododendrons. In the end, these glitches worked themselves out.
The first central design parameter for all five of the Clarkson sites was to remove all existing lawn in the front yards. Two of the five sites were corner lots which involved removing front and side lawns. The second parameter was to engage the use of woody plants and perennials that were drought tolerant. There is a wide variance of drought-tolerance in what is also known as xeriscaping. In the creation of our plant lists, however, if a plant was chosen to adhere to a client's particular request or for what we as designers considered superior aesthetics, then we chose those plant materials, even if they were slightly lower on the drought tolerance scale. We also followed two guiding planting design principles that I consider part of all our designs at KFDG: the use of instant low hedges such as boxwood and the placement of mature specimen trees or large shrubs, such as hardy rubber tree and European hornbeam. These, combined with smaller shrubs and perennials, create instant architecture on the blank slates of the front and side yards.
Site drainage and establishment irrigation
Part of the effort to make the gardens water-wise was to collect and divert roof water via downspouts. None of the five homeowners were interested in conventional rain barrels, so we devised a layout of below-grade PVC pipes laid in a grid. There was also the need for irrigation during the three-month plant material establishment period. A DIY dripline system was purchased from Lee Valley Tools and installed. The system was timed so frequency and duration gradually scaled back once the establishment period was finished.
The homeowners entered into five-year agreements with the Region of Peel, where they agreed to properly maintain the gardens. Most found them to be lower maintenance than the weekly chore of cutting, trimming and watering their former lawn.
What were the actual water savings for the five residential Clarkson sites? According to Tracy Patterson of Freeman Associates, "In the final two years of the pilot study (2014 and 2015) the average water use per demonstration home per day was at or below 600 litres. This compares with two control areas which had an average water use per home per day of approximately 900 litres and 1,100 litres respectively. Ultimately, huge water savings were achieved proving that beautiful landscapes can be sustainable landscapes."
The future of Fusion
Where can this pilot project go from here? According to Gino Piscelli at The Region of Peel, there are key points that will be addressed in the new Fusion Training Program being developed in partnership with Landscape Ontario and York Region:
It will create market transformation, training industry to provide water efficient Fusion designs.
Fusion speaks to an audience that retains contractors for landscaping and design.
It addresses the industry gap of trained contractors that can integrate water efficiency and storm water management into landscape designs.
Plant list reflects conservation principles
Woody, perennial and bulb selections for 1066 Welwyn
Dr.
TREES

Amelanchier

canadensis

Serviceberry

Carpinus

betulus

'Fastigiata'

Pyramidal European

hornbeam
Acer

ginnala
Amur

m

aple

DECID

UOU

S SHRUBS

Cotinus

coggygria

'Royal Purple'

Purple smoke tree

Chaenomeles

lagenaria

'Rubra'

Red flowering quince

Kolkwitzia

amabilis

Beauty bush

Beauty bush

Physocarpus

opulifolius

'Monlo'

Diablo

ninebark
Shepherdia

argentea

Silver buffalo berry

Berberis

thunbergii

'Rose Glow'

R

os

e Glow Japanese

barberry

E

VERGREEN HEDGE SHRUBS

Pinus

mugo

'Slowmound'

Slowmound

mugo

pine

Euonymus

fortuneii

'Coloratus'

Purpleleaf

wintercreeper
Juniperus

sabina

Juniper

GROUNDCOVERS

Cotoneaster

dammeri
Bearberry

cotoneaster

TALL PERENNIALS FOR SUN

Ir

is

sibirica

'Caesar's Brother'

S

iberian iris

Hemerocallis

'Strawberry Candy'

Strawberry Candy

daylily
Hemerocallis

'Final T

ouch'

Final

Touch

daylily
Perovskia

atriplicifolia

Russian sage

Salvia

nemorosa

'Caradonna'

Caradonna

perennial sage

MEDIUM PERENNIALS FOR SUN

E

ch

in

acea

m

agnus

Magnus

coneflower
Echinacea

'Pink Double Delight'

Pink Double Delight

coneflower
Echinacea

'Baby White Swan'

Baby White Swan

coneflower

S

UN

PERENNIAL

Lavandula

angustifolia

'Munstead'

La

vender

MEDIUM EVERGREEN PERENNIALS

Heuchera

'Obsidian'

Obsidian fancy leaf coral bells

Heuchera

'Lime Rickey'

Lime

Rickey

fancy l

eaf coral bells

L

O

W PERENNIAL FOR SHAD

E

Epimedium

x

versicolor

B

ishop's hat

barrenwort

FA

LL-PLANTED BULBS

Tulip 'Dasystemon Tarda'

Tu

li

p

kaufmania

'Waterlily'

Tulip 'Peppermint Stick'

Narcissus 'Rynveld Early Sensation'
Narcissus 'Thalia'

Sn

o

w crocus 'Gipsy Girl'

Snow crocus 'Ruby Giant'

Allium

giganteum
Chionodoxa

forbesii
Eranthis

cillcica

D

wa

rf

iris 'Harmony'

Muscari

botryoides

alba
Scilla

peruviana
---
Kent Ford is principal of Toronto, Ont.-based Kent Ford Design Group.