November 15, 2012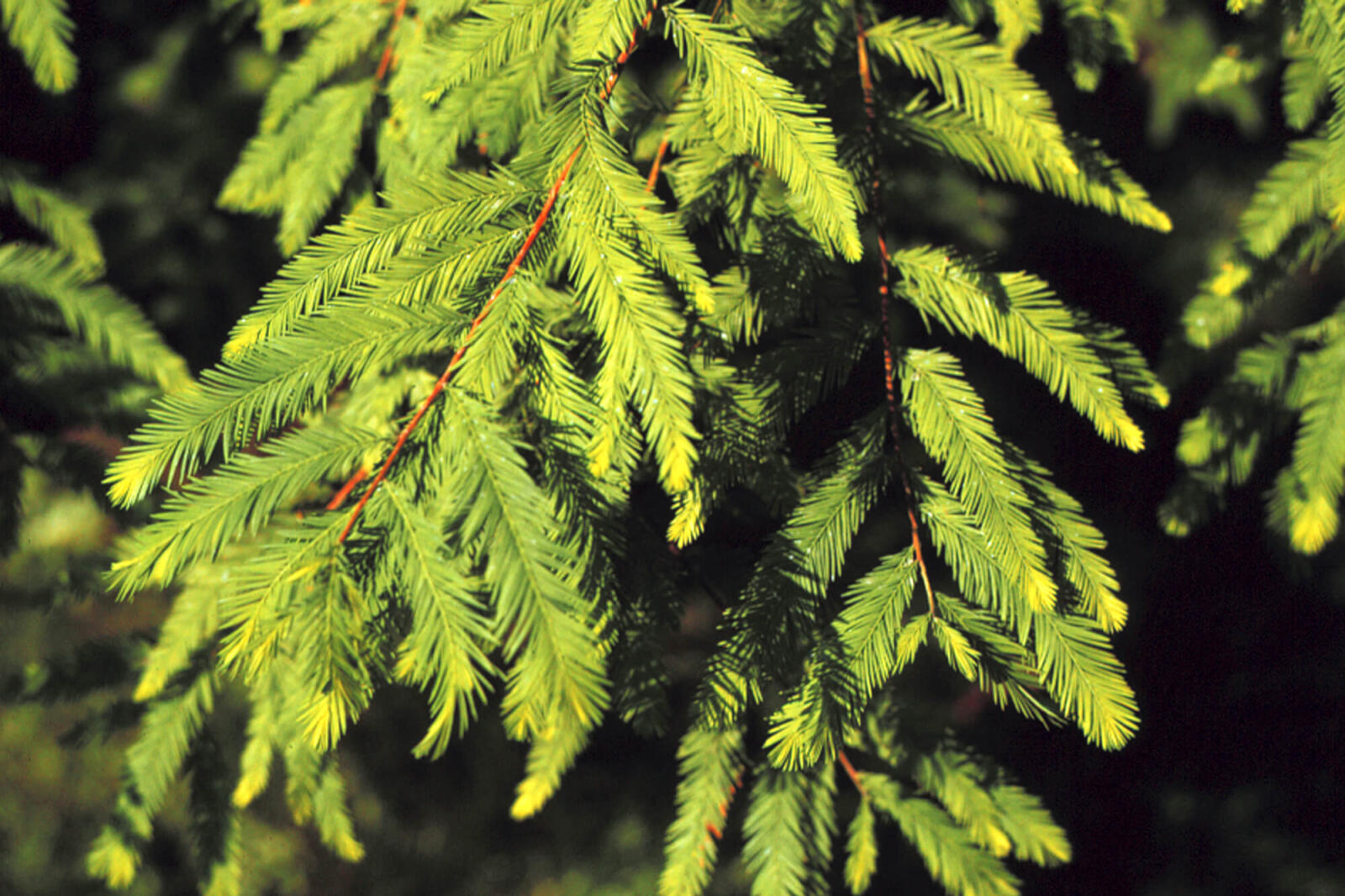 Bald cypress is practical choice for urban areas
By Sean Fox
University of Guelph Arboretum
While searching for a tree species that is suitable for withstanding the stresses of urban environments in Ontario, the swamps of Louisiana would not often be the first location to look.
Growing out of the water to heights of 45 metres and living over 3,000 years, the bald cypress,
Taxodium distichum
, makes an impressive sight in its native habitat of the U.S. southeast. Is there any reason to consider this species for the dry street-sides of southern Ontario?
Bald cypress, like the larches (
Larix spp.
), is a deciduous conifer species that loses its leaves in the winter. The soft, feathery needles are reminiscent of dawn redwood (
Metasequoia glyptostroboides
), and are a strong contrast to many of the coarser trees in urban cores. These tiny needles are russet-coloured in autumn and even the slightest breeze is often enough to help clear them away during fall cleanup. Pyramidal in form with a moderate growth rate, to heights of 20 metres in cultivation, bald cypress also casts a much lighter shade than other urban tree choices.
While a lovely street tree in theory, is bald cypress actually a practical choice for urban areas? Many folks south of the border seem to think so. In fact, bald cypress was named Urban Tree of the Year by the U.S.-based Society of Municipal Arborists in 2007.
Due to its natural tendency to thrive in swampy haunts with low oxygen levels, it is also tolerant of the compacted soils found in urban areas. Bald cypress is remarkably drought tolerant, with reduced growth rate being the only limitation in very dry sites.
Bald cypress has the unique tendency to project bizarre, emergent woody columns, known as cypress knees, from its root system. These metre-high projections are the result of excessively wet conditions. Concerns of tripping hazards in urban areas have been dismissed.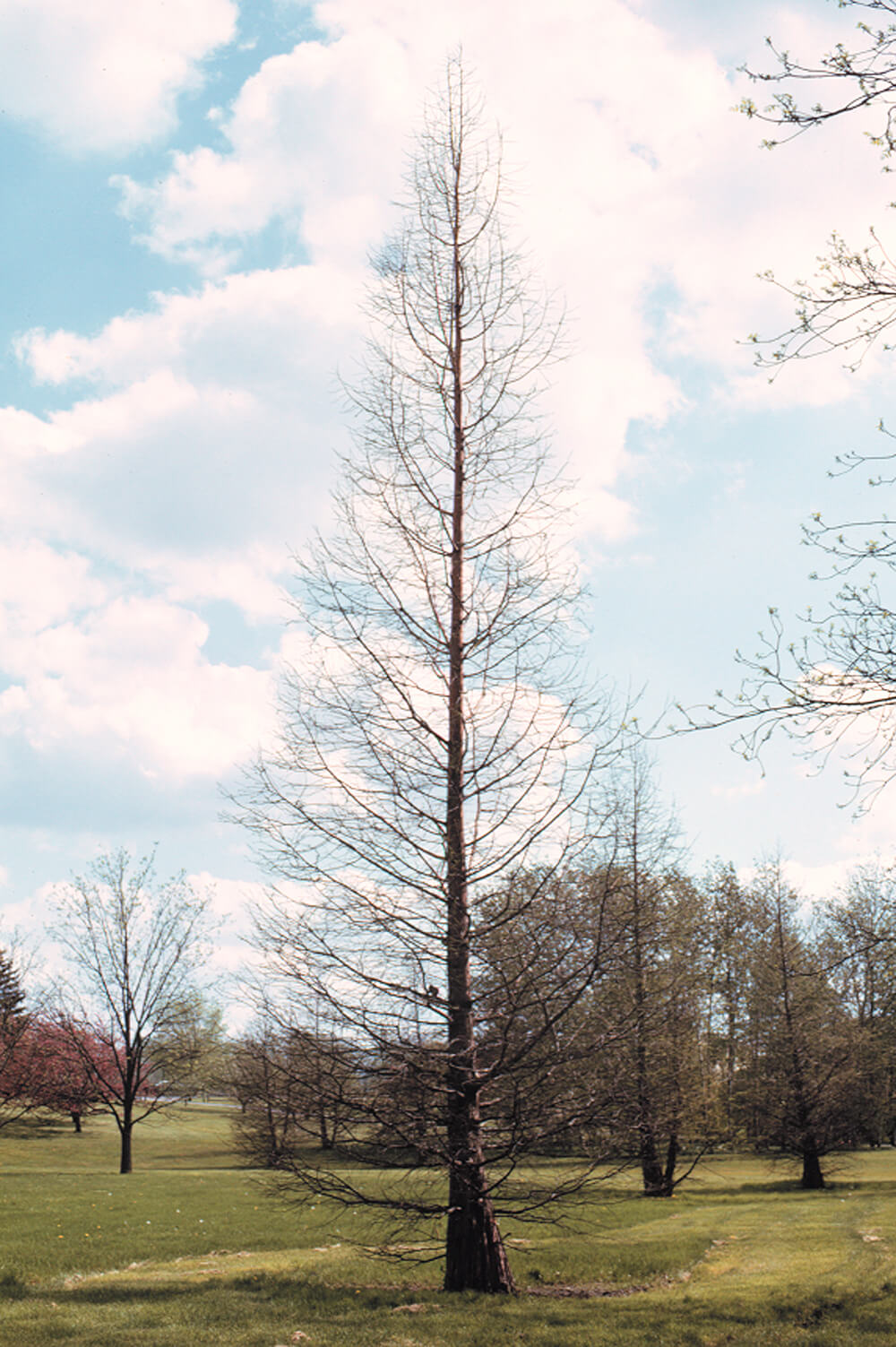 Ready for winter.
---
Urban foresters have marvelled at the tidiness, pest resistance and solid structure of this species and transplanting is very successful from containers or balled-and-burlapped. These traits are fine enough to win bald cypress accolades in warmer climates, but is the plant reliable in colder southern Ontario?
Bald cypress is still a fairly uncommon tree in Ontario, which doesn't provide a wide sample size for validating long-term performance here. There are several examples of individual trees thriving throughout southwestern Ontario, and this may be reason enough to try more in urban cores. The University of Guelph Arboretum (Canadian hardiness zone 5b) has four bald cypress trees in its collections. They have thrived for over 30 years; two on a very dry, exposed site.
In Ottawa, a veteran bald cypress has survived in the old Dominion Arboretum for many decades, though its appearance has been somewhat mangled by winter extremes. For this reason, wider use may not be warranted in cities as cold, or colder than Ottawa. Several U.S. municipalities with hardiness zones equivalent to those in southern Ontario have been successfully incorporating bald cypress into their urban neighbourhoods.
Taxodium
propagation is most successfully accomplished by seed with a five minute soak in isopropyl alcohol, followed by a standard 60- to 90-day cold stratification. Success has also been experienced at the University of Guelph Arboretum by cold stratifying seeds in an open jar, filled with water and a splash of isopropyl alcohol.
Trees must be planted today in order to enjoy their shade in the future. Perhaps, then, today is as suitable a time as any to experiment with bald cypress as part of our future urban forest inventory.
Urban tolerant trees
This is the tenth in a series of articles highlighting 29 trees selected by the Landscape Ontario Growers' Sector working group, as recommended alternatives to ash and Norway maple. For the complete list and factsheets on each, go to
landscapeontario.com/trees-for-urban-landscapes
.
Funding was from the Farm Innovation Program, to the Landscape Ontario Growers' Sector Group, which initiated the research project to develop a list of urban-tolerant trees that could be offered to the Ontario landscape industry. The project team, led by Thelma Kessel of Lacewing Horticulture, included Sean Fox, assistant manager, University of Guelph Arboretum, Jennifer Llewellyn, OMAFRA nursery crops specialist, and Dr. Glen Lumis, Professor Emeritus, University of Guelph.
The 29 trees on the list are considered suitable for Ontario urban settings, while encouraging species diversity. The research group feels the trees on this list have tolerance to urban situations, along with aesthetics and relative freedom from pests and diseases. The trees are similar to ash in size and form. Smaller specimens were included for sites where ash would be too large.