April 15, 2017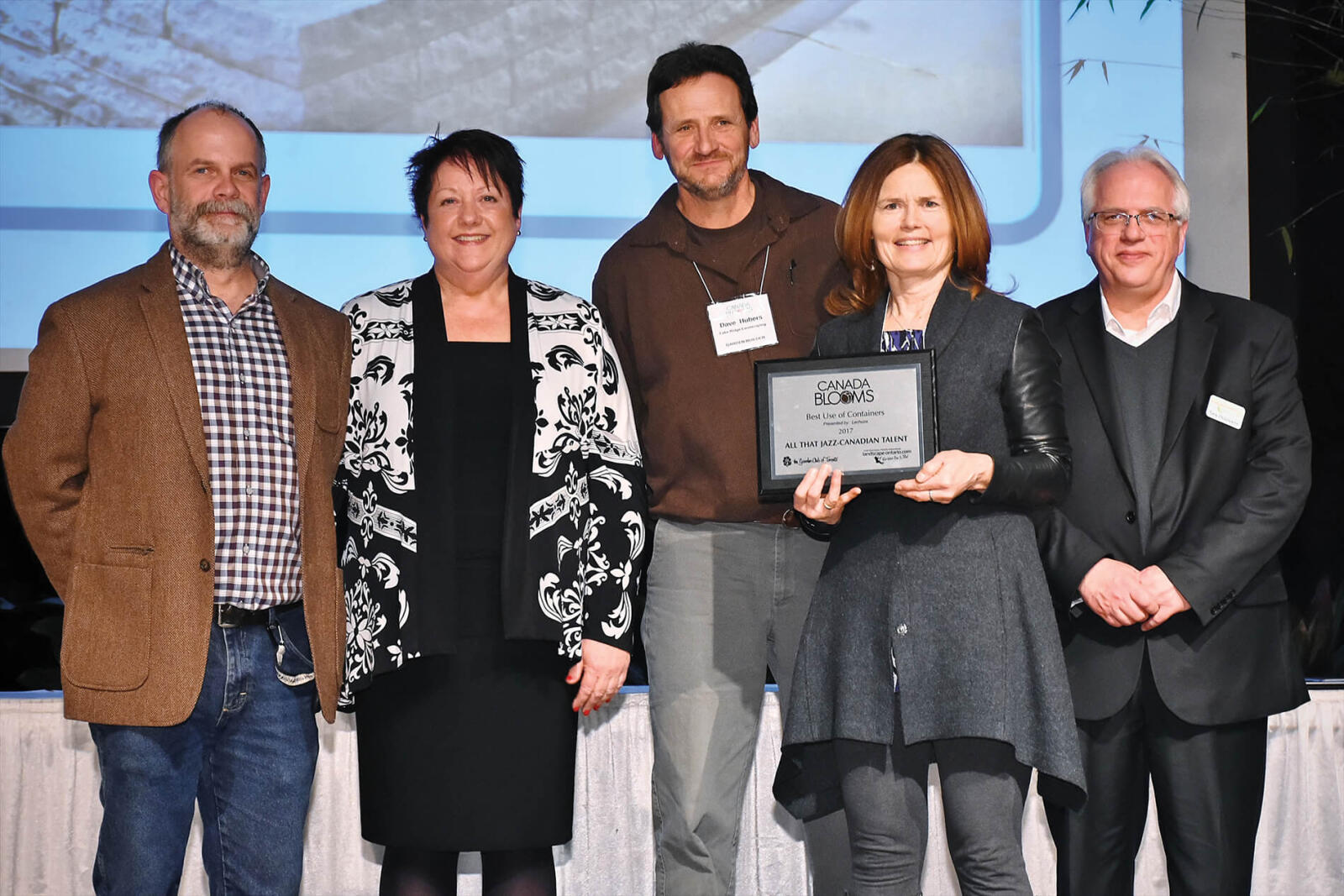 Award-winning gardens at Canada Blooms 2017
On March 9, a small army of judges invaded Canada Blooms, Canada's largest floral and garden festival, passing a critical eye over the carefully manicured gardens, meandering pathways and stunning patios. The 30 creations crafted by some of the Ontario's leading garden builders at the Enercare Centre in Toronto, Ont. were also part of an annual competition that celebrates unique elements within each garden and hands-out some special trophies for top honours.
Winners for most categories were announced at the opening of the festival on March 10 and those awards, along with a few special others, were presented during Canada Blooms Professional Awards Night at the Unilock Celebrity stage the following week on March 16.
"I am inspired and encouraged by the level of detail and craftsmanship with the imaginative garden designs," said Tony DiGiovanni, executive director of Landscape Ontario. "The builders expressed their creativity and interpretive, artistic vision of the theme of 'Oh Canada,' in celebration of Canada's 150th anniversary. Our talented teams of feature garden builders impress me more each year."
Gardens were evaluated based on their overall visual impact, quality of the materials used, creativity, innovation, imagination, aesthetic appeal, technical hardscape/constructed aspects, harmony of design elements and detailing, unique use of plant material, organization and completeness, environment (cleanliness, safety, etc.), as well as specific criteria for some of the special awards.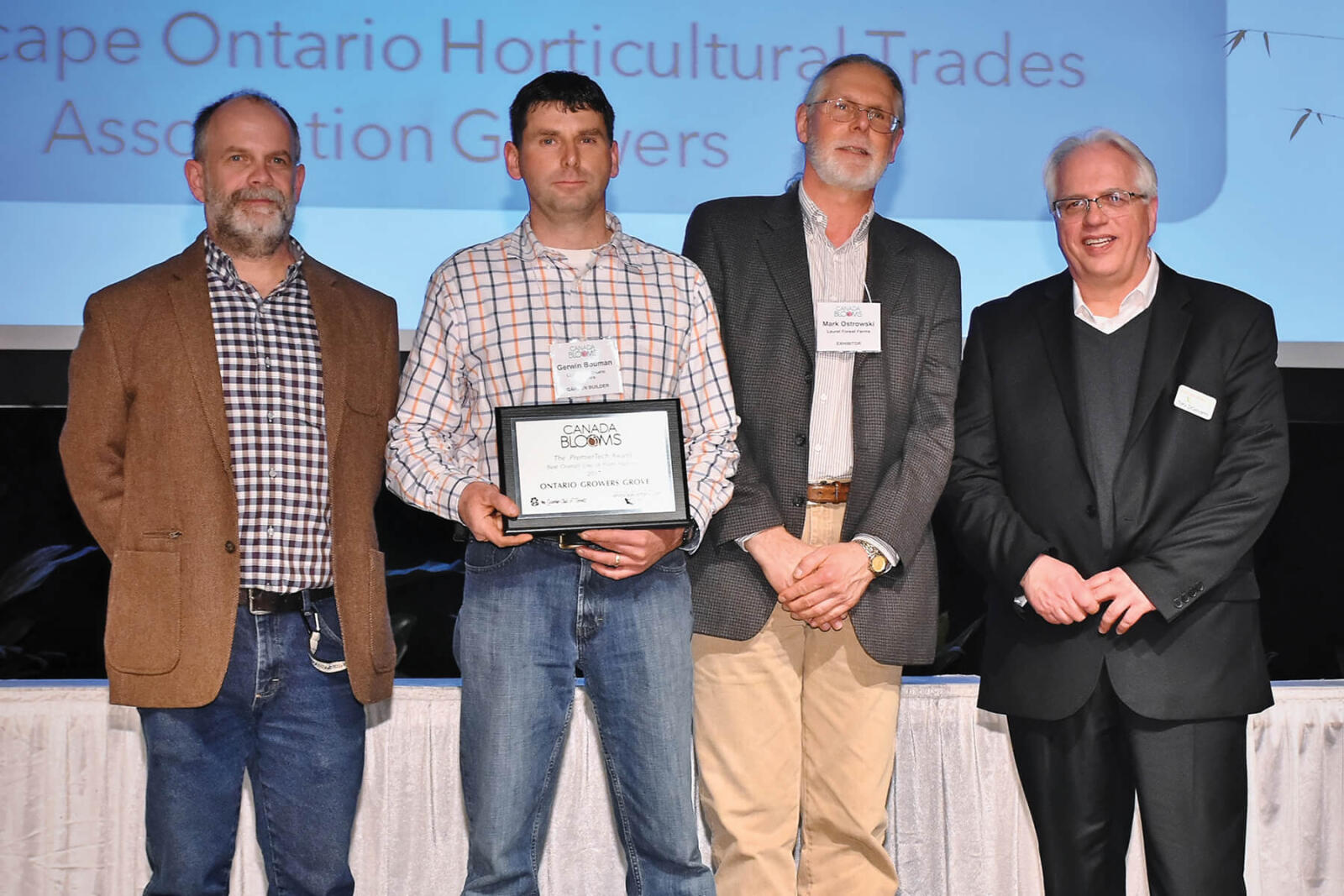 The LO Growers sector group, represented by Gerwin Bouman and Mark Ostrowski, won two awards for their display of Ontario-grown plant material.
---
2017 Feature Garden Award Winners
Backyard Getaways, Over the Edge
Bancheri Bros, True North, Strong and Free
Perry Molema Award for outstanding use of water, presented by Aquascape.
Best use of roses, presented by Vineland Research and Innovation Centre.
City of Toronto, Canada Is Proud as a Peacock
Outstanding interpretation of the show theme "Oh, Canada!" presented by Isuzu Commercial Truck of Canada.
Outstanding use of interior plants, presented by Jill Jensen Botanicals.
The Garden Club of Toronto Award for best overall use of colour. Additional judging criteria: Visual impact of colour; innovative, creative and effective use.
Creative Gardens Designs and Lakeridge Landscaping, All That Jazz – Canadian Talent
Outstanding use of artistic elements in a garden, presented by HortusTV.
Best use of containers, presented by Lechuza.
Genoscape, Vineland Research and Innovation Centre, The Gord Downie-Chanie Wenjack Foundation, The Secret Path
The Gordon A. MacEachern Award for outstanding garden, large size.
Outstanding use of walkways.
People's Choice Award.
Flattery Design, Hollywood North
Outstanding outdoor living space.
Green Art Landscape Design, My Tiny Backyard Getaway
The Unilock Award for outstanding garden, small size.
The Do-Up-The-Doorstep Award, presented by Oaks by Brampton Brick.
Jackson Pond Management, Muskoka at Home
Best use of bulbs, presented by Pioneer Flower.
J. Garfield Thompson Landscape, Tranquility
The S.G. Ulbright Award for outstanding garden, medium size.
The Leslie L. Solty Memorial Award for best overall creativity in garden design. Additional judging criteria: Ingenuity in execution of design style; attention to form, scale, balance; innovative use of elements; aesthetic integration of hardscape and softscape.
The Tony DiGiovanni Garden of the Year Award (Judges Choice Award).
Land-Con, Year Round Fun
Outstanding use of annuals and/or perennials, presented by Pick Ontario.
Landscape By Evergreen and Elite Environments, Celebrating Ontario's North
Most imaginative garden design, presented by Niagara Escarpment Views.
Outstanding use of natural stone, presented by Beaver Valley Stone.
Landscape Ontario Growers Sector Group, Ontario Growers Grove
Outstanding use of trees, presented by Gro-Bark Ontario.
The PremierTech Award for best overall use of plant material. Additional judging criteria: Aesthetic impression; impact of texture and form, use and placement; selection diversity suitable to design style and relationship to hardscape.
Landscapes By Lucin, Big Yellow Taxi
Outstanding use of pre-cast pavers, presented by Permacon.
Melanie Rekola Landscape Design, Scandinavian Canadian
The Do-Up-The-Doorstep Award, presented by Oaks by Brampton Brick.
Near North Hardscapes, Canada Day Our Way
Outstanding use of innovative elements in a garden.
Royal Stone Landscaping and Design, AquaSpa Pools Landscape and Design, and Kreative Woodworking, Garden of Celebration
Outstanding outdoor entertainment area.
The Landscape Ontario Award for best overall quality of workmanship. Additional judging criteria: High quality in construction, installation and placement of hardscape; consistency, stability, precision and job finish; horticultural correctness of softscape practices; attention to detail and thoroughness in planting, condition of plant material, mulching, concealing of pots, liners etc.
University Pro Landscapers, Paving, Pool & Spa, A Trip to the Future
Best use of pollinators, presented by Medallion Plants.
Vaughan Landscaping, Northern Lights
Outstanding use of lighting.
The W.E. Bridgeman Award for best overall use of hard landscape elements. Additional judging criteria: Aesthetic selection and placement appropriate to design style; proportion and scale; well-balanced integration.
The judging panel for the feature garden awards was comprised of various experts, personalities and representatives within the landscape and horticulture profession including: Carson Arthur, HGTV; Mark Cullen, Mark's Choice; Beth Edney, Designs by Yard; Christine Gracey, D.A Gracey & Associates; Harry Jongerden, Toronto Botanical Garden; Michael Prokopow, OCAD University; Martin Wade, Martin Wade Landscape Architects. Landscape Ontario's Kristen McIntyre and Jeff McMann from Mount Pleasant Group of Cemeteries acted a convenors for the judging.
On March 19, the final day of the festival, Canada Blooms general manger Terry Caddo awarded the People's Choice Award for favourite garden to Genoscape, Vineland Research and Innovation Centre, and The Gord Downie-Chanie Wenjack Foundation, for The Secret Path. "The Secret Path garden was the clear winner, and was a visitor favourite throughout the festival," said Caddo.
Canada Blooms Professional Awards Night was presented by HUB Aviva, and hosted by Haig Seferian from the LO Landscape Designers Sector Group. In total, 37 awards were given out, including four Florist Awards.